Often, we get overwhelmed by an array of items to pack along our travels, dampening our moods even before we take flight. If you are heading for your next travel adventure soon, be sure to master the "Art of travel packing" efficiently with the help of travel organizers.
In our range of luggage organizers, the Allure Luggage Organizer (8pc set) has been a top favourite amongst our customers due to its multi-functionality and quality. And we will teach you how to organize your luggage with this!
This travel organizer set comes with
3 x Clothes Organizers

1 x Undergarment Organizer

1 x Shoe Bag

2 x Drawstring pouch

1 x Zippered pouch
With its dedicated organizers for various items, it helps you to sort out your items accordingly to categories (e.g clothes, shoes, undergarment etc). You wouldn't need to dig through your luggage to find what you what, but rather, retrieve the items you need by pulling out the specific organizer by its handle!
1. Dedicate each clothes organizer accordingly to bottoms, tops & sleepwear
Bring a range of bottoms that are versatile in design (e.g jeans, skirts, shorts, tailored pants, leggings). When you pack, start with inserting the bulkier and thicker bottoms first before adding on the lighter pieces. This makes it easier to fit all of them together.
Tops (this includes t-shirts, dresses)
Maximise your outfit options without over packing – choose light-weight items that can easily be folded or rolled up into a much smaller size. A travel-friendly fabric we recommend bringing along is polyester as they are light and yet wrinkle-free!
Pack your sleepwear and bath towel together into one organizer so that you can easily retrieve them all at once before shower. If you are going for a beach vacation, you can include your swimwear into this organizer too. For those who are heading to a cold country, do remember to bring your outerwear to keep yourself warm!
2. Organize your undergarments
Organize your undergarments in another organizer to keep them tidy and in shape (especially for bras). If you have concerns on where to place your used undergarments, you could consider an undergarment organizer that helps you separate out used and unused undergarments as seen below.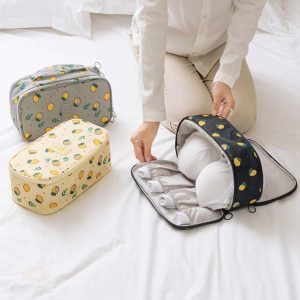 3. Good shoes take you to good places
When it comes to shoes, bringing that pair of comfortable shoes makes a great difference. An extra pair helps to provide more options when it comes to styling them with your outfits and act as an alternative in case you develop any blisters.
Placing different pairs of shoes separately within an organizer prevent them from rubbing against and dirtying each other. Add in your socks inside your shoes, and there you have it – an all-encompassing shoes and socks organizer.
4. Toiletries and makeup organization 
If you have minimal toiletries and cosmetics to bring along your trip, drawstring pouches would suffice as your toiletries organizer. Its pull and tighten design makes it easy for any traveller to store and carry any essentials in a pouch.
However, for a more organized travel, a toiletries organizer allows you to pack your bathroom essentials even more efficiently. Its hanging hook is perfect for anyone who doesn't favour emptying all toiletries and placing them on the bathroom sink. Simply hang the organizer on your bathroom door and retrieve only what you need.
For makeup junkies, organize your cosmetics into a separate organizer with dedicated compartments to prevent any unnecessary breakage and leakage of it. Glam up fast with your cosmetics at reach!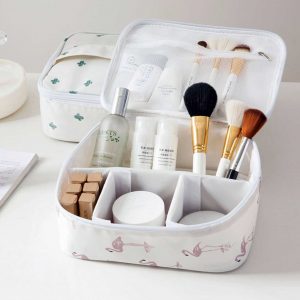 5. Recharge your digital gadgets easily 
Universal adapter, charger and cables – these are essentials that one cannot live without in this digitised world. Having an organizer to store all your accessories and gadgets together prevents them from getting tangled. Besides, it gives you a peace of mind at the same time, knowing that your digital gadgets would recharged when necessary.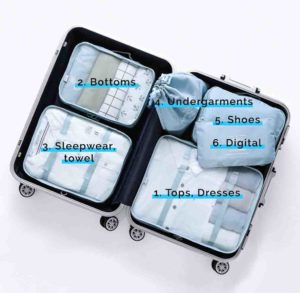 With all your travel organizers packed with your necessary essentials, you will be able to place them into your luggage easily. And there you have it, an organized luggage for your travels.
If you often miss out bringing your important travel essentials, download our exclusive winter packing list & summer packing list.
Bon Voyage!