The Modern Portable Cutlery Box Set
$14.80
The Modern Portable Cutlery Box Set is your new favourite lunch buddy, coming with stainless steel chopsticks, fork and spoon – all well-secured in a sleek box. The padded drawstring pouch keeps your utensils safe, and allows for easy carrying. This eco-friendly reusable utensils & box set reduces single-use plastic – one more step to going green!
Utensils holder insert prevents rattling
Stainless steel utensils that is sturdy and comfy to hold
Easy to wash & maintain
1 x Spoon, fork & chopsticks
1 x Box with utensils holder insert
1 x Drawstring padded pouch
Dimensions: see image gallery
Weight: 0.3kg
Material: stainless steel & polyester
In stock
You may also like…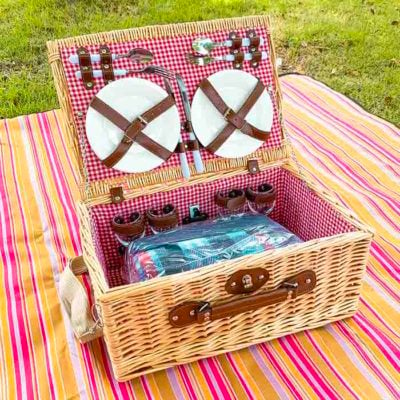 Retro Rattan Picnic Basket Set
Love picnic dates? Perfect for couples & families, our Retro Rattan Picnic Basket Set will make packing picnic essentials a breeze! It's an all-in-one set that comes with cutlery, plates, and wine glasses that's secured by retro straps, preventing breakage. Plus, this premium basket comes with 2 picnic mats – 1 smaller foldable and 1 larger rollable, so you won't have to worry about leaving them at home!
Plates & Utensil strap to prevent breakage & space maximisation
Front lock to secure basket
Carrying handle & sling strap for easy carrying
Suitable for 2-4pax:
Stainless steel knife, spoon & fork x 4 sets
Wine glass x 4
7″ Ceramic plates x 4
Bottle opener x 1
4-person Picnic mat x 2
 Basket Dimensions: 45cm (L) x 35cm (B) x 18cm (H)
Material: natural rattan, linen and PU leather
Natural rattan is light yet strong, please note that natural wood markings may be present on basket
$

88.90
Add to cart
Related Products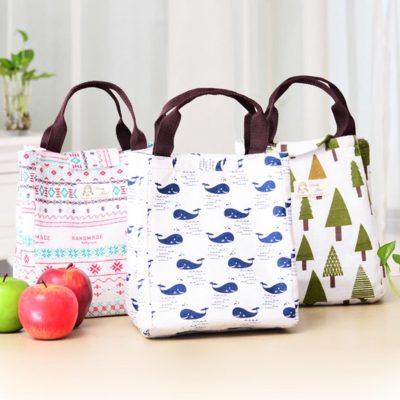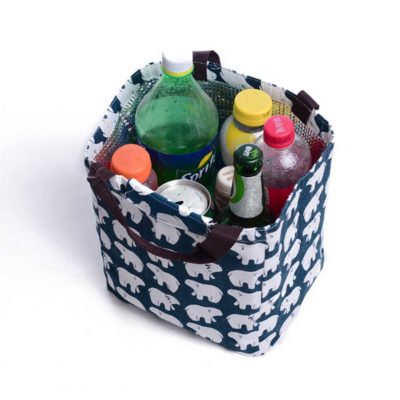 Nature Lunch & Picnic Cooler Bag
We all love weekend picnics or a packed home-made lunch! Now, you can have the most sumptuous meals and beverages with our Nature Lunch & Picnic Cooler Bag! Designed gorgeously with nature in mind, it has a thermal insulated material on the inside to keep your meals at the optimal temperature. Now, you may enjoy a chilled coffee or a warm pasta – it's that easy!
---
Exterior:
Durable & well-designed canvas material
1 x Carrying Handle
Interior:
Lined with thermal insulated material
---
Dimensions: 19cm (L) x 16.5cm (B) x 24.5cm (H)
$

6.50
Select options
Sale!
Weekender Tote Bag
Classy and functional, our Weekender Tote Bag is perfect for your travels and your weekends! Its large capacity main compartment holds all your belongings effortlessly. More impressively, our Weekender Tote Bag comes with a separate lower compartment that acts like 'cooler bag', great for storing food or extra clothing/jacket for your trip! Undoubtedly, this is one of the sleekest and well-received bag we've ever seen!
---
Exterior: Splash-proof Quality Nylon Material
Interior: Upper main compartment, Lower cooler bag compartment, great for food and clothing
---
Dimensions:
Height: 41cm
Base: 31cm (L) x 15cm (B)
Note: Wordings on the bag may differ without affecting the function of the tote bag.
$

12.50
Select options
Sale!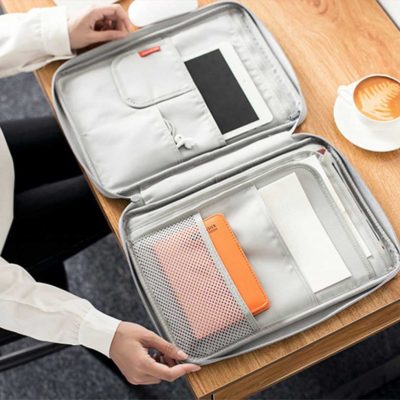 Better Together Laptop Pouch
Sleek and well-designed, our Better Together Laptop Pouch is the ultimate way of taking care of your laptop and other digital accessories! This pouch features a splash-proof exterior so that you can protect your digital essentials from liquid damage. With plenty of pockets on the inside, you can organizer your charger, mobile phone, mouse and other accessories! It's just perfect for students or working adults!
---
Exterior:
1 x Zippered compartment for notes and planners
1 x Medium Pocket
1 x Carrying handle for added portability
Splash-proof and well-padded for protection
Interior:
1 x Large main pocket
1 x Large Zipper pocket
3 x Medium pockets
1 x Small pocket with Velcro to store mouse
2 x Small pockets for notes and stationeries
---
Dimensions: 34cm (L) x 24.5cm (B) – Fits up to a 13″ Macbook or Macbook Pro perfectly.
Get a matching Better Together Daily Organizer!
$

19.50 –

$

25.90
Select options
Sale!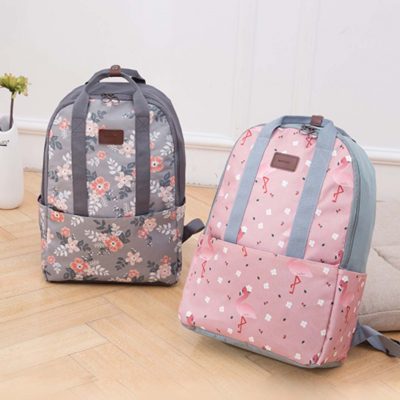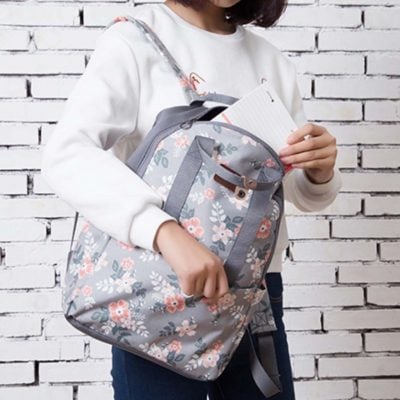 Natura Backpack
With lovely prints inspired by nature, our Natura Backpack is a well-designed and exquisite backpack! Light-wight and made with the finest materials, you may carry it on a daily basis or for your travels – perfect for students, office-goers and travellers! Carry your favourite designs today!
---
Exterior:
1 x Zipped front pouch for smaller essentials and mobile accessories
2 x Side pockets for water bottles and unbrellas
A pair of adjustable shoulder straps
A pair of hand-carry handles
Interior:
1 x Spacious main compartment
1 x Zippered small "secret' compartment
1 x Laptop pouch (fits up to 13-inch laptops)
---
Dimensions: 29cm (L) x 13.5cm (B) x 41cm (H)
$

22.90
Select options
Sale!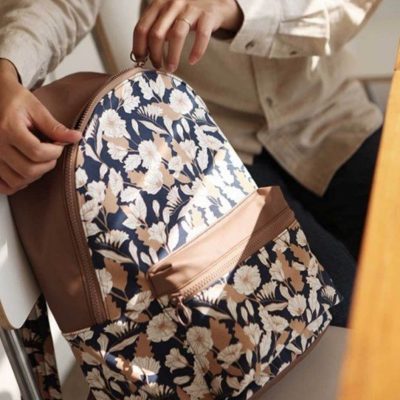 DailyLike Backpack
The DailyLike Backpack is one of the classiest bags we have ever seen! With its timeless prints, gorgeous design and functional use, this backpack is perfect as your daily carrier. On the outside, it has a splash-proof exterior and front zipper pouch which allows you to store small items. On the inside, it is lined with quality fabric and fits a 13″ laptop easily with extra space for A4-sized documents! Browse the photos below and make this your daily carrier!
---
Exterior:
Splash-proof, light-weight quality material
1 x Front zipper pouch
Adjustable shoulder straps
Interior:
1 x Zipper pouch
1 x Open pouch
---
Dimensions: 30cm (L)  x 15cm (B) x 43cm (H)
$

17.90
Select options
Sale!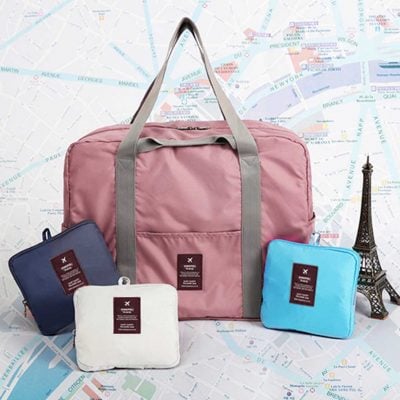 Collage Foldable Travel Bag
Here's a must-have essential for your next overseas trip! Exquisite and yet functional, the Collage Foldable Travel Bag gives you added convenience while traveling – Simply unfold its compact design and a spacious travel bag is revealed! Made with premium materials and featuring a unique two-way carry handle, this travel bag is indeed a traveller's best friend!
---
Exterior:
2-Way Carry Handles
Handy compartments for smaller items such as phones, passport and travel documents
Slot to secure to luggage handle
Interior:
Spacious and splash-proof
---
Dimensions:
Opened: 48cm (L) x 17.5cm (B) x 38cm (H)
Folded/Closed: 19cm (L) x 17cm (B)
$

17.90
Select options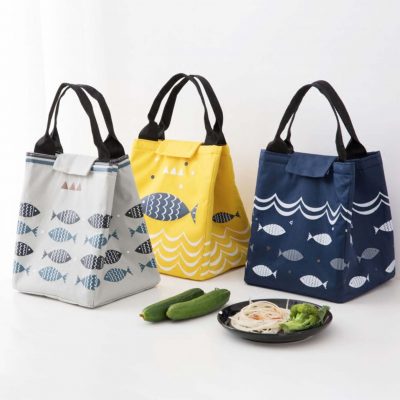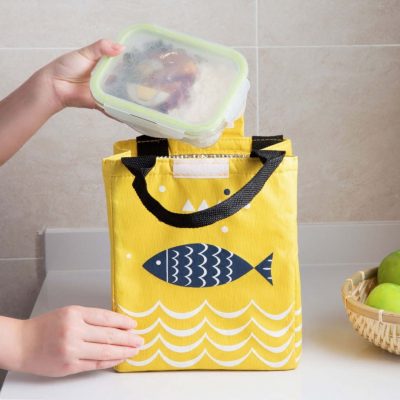 Ocean Lunch & Picnic Bag
You can now enjoy pipping hot and amazingly fresh meals with our Ocean Lunch & Picnic Bag! Made with quality materials and designed in style, this cooler bag is perfect for office meals, school lunch or a weekend picnic! Be sure to bring it along for your next outdoor meal!
---
Exterior:
1 x Carrying handle for added portability
1 x Velcro strap to secure items
Splash-proof and durable material
Interior:
Well-insulated cooler material designed to keep food and drinks at their optimal temperature for consumption
Spacious and well-padded for extra protection
---
Dimensions: 19cm (L) x 17cm (B) x 23cm (H)
$

9.90
Select options
Sale!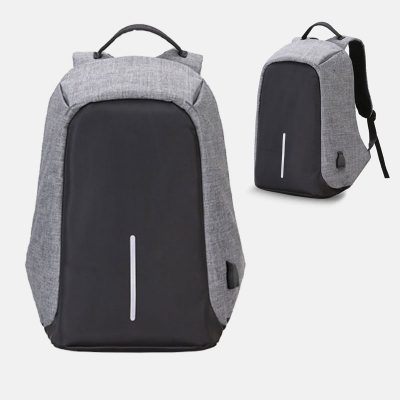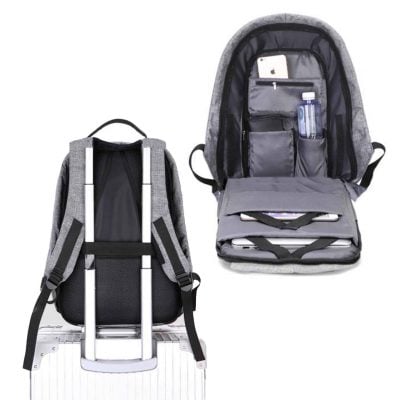 Momentum Anti-theft Backpack
Have you seen the sleekest backpack ever? Well, we have it right here with the Momentum Anti-theft Backpack! Aside from its stylish design, it features an anti-theft exterior material which is cut-proof to discourage theft accidents. Besides, it also comes with unique functions such as a charging port to allow you to charge your mobile devices on the go! Perfect when travelling or for daily use, make this revolutionary backpack your daily carrier!
---
Unique features:
Cut-proof exterior material and hidden zippers to prevent theft
Charging port for easy access (power bank not included)
Rear strap attachable to luggage handles for added portability
Luminous rear strip keeping you safe at night
Inner pockets and slots for laptop, digital devices and water bottle
---
Dimensions: 26cm (L) x 11cm (B) x 43cm (H)
$

29.90
Select options