Premier Shoulder Messenger
$20.90
Introducing, the Premium Shoulder Messenger – our stylish and versatile bag! Whether you are going for a casual outing, heading to the office or embarking on your travels, the well-designed carrier is able to hold all your essentials in its spacious compartments.
Light-weight and splash-proof, this bag protects your belongings from the elements! Not to mention, it has a unique center divider for added compartments and to keep your belongings organized! Use it as a messenger bag or a hand-carried carrier – it looks amazing both ways!
---
Interior: 
1 x Main Compartment
2 x Zipper Compartments
1 x Divider
1 x Elastic strap for added support
Exterior:
1 x Rear compartment that can be opened to secure the bag to luggage handles
Light-weight and Splash-proof material
Sturdy handles
Comes with adjustable shoulder sling
---
Dimensions: 28cm (L) x 11.5cm (B) x 37cm (H)
Related Products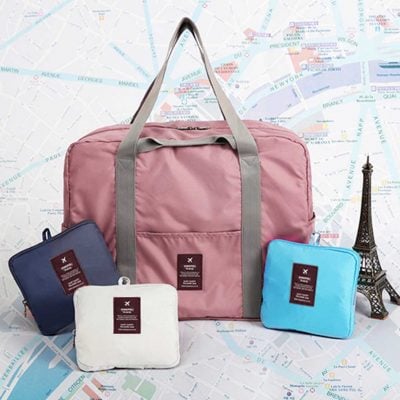 Collage Foldable Travel Bag
Here's a must-have essential for your next overseas trip! Exquisite and yet functional, the Collage Foldable Travel Bag gives you added convenience while traveling – Simply unfold its compact design and a spacious travel bag is revealed! Made with premium materials and featuring a unique two-way carry handle, this travel bag is indeed a traveller's best friend!
---
Exterior:
2-Way Carry Handles
Handy compartments for smaller items such as phones, passport and travel documents
Slot to secure to luggage handle
Interior:
Spacious and splash-proof
---
Dimensions:
Opened: 48cm (L) x 17.5cm (B) x 38cm (H)
Folded/Closed: 19cm (L) x 17cm (B)
$

14.90
Select options