Comfortable, portable and stylish, our Comfy Travel Neck Pillow is a must-have if you are travelling on a plane or bus! Now, you may enjoy a restful nap anytime, everywhere. Simply put it round your neck, click it into place and you are ready to have a comfy rest. When it's time to go, click it onto your luggage or bag and you are good to go! Besides, it comes with a removable exterior for easy washing! Bring me along for your next trip!
---
Interior: Comfy beads which provides additional support
Exterior: Soft cotton fabric which is removable & washable
---
You might be interested in our Foldable Travel Eye Mask!
Best together...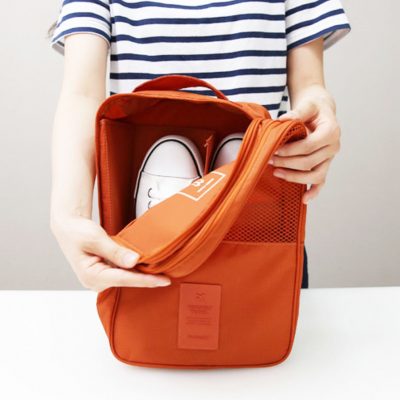 Shoe Bag Organizer V2
Maintain a high level of hygiene and convenience by keeping your shoes separate from your clothes with our Shoe Bag Organizer V2! Stylish and splash-proof, this shoe organizer protects and keeps your shoes neat! It has a exterior compartment for storing an extra pair of slippers or shoes. On the inside, there is a divider to separate and hold your shoes in place! There is also a small pouch to store socks, shoe lace or other small items! Now, even your shoes can travel in style – get yours today!
---
Exterior:
1 x Zipper Compartment for extra slippers and shoes
1 x carrying handle
Interior:
1 x Spacious shoe compartment with divider
1 x slot for small items like socks and shoe laces!
Dimensions: 21.5cm (L) x 13cm (B) x 29cm (H)
$

7.99
Select options