Learn about our Rewards Membership for our StyleFans!
Hi there,
StyleFamily is our Rewards Membership program to thank our loyal StyleFans, you!
We're glad you asked! There are 4 of them currently (& more are coming!):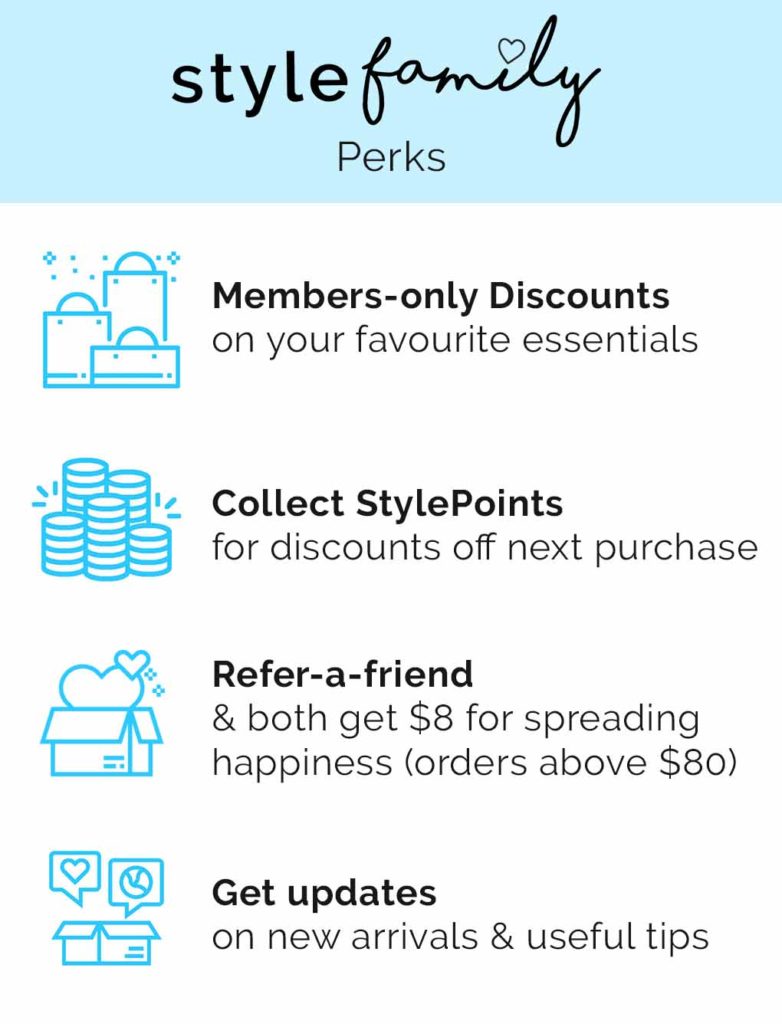 Learn more about them below!
For newcomers, simply complete an order of any amount (no min. spend) and you will be enrolled into StyleFamily.
For existing customers who have purchased before, you are automatically part of StyleFamily - Yay!
Members-only Discounts
You may head over our StyleFamily Page for the full list of exclusive discounts for members. You may also identify products with the label "Member's Discount"!
It really depends on stock availability and we usually rotate items once every 1-2 weeks!
Hence, we recommend placing a quick order for your favourite items when they are on Members-only Discount. Be sure to stay tuned to our emails, Instagram or Facebook pages to catch them!
We love being as generous as we can and Members-only Discounts may be up to 20%!
StylePoints
Refer-a-friend Rewards
First to be Notified
As you know, we are all about bringing happiness with our products and content. As such, StyleFamily members can look forward to specially curated new arrivals, useful home & travel guides and promotions!
We'd love for you to join us on StyleFamily!

Have a question? Drop us a happy mail.