If you've been looking at pantry organization ideas on Pinterest, you'd know that using clear containers of the same design is the key to creating an aesthetic pantry.
What is decanting? Decanting is the process of transferring items (e.g dry food, liquid) from their original packaging into a sturdy container to allow easy access for subseuqent uses and to seal in freshness.
Confused over which pantry food items to decant? Read on to find out more!
---
1. What Pantry Dry Goods Should I Decant?
What you choose to decant is entirely up to you and your preferences! But in general, common pantry items that are decanted are baking ingredients such as flour and sugar. The original packaging tends to rip easily and creates a ton of mess when you're trying to scoop it out.
You can also consider decanting spices, condiments, rice, cereals or nuts. Decanting these food items into clear containers makes it easier for you to see what you have in the pantry. It also helps to keep food fresher and reduce the likelihood of any pests invasion.
Snacks, on the other hand, are items that you don't necessarily need to decant if you finish them quickly. Instead, preserve the freshness of the snacks with a food sealing clip instead.
Learn how to properly fold a half-eaten snack bag with a food clip here!
Tip: Have a dedicated basket for all the half-opened snacks. This encourages your family to consume the half-opened bags first, leading to less wastage.
---
2. How To Choose The Right Food Containers
Ft. Staples & Snacks Airtight Container | Twist & Turn Airtight Rice Box
To avoid making wasted purchases on food containers that don't fit, it's important to choose ones that fit your pantry needs. Here are some factors to consider before purchasing food containers:
Consumption Habits: Based on how much ingredients you use, choose a container that matches your consumption needs. Use larger-sized containers for ingredients that are used frequently so you need not replenish it regularly. Smaller canisters are perfect for ingredients that aren't used frequently.
Pantry Cabinet Dimension: Make sure to measure the length of the food containers before purchasing to ensure that your pantry cabinet can accommodate it all.
Container Capacity: Opt for a container size that's able to hold the entire standard package of ingredients that you're storing. This is to avoid having any excess – it creates additional clutter in your pantry.
If you're unsure of which size of food container you should buy, check out our size guide below.
Download it here for easy reference when purchasing our Pantry Food Containers!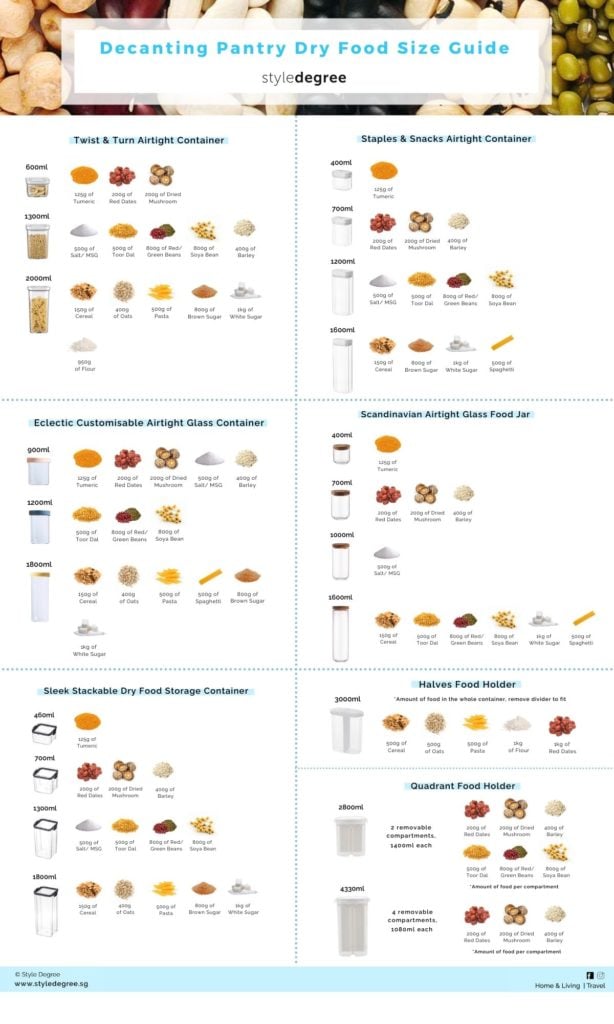 DIY Hack: You can reuse your Chinese New Year treats containers to store your pantry food items too.
Watch how we organize Mum's pantry with this DIY hack!
Browse our wide selection of Food & Pantry Containers here!
---
3. How To Decant Pantry Food Into Containers
Before you start decanting the pantry goods, wash the food containers thoroughly. Let it dry completely overnight – the remaining moisture would cause the dried goods to clump up.
When you're transferring the food items into their respective containers, consider using a funnel to prevent any spillage!
Tip: Set the food container in the sink while transferring the pantry ingredients. Any mess will be contained in one area instead of spilling everywhere.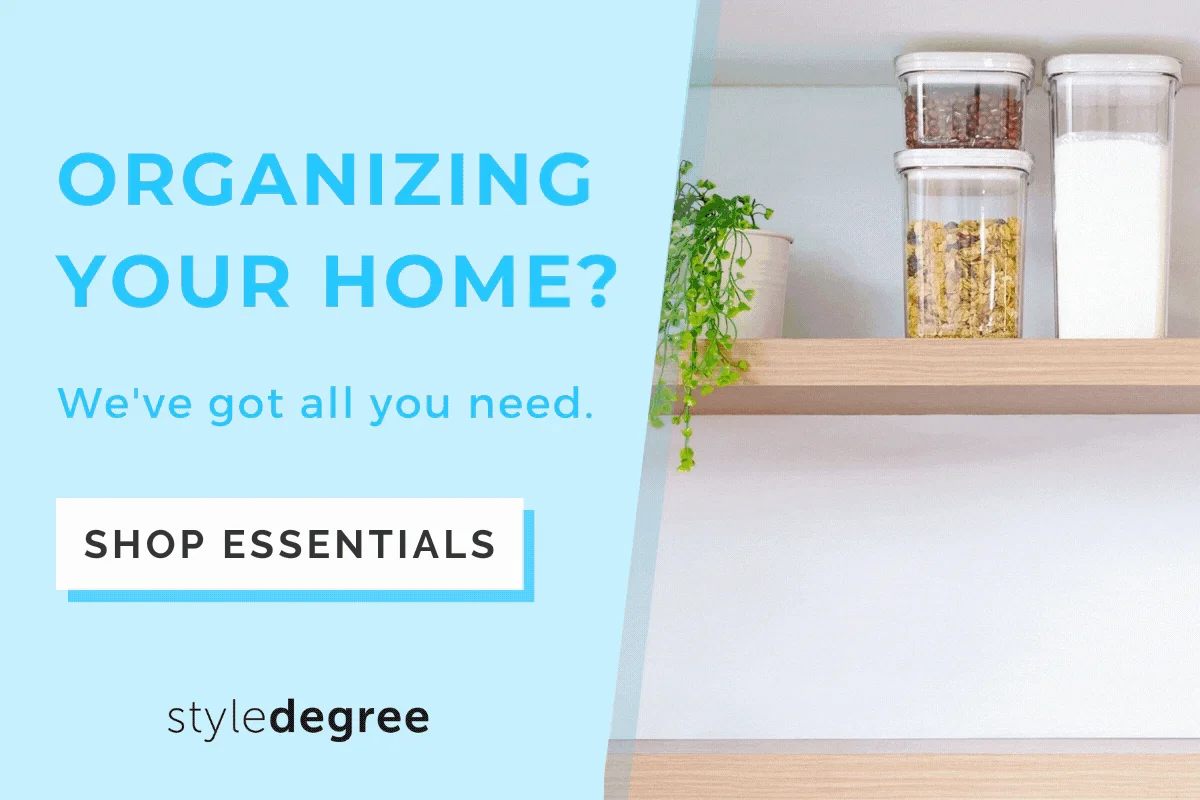 ---
4. Label The Contents & Storage Date
After decanting the food items into their respective containers, be sure to label them so you won't accidentally mix up any ingredients.
Aside from labelling the contents, remember to label the expiry date as well – it's a crucial step to help you monitor the freshness of your food. To help you get started with labelling, check out our Pantry Label Stickers. You can write the purchase and expiry date directly on it.
Alternatively, you can use our label maker to customise your pantry labels!
For package instructions, cut it out from the original packaging and tape it at the back or the bottom of the canister for easy reference whenever needed.
---
5. Prepare A Backstock Bin For Bulk/Excess Food
Purchasing groceries in bulk helps you save money in the long run. However, where do you store all the excess food? Create a backstock bin in your pantry and store any bulk/excess food items that don't fit in your food containers in this bin.
It's a rather simple system – if you notice that the food in the container is running low, check the backstock bin for replenishments. If there aren't any, add the food item to your grocery list. This prevents you from over-purchasing or buying duplicate ingredients!
Shop our range of Storage Bins & Baskets here!
---
6. How To Organize & Store Pantry Dry Food
One of the perks of decanting is the reduced visual and physical clutter from food packages. Using matching, stackable containers give your pantry a clean and streamlined look while allowing you to fully maximise cabinet space.
Sort these containers based on their food category (e.g. baking, snacks, breakfast) or frequency of use. It's advisable to keep your frequently used ingredients on the lower shelves so you can easily reach for them whenever needed.
Ensure everything remains visible – don't layer more than 2 containers in a deep cabinet! Instead, add shelf risers or lazy susans into your cabinets so nothing gets lost at the back. This also prevents you from purchasing any duplicates.
Also check out on StyleMag: 6 Organizing Rules To A Beautiful & Tidy Kitchen Pantry
---
At the end of the day, whether you choose to decant your pantry food items or not, it's entirely up to you and your lifestyle. You can choose to completely decant everything or don't decant at all. If you're unsure whether decanting is for you, try it out with basic ingredients to see how you like it.
Are you someone who decants everything, selected ingredients or none at all? Let us know in the poll below!
[yop_poll id="4″]
Enjoyed this post? Join us on Instagram @style_degree, Facebook and Telegram @HomeownersSG, where we share the best home organization tips and cleaning hacks