Over the years, the kitchen has become a place used for more than cooking. People go to the kitchen to eat their meals, bond with their families and do their work, especially during the work from home period.
If you're looking to renovate your kitchen, you might want to consider the Kitchen Work Triangle rule while planning out your kitchen layout. Read on to find out more about this age-old rule.
---
What Is A Kitchen Work Triangle?
The kitchen work triangle is a concept that homeowners apply when planning their kitchen. The placement of your three fundamental work zones
Cooking zone (hob)
Preparation zone (sink)
Storage zone (refrigerator, pantry)
should form a triangle without obstructions in between.
Applying the kitchen work triangle to your kitchen makes it easy for you to navigate from your one workspace to another without having to walk too far, creating an ergonomic kitchen area.
---
How Does A Kitchen Work Triangle Work?
When planning out your kitchen, ensure that there will be no foot traffic through the triangle. Keep the different work zones 1.2m–2.7m apart so that you have enough space to prepare your food without obstructing the rest of your family members.
If you have an island or a table in your kitchen, make sure that it doesn't intrude more than 12 inches into the imaginary triangle.
---
Kitchen Work Triangles In Different Kitchen Layouts
The image above shows how the kitchen work triangle can be applied to different kitchen layouts. You can find out more information about each layout below.
1. Single-wall kitchen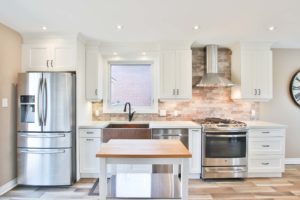 A single-wall kitchen layout is common in smaller homes as it pushes all elements within your kitchen to one wall, saving floor space for foot traffic. In between your 3 main work zones, ensure that there are countertop landing spaces for you to work with.
When the kitchen work triangle is applied in this layout, the triangle would look thin, almost like a straight line. This allows you to move from 1 work zone to another easily, but it could be overcrowded if there are more than 1 cook at a time.
2. Galley kitchen
The galley kitchen layout is the perfect solution for HDB homeowners working with narrow or rectangular spaces. This layout utilises every inch of space available and keeps the worktops evenly distributed on both sides.
Applying the kitchen work triangle in a galley kitchen would encourage a more efficient workflow without too many movements as your 3 work zones are kept central between the 2 counters.
3. Centre island kitchen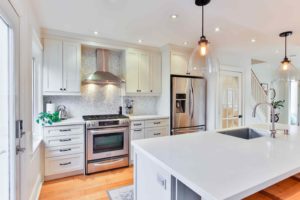 Having an island in your kitchen gives you more storage space and it also serves as countertop space for you to prep your food. You can also opt to place your sink on your island when designing your kitchen, especially if you're planning to make the island your main food prep zone.
However, if your island isn't used for any of the 3 main work zones, ensure that it doesn't intrude the imaginary triangle as it might disrupt workflow.
4. L-shaped kitchen
An L-shaped kitchen works into the corner spaces of two perpendicular adjoining walls, creating plenty of countertop space for you to work with. If you have additional space, you can consider adding in an island for more storage space – just ensure that it doesn't intrude the imaginary triangle.
You can apply the kitchen work triangle as this layout doesn't disrupt your workflow, even if people are walking in and out of your kitchen.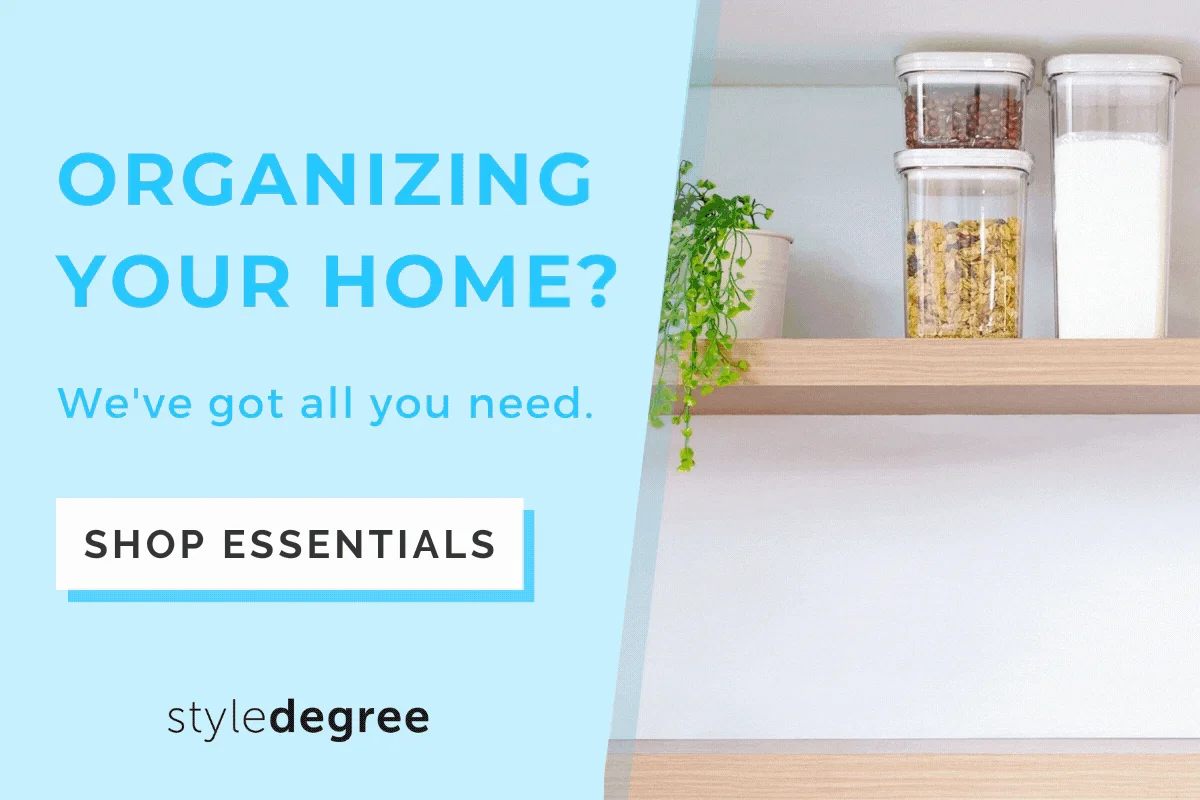 5. U-shaped kitchen
The U-shaped kitchen layout is versatile as it features 3 sides to spread 3 of your different work zones, creating a 'U' shape. It also provides plenty of countertop space for you to work with, making it great for those of you who enjoy cooking.
Applying the kitchen work triangle to a U-shaped kitchen would improve convenience and efficiency – you need not move too far from 1 work zone to another. It is also considered a safe kitchen layout as there's only 1 entrance, controlling the traffic flow.
6. G-shaped kitchens
A G-shaped kitchen resembles the letter 'G', with a short extension that's usually used as a worktop or additional cabinet and countertop space. There are sufficient storage and countertop space to accommodate multiple cooks at a time.
If you apply the kitchen work triangle theory to a g-shaped kitchen, keep your sink, refrigerator and hob opposite one another. You can create a 45-degree triangle to leave space for prepping your food.
---
Is the Kitchen Work Triangle Still Useful Today?
The kitchen work triangle theory is still applied in homes today because it makes cooking convenient in the kitchen. Keeping the 3 most important work zones only a few steps apart helps improve convenience and efficiency when cooking.
However, over time, things have changed. The kitchen work triangle works perfectly if you're the only one in the kitchen cooking. Having multiple cooks at once will disrupt the workflow. The kitchen nowadays is used for more than just cooking, it's also used to dine, bond with your family and also do work.
Also check out on StyleMag: 14 Kitchen Design Ideas For Singapore HDB & Condos You Can Easily Achieve
---
Now that you know about the kitchen work triangle, you can consider whether or not this method works for you and your family. Discuss with your contractor or interior designer about your needs in the kitchen before settling on a layout!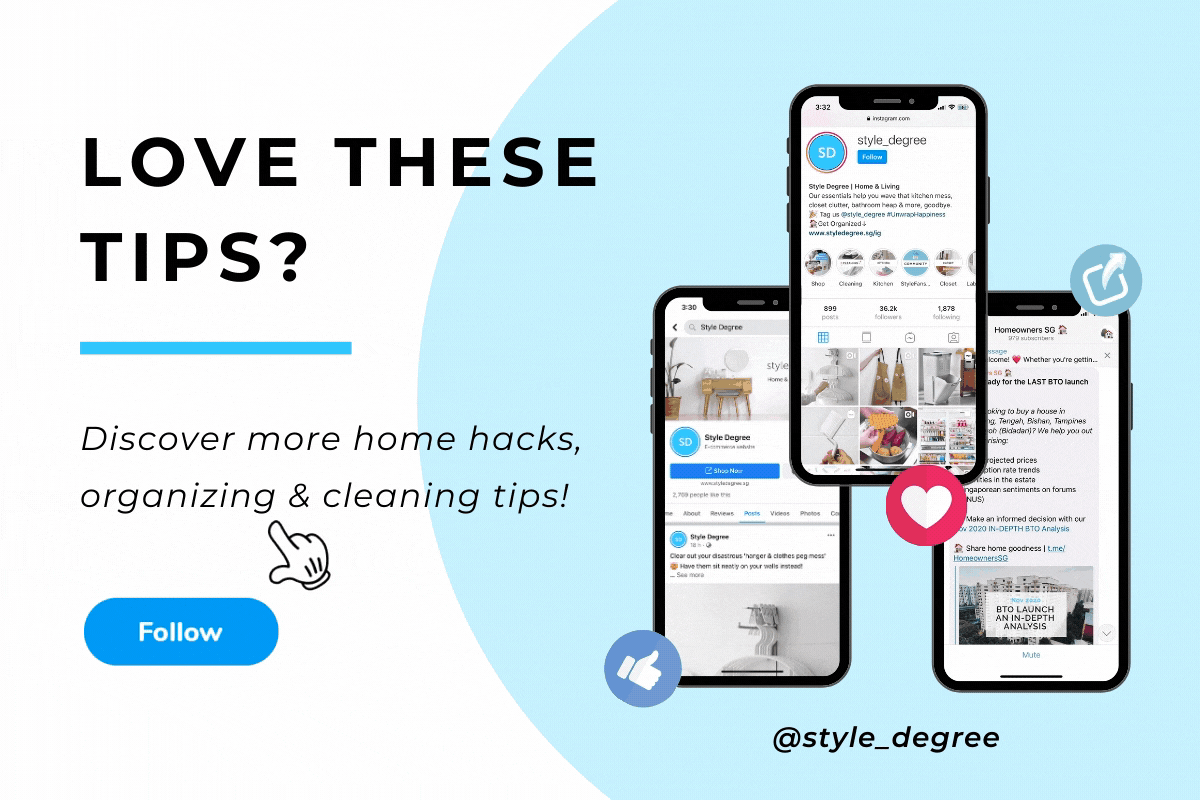 Enjoyed this post? Join us on Instagram, Facebook, and Telegram, where we share the best home organization tips and cleaning hacks to help you embark on an organized and happier homeowner life! P.S You'll be the first to learn about our latest product launches there too.