Singaporeans love eating. This makes kitchen truly the "heart of the home" isn't it? If you are planning on renovating your kitchen and is searching for kitchen designs inspiration, this is definitely for you!.
In this guide, we will uncover 14 kitchen design ideas for HDB and condominiums of all types – 2, 3, 4 and 5-room, along with valuable interior design tips. Foodies, let's get started!
P.S If you haven't followed us on Pinterest and social media (Instagram, Facebook & Telegram) you'll miss out on home organization and decor ideas 😉
---
1. Shaker Style Cabinets
Swipe ← or click on image to view gallery
Always seeing such kitchen cabinet styles on Pinterest?
It is actually known as the Shaker Style cabinets. Shaker cabinets has a recessed panel and a frame-like outer corner giving it an additional textured look to it.
Design Tip: Go bold and contemporary with such cabinets. Paint it navy, olive green or black. And, finish it off with gold handles for an elaborate look.
---
2. Kitchen Peninsula
Swipe ← or click on image to view gallery
A kitchen peninsula is an extension that sticks out from your basic L-shaped kitchen layout, transforming it into a U-shaped layout instead.
This design element is great for opening up any smaller-sized kitchen and separating your wet and dry area.
Moreover, it can serve as both an island for food preparation and a high-table to enjoy a relaxing afternoon tea.
Also read on StyleMag: 7 Ways To Make Your Singapore HDB & Condo Home Look Bigger
Design Tip: Consider waterfall kitchen countertops (like the one you see below) for a complete look!
---
3. Open Concept Kitchen
Swipe ← or click on image to view gallery
Open concept kitchens in Singapore homes, be it HDB or condominiums a huge design trend right now! And it is easy to know why. Hacking down walls, opening up the seemingly small kitchen space makes your home look bigger instantly.
Design Tip: Maximise space by having a long feature wall that doubles up as storage and seating area for dining.
HDB BTO Optional Component Scheme (OCS)
Starting from the February 2018 BTO Sales Launch exercise, all new BTO projects will come with an open concept kitchen if the layout permits. Under the OCS, homeowners can choose if they want the kitchen partition wall.
---
4. Open Shelving In Kitchen
Swipe ← or click on image to view gallery
Leave your kitchen feeling much more airy and spacious with open shelving. Tiny kitchen owners, this is for you! Spend less money installing upper cabinets and simply make do with a simple wall shelf or even, wall holders.
Less storage space, less unwanted clutter too!
Design Tip: If you feel insecure without upper cabinets, go without its doors for to draw the eyes upwards. Make sure you style your kitchen accessories neatly inside it. Show off your Marie Kondo'd pantry!
---
5. Kitchen Island
Unlike a kitchen peninsula, an island is a stand-alone piece in your kitchen.
It that serves numerous functions – from food preparation, to storage, or as a bar area. Moreover, when you have friends and family coming over, your kitchen island is perfect for serving food!
---
6. Japanese Zen Kitchen
Swipe ← or click on image to view gallery
The word itself, (say it out loud, zen) might have gotten you picturing a clean, simple and yet elegant kitchen design doesn't it?
Zen is a traditional Japanese decor that is infused with modern designs too. It is sleek, modern and minimalistic.
Design Tip: Hardwood flooring is usually complemented with earthy colours such as beige, grey and white.
---
7. Scandinavian Kitchen
Swipe ← or click on image to view gallery
Easily the most popular design in Singapore (and around the world), Scandinavian-themed kitchens are truly well-received amongst homeowners. They are clean-looking, inviting, and adds a touch of nature to your home – no wonder they are so well-loved these days!
Shop our Scandinavian Home Essentials to help you get started with organizing.
Design Tip: Use white top and bottom cabinets, wooden counter tops and remember to keep things well-organized and minimal.
---
8. Eclectic
Swipe ← or click on image to view gallery
Eclectic kitchens are sure to give you boost of energy while you get cooking. A combination of bright colours, unique textures injects a whole lease of life to your kitchen.
Not sure what colours to choose? Here is a tip!
Design Tip: Colours opposite of each another on the colour wheel complement each other well.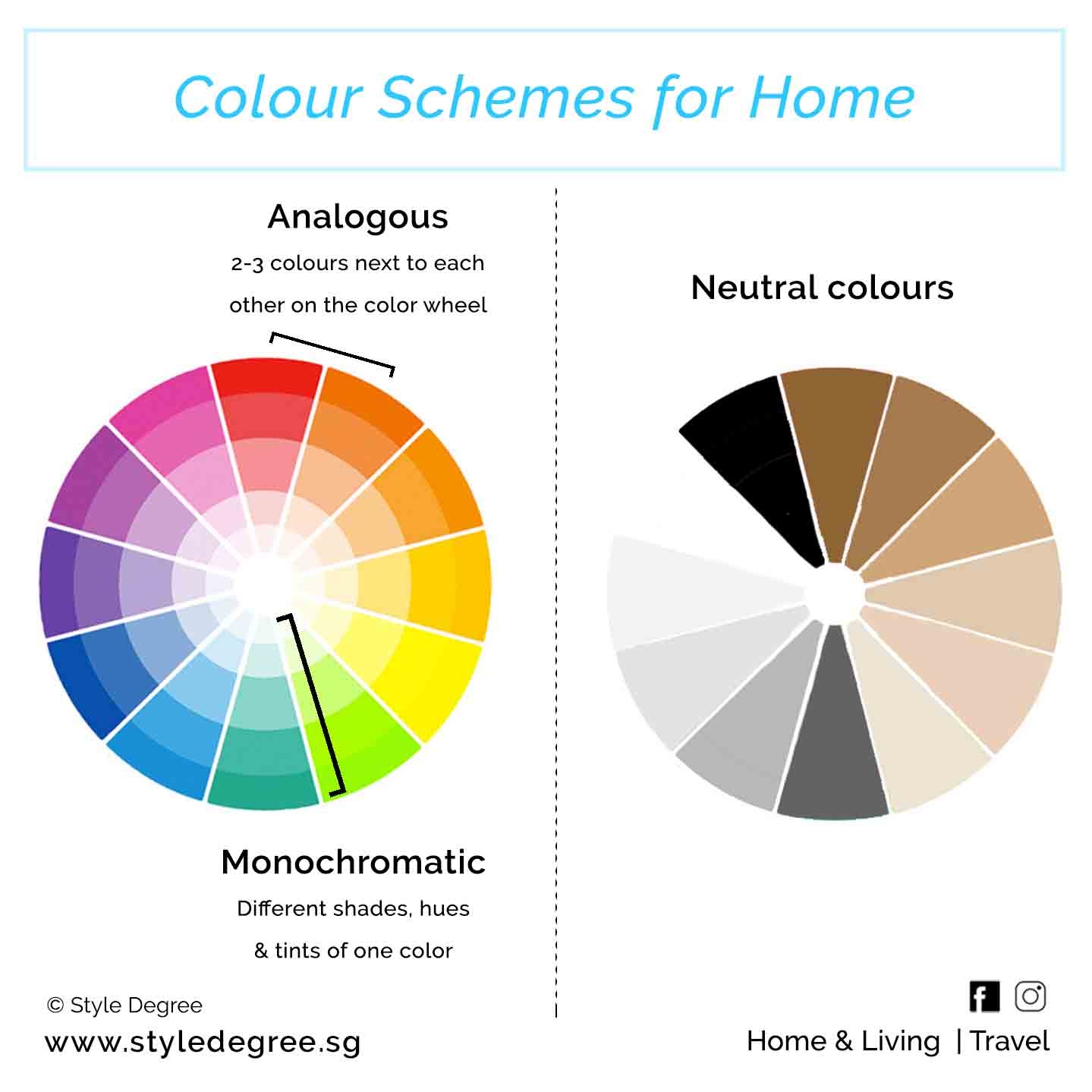 Be sure to complement your vibrant eclectic kitchen with our home essentials from our Eclectic Series.
---
9. Pretty In Pastel
Swipe ← or click on image to view gallery
If you are head over heels with pastel colours, why not have your dream kitchen in the prettiest pastel hue?
Design Tip: Pastel colours go well with white and wood. Put them together for a cohesive look.
---
10. Singapore Retro Kitchen
Swipe ← or click on image to view gallery
In love with the good old Singaporean days? From Kopitiam tables to Nyonya tiles, these kitchens possesses a homely design that most Singaporeans will be familiar with.
Design Tip: Use authentic old school wall tiles, glossy cement flooring and finish it with retro furniture to bring back the good ol' days.
---
11. Minimalist Kitchen
Swipe ← or click on image to view gallery
Minimalism is another design theme that has been really popular with homeowners. It discourages clutter, is calming on the eye and embodies the notion "less is more". Perfect for making your kitchen look bigger, are you a big minimalistic fan?
Design Tip: Use white surfaces or light wood for kitchen cabinets and counter top. To enhance the minimalistic effect, ensure sufficient natural light or install under cabinets lighting.
---
12. Black & White Modern Kitchen
Swipe ← or click on image to view gallery
Bold, sleek and contemporary, a modern kitchen features a timeless design that usually age the best. It usually blends dark and light colours, giving your regular HDB flat an 'atas' look!
Design Tip: Use a combination of glossy white and sleek black for your kitchen cabinets and counter top. Dark wood works well too. Throw in high bar chairs and sleek hanging ceiling lights to complete the modern look!
---
13. Rustic Countryside Kitchen
Swipe ← or click on image to view gallery
Love the farmhouse/countryside chic home decor look? Natural elements such as wood, back-to-basic grey metal containers and, not forgetting the classic red and white gingham!
Design Tip: Replacing kitchen cabinet doors with patterned mini curtains instead gives off a classic countryside rustic vibe. It adds an interesting texture to your kitchen too!
---
14. Bohemian
Swipe ← or click on image to view gallery
Eclectic and bohemian kitchen design have similar characteristics, with both giving off a vibrant, chic vibe with its colours. For a bohemian home decor, mixed patterns, open shelving and vintage appliances are the highlight of the show.
Design Tip: Get creative with your kitchen backsplash with a one-of=a-kind tiles.
---
Getting pumped up for your dream kitchen design now? We are excited for you as well!
Which look are you going for? Let us know in the comments below.
Explore our range of Kitchen Essentials – from Kitchen Racks, Food Containers and Fridge Organizers to ensure that you maximise kitchen space and keep your cabinets organized!
Also read on StyleMag: 6 Interior Design Styles For Singapore Homes