With the pandemic in mind, it can be difficult to preoccupy the active young ones with interesting activities from the safety of your home. Whether their interests lie in science experiments or they're a chef-in-training, pick an activity (or multiple) from our curated list below!
Use these links to help you navigate the variety of activities available based on your little ones' hobbies and interests to make this holiday a productive and fun one!
---
Arts and Crafts
1. Mickey Mouse Tin Can Planters
Children that are more interested in painting than baking will love these adorable Disney themed planters made from upcycled tin cans!
What you'll need:
A hammer
A nail
Tin cans, washed and dried
A pencil
Measuring tape
Acrylic paint and paintbrushes
Large and small daubers
Washi or painter's tape
Check out the full instructions here.
2. Cardboard Playhouse
Give little ones their very own 'home' by making good use of empty Style Degree cardboard boxes! Complete with a pointy roof as seen in their favourite cartoons, they even get to design their own space with blankets, cushions and toys so they're kept occupied and out of your space when you're trying to work in peace.
What's more, this one is collapsible so you can fold and stow it away when freeing up space for family time at the end of the day.
Watch the tutorial below:
3. Gardening with Edibles Masterclass
Discover your child's hidden green thumb with this project. Not only will they be able to learn a new skill and practise patience, but you'll also receive a free edibles seed pack so you can use the harvest for future meals. These masterclasses are currently held once at the end of each month.
Sign up with NParks for the Zoom masterclass here, where you can also watch past classes via their YouTube channel.
4. Mess-free Painting
If you fear the hassle and mess that comes from painting with toddlers, try this method for a mess-free experience so you can work in peace. Plus, it'll also help with sensory learning, which uses hands-on activities that allow children to use multiple senses like sight, touch and taste while refining motor skills.
What you'll need:
Ziplock bag
A piece of paper small enough to fit into the bag
Tubes of acrylic paint
Optional: small beads, uncooked macaroni and glitter
Steps:
Squeeze small amounts of different coloured paint onto the paper and slide it carefully into the bag, then seal it. You may also choose to add in small beads or other decoration to double up as sensory play.
Allow your toddler to use their hands to spread the paint around to create their own unique masterpiece!
5. Colouring Books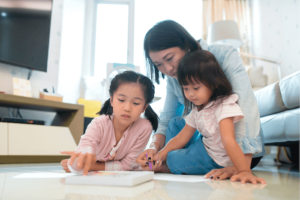 Bring back this childhood classic for some quality family time! Whip out your favourite colouring pencils and print out these free colouring templates (for kids and adults alike) to keep your family members occupied for hours!
---
Baking
6. Cloud Bread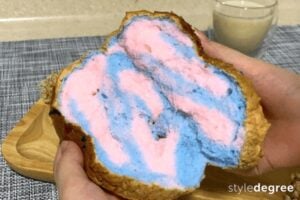 This TikTok-famous recipe that only requires three ingredients you probably already have at home is an easy and quick project for busy days at work. You can even add in two drops of vanilla extract and/or food colouring to make your bread look and taste more magical!
Ingredients:
3 egg whites (keep the yolks to make custard or lemon curd!)
30g sugar, measured using our Digital Weighing Measuring Spoon
10g corn starch
Optional: vanilla extract, sprinkles and food colouring (we recommend gel colouring for more vibrant colours)
Steps:
Enlist your kids' help to separate the egg whites from the yolks by using a clean, empty bottle as shown below.

In a large mixing bowl, whisk the egg whites while gradually adding in the sugar until it has a thick, cloud-like consistency. Whisk in the cornstarch until soft peaks (peaks should collapse quickly rather than stand) form. Add in the vanilla extract and stir it in.

If you're adding in different food colouring, separate the mixture into different bowls before mixing the colours into each one. With a spatula, pile the mixture onto a baking sheet to resemble a round, bread-like shape. Add sprinkles if you wish.

Lastly, bake your cloud bread at 150 degrees celsius for 20-25 minutes and enjoy!
Keep your bread fresh (we would recommend consuming it within 1 day) using our stackable and airtight Freshly Food Containers of different sizes.
Check out the recipe in action on our Instagram page: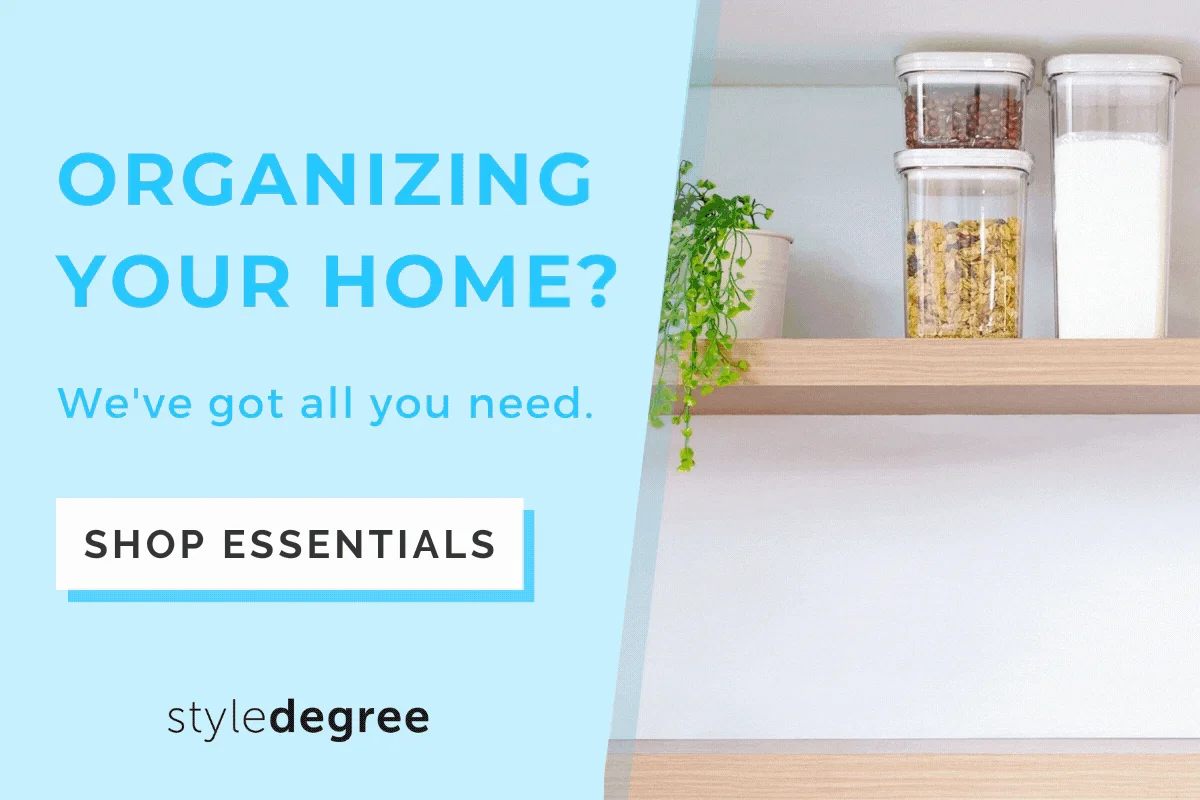 7. Oat Cookies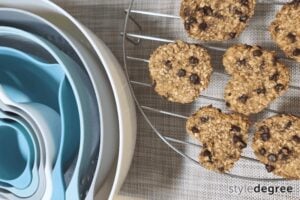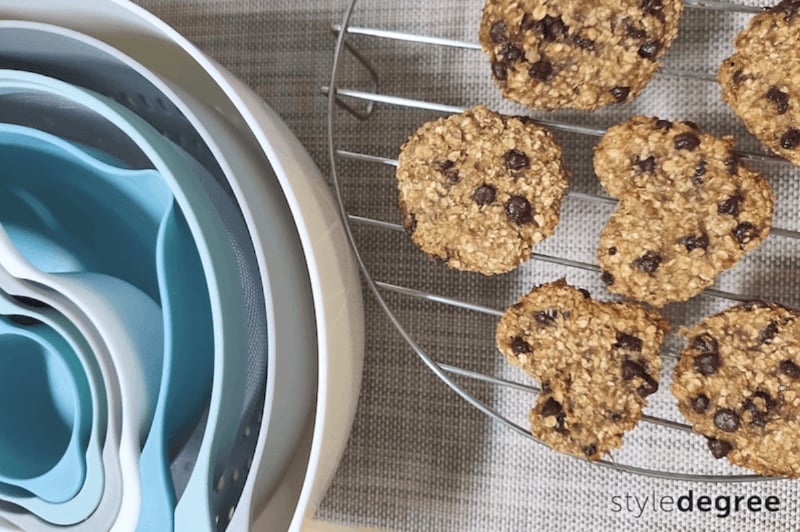 Whether it be an easy afternoon snack or a quick breakfast, your children will never get tired of this recipe because of all the ways they can have it — with chocolate chips, cranberries, chopped nuts or seeds and more!
Ingredients:
2 small and ripe peeled bananas
1 cup quick oats
A topping of your choice
Steps:
Mash the two bananas with a fork
Measure and pour in the oats then stir and let them soak till they're soft
Add in your topping and mix
Shape the mixture to your liking and pop it in the oven at 175 degrees celsius for 10 minutes.
Store them in an airtight jar like our chic Scandinavian Glass Food Jar.
Watch us make these delectable cookies here:
8. Milo Ice Cream
Did you know you can make ice cream with this fan-favourite drink? You'll just need two other ingredients and less than an hour of your time! Store it in a tightly sealed container to maintain freshness.
Ingredients:
1/2 cup of condensed milk
3 tablespoons of Milo powder
1 cup thickened cream
Steps:
Warm the condensed milk in a double boiler or a microwave until thin.
Pour into a large bowl and mix in the Milo powder well.
In a separate bowl, whip the thickened cream until stiff peaks form, then add in the Milo mixture. Mix well.
Pour into a freezer-safe container and tap against the counter to remove air bubbles. Freeze until solid.
Watch this TikToker try out this recipe!
9. Oreo Fudge
This treat is a super easy baking project that any child (or adult) who enjoys sweets will love.
Ingredients:
1 bag of white chocolate chips

1 can of condensed milk

About 12 Oreos, chopped into small pieces with a few extra for garnishing
Steps:
Melt the chocolate chips and condensed milk together in the microwave for 30-second intervals. Stir between each. After about 2 minutes of microwaving, it should look smooth and clump-free. If not, microwave and stir until smooth.

Pour in the chopped Oreos and mix.

Pour into a lined and greased tray and chill until solid. Crush the remaining Oreos and garnish.

Remove and cut the fudge into your desired size.
Watch the recipe tutorial here!
10. 3-Ingredient Creme Brulee
Who says you can't have fancy desserts at home? Try this easy recipe for a 'fine-dining' experience from the comfort and safety of your own home!
Ingredients:
1 egg yolk (use the whites to make meringues!)
1 large scoop of vanilla ice cream, completely melted
Some sugar
Steps:
Whisk the melted ice cream and the egg yolk together in a large bowl. Transfer the mixture to your preferred dish (preferably ceramic).
Place the dish in a deep, larger tray. Next in the tray, pour hot water up to half the height of the dish to create a water bath, or a bain-marie. This helps to keep the custard moist and prevents cracking.
Bake the mixture together with the water bath at 165 degrees Celsius for 45 minutes.
Pour sugar over the top, and use a blow torch if you have one. If you don't have a blow torch, a suggested tip is to place the dish near the top of the oven and set it to 'broil' until the top is crisp and dark brown.
You can even experiment with flavours by switching up ice cream flavours, such as chocolate, strawberry and matcha!
Watch the tutorial below.
11. Easy Refreshing Desserts
Beat the heat with these easy dessert recipes that you can customise to your liking! Using just our Pastel Silicone Popsicle Mold that prevents drips that kids are prone to or our Sphere Ice Ball Maker Tray for the most Instagrammable dessert, you can choose from juices with fruit chunks, Sprite or even the classic Milo.
Simply fill the moulds with your preferred drinks and leave them in the freezer for a few hours.
12. Easy DIY Reese's Cups
Ingredients:
150g milk chocolate

2 tablespoons of icing sugar

2 tablespoons peanut butter (or any other nut butter)

Small paper pastry cups
Steps:
Melt about half the chocolate and coat the insides of the paper cups with it. Refrigerate.

In a small bowl, mix in the icing sugar and the peanut butter until it forms a dough-like consistency.

Form small balls of the peanut butter mixture and place one each into the solid chocolate-coated cups. Cover the filling with the remaining melted chocolate and leave them in the fridge to solidify.

Then, carefully peel away the paper to reveal your DIYed Reese's Cups!
---
Science Experiments
13. Slime
Probably the biggest trend of 2019 and 2020, this favourite toy has made a huge comeback — and now you can make it with your kids!
Here's a simple, three-ingredient recipe without borax, a cleaning substance, which poses the risk of skin irritation after prolonged periods of play.
What you'll need (makes 1 cup):
Old newspaper or a tablecloth to protect your working surface
1 small bottle of washable school glue
1 teaspoon of baking soda
2-3 tablespoons of contact lens solution
Liquid food colouring (optional)
Glitter (optional)
Steps:
Colour your glue and add in glitter if you prefer, then mix in the baking soda until smooth.
Pour in the two spoonfuls of contact lens solution and stir slowly. It should turn harder and stringy after a while. Continue mixing until it forms a ball.
Now the fun bit: work the slime with your hands to properly blend it. If the slime is still runny, add in the extra contact lens solution and continue to stir.
Watch the tutorial below which features the above recipe and alternate versions using shaving foam to make a fluffier slime and sequins for a twist on the original one.
After playing, store your slime in an airtight container like our stackable Twist & Turn Airtight Container or colourful Eclectic Customisable Airtight Glass Container to prolong its lifespan.
14. Oobleck
The magical oobleck is both a solid and a liquid, making it a great project for teaching younger children about the states of matter. What's more, you'll only need two simple ingredients and one bowl to keep them occupied!
What you'll need:
1 cup of water
1.5 to 2 cups of corn starch
Optional: food colouring
Steps:
Pour in the water into a large bowl, then add several spoonfuls of the cornstarch into the bowl at a time. Mix with a spoon, and switch to your hands when it gets more difficult.
At 1.5 cups, add it more slowly, one spoonful at a time and continue to stir. The key is to achieve a balance between liquid when stirring and solid when punching it.
Lastly, stir in your food colouring and have fun learning!
Watch this experiment in action below, which also briefly explains to curious kids how this strange object works so you don't have to do it yourself!
---
Online Activities
15. June Holidays Family Fun! By National Museum of Singapore
The National Museum of Singapore has curated a list of online and on-site programmes for the whole family to have fun and learn, including local-themed activities like a show-and-tell on '80s and '90s artefacts (2, 6, and 19 June) and an interactive storytelling session (5 June).
For the crafty ones, join their family scrapbooking workshop (26 June) and even a lunchbox making workshop (17 July) reminiscent of recess time in the past. Until 23 July 2021, sign up for any of their engaging activities here!
16. Children's Biennale
Aimed at children aged 0-12, choose between activities like learning about the environment with a friendly octopus in Conversations with an Octopus, creating your own digital scape with x-ray images, in Illuminated, and observing how bees live and produce honey in BEHOME.
The lively illustrations by the collaborating artists are sure to captivate children and make learning fun. Visit the site to access other activities.
17. Virtual Tours
While it has been a long time since any of us has travelled, we can now visit places like the Louvre and the Smithsonian National Museum of Natural History to view world-famous art and historical artefacts for free.
You can even visit places like the Yellowstone National Park in the USA or the mighty Great Wall of China on their websites!
18. Online Workouts
Don't let your time at home disrupt your healthy lifestyle! YouTube has tons of resources on family workouts, such as this one by POPSUGAR, or Up to the BEat Fit with Disney songs to motivate you.
---
With so many fun and enriching options to suit the personality and interests of each child, it's certainly possible to make their holidays both restful and productive even if they're confined indoors. Let us know if you've tried any of these activities below!