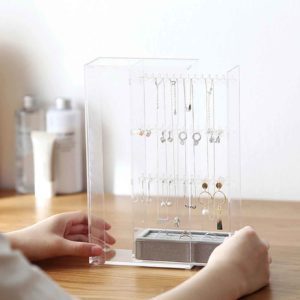 It's important to know how to store your jewellery pieces properly – you did spend a lot of money on them after all. Read on to find out how you can keep your jewellery neat, organized and tangle-free!
---
How To Categorise Jewellery
1. Keep Like With Like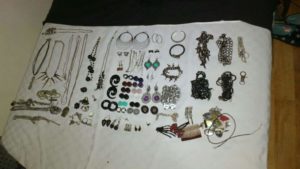 Group similar jewellery items together – necklaces in 1 group and rings in another. You can create sub-categories for jewellery pieces such as earrings – separate dangling earrings from ear studs to prevent tangling.
You can also create another category for your everyday jewellery pieces. As you wear them often, it's advisable to not have it mixed with your other jewellery collection so that you'll be able to access them easily.
2. Separate Fine Jewellery From Costume Jewellery
When it comes to storing jewellery pieces, separating fine jewellery from costume jewellery is a must. This prevents the metals from tarnishing quickly when they interact with each other.
Fine jewellery: Fine pieces of jewellery are of high quality and expensive jewellery pieces. They're made from real gemstones (pearls, diamonds) and valuable metals such as gold, sterling silver and platinum.
Costume jewellery: Costume jewellery, also known as fashion jewellery, are often made from lesser quality materials or metals. On some occasions, these jewellery pieces are made with authentic metal but are embellished with artificial stone.
---
How To Store Fine Jewellery
3. Keep Fine Jewellery In A Concealed Box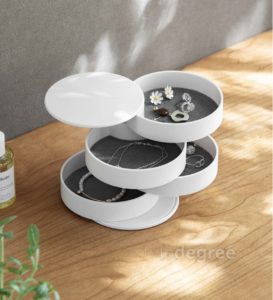 To prolong the lifespan of your fine jewellery, keep them out of direct sunlight to prevent any tarnishing – instead, store them in a dark and cool place like a concealed jewellery box.
Ensure that the jewellery box is lined with fabric or felt so that you can place your jewellery in there without worrying about any damage. Place silica gels, activated charcoal or chalk in your jewellery organizer to remove excess moisture – this delays the tarnishing process.
Here's how you can store the different types of fine jewellery.
Pearl Jewellery: Pearls are fragile so keep them away from any heat source. Do not wrap pearls in plastic packaging as the lack of air would cause it to lose its shine and be brittle. Lay your pearl pieces flat on a felt-padded compartment.
Diamond Jewellery: Keep diamond jewellery pieces away from other jewellery as it can easily scratch the metal on your other jewellery. For jewellery pieces with diamond pendants, remove it from the necklace or bracelet and store it separately. For rings, keep it in a ring box.
Gold & Silver Jewellery: Wrap these jewellery pieces in anti-tarnish cloth or bag to prevent discolouration and to retain its shine.
Gemstone Jewellery: Store gemstone jewellery separately from other metals as they scratch easily. Wrap the jewellery pieces in a cloth or keep it in its original bag to prevent it from bumping into each other and causing damage.
Additional Storage Tip: Gemstones such as opal should be stored away from direct sunlight to avoid fading!
---
How To Organize Jewellery
The best place for you to store your jewellery pieces would be near to where you get ready in the morning, be it your bathroom, vanity or wardrobe.
If you have a walk-in wardrobe, consider dedicating a space for your jewellery – it simplifies your morning routine as you can dress up and accessorise at the same time.
We've compiled jewellery storage ideas for the different areas where you can keep your jewellery. Click on the different sections to navigate directly to the jewellery organization idea.
Organizing Jewellery On Vanity Table
4. Display Everyday Jewellery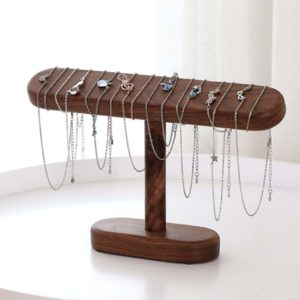 For your everyday jewellery, keep them at your vanity top for easy grab and go. As you wear these pieces everyday, ensure that they're visible and accessible by storing them in jewellery organizers!
Tip: If you hope to get more wear out of certain jewellery pieces, place it on your vanity top to remind yourself.
There are various ways to display them – you can hang them on a stand or store them in a tray. Not only does it keep your jewellery organized, but they also double as a decoration piece for your vanity.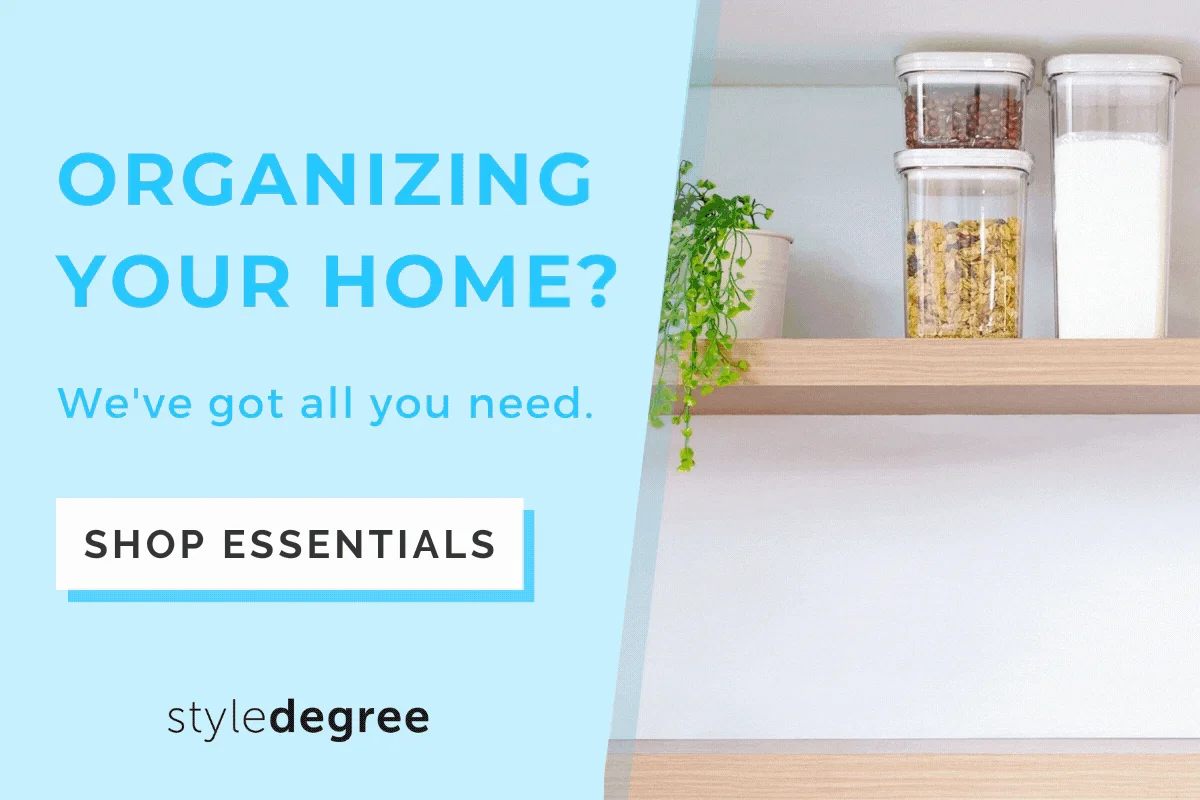 Organizing Jewellery In Drawers
5. Use Drawer Inserts With Compartments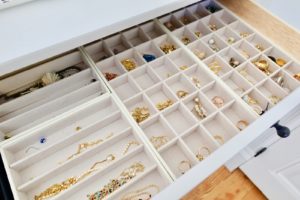 Dedicate a drawer especially for all your jewellery and organize them using compartmented jewellery containers. These organizers are great for keeping your jewellery pieces separate and untangled.
6. Upcycle Egg Carton As Jewellery Organizer
Keep your egg cartons – they come in handy for organizing your jewellery! You can use egg cartons as a DIY drawer organizer. Simply cut the egg carton tray according to the size of your drawer and slip it inside. You can also paint the carton to glam it up!
Place your jewellery pieces in its respective compartments – one compartment for one pair of earring – to keep it organized and tangle-free.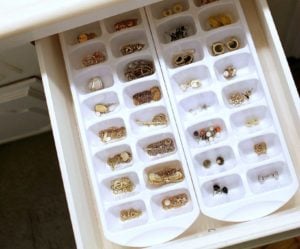 Another alternative is using an ice cube tray. Similar to the egg carton, you can sort out your jewellery in the different compartments so you can easily find the jewellery of your choice!
Also check out on StyleMag: Upcycle These Household Items for A Zero Waste Home
Organizing Jewellery On Walls
7. Hang Jewellery On Pegboards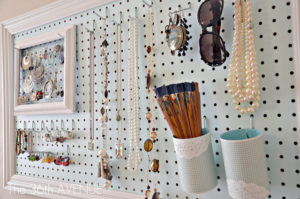 If you don't have enough surface space for your jewellery, make use of your walls! Use a corkboard or a pegboard to hang up your earrings and necklaces – it keeps them organized and tangle-free. 
Not only do these boards organize your jewellery but it also doubles up as a decor piece for your closet or room. You can use hooks to hang up your costume jewellery as well as any other accessories you may have such as sunglasses.
Tip: Cover your cork board with a piece of fabric to give it a more personalised look!
8. Wall Hooks As Jewellery Organizer
Wall hooks are great when you need additional storage space, so why not use it to hang your jewellery? You can choose any wall hooks of your choice, paste it up onto the wall and hang your favourite jewellery pieces on there!
This method keeps your jewellery visible and accessible while giving you instant room decor.
---
With all these tips, it's time for you to get on your feet and organize your jewellery collection! It might seem daunting at first, but you'll feel much happier when you're able to see all your beautiful jewellery pieces laid out.
Let us know in the comments which tip is your favourite and if you have any that you'd like to share with us!