Behind those closed cabinet doors, is your cabinet in a mess? It's tempting to shove things inside as nobody can see it, but it'd be a chore to retrieve your items from that pile of mess.
Read on to find out how you can organize your kitchen effectively!
---
1. Create Zones For Kitchen Cabinets
You might think, do we really need to create zones for our kitchen cabinet? Creating zones in your space is the most important rule when organizing.
Similar to the kitchen work triangle, these zones are meant to create designated spaces for your different items and improve your cooking flow.
Here are 5 zones to consider in your kitchen:
Food storage zone: This area is used to hold all of your food items. This zone might be further split into 2 – your refrigerator and pantry.
Food preparation zone: Ideally, the food prep zone should be located near the stove. This zone should hold kitchen tools that you need for preparing food. For example, food containers, measuring cups, can openers and condiments.
Cooking zone: This zone is also known as the pots and pans zone – as the name suggests, you store your bulky cookware (pots, pans, wok) and cooking utensils (tongs, spatulas) here.
Cleaning zone: The cleaning zone is located underneath your sink and it holds all your cleaning supplies such as dishwashing liquid, sponges and extra garbage bags.
Dishware zone: This zone consists of your dishware, drinkware and cutleries. It'd be good to have this zone next to your cleaning zone, where the sink is located. You can also keep items such as cling wrap and food clips for when you're storing your leftovers away.
Also check out on StyleMag: How To Create An Efficient Kitchen Layout With The Kitchen Work Triangle
---
How To Organize Kitchen Cabinets
Once you've figured out the different zones, it's time to organize your kitchen cabinets. Take everything out of your cabinets, wipe down the surfaces and get rid of the items that you no longer use.
After that, categorise your items based on the zones you've created – food items, cookware, cleaning supplies and dishware. It's up to you how specific you want your sub-categories to be, as long as they're kept together when you keep it in the cabinet.
Click below to go to the specific zones:
---
Organizing Pots & Pans
2. File Pots & Pans Using An Organizer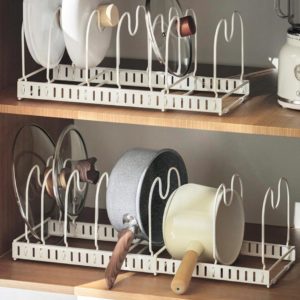 Ft. Extendable Pots & Pans Adjustable Rack
File your cookware in a pot lid organizer or a cabinet organizer– it utilises the height space in your cabinet and keeps everything neat, tidy and easily accessible.
For the lids, you could file it together with the pot or keep them separate. If you're keeping them separate, corral the lids in a lid rack and store it next to your cookware. You can also hang it up on your doors – attach a cabinet lid hanger or wall hook at your cabinet door for easy retrieval of those lids.
Swipe <- or click on image to view gallery
For the baking enthusiasts, you probably have baking tools such as baking trays and cooling racks just piled up in your cabinet. Keep them organized by storing them in a cabinet organizer or hold them up using tension rods!
3. Nest Cookware To Save Space
Tall pots and heavy-duty pans are perfect for nesting as they're usually too big for organizer racks. Nest your smaller pots inside your larger pots to conserve space and store the corresponding lids beside it.
Tip: Never stack more than 3 pots together as it'll be difficult for you to retrieve it when you need it.
However, nesting your cookware comes with a risk – it could scratch the coating off your pan. To prevent that from happening, line your cookware with a paper plate or towel. Not only does it protect your pans but it also absorbs moisture to prevent rust!
4. Hang Pots & Pans
Swipe <- or click on image to view gallery
Save cabinet and countertop space by hanging crockery on the ceiling, walls or even at the side of your cabinets. This is a great way for you to utilise precious real estate and display your pretty cookware. It also keeps your pots and pans accessible whenever you need it.
If you're working with a tall cabinet, you can opt to hang your pots and pans in there – simply install some hooks at the top of your cabinet. You can utilise the base of the cabinet to store the lids or if you want, even more pots and pans.
Also check out on StyleMag: 15 Best Space-Saving Home Interior Ideas To Maximise Space
5. Keep Everyday Pots On The Stove
Do you cook everyday? If you're someone who cooks on the daily basis, it'd be wise to leave your daily pots and pans on the stove. This saves you the trouble of having to keep it and take it out again the next day. The extra cabinet space can be used to store your other cookware.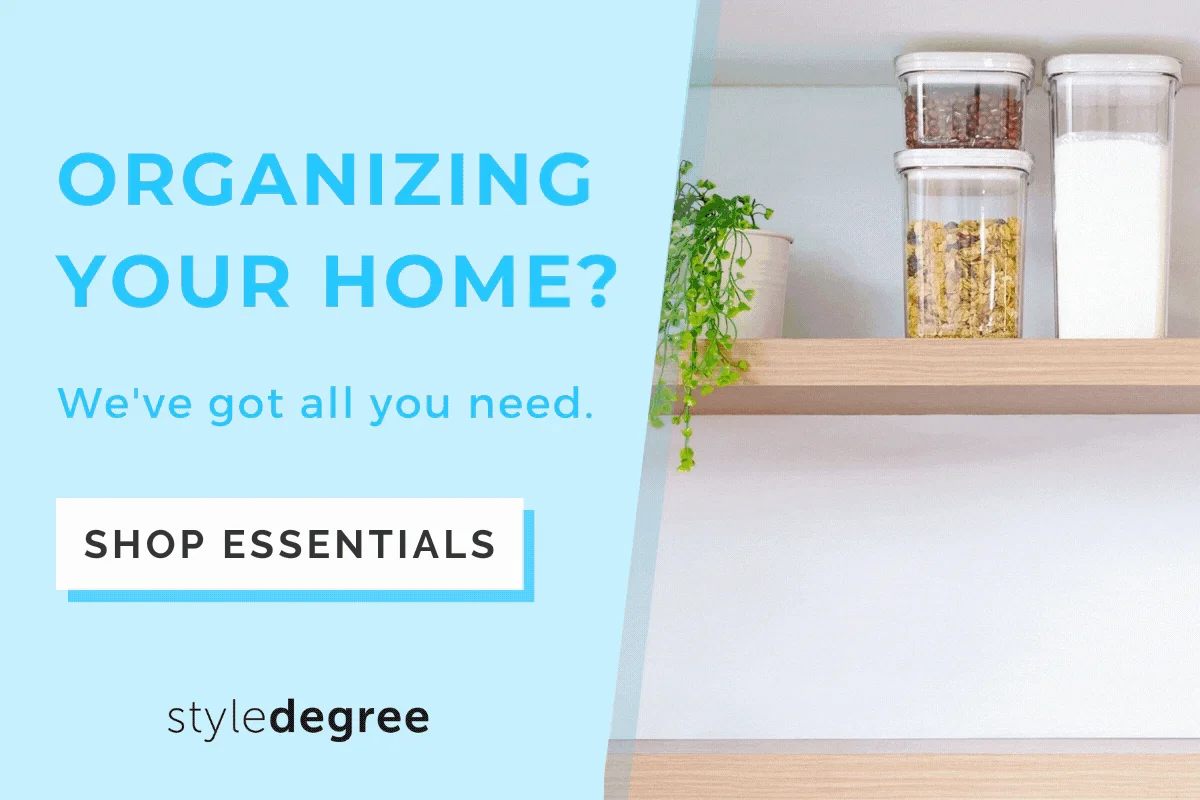 ---
Organizing Dinnerware In Cabinets
Dinnerware might be something you never thought of organizing, but having it well-organized ensures a smoother workflow in your kitchen.
As a rule of thumb, group your dinnerware into 2 categories – the ones that you use on the daily basis and those that are used for special occasions.
Place your everyday dinnerware at the lower shelf and the special occasion dishes at the top. This makes it easier for you to access the items you need! You can consider keeping a stool near your dinnerware cabinet so you can easily use it to reach for items at the higher shelf when needed.
6. Stacking Or Filing Dinnerware
Stacking dinnerware
For taller and narrow cabinets, stacking up your dinnerware would be ideal as it utilises the height space. However, make sure that there are no more than 6 plates per stack as it'll make it difficult for you to retrieve your dinnerware.
Tip: For your special occasion dinnerware, line it with paper towels to protect it from chipping that could happen when storing.
Stacking up your bowls can be dangerous, so keep it safe and organized by storing it inside a bowl storage organizer to prevent any toppling when you're retrieving it.
For larger and heavier serving dishes such as casserole pans, you could nest the smaller ones inside the larger ones to save space.
Filing dinnerware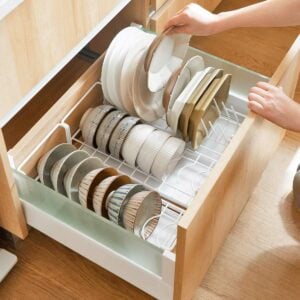 Ft. Grande Slim Plates & Bowls Cabinet Organizer
If you're storing your dinnerware in a wide but short cabinet or in pull-out drawers, consider filing them instead of stacking it up. It makes it easier for you to grab the exact dish you need as you can see everything at a glance.
You can neatly arrange your dinnerware in a dinnerware organizer or use a peg drawer system to prevent any chipping and damage from happening.
Tip: Store your everyday dinnerware on a countertop or leave it on the drying rack to save cabinet and drawer space. It keeps them accessible and the freed up space can be used to stow away other less frequently-used items such as extra kitchen appliances.
7. Maximise Space With Shelf Organizers
Keep your plates and mugs separate by sliding an under shelf basket into your cabinet. You can also opt for a kitchen rack organizer – these organizers help you fully utilise the vertical space in your cabinets.
It's ideal to store mugs on 1 even layer instead of stacking them up – it prevents any chips from happening at the rim and base. It's also easier for you to grab it in the morning without having to worry about any topples.
Tip: Line your cabinets with a cabinet liner or non-slip paddings – it protects your dinnerware from chipping against your cabinet and makes it easy to clean up. 13
---
Organizing Under-Sink Cabinets
8. Add Extendable Shelf Divider
Due to the awkward space and pipes under the sink, people often overlook this precious space and underutilize it. To fully utilise the height space, you need to work around the obstacle – add an extendable shelf to your under-sink cabinet!
Thread the sink pipe through the rods to fully utilise the space. From there, you can place clear storage bins on the shelf divider to create a makeshift pull-out drawer under your sink.
Store and organize your various cleaning supplies such as cleaning cloths and dishwashing soap in the bins, label it and slide it in your cabinet.
Check out how you can fix up this shelf divider in your cabinets here!
9. Use Drawer Organizers To Keep Cleaning Supplies Accessible
As under-sink cabinets tend to be deep and tall, your items mustn't be lost at the back of your cabinet. Keep your cleaning accessories accessible by storing it in 2-tiered organizers with drawers – simply pull out the drawer to grab whatever you need.
You can also use a lazy susan to store your cleaning supplies. Place it to the side of your pipe to fully maximise the deep space in your cabinet. Just turn the lazy susan to grab what you need and go.
10. Suspend Spray Bottles On A Tension Rod
Utilise dead height space in your sink cabinet by adding a tension rod. Hang your spray bottles on the rod by their spray triggers – it keeps these bottles accessible and out of the way.
The space at the base of your cabinet can be used to store your other cleaning supplies!
11. Attach Wall Holders For More Storage Space
For even more organization and storage, add wall holders to the side of your under-sink cabinet. You can also add these holders to your cabinet doors – it keeps your cleaning supplies tidy and accessible whenever you need it!
Doors are prime real estate that's often underutilised. Consider hanging over-the-door hooks on your cabinet doors – you can keep your cleaning cloths or glove.
---
There you have it, 11 tips to help you get your kitchen cabinets in order. You won't feel the satisfaction of having an organized kitchen until you get on your feet! The mess behind those closed cabinet doors won't clear on its own.
Which organization tip did you enjoy the most? Let us know in the comments below!