Are you always spending unnecessary time trying to untangle tangled wires? We know it is frustrating trying to get out of a terrible wire mess! Plus, they are unsightly things that you would want to hide them out of sight, forever.
Here are 6 life-changing ways you can organize and hide your messy cables, TV wires, modem and extension cords. It's time to manage your clutter!
---
1. Hide extension sockets in a cable management box

There is no doubt extension sockets are a blessing in home!
However, it can look bulky and messy when too many plugs are on it. Hide this unsightly cable mess with the help of a cable management box.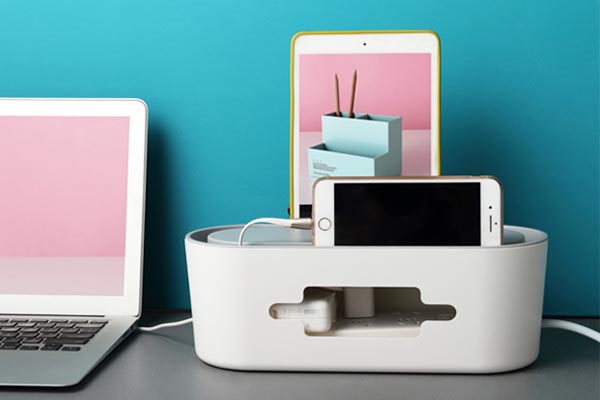 With dedicated cable holes as well as slots to hold your phones and tablets while charging them – it is a simple yet convenient solution to manage your tangled wires!
Plus, it has ventilation holes beneath them to ensure proper heat dispersion.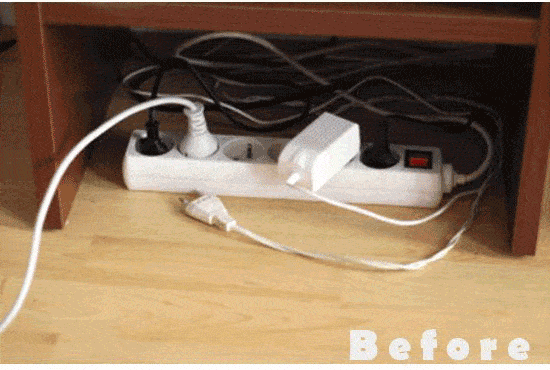 If you are more hands-on and love creating your own storage solutions, try out this DIY version. Simply reuse a shoe box/gift box and create some holes at the sides and bottom to allow cables to pass through.
---
2. Disguise modem, routers & TV wires creatively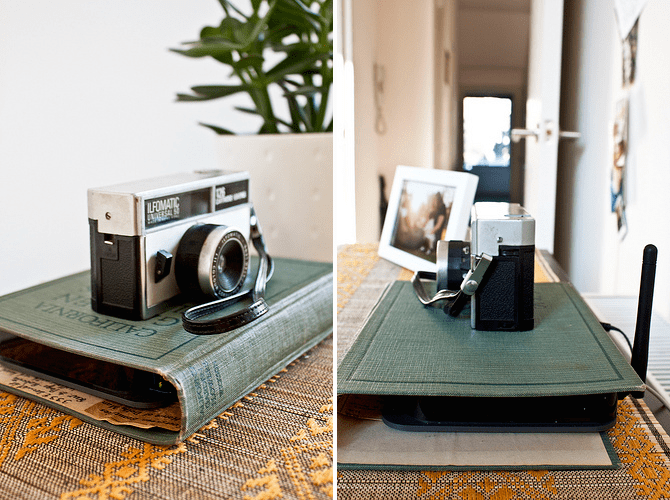 We can hear you go "Ooooh". Slot your modem in a hollowed-out book and your guests wouldn't even notice it!
Alternatively, style your TV cabinet by adding books, home accessories while blending your modem, gaming electronic devices into the decor.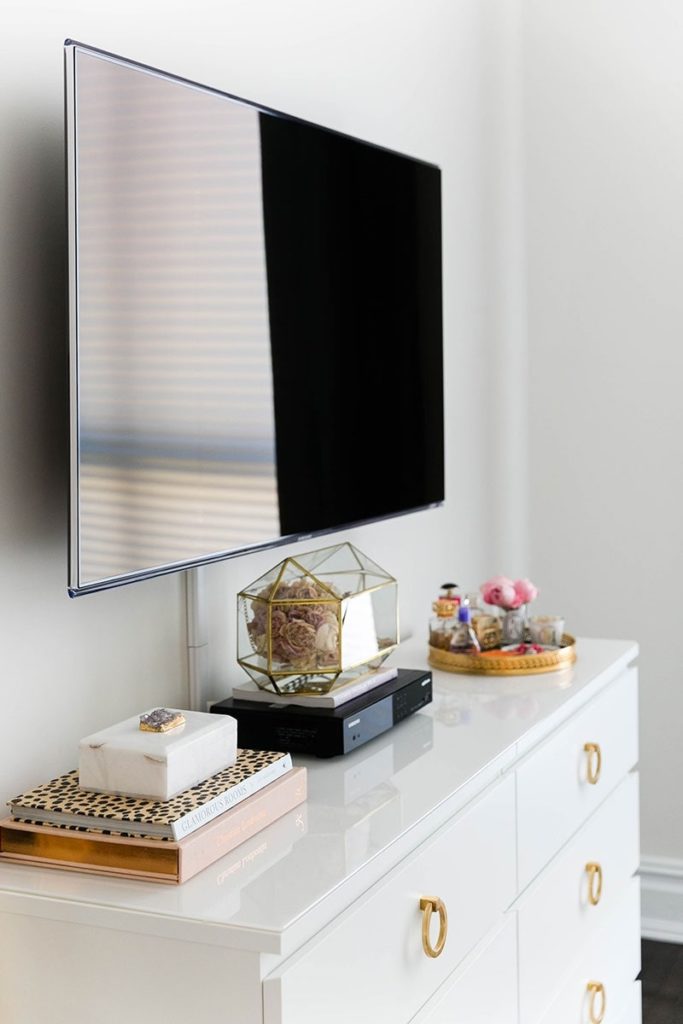 For unsightly TV cables that sticks out from the back for your TV, use a cable concealer cover. They can hold multiple wires together.
Decor tip: You will be able to paint them in any colour to match your wall!
---
3. Label your wires
Always using your fingers to trace back to your power socket? We know, it it hard to identify wires because they all look similar to one another.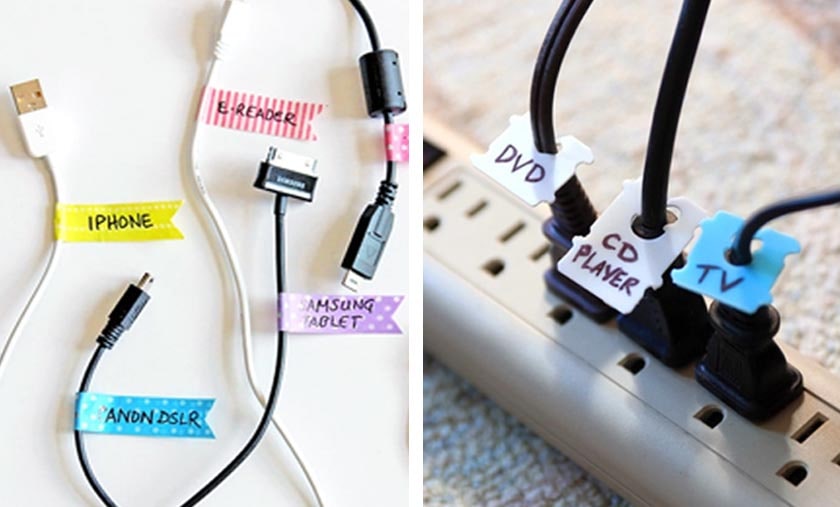 Stop getting confused over your wires by creating labels for them. It is the easiest way to organize your cables, wires and cords. A washy tape or even… your bread twist ties can easily double up as a label!
---
4. Prevent falling wires
Let your wires slide into a safe zone with this nifty cable management clip! Simply stick it to the sides of your office/home desk. And we guarantee, the next time you unplug your wires, you will never have to bend down for your fallen wire!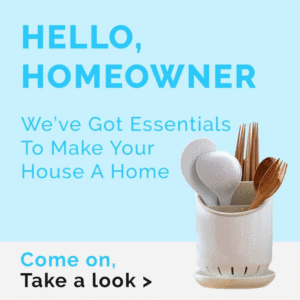 ---
5. Give your power plugs a home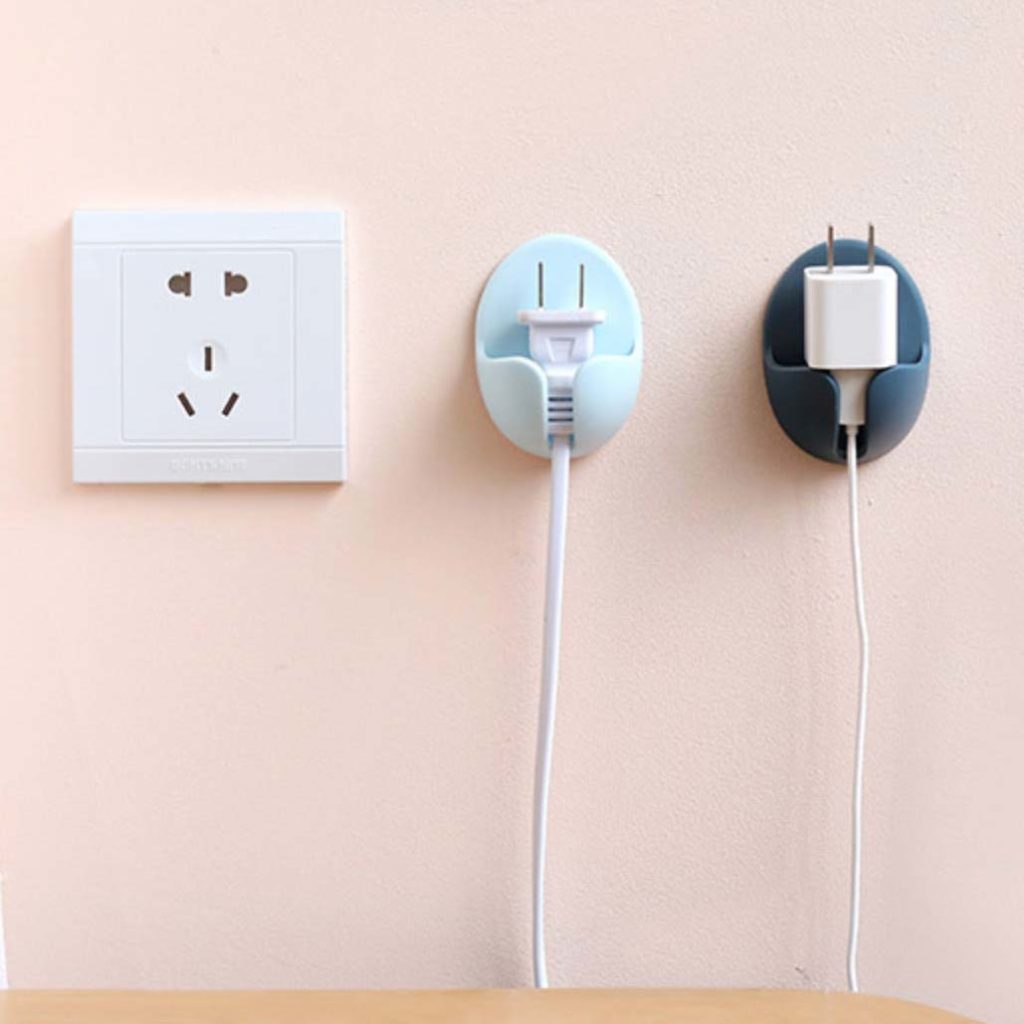 If you are always using a power socket interchangeably for different home appliances, a power plug wall holder ensures that you will be able to switch between appliances swiftly!
Giving each plug a home to live it, it keeps your floor free from a tangled cable mess.
---
6. Digital organizers to the rescue
Always store all your cables and wires together either in a storage box or an organizer to prevent them from lying loosely around.
If you love getting hands-on and creating your own organizers, this is it!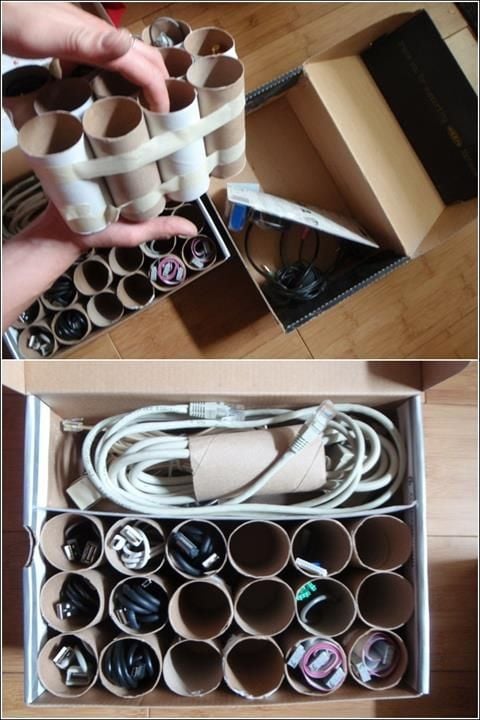 Intrigued by this clever organizing hack? The next time you discard any toilet paper rolls, you might want to keep it for future use! It cylindrical shape helps you to keep your wires upright, utilising height and saving space.
Tip: Label your wires before sorting them out so that you can recognise them at a glance.
---
Start organizing your tangled wires and let your imagination run wild when it comes to hiding them out of sight! 😉
Need a little help with cable organization, shop all Cable Management essentials here.