Are you always spending unnecessary time trying to untangle tangled wires? We know it is frustrating trying to get out of a terrible wire mess! Plus, they are unsightly things that you would want to hide out of sight, forever.
Here are 8 life-changing ways you can organize and hide your messy cables, TV wires, modem and extension cords. It's time to manage your clutter!
---
1. Hide Extension Sockets In A Cable Management Box


There is no doubt extension sockets are a blessing in your home! However, it can look bulky and messy when too many plugs are on it. Hide this unsightly cable mess with the help of a cable management box.
With dedicated cable holes as well as slots to hold your phones and tablets while charging them – it is a simple yet convenient solution to manage your tangled wires! Plus, it has ventilation holes beneath them to ensure proper heat dispersion.
If you are more hands-on and love creating your own storage solutions, try out this DIY version. Simply reuse a shoebox/gift box and create some holes at the sides and bottom to allow cables to pass through.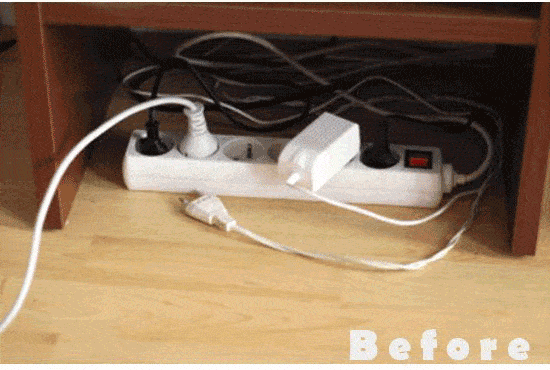 ---
2. Disguise Modem, Routers & TV Wires Creatively
Swipe <- or click on image to view gallery
Keep your wifi router or modem out of sight by slotting it in a hollowed-out book! Styling your TV console by adding books and home accessories will also help blend your modem and gaming devices with the decor.
Otherwise, you can neatly organize it in a router storage box. It features a 2-tier pull-out drawer where you can house your extension plugs in the bottom tier and your wifi router on the top tier. 
For unsightly TV cables that stick out from the back of your TV, use a cable concealer cover. They can hold multiple wires together.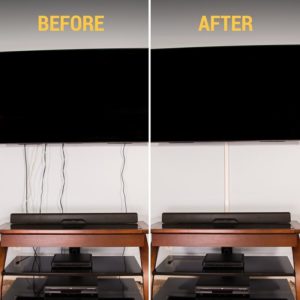 Decor tip: Paint them in any colour to match your wall!
---
3. Mount Extension Sockets To The Wall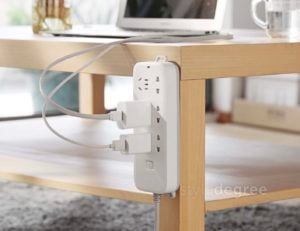 Extension sockets are often tossed at the corner of your room, gathering clutter and dust. Get the extension sockets off your floor by mounting them on the wall or the side of your desk by using a cable wall holder!
Not only does it keep them out of view, but it also leaves your floor free from wires that could pose a tripping hazard.
Tip: Ensure that all the cables can reach the extension socket before mounting it to the wall or desk.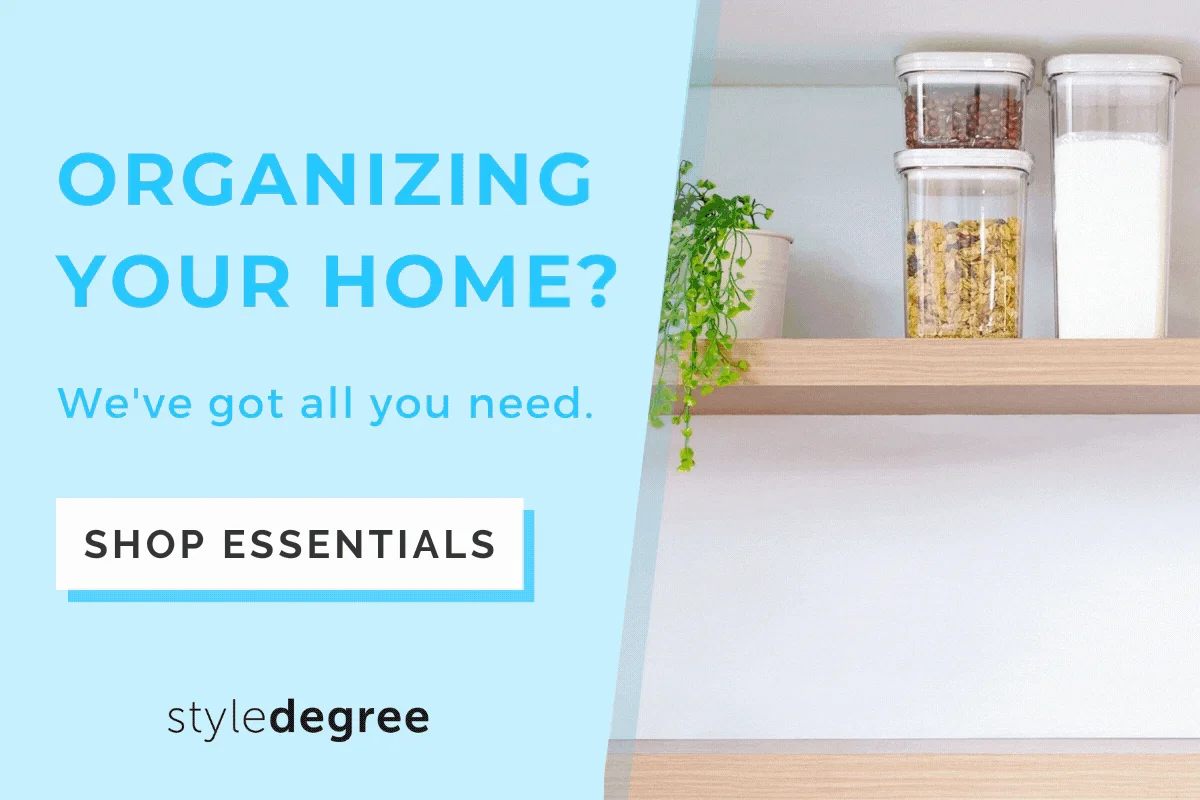 ---
4. Label Your Wires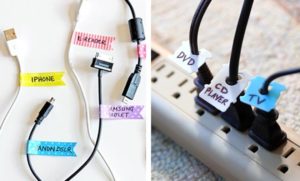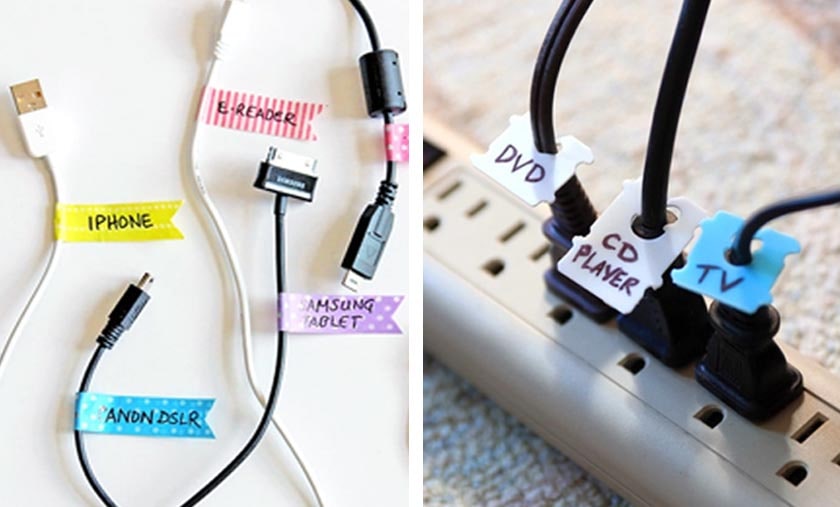 Are you always using your fingers to trace back to your power socket? We know, it's hard to identify wires because they all look similar to one another.
Stop getting confused over your wires by creating labels for them. It is the easiest way to organize your cables, wires, and cords. A washi tape or even your bread twist ties can easily double up as a label!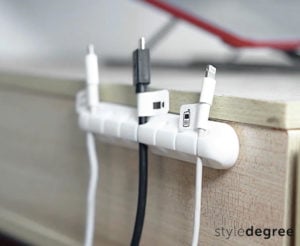 If you have a label maker on hand, you can also use it to label your wires! Instead of words, try using icons to identify the label – for example, a phone icon for your phone charger!
---
5. Prevent Falling Wires
Let your wires slide into a safe zone with this nifty cable management clip! Simply stick it to the sides of your office/home desk.
If not, you could also use a binder clip to hold your cables up – simply attach it to the side of the table and loop your cables through the opening. With these methods, we guarantee that the next time you unplug your wires, you will never have to bend down for your fallen wire!
Note: This method only works if your table has a jutting edge that is thin enough to secure the binder clip.
---
6. Give Your Power Plugs A Home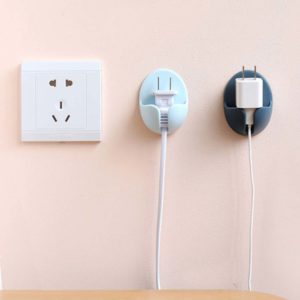 If you are always using a power socket interchangeably for different home appliances, a power plug wall holder ensures that you will be able to switch between appliances swiftly!
By giving each plug a home to live in, it keeps your floor free from a tangled cable mess.
---
7. Store Cables In Eyeglass Case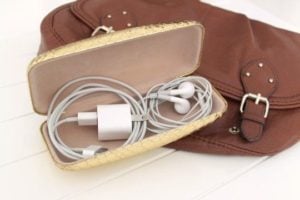 Do you have spare eyeglass cases lying around the house? Repurpose it to store your wired earphones and chargers when you're going out or travelling! It prevents the wires from getting tangled with the other items in your bag.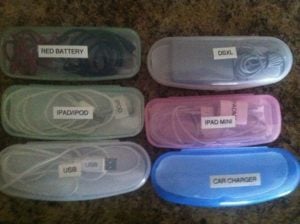 As another option, store your less frequently used cables in the case and label them accordingly. Corral them together in a storage box – it helps you locate your various chargers easily.
---
8. Organizing Cables In Drawers
Swipe <- or click on image to view gallery
For the less frequently used cables and wires, store them together in a storage box or a digital organizer bag to prevent them from lying loosely around. Label the different wires before storing them inside a storage box!
If you're storing it in a drawer, use drawer dividers to segregate the space for the different types of wires. You can label the dividers so that your family will know where to find and return the respective cables.
Tip: Coil up the wires and secure them with a binder clip or rubber band so it doesn't untangle.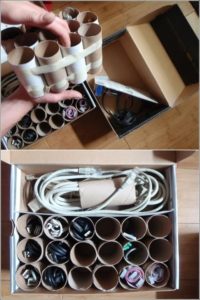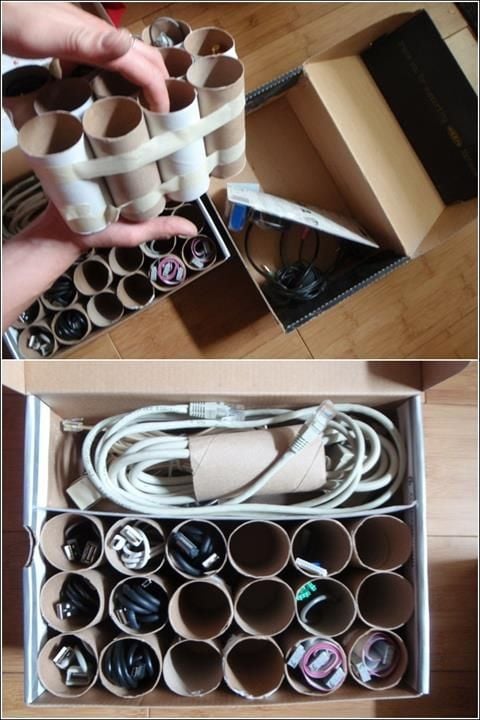 If you love getting hands-on and creating your own organizers, this is it! Intrigued by this clever organizing hack? The next time you discard any toilet paper rolls, you might want to keep them for future use! Its cylindrical shape helps you to keep your wires upright, utilising height and saving space.
---
Start organizing your tangled wires and let your imagination run wild when it comes to hiding them out of sight! 😉
Need help with your tangled wires? Check out our Cable Management Essentials!