General outlook
The May 2019 BTO sales comprises of launches at 3 areas – Tengah, Woodlands and Kallang/Whampoa. A total of 3,485 units will be available, a dip from the February 2019 BTO launch which saw 3,739 units.
Before you apply for it, here's an in-depth analysis and comparison on what you must know about about these 3 areas so that you can make the BEST decision!
---
2 changes to note this May 2019 BTO Sales Exercise
Starting from this May 2019 BTO exercise, balloting time has been reduced from 6 weeks to 3 weeks. This means that you will be able to receive your application results faster – hooray! Definitely keeps those anxiousness away doesn't it?
The list of future BTO sites for August and November sales launch have been released this May 2019 BTO exercise. Details that will be released includes location, the number of units and the flat mix. This will allow home buyers to think and plan ahead.
UPDATE: 3,350 BTO flats will be released in Punggol and Tampines this August 2019. Additionally, 4,570 flats in Ang Mo Kio, Tampines and Tengah will be offered in November 2019. You can view the breakdown for each location here.
---
Summary
Based on these factors gathered, make an informed decision that best suit your preference!
Price (From highest to lowest: Kallang/Whampoa > Tengah > Woodlands)
Flat mix & estimated number of new flats
Nearest MRT(s)
Amenities around (shopping centre, schools, supermarkets)
Future developments
Read on for an in-depth analysis on the May 2019 Tengah, Woodlands and Kallang/Whampoa BTO upcoming real soon.
We will be comparing them to past BTO launches (September 2018, February 2019 BTO launches) in the same area to give you an idea of how this May 2019 BTO might fare.
---
#1 Tengah BTO May 2019
Note: To help you visualise better, highlighted in yellow is the location of the nearest MRT.
Prices

Garden Vale @ Tengah – bounded by Plantation Crescent, Tengah Boulevard and Tengah Drive. Comprises of 8 residential blocks with heights staggering from 7 to 14 storeys, creating the tapered look of valleys nestled amid garden spaces. A total of 987 units comprising of 2-room Flexi, 3, 4, and 5-room flats.
Plantation Acres – situated along Plantation Crescent. Comprises of 9 residential blocks ranging from 7 to 14 storeys. A total of 1,193 units of 2-room Flexi, 3, 4, and 5-room flats.
Tengah is crowned as Singapore's new HDB town following Punggol. You can expect a range of future developments such as 2 Jurong Region Line MRT stations (as seen below highlighted yellow), lifestyle spaces that foster community gardening (CG) and farming upcoming. However, it will take time, probably around 10 to 20 years before the town fully matures.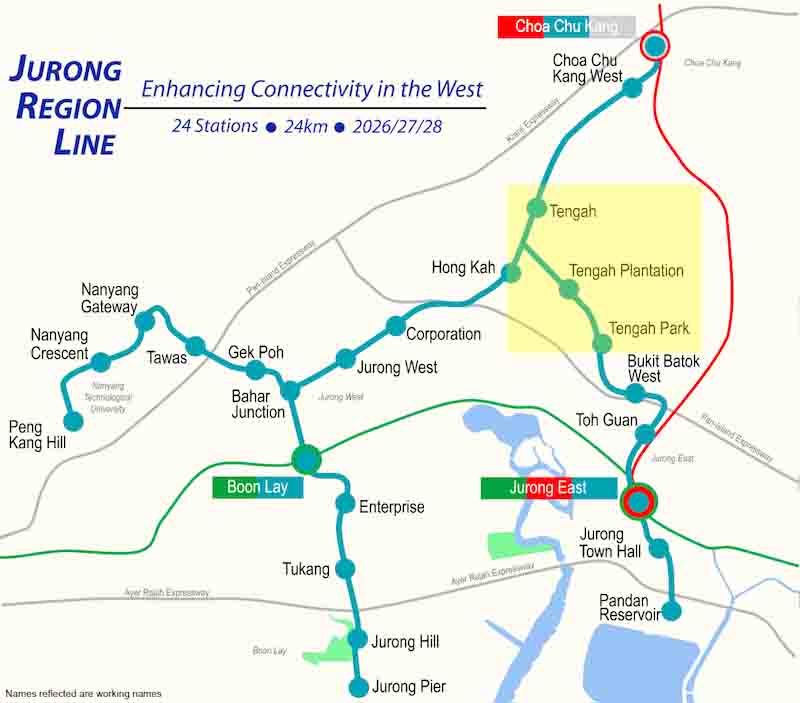 If you have been a 'Westie' for life and would want to build to future family there, this is it!
Previously in the November 2018 BTO launch, the first BTO project called Plantation Grove was launched in Tengah. It is actually located just next to where the upcoming Tengah BTO flats will be launching! A price of a 4-room flat without any grants started from $290,000 and a 5-room flat started from $397,000. During that launch, the 4-room and 5-room Tengah BTO flats were oversubscribed by 2 times the number of units available.
This time round in the May 2019 BTO launch, a price of a 4-room flat without any grants started from $309,000 and a 5-room flat started from $415,000. Prices are slightly steeper compared to the November 2018 launch in the same area, Tengah.
---
#2 Woodlands BTO May 2019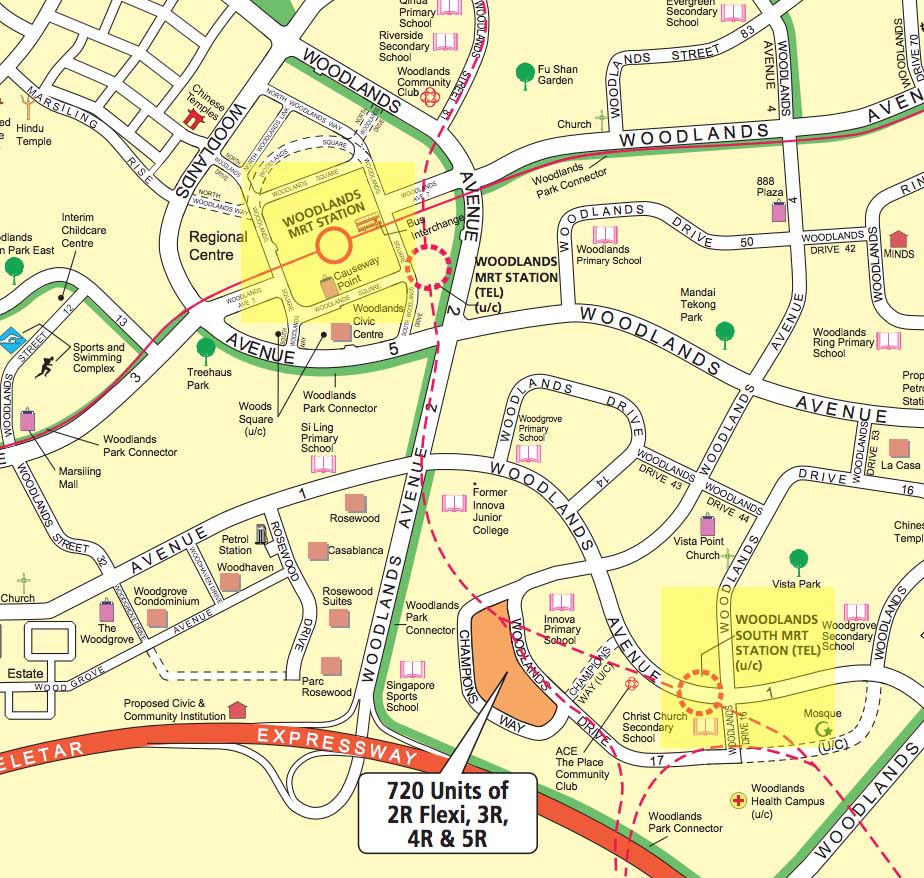 Note: To help you visualise better, highlighted in yellow are the location of nearest MRT(s).
Prices

Champions Green – bounded by Champions Way and Woodlands Drive 17. Comprises of 6 residential blocks that are 10 storeys high. A total of from 722 units of 2-room Flexi, 3, 4, and 5-room flats.
Prices wise, it is the cheapest out the 3 towns available.
The highlight of the Woodlands BTO flat this May 2019 has got to be its accessibility to the soon-to-be completed Woodlands South MRT station as seen below. We can await its arrival by the end of this year, 2019 if everything goes well!
While woodlands might not be a top choice amongst home buyers, it actually fairs well in terms on amenities. Schools, a shopping mall (Causeway Point) and supermarkets are relatively near.
---
#3 Kallang/Whampoa BTO May 2019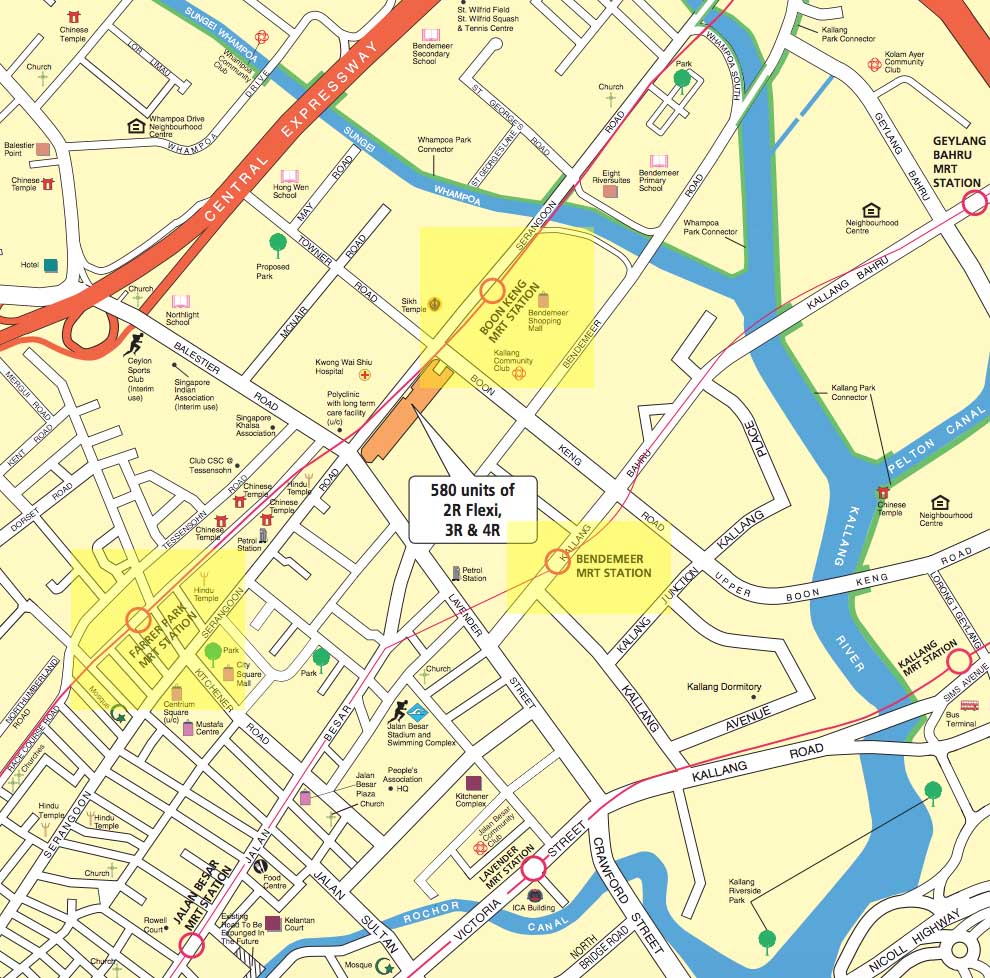 Note: To help you visualise better, highlighted in yellow are the location of nearest MRT(s).
Price

Kempas Residences – situated just off Kempas Road and bounded by Serangoon Road, Lavender Street, and Boon Keng Road. 4 residential blocks ranging from 29 to 37 storeys in height, offering 583 units of 2-room Flexi, 3, and 4-room flats. The 2-room Flexi flats are only offered to seniors (aged 55 and above) on short leases between 15 and 45 years (in 5-year increments).
A location that has got many home buyers excited! But, this comes with a hefty price tag – it is the most expensive out of the 3 towns available for this May 2019 BTO sales launch.
Located at a prime spot with Boon Keng and Bendemeer MRT just a stone's throw away. You will get to hop on the North East or Downtown line within minutes – who doesn't love that?
Previously, during February 2019 BTO launch, Towner Crest was launched just across the road, with a 3-room fetching a selling price from $374,000 and a 4-room from $523,000. Moreover, 7,084 applicants were fighting for 855 flats available previously, a over-demand of about 8.3 times the supply!
So, count yourself really lucky if you manage to secure this BTO!
---
Which one are you eyeing for? Remember to check if you are eligible for any Priority Schemes to help you increase your chances of securing a BTO. Interested in applying for the May 2019 BTO launch? Head on to HDB website here to apply!
If you need help understanding the complicated HDB BTO process, let us help you out with our Ultimate BTO Guide (6-Part Series)!
Planning your dream home? Make it a happy nest with our Home Essentials & Organizers!