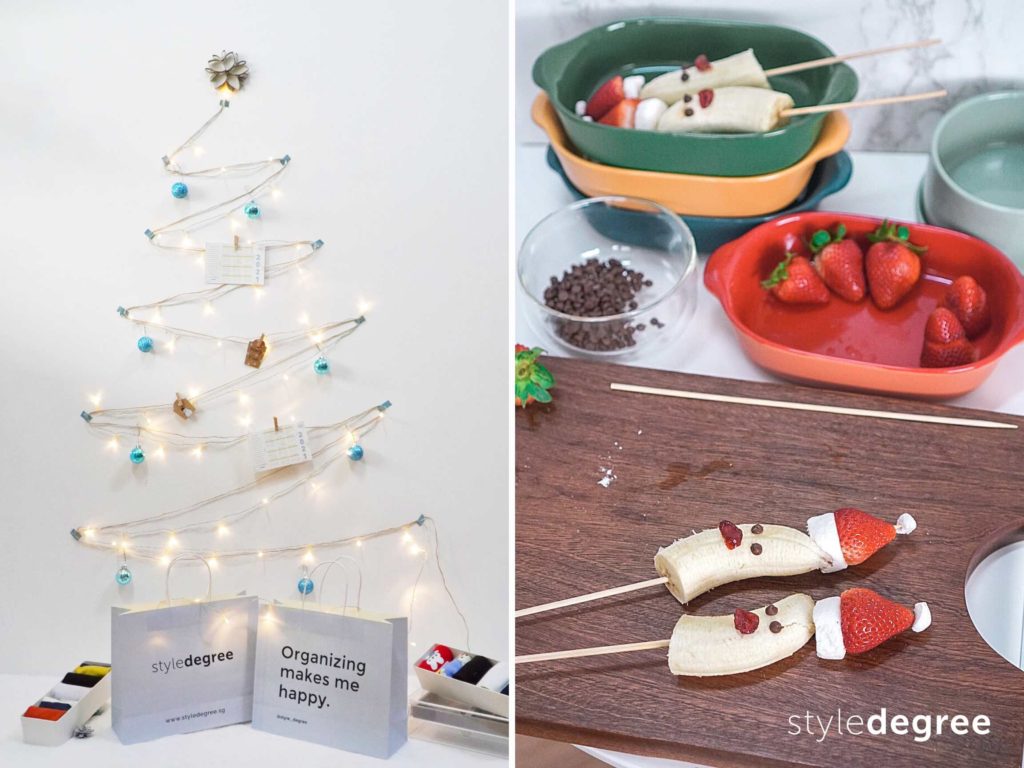 It's December, which means school's out and Christmas is right around the corner. Making simple DIY decorations and yummy goodies are part of the Christmas experience, so gather your children and get your craft on!
Check out these 15 adorable and simple Christmas DIYs that you can try out with your family this holiday!
---
Click on the different sections to navigate directly to the various Christmas DIY ideas!
---
DIY Christmas Party Food
1. Little strawberry Santa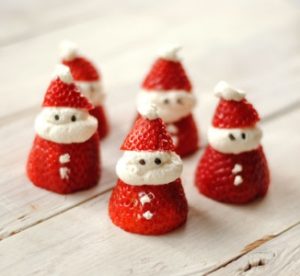 These adorable strawberry Santas are adorable, healthy and easy to make! Serve it in our Nordic Casserole Dish for a Christmas party and guests are sure to swarm around these cute little beings.
Ingredients:
Strawberries
Whipped cream
Chocolate sprinkles
Tip: Make sure to use fresh strawberries as the snack will taste better!
Steps:
Slice off the leafy part and the pointed end of the strawberry
Pipe whipped cream on the strawberry base
Sandwich the base and the hat before piping a little more whipped cream on top
Use chocolate sprinkles to act as eyes
Using a toothpick, put 2 spots of whipped cream on the strawberry as buttons
Be sure to serve them to your guests in our elegant Nordic Dining Series!
2. Cucumber Christmas trees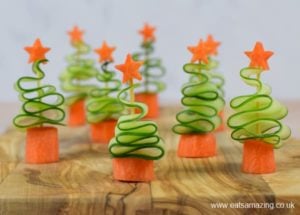 Add this fun and colourful snack to your party table this Christmas! It's an adorable and attractive way to get your children to eat their vegetables.
Ingredients:
1 large carrot
1 large cucumber
Steps:
Shred long strips of the cucumbers with a shredder
From the smaller end, slowly fold the strip of cucumbers back and forth. Make the folds larger as you go along.
Push a toothpick through the carrot slices, folded cucumber strip and star-shaped carrot
Carefully separate the cucumber folds to create a tree shape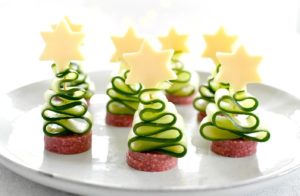 Tip: Try out this recipe using other ingredients such as cherry tomatoes, cheese and even hotdog!
3. Egg snowman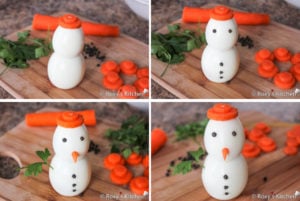 These cute winter snacks are the perfect addition to your Christmas party platter – they're healthy and it shows off your creative skills!
Ingredients:
6 peeled large hard-boiled eggs
6 peeled quail hard-boiled eggs
1 carrot
Stick biscuits
Peppercorns
Parsley
Steps:
Slice carrots of different diameter for the snowman's hat
Slice off the top and bottom of the eggs
Push the wooden skewer through the carrots, large and small eggs and snap off the excess
Use another skewer to create holes on the eggs for the eyes, nose, mouth and buttons
Place a peppercorn on the egg for the eyes, mouth and buttons
Stick a small piece of carrot for the nose
Place parsley at the side of the snowman to act as the hands
4. Hot chocolate marshmallow snowman
This is a fun recipe to spice up your hot chocolate experience! It's quick and simple to put together and it makes your hot chocolate even more delicious!
Ingredients:
Large marshmallows
Stick biscuits
Candy corn
Mini chocolate chips
Steps:
Place 3 marshmallows in a row and stick a wooden skewer through it
Break the stick biscuit in half for the snowman's hands and legs
Use a piece of candy corn for the snowman's nose
Use mini chocolate chips for the snowman's buttons
Melt a tablespoon of chocolate chips in the microwave and pipe out the snowman's eyes and smile
5. Banana Santa treat
This adorable and healthy snack is a sure way to get your children to eat their fruits! Get the help of your little ones in the kitchen to piece together this simple recipe.
Ingredients:
Large marshmallows
Mini marshmallows
Strawberries
Bananas
Chocolate sprinkles
Red candy-coated chocolate
Wooden skewers
Steps:
Slice banana in half crosswire
Slice a large piece of the marshmallow into 4 horizontal slices
Cut off the stem of the strawberries
Thread the ingredients through a skewer in this order: start with banana, marshmallow slice, strawberry and mini marshmallow
Push 2 chocolate sprinkles as the eyes
Add a red candy-coated chocolate as the nose
---
DIY Christmas Greens
6. Space-saving Christmas trees
Swipe <- or click on image to view gallery
Are you thinking about buying a Christmas tree this holiday season? Before you do that, think about the space that you have – for both displaying and storing your trees. If you don't have space, there are plenty of space-saving Christmas trees ideas you can try out at home!
Twine String Tree: Simply hang up a piece of twine string with a washi tape in a zigzag pattern to resemble a Christmas tree. Top it off with some fairy lights and ornaments and your Christmas tree is done!
Family Memory Tree: Collate your family pictures and paste it up on the wall in the shape of a tree – it's great to show off your family memories and also serves as a great conversation starter.
Wall Ornament Tree: If you have a lot of ornaments at home, you can hang up your ornaments to form the shape of a Christmas tree.
7. Family handprint Christmas wreath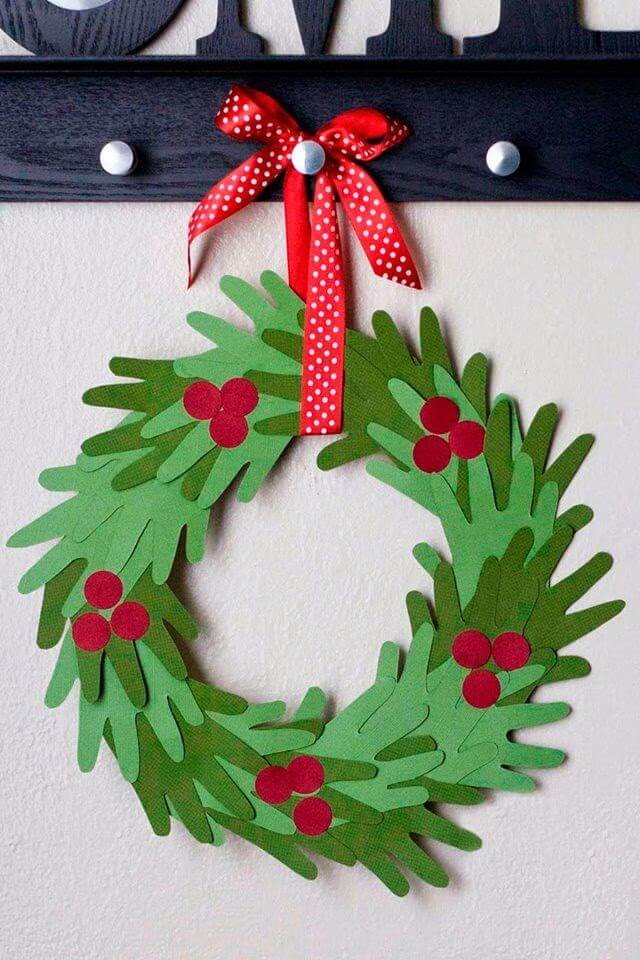 This is a great craft idea that also doubles as a keepsake as your child grows up. Have fun executing the project with your child and you can cherish this project as time goes by!
Materials needed:
Cereal box
Green coloured paper (you can use different colours)
Red coloured paper (or pom-poms)
Glue
Large plate
Small bowl
Ribbon
Steps:
Trace out your child's hand on a cereal box to make a template. It's good to create a template if your child finds the process of tracing out their handprint ticklish!
Cut out about 20-25 handprints on green-coloured paper based on the template that you've made
Place a large plate on a piece of paper and trace it out
Place a small bowl in the middle of the large circle and trace it out
Cut up your circles and start laying the handprints on the wreath
Attach the handprints to the wreath with a little bit of glue
Glue red circle paper or pom-poms to the wreath
Tie the ribbon around the wreath
Tip: You can adjust the width of your wreath according to the size of your child's hand.
8. Layered paper-plate Christmas tree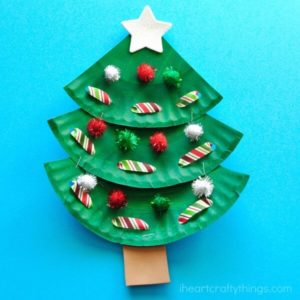 Do you have paper plates lying around from parties you've hosted before? Get those leftover paper plates out and make a Christmas tree with your children! The ridges of the paper plates give your Christmas tree an added texture.
Materials needed:
Paper plates
Green paint
Brushes
School glue
Brown cardboard
Decoration supplies (e.g: coloured yarns, pom-poms)
Steps:
Paint the paper plates green and let it dry completely
Cut the plates into thirds, with one section smaller than the rest
Layer it together with the smallest section at the top, creating a Christmas tree shape
Staple the sections together
Glue a rectangular piece of cardboard at the bottom of the tree
Decorate the Christmas tree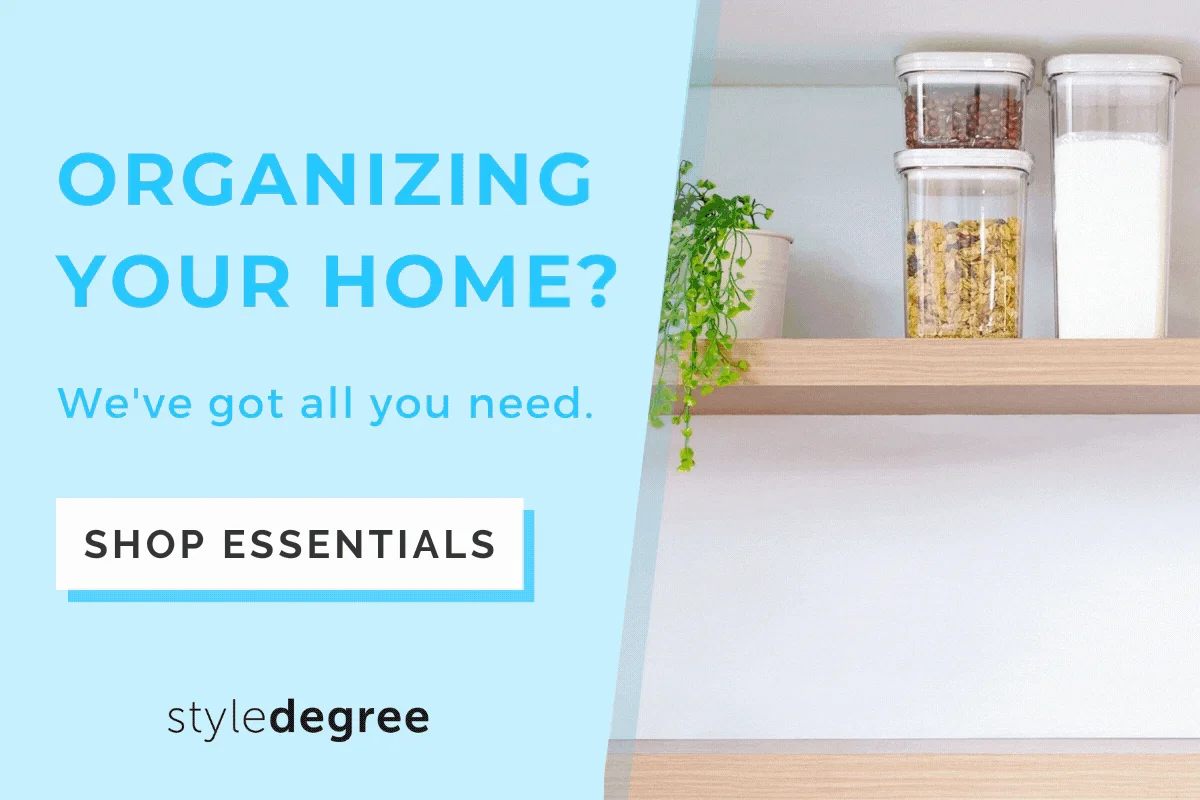 9. Candy bar Christmas tree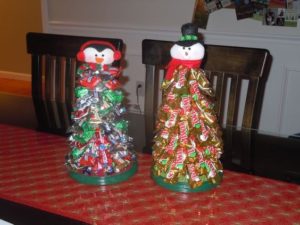 This candy bar Christmas tree will capture both your children and your guests' attention! Fill it up with various chocolate bars and display it on your dining table.
Materials needed:
Styrofoam cones
Pins or glue
Fun-sized chocolate bars
Decoration of your choice
Steps:
Starting from the bottom, place the chocolate bars such that the end of the packet is aligned with the bottom of the cone
Glue or pin the wrapper end of the chocolate bars to the cone and work your way up
Top it off with a decoration of your choice – snowman, ribbons or even more chocolate!
Tip: If you're a fan of tea, you can apply this DIY idea for your teabags!
10. Toilet paper Christmas tree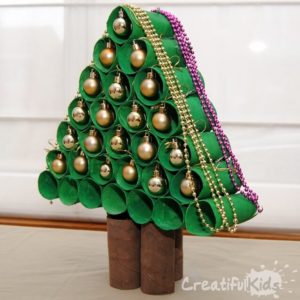 If you have an abundant amount of toilet paper rolls, use it to make this DIY with your kids instead of throwing it away! It's a simple and adorable way of upcycling your toilet paper rolls!
Materials needed:
Toilet paper rolls
Green paint
Paintbrushes
Hot glue gun
Christmas ornaments
Steps:
Decide how tall you'd like the Christmas trees to be
Paint the inside and outside of toilet paper rolls for the tree in green and let it dry
Once dry, glue the sides of the green toilet paper rolls together to form the base row
Glue the toilet paper rolls together until it forms a pyramid. Don't forget to glue the tree trunk at the base as well!
Decorate the Christmas tree with any ornaments your heart desires!
---
DIY Christmas Ornaments
11. Toilet paper roll star ornament
Yes, this pretty ornament is made out of toilet paper rolls! It's easy to do with your children and it looks beautiful on your Christmas tree.
Materials needed:
Toilet paper roll
Ribbon/string
5 clothes peg
Spray paint
Glitter
Glue
Steps:
Flatten and cut the toilet paper roll into half-inch thick strips
Dab some glue at the tip of the strips and stick it together to form a star
Use clothes peg to hold it together until it dries completely
Spray paint the ornament in any colour of your choice
Sprinkle glitter onto the ornament on a sheet of paper and let it dry for an hour
Attach a ribbon/string onto the ornament and deck out your Christmas tree!
Tip: If the glitter doesn't stick, apply glue or spray adhesive on the ornament before sprinkling the glitter.
12. Ribbon Christmas tree ornament
This is one of the simplest DIYs in this list! All you need are some sticks and your leftover ribbons from wrapping your Christmas gifts.
Materials needed:
Sticks (cinnamon sticks, wooden skewers)
Ribbons
Hot glue gun
Twine/brown craft string
Scissors
Tip: Using cinnamon sticks makes your house smell amazing!
Steps:
Tie your ribbons closely together down the cinnamon stick or wooden skewers
Adjust your ribbons accordingly to align it
Trim the sides of the ribbon into the shape of a Christmas tree
You can hot glue the side of the ribbons to prevent fraying
Glue a piece of twine around the top of the stick to create a hook for you to hang the ornament
13. Rolled paper Christmas tree ornament
Swipe <- or click on image to view gallery
Make use of your leftover craft or wrapping papers to make this simple DIY. This DIY can be used as an ornament or you can paste it at the front of your Christmas cards!
Materials needed:
Wrapping/craft papers
Ice-cream stick
Tape
Hot glue
String
Pencil
Steps:
Cut up approximately 10 sheets of paper
Each paper should be an inch shorter than the previous one
Roll the paper onto a pencil and tape it down
Arrange your paper rolls – longest at the bottom and the shortest at the top
Hot glue the paper rolls onto your ice-cream stick
Thread a string around the top paper roll and hang it on your tree!
---
DIY Christmas Cards
14. Christmas ornament button cards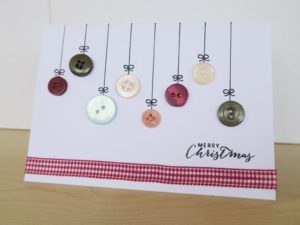 There's no need to buy Christmas cards with this simple DIY! You probably already have these items at home – grab your children and try out this easy Christmas card.
Materials needed:
Ruler
Pen/pencil
Buttons
A piece of ribbon
Glue
Steps:
Draw straight lines of various lengths on the paper
Glue a button at the bottom of each line
Draw a small ribbon above the buttons
Paste a strip of ribbon at the bottom of the card
Write your Christmas wishes at the end
15. Fingerprint reindeer Christmas card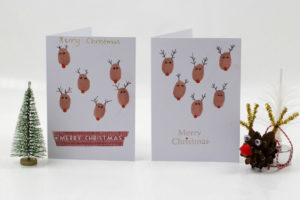 Fingerprint art is always fun, especially with children! Creating a fingerprint art Christmas card would be a creative and adorable activity for you to try out with your children at home.
Materials needed:
A white piece of paper
Paint or ink pads
Black & red markers
Baby wipes
Steps:
Fold your paper into half
Paint on some brown paint or ink onto their fingers
Press their finger down onto the paper. Continue this step until you get your desired number of reindeer
Allow the paint to dry completely
Use the black pen to draw out the reindeer's antler and eyes
Draw out the reindeer's nose with the red pen
Write your Christmas wishes at the end (or you can stamp it if you have a Christmas stamp!)
---
Now that you've read these simple and interesting DIY projects, it's your time to turn these ideas into reality! Grab your children away from their phones and sit down together to recreate these DIY ideas. It's a great time to bond and liven up the Christmas spirit in your home!
Shopping for your gift exchanges? Check out our Christmas Gift page – choose from our range of sleek and innovative products that will give homeowners a beautifully organized and clutter-free space!