Christmas is coming, which means it's time to start prepping your house for the holidays! What better way to add a personal touch to Christmas decor than by making your own?
For this special winter holiday, we've gathered 10 simple DIY Christmas craft decorations that'll look good in your home.
---
1. Christmas Jar Vignettes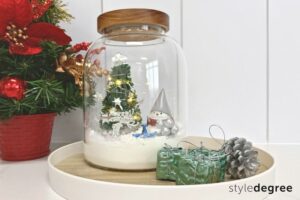 You can create your Christmas decor vignette by repurposing a mason jar or a large glass container. With these little glass decorations, you can give a novelty look to your cabinets and coffee tables.
Materials Needed :
A packet of salt or flour
Small christmas ornaments of your choice (eg. bottle brush trees, houses, snowman)
Decorative ribbons
Optional: 1 LED Tea light
Hot glue
Steps:
Clean your large glass container thoroughly. Make sure it's completely dry for the next step
Pour in salt or flour to fill up ¼ of the jar.
Place your ornaments and tea light one by one in the jar. Experiment with how you place them.
Tie a ribbon around the lid of the container jar as a finishing touch. Use a hot glue if needed to secure it.
2. Mason Jar Snow globes
Make your very own snow globe with these simple materials. Spoiler: You don't even need to add water!
Materials Needed:
1 mason jar
Fake glitter/snow
Small christmas ornaments of your choice (eg. bottle brush trees, snowmen, vintage decor)
Hot glue
Optional: Silver paint/spray paint
Optional: Spray adhesive
Steps:
Optional: Paint your mason jar lid.
Hot glue your ornaments on the underside of the mason lid.
Optional: Use spray adhesive on your ornaments to add extra glitter.
Lightly cover the bottom of your mason jar with fake snow/glitter.
Screw back on the mason jar lid.
3. Homemade Christmas Potpourri
Give your house a Christmas fragrance by making a dried potpourri. You can display it as a coffee or dining table centerpiece, or give it as a present for a loved one.
Steps:
Cut an orange into thin slices.
Preheat your oven to 100oC and dry the oranges in the oven for about 2 hours
Fill the bowl with the orange slices, cinnamon sticks, star anise and pinecones.
Combine the ingredients together by mixing them by hand.
Optional: Add a small amount of citrus essential oil onto the cotton bud. Place it in the potpourri mix for extra fragrance.
Check out this tutorial post to learn how to make a potpourri of your own.
4. Orange Slice Garlands
Have leftover dried orange slices from your potpourri? String them together to create an all-natural citrus garland. It's perfect as a stand-alone decor on your wall, as liners for your dinner table or to decorate your Christmas tree with a rustic style.
For extra flair, tie a cinnamon stick onto the orange slices for a stronger smell.
5. Flower Arrangements
If you're a sucker for plant and flower arrangements, try making a flower arrangement of your own to pair with your Christmas tree.
Tip: If real ones aren't accessible to you, use fake plants instead.
Materials Needed:
1 large glass/ceramic vase
Christmas plants

Poinsettia flowers
Evergreen branches
Silver sage leaves

Douglas fir/Spruce
Optional: Reindeer moss
Steps:
Choose the largest/vibrant plant as your centerpiece of your arrangement.
Corral smaller and thinner plants around your centerpiece (eg. spruce, fir, holly)
Optional: If your plants are real, pour in about ¼ of water. Routinely check the water quality to know when to switch out.
Optional: If your plants are fake, line the bottom with reindeer moss for a natural look.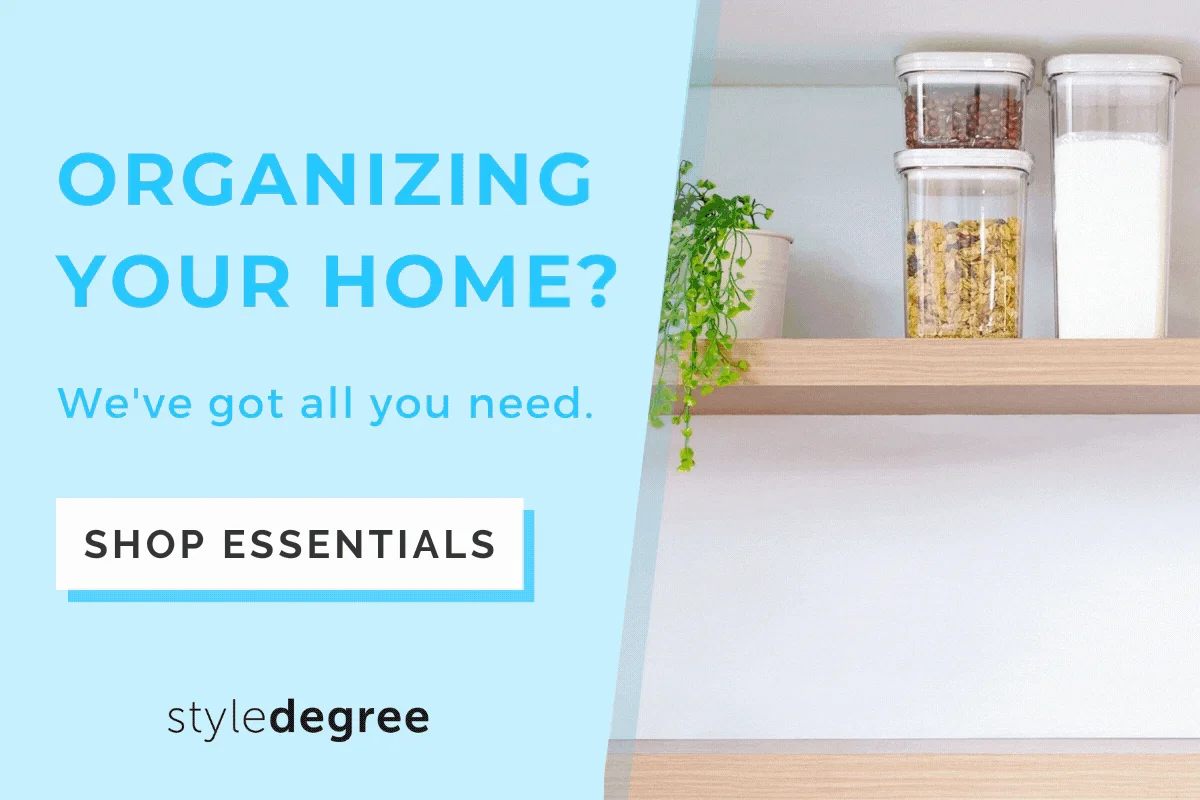 6. Salt Dough Ornaments
Diversify from the usual plastic Christmas bauble by making these salt dough tree ornaments. They make for a simple yet intricate ornament and a fun art activity to do with your little ones.
Ingredients Needed:
4 cups all-purpose flour
1 cup table salt
1 ½ cups of warm water
Steps:
Combine the salt and flour in a large mixing bowl. Stir well.
Slowly pour in the water while stirring.
Use your hands to knead the dough well.
Roll out the dough and use cookie cutters to make your desired shapes.
7. Mini-Paper Christmas Trees
Ran out of time to buy Christmas decor? Make these adorable palm-sized paper Christmas trees to decorate your tables and counters with. Use marker pens to decorate them!
Follow the tutorial above to learn how to make either a 3D one with origami paper.
8. Christmas Party Snack Box
Gift your family and friends a party snack box filled with snacks and goodies. Style it with decorative wallpaper, cinnamon sticks, and pinecones to give it a Christmas look.
You can even use it as a unique communal snack bowl for house guests and your family members. Our Christmas Special Storage Container (With Scoop) comes with a spoon in case you want to serve finger foods like Snowflake Mix in your snack box.
Check out our latest Retro Christmas Collection that brings in the homely vibe to this holiday season!
9. Painted Peanut Garlands
Other than salt dough ornaments, you can also make these cute Christmas peanut garlands. Just grab a bunch of peanuts and start painting them into iconic Christmas icons, like a snowman or reindeer, Then, string them together using a patterned and red or white thread. They'll look great on your tree or as a decorative piece hanging on your door or shelf.
Click here for the step-by-step tutorial.
10. No Sew Christmas Stockings
You don't have to sew to make your own Christmas stockings for your home. Ditch the sewing needles for just three materials — a simple hot glue gun, a fabric or felt of your choice and coffee filters! Make them as large as you want so you can fit anything from small treats to Christmas cards.
---
With these 10 simple DIYs, we hope you'll be able to personalise your Christmas with your very own crafts. Which one worked best for you? Did you try any of them with a friend or family member? Share with us down below!