Have piles of bags but unsure where to keep them? Are they starting to pile up in the corner of your room, taking up space and gathering dust? Don't fret, and join us as we go through the different methods to store and organize gift bags, totes and reusable bags.
---
Click on the links below to navigate directly to which bag type you want to organize:
---
Gift Bags
1. Arrange In Storage Bins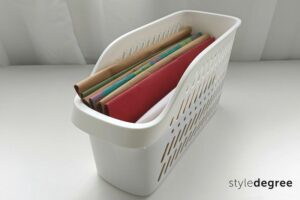 Use several plastic storage bins to fold and store multiple gift bags in one go. Save extra living space in your home by filling them in vertically. Organize them by size, shape, or colour.
One way to fold gift bags is by compactly slotting the bottom part into its upper flap. Below is one of our video tutorials that shows you how:
Stylish Alternatives — Rattan Baskets!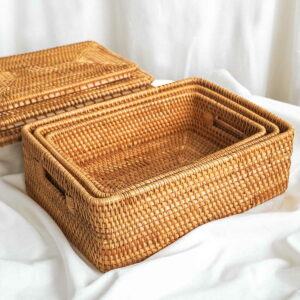 Ft. Rattanly Storage Basket (With Lid)
If you're bored of getting the same generic plastic bin, you can use rattan/wicker baskets instead to store gift bags. These baskets are stylish living room decor while still having utility to store items inside.
2. Use Wall Hooks/Tension Rods
Install strong wall hooks in the back of your closet wall to display different gift bags. This method works well for those who prefer seeing their gift bags in full rather than individually folded.
Alternatively, you can also install tension rods in a storage closet. You'll need to get additional hanging hooks for the rod to hand in each gift bag.
Installing A Pegboard
If you have a study room wall that's empty, install a pegboard to hang multiple small gift bags. You can place a pegboard in your study, or a designated crafting spot in your home.
---
Plastic Grocery Bags
3. Fold Into Neat Triangles
A popular way to organize plastic bags (particularly ones from the supermarket) is to fold them into smaller shapes. Our video teaches you to fold everyday plastic bags into small triangles and store them in any simple storage bin.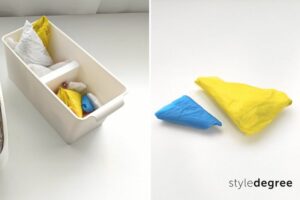 If you prefer a flatter and easier-to-stack shape, below is a video that teaches you how to make them into squares:
4. Upcycle Household Products
Use household products like wet wipe containers to store small plastic bags. This photo tutorial shows you how to roll a maximum of 11 plastic bags together and place them into an empty wet wipe cylinder.
Upcycling A Tissue Box
You can also upcycle an empty tissue box to store multiple plastic grocery bags. Learn how to chain numerous bags together to be pulled out with ease.
5. Purchase A Plastic Bag Dispenser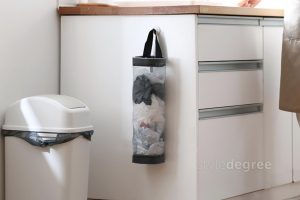 For an easy grab-and-go method, get a plastic bag dispenser/carrier that will help store a variety of plastic bags in one singular column. Purchase carriers that have a top hook so you can hang them against the side of kitchen cupboards or your fridge.
---
Reusable Tote Bags
6. Folding Tote Bags Compactly
Folding tote bags compactly allows you to store multiple tote reusable canvas bags in a single box or designated shelf!
Here are some methods to consider:
Method 1: Handles in
Start by tucking the handles of the bag into the large tote compartment.
Method 2: 4-fold method
This method requires you to fold the tote bag into thirds first and only tuck the handles in at the end.
7. Place Upright In Bins
Store reusable bags by storing them upright against each other. Fill out your bin/box by placing larger tote bags first, then work towards smaller pieces.
Tip: Consider upcycling a cardboard box lying around in your home. We recommend a shoe box as they're small and can be slid onto a shelf or a corner of a room without hassle.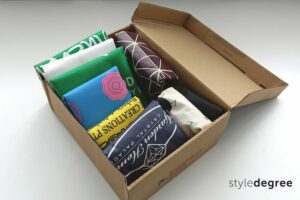 Storing In A Reusable Bag
You can also vertically arrange reusable bags by following the above tutorial to organize soft-side bags with the Konmari Method. Instead of a box or bin, you can just use a large reusable bag instead.
---
There are many ways to store and organize different kinds of bags around your household. Tell us which method you tried out to tidy up down below! Were they as successful as you'd hope?