Have you been randomly slotting books in whatever space that's available on your bookshelf? Over time, this causes a disorganized bookshelf, making it hard for you to search for books when needed.
Read on to find out more on how to organize and style your bookshelves!
---
Step 1: Decluttering Your Book Collection
Before you start organizing your bookshelves, it's important to edit and declutter your book collection. A cluttered bookshelf is a constant visual reminder that you need to organize your items — making it difficult for you to physically and mentally relax at home after a long day at work.
Also, why have an overcrowded bookshelf that hinders you from reaching the book of your choice? If you feel the same way, here are a few tips to help you get started in decluttering your book collection.
Collecting all your books into one central space: Find every single book in your house and put it in one place so it's easier to sift through it all.
Setting a goal: Figure out how much space you have and how many books you want to keep out of your entire collection.
Reassessing your books: Think about whether you're going to read the book again anytime soon. Keep your ultimate favourite ones and do away with the rest of it. For your unread books, remove it from your collection if you can't imagine yourself reading it.
Sorting your books into piles: Separate your assessed books into different piles – keep, maybe and sell/donate. In the end, look through your 'maybe' pile again to separate them between keeping and sell/donate.
---
Step 2: Choosing Your Organization System
With a reduced book collection, it's important to figure out how you want to organize it. This will help you stay focused when you rearrange your books on the bookshelf. With an organizing system in place, it will make it easier for you to find your book.
2.1 Organizing books in alphabetical order
If you prefer a simple and straightforward way of organizing your books, you can arrange your book titles in alphabetical order. Alternatively, you can arrange your books alphabetically according to the author's name if you collect and/or enjoy books from certain authors.
2.2 Organizing books by colour
Looking to lighten up the mood of your home? If you remember the colours of your book covers/spines well, you can arrange your books by the colours of the rainbow.
2.3 Organizing books by genre
If you aren't good at remembering book titles or authors, categorising your books based on genre might help. When you're feeling like reading a certain genre, be it romance or thriller, you can head straight to that section to choose your read for the day.
2.4 Organizing books by importance/enjoyment
Are you someone who enjoys rereading your books? If you are, arranging your books based on how much you've enjoyed them might be the way for you. Stack together all your favourite rereads and put them at a shelving height that is easily accessible so you don't need a stepping stool to reach for your books.
Tip: An alternative to organizing your favourite books is having them at easy reach. Place them at your desk or nightstand so you can create more space for your future books.
---
Step 3: Styling Your Bookshelf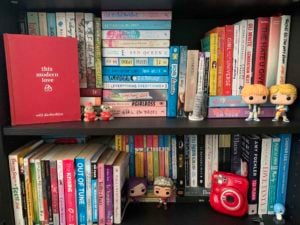 A common trend at home nowadays is 'shelfie', also known as shelf styling. With an organization system down, it's time for you to place those books onto your bookshelf and get styling!
3.1 Playing around with your book placement
Instead of placing your books the traditional way, play around with your book arrangements. For example, stacking your books up horizontally maximises the vertical space on your bookshelf. The variety of arrangements gives your bookshelf a more dynamic look.
3.2 Using your book covers as decoration
Book covers can be really beautiful and artsy, so why not show it off? Stack a couple of books behind your chosen book and turn it to face the front. Not only are you decorating your room, but you're also filling up the width of your bookshelf, fully maximising your space.
Tip: If you're not a fan of your book covers or spine, you can always cover it up with coloured book protectors and turn your book in such a way that the spine faces the back.
3.3 Adding decor pieces
Inject more personality into your bookshelf by adding knick-knacks. Here are a few ideas for you to try out:
Play around with heights: Placing items of different heights together gives your eyes contrasting areas to focus on. An example would be layering items such as indoor plants to help boost your mood, productivity and concentration!
Also check out on StyleMag: 14 Best Indoor Plants & Easy Edibles To Grow In Singapore
Mixing textures and metallic elements: Diversify your bookshelf by adding metallic vases or woven baskets on to your bookshelf to hide away your items and let your bookshelf stand out.
Sharing your memories: Place old photos, cameras or treasured family heirlooms on your bookshelf to give your home a personal touch
Rule of Thirds: Imagine your bookshelf with 3 vertical imaginary lines — it helps you see if any section of your bookshelf is too cluttered. As in the picture above, use different sized items for each section; one section for books, one section for medium-sized accessories and another section for smaller accessories.
---
Now that you've reorganized and styled your bookshelf, take a step back and ask yourself if the end product makes you happy. Don't hesitate to change things up the way you like it!
Let us know in the comments below which organization or styling tip you liked the best or if you have any other tips that you would like to share!
Enjoyed this post? Join us on Instagram @style_degree, Facebook and Telegram @HomeownersSG, where we share the best home organization tips and cleaning hacks to help you embark on an organized and happier homeowner life! P.S You'll be the first to learn about our latest product launches there too.