Feeling stoked about a HDB resale flat that you've bagged? We'd like to congratulate and also help you out with the next stage of your journey — renovating and decorating your new home!
If you've decided to go with an interior design firm in Singapore for renovations, but have multiple questions such as:
"How do I choose an interior design firm?"
"What should I discuss with the interior designer?"
"What's the flow of the renovation process like?"
We've got you covered! Read on for a recent first-time resale flat buyer's experience working with an ID firm, as well as useful tips and ideas when working with ID firms.
---
StyleChats – Meet Sherman!
Sherman is a 28-year-old first-time homeowner. He and his fiancée, who are both medical professionals recently completed renovations for their first home, a 5-room resale flat, and left it in the hands of an interior designer.
Here, we bring you his unfiltered home buying and renovation experience in Singapore!
Qn: Why did you choose to go for a 5-room resale flat?
After several failed attempts trying for BTOs at Toa Payoh and Boon Keng, we decided that a resale flat would be a better option in terms of confidence in obtaining it.
And why 5-room, because firstly, 5-rooms flats would have some resale value in terms of selling back to families. Secondly, it's also about space. I mean if I was going to pay this amount I wanted to make sure that at least I'll be getting enough space for my future family."
Qn: How many home visits did you go for?
Honestly, it was quite a tedious process. When you visit the house a lot of factors come into play, such as whether it is to the right price, the environment of the house, whether the environment of the neighbourhood has the right vibe, And whether it's the right time, if you feel financially comfortable to commit to the purchase. It was like a 3 months to 4 months worth process.
Qn: Any words of advice for other people who are also looking to get a resale flat?
The first thing you need to know is what is the price range you're able to afford realistically. Like finances-wise do you have the right finances. Understanding whether you're applicable for some grants like the Proximity Grant, the First Time Buyers Grant.
The second thing is you must ask yourself what you want. In terms of location, amenities, whether you want to resell the flat. Whether the flat actually is in live-in condition with a little renovation required. All these factors actually are very important.
Also check out on StyleMag: Buying A HDB Resale Procedure: A Step-by-step Guide
---
1. Why An ID Firm Over Contractors?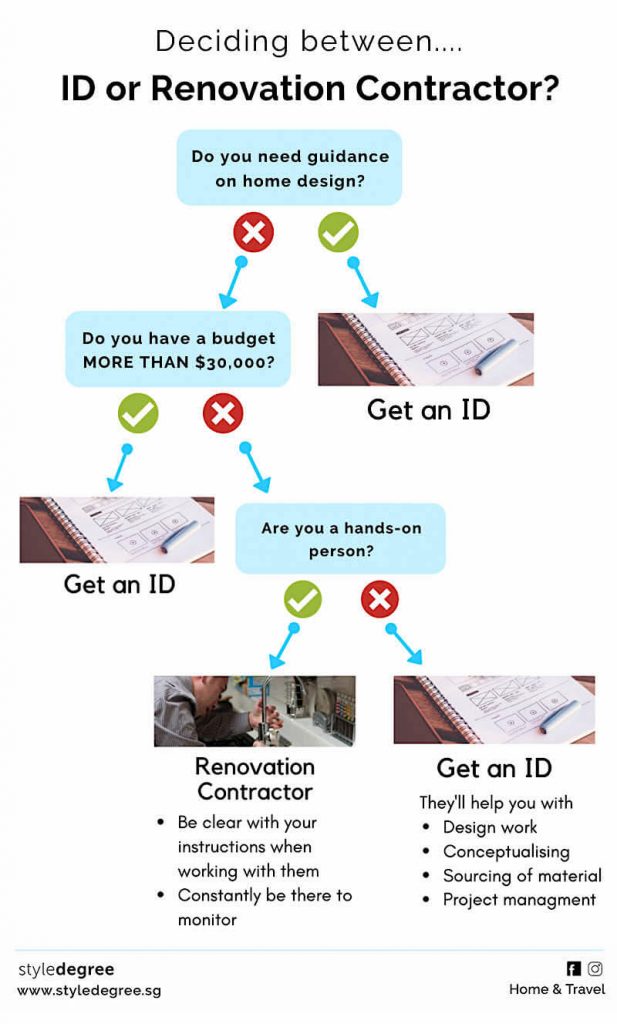 Like Sherman, you would probably have weighed the pros and cons of interior designers and contractors.
While contractors are a good idea for very hands-on homeowners who are looking to cut costs, interior designers are a more fuss-free option for those who want a one-stop point for the entire renovation.
From his point of view,
"The main factor of going for an ID firm is actually in terms of the commitment that me and my fiancee have. Which we don't have the time, honestly. We cannot be the ones going to liaise with the contractors, you know, everyday. It just doesn't make sense.


We don't mind paying the premium and also, we don't really have knowledge in terms of designing, sourcing of materials all these things. So we thought it was quite a natural thing to find an ID firm.
For those who are still considering between an ID firm and contractors, click here to read our comprehensive guide to hiring renovation contractors in Singapore for the important guidelines you should take note of when working with a contractor.
---
2. Sourcing For An ID
2.1 Things to look out for in an ID firm

Key areas you should check out when it comes to shortlisting ID firms would be:
Certification: Ensure that they are CASETRUST-RMCA accredited to protect yourself and your monies in an event of an unforeseen closure of the ID firm.
Testimonials/Reviews: Read what others' firsthand experiences have been like so you'll know what to expect from the ID firm!
Ideas: Keep an eye out for companies that match your taste in decor, especially if you already have a theme in mind.
Experience: Check out the company's portfolio or gallery of works on their website. A well-established firm would have worked on numerous commercial and residential projects.
Quality: Find out who the ID firm subcontracts to carry out renovation works to ensure you're getting a great end product
Also check out on StyleMag: 4 Fool-proof Tips When Choosing An Interior Design Firm
Hear from Sherman's experience on sourcing for an ID firm.
"You need to find an ID firm that actually channels what you want and ticks the boxes in terms of the design philosophy, the price and the vibe you get from the person who's going to design your house. You have to choose the right guy and trust him.

We met 5 to 6 ID firms, on top of sourcing and talking to at least 10 ID firms. It's not a simple process and it will take time. If you are really rushed for time right, the advice would be before you buy your house, you have already started finding ID firms. For us, ] we had the luxury of time. So we could afford to literally bring the interior designer to our house, have them present to us their mood board then decide if we do trust the guy."
Qn: Would you recommend knowing an ID firm through third-party platforms e.g Qanvast, Renopedia, etc.?
I guess they can help you narrow down, but don't just rely on them. It will be better for you to do your homework yourself too. Look through all the IDs, ensure that they are CaseTrust certified, narrow down the ID firms that reflect the design style you like and then proceed from there.
2.2 Conveying what you want on a mood board
While engaging an ID firm does mean that they are in charge of the design work, it would be best to present them with a simple mood board detailing specific features and style you want.
Also check out on StyleMag; 4 Steps To Creating An Interior Design Mood Board (With Free Template)
From Sherman's experience, he says:
"When we meet up to an ID firm the first time, we typically present to them mood board consisting of our floor plan with some specific features we want e.g the floor colour and the design style we want to go for. We also included styles we don't like. Usually you can send to them before meeting up or present to them on the first meeting.

Afterwhich, they will get back to us with either minimally a mood board or maximally a 3D design. A 3D design definitely helps us to visualise better.
---
3. Cost Of Renovations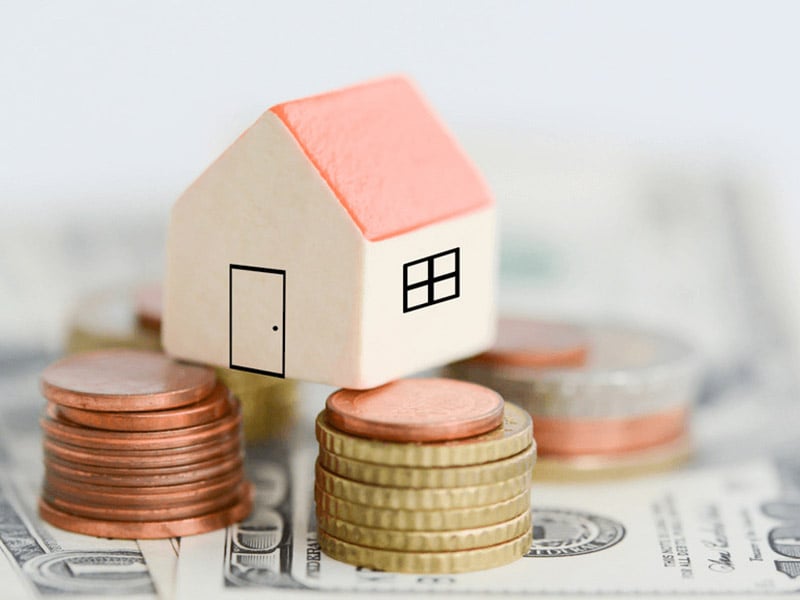 There are many hidden costs that come with renovating a flat, and Sherman suggests that you should exercise caution and be very transparent about the breakdown of costs with your interior designer.
"Even hacking a TV console, for example, is actually a charge that may or may not be reflected in the original quote. So you need to really sit down and go through the original quote with the ID very, very carefully."
Qn: What can people expect renovation costs to be for a HDB resale flat?
For a resale, it typically starts with the hacking cost, it can be anywhere between $2 – 6K depending on how much you need to hack. After that, it goes into the cost of waterproofing of tiles, and if you want new tiling then that's another cost. After that, it's carpentry. Carpentry is like, new structures you're building and it's usually a huge bulk of the cost. For example, if you want a special feature wall, that's another additional cost.
Lastly. you also have to think about the cost of all the electrical appliances and the wiring itself. where you want to put your light points, your charging points, all these are costs. For my resale flat, we spent around $40K for renovations, an easy-to-maintain Scandinavian style. On top of it, electrical appliances would go anywhere between $10 – 15K and more. And there's still furniture, homeware, wifi and more.
As a means to keep cost, my fiancee and I have an excel sheet in which we write down how much we're paying. As first-time homeowners, it will be good to know at the end of the day how much we've spent so that we can look back and benchmark it when we purchase a second property in the future.
Also check out on StyleMag: Ultimate Renovation Guide In Singapore (With FREE Excel Budget & Expense Tracker)
---
---
4. Factoring In Delays
While you and your interior designer will lay down the timeline for the entire renovation process, you can expect to wait between 6 to 12 weeks for the work to be completed.
Sherman mentioned that it took a few weekends of going back and forth with the ID firm to finalise the design. This included the tiles, colours, materials to be used as well as confirmation on where items will be bought, such as the toilet bowl and stove.
Fair warning that you should be prepared to run into some unexpected hiccups that may delay progress. For instance, Sherman will have to wait a bit longer for his home to be completed as a result of the circuit breaker that's currently underway.
"The renovations was supposed to take 3 months to complete, but COVID happened. It ended up taking close to 7 months to complete."
---
5. Words Of Advice Working With An ID Firm
Qn: Were there any lessons you learned from finding and working with an ID firm?
"IDs they are creative people, so may suggest to you a lot of ideas, from an underlying design perspective, but this also incur more cost. If you find that, this ID is really not my style, then don't compromise just because this ID is from a more renowned company. Be open with them and let them know that "No, this is not what I what". Make sure you decide on someone that you really trust.


Be diligent about reading and finding out the designs of all the different interior design firms. Find out what home renovation loans there are and in terms of renovation be very, very clear and open about the cost."
---
We hope that his invaluable insight on what a first-time resale flat renovation is like has been of great use to you!
If you're on the lookout for essentials to fill your home with, check out our Home Essentials collection, where you'll discover a world of storage organizers, kitchen must-haves and more.
Enjoyed this post? Join us on Instagram @style_degree, Facebook and Telegram @HomeownersSG, where we share the best home organization tips and cleaning hacks to help you embark on an organized and happier homeowner life! P.S You'll be the first to learn about our latest product launches there too.