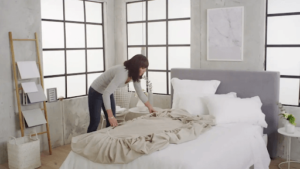 Very often, bed linens such as fitted sheets, comforters/duvets, quilt and blankets are piled on top of one another haphazardly. If this shocking mess is what you see when you open your cupboard, it's a sign for you learn how to fold and store bed linens the right way.

Here are a few practical folding and storing tips to help kickstart your organizing journey!
---
1. Folding Fitted Sheets
1.1 The quick & easy method
Fitted sheets can be a pain to fold, especially with the springy elastics at the side. Here's a simple video tutorial on how you can fold your fitted sheets neatly. Watch it from the start!
Tip: Before you begin folding them, it's good to work on an elevated surface, like a wide king-sized bed or wide coffee table. It will help you reach corners easier and serve as support.
If you can't remember the steps, refer to this infographic for a step by step guide on how to properly fold your fitted sheets without a single unsightly crease on it.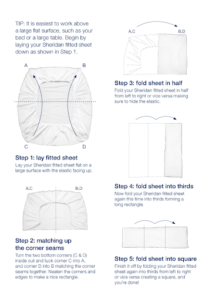 At the end, pile your set of folded bed linens on top of one another, and then pack them into a pillowcase. This not only saves space on your bed, it can also help you know where your matching linens are. When the day for sheet changing comes, simply pull out your pillowcase of linens.
1.2 Marie Kondo Way
Here, Marie Kondo teaches 3 versions for different sections of storage.
Besides the standard flat fold, which is suitable for the linen closet, she also has her signature 'upright rectangle' for placing in deep drawers. Another one she introduces is the 'rolling up', to be put in small drawers. Whichever way you pick, these styles will ensure your linen closet or drawer cabinet look neat.
---
2. Folding Quilts & Blankets
2.1 Origami Style
Besides the normal 'folding in thirds' method, you can roll up your blankets, or use this 'Origami-style' method. While the former way is convenient, this other technique can lessen unnecessary fold lines from showing up on the quilt or blanket with the standard style.
2.2 The 'Quillow'
To make your quilt more compact, follow the guide above to transform it into a 'quillow' – which is the concept of a having a quilt folded into the size of a pillow.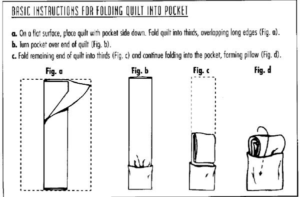 3. Folding Duvet/Comforter
As comforters are thick, a more beneficial way to fold them is by using the Tuck-in. This ensures the comforter remains compact and less likely to explode open. Note that you shouldn't roll or fold it too tightly, as the padding inside will get crushed.
4. Storing Bed Linens
4.1 Use Underbed Space
In Singapore homes, there is only so much surrounding space you can get. Take stock of the areas you have, such as under your bed.
For example, get a bed with a frame with roll-out storage drawers. Alternatively, buy one that is elevated at least 35 cm above the floor, so you have essential height space to fit in any boxes or bags.
4.2 Have A Linen Closet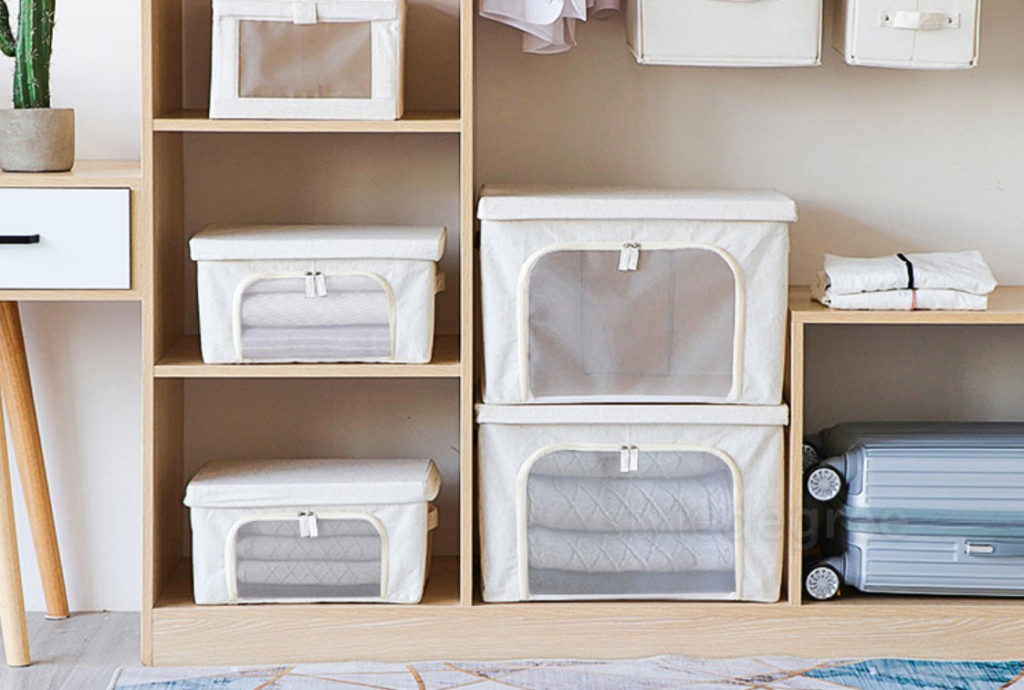 While keeping your bed linens, it's good to have a designated space such as linen closet to store them. With it, you can immediately know where to put away your washed bed linen. Having a home for everything is the key to an organization.
One way you can further organize your closet, is to place your linens in baskets or storage bags, and label them for easy identification. This is ideal for a family, as there won't be a hassle figuring our who owns a certain set.
---
Try out the various folding methods and stick to the one you are most comfortable with. Especially with bigger families, it is always good to have a system for storing your bed linens to avoid any confusion.
Which folding or storage tip was your favourite? Let us know in the comments!