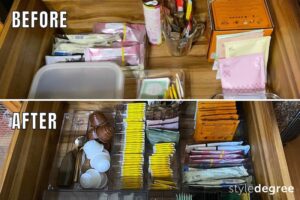 Do you find yourself rummaging through packets and boxes just to make one cup of coffee? Read on to see how we organized our coffee & tea drawer at home!
---
1. Assess Inventory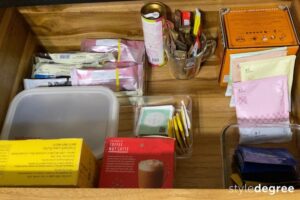 The first thing you should do is remove everything from the drawer. Before categorising, sort through your items and discard those that have expired or gone stale. Remove items that don't belong in the drawer as well.
Next, categorise by grouping similar items together. It can be according to size, flavor, or how they're packaged. Choose whichever is most convenient for your routine.
Set organizational goals. What do you want to achieve out of revamping your drawer? For example, if you're looking to drink more tea, you would want your teabags to be more visible and accessible.
2. Choose A Suitable Area
For a smooth routine, you would want your coffee and tea drawer to be near things like your coffee machine, mugs or kettle. Choose an area that is accessible and makes sense for you.
3. Sketch Out A Plan
Start by measuring your empty drawer's length, width and depth. Be sure to double-check the measurements.
Next, explore useful organizing aids that would help you in compartmentalising your coffee and tea sachets. Though an exciting step, be sure to take some time to select organizers that suit the goals you set earlier.
Tip: Try selecting organizers of a similar look/colour to reduce visual clutter.
Below are some drawer organizers you can consider for your organization project: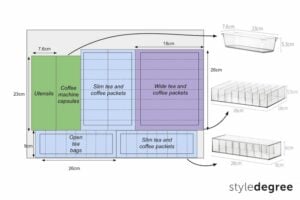 Before getting into organizing, it will be useful to sketch out a plan of how you want to position your organizers in the drawer. Plan which organizers you want to use for each of your categories and draw it to scale on your sketch for better visualisation.
Based on our sketch, we eventually picked our Clarity Cable Storage Boxes both slim and wide, and our Clarity Customisable Drawer Organizers.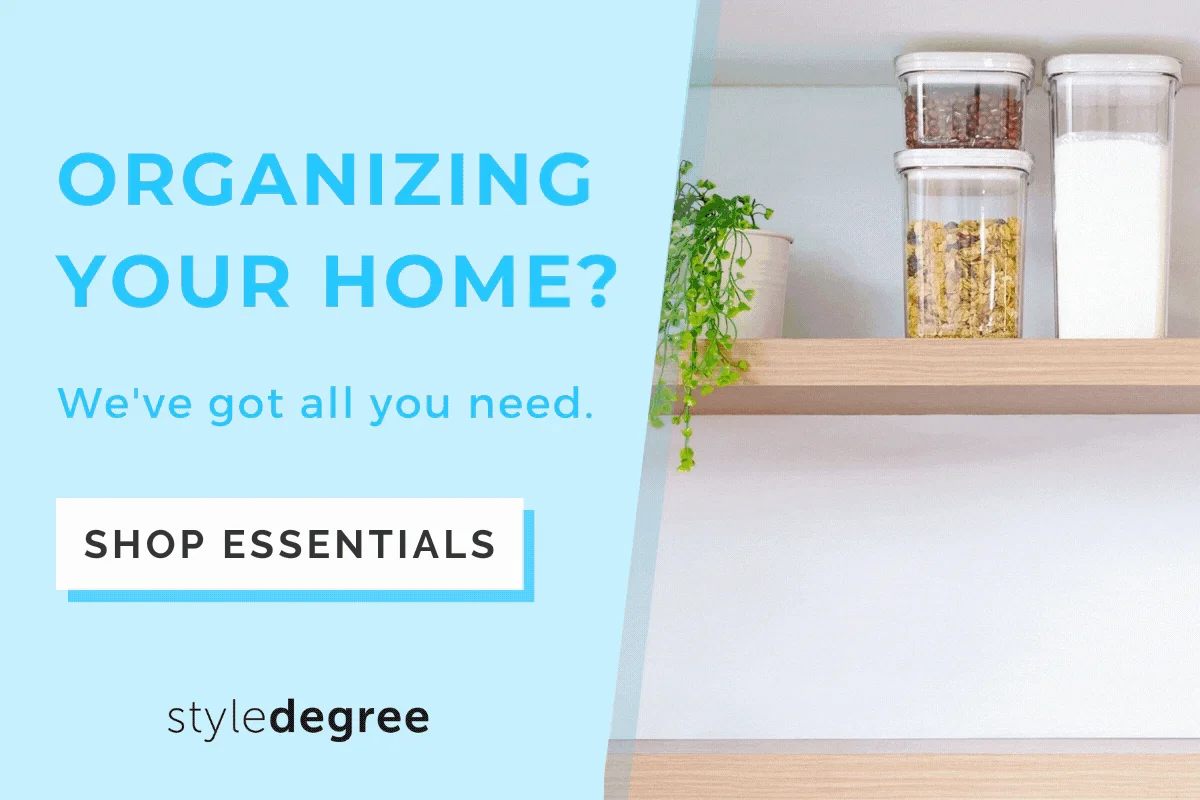 4. Clean Drawer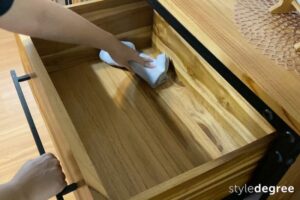 With a cloth, do a quick wipe down of the drawer as there may be dust and dirt particles.
If you're looking for cleaning sprays to use, try making your own with household ingredients you already have!
You will need:
2 cups water
1 teaspoon dish soap
A few drops of essential oil of your choice (optional)
Simply add these to a spray bottle and you're set!
Also check out on StyleMag: These 6 DIY Natural Sprays Are A Must-Have For Your Cleaning Arsenal
5. Time To Organize!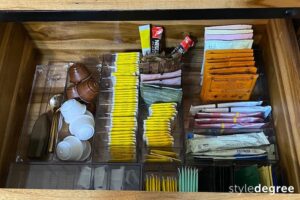 Remove packets, sachets or capsules stored in bulky packaging, and place them into organizers. Discard packaging to save space in the drawer.
Here are some tips for organizing your coffee & tea drawer:
File tea bags upright by storing them in containers with built-in dividers
Opt for clear organizers to see everything at a glance
Keep items to their categories, whether by flavour or brand
Outside of your coffee and tea sachets and packets, you may have add-ons or extra items you want to store in the drawer. Below are how tips on how you can store them:
Dried goods: For coffee beans, loose tea leaves, sugar or other dried goods, store them in airtight jars. This protects them against air and moisture, keeping them fresh.
Syrups: Store liquid add-ons in matching glass dispenser bottles to drizzle easily into your drink.
Utensils: Delegate a container or holder for utensils like teaspoons, strainers or milk frothers.
Tea and coffee backstock: Place in a large storage box with lid and store away in your pantry or kitchen cabinet. Refill your drawer weekly or when needed.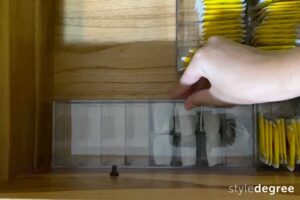 Tip: For open tea bags, we placed them in our Clarity Cable Storage Box (Slim) and used its lid. This way, they are safely protected from dust and water.
Looking for suitable organizers? Check out our wide range of drawer organizers!
6. Test Your Organization System
Try out your new and improved drawer! Does the new system meet your expectations and goals? If not, it's okay to refine your plans to what is best for you! Try reorganizing your items or shifting your containers around.
---
With your newly organized coffee & tea drawer, you can say goodbye to panicky mornings. Share with us how your organizing experience went in the comments below!