Have you opened your medicine cabinet lately? If you haven't, take a look at it now and you'll probably see a lot of things – from your first aid essentials to expired medicines.
We'll take you through a step-by-step guide on how to declutter and organize your medicine cabinets the proper way.
---
Watch our tutorial below!
---
Step 1: Declutter Your Medications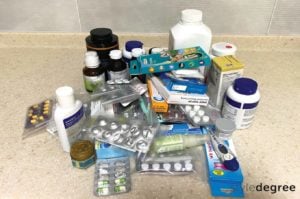 When all your medicines and first aid supplies are hidden behind a cabinet door, it's easy to forget about it. Start by taking everything out of your cabinet and laying it on a flat surface for you to sort through it all. If you have medicines scattered throughout the house, gather those as well.
Medicines you should dispose of :
Expired medicines
Medicines with damaged or half-opened packaging
Prescribed medicines that you no longer need
Medicines that looks, smells or taste different from when you first purchased it
Medicines without expiry date/unreadable labels
Can I consume expired medicines?
No, you shouldn't consume medicines that are past expiry date as it's unsafe. The contents of the medicine are now ineffective and the change in chemical composition could be risky to your health.
---
Step 2: Dispose Of Your Medicines Properly
After setting aside the medicines that you're keeping, it's time for you to dispose of all the unwanted medicines. Look out for disposing instructions on the packaging, but if there aren't any, you can dispose of it together with your household waste.
SingHealth has included some general guidelines on how to dispose of your medicines properly:
Prescription medicines: Remember to remove your personal information from the medicine bag or container to protect your identity
Tablets/capsules: Do not break tablets or capsules. Instead, dissolve it in water and mix it with dishwashing liquid so it would appear inedible to your children or pets. After that, pour the mixture inside a sealable bag and toss it down your rubbish shoot to prevent these medicines from falling into the wrong hands.
Liquid medicine: If you have more than 250ml of medication, pour it on an absorbent material such as newspapers before throwing it away.
---
Step 3: Categorise Your Medicines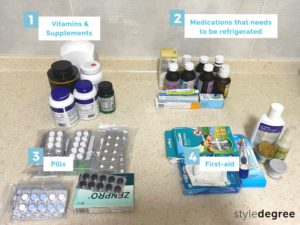 Everyone has different ways of categorising their medicines, so think about the method that would make the most sense for your family. If you don't know where to start, here are some categories you can consider:
Family member: Store individual medicines together and label it so that it'd be easier for them to find and grab the medicine they need.
Tip: Separating children's medicine from adults would help you easily locate the correct medicine, especially for those late-night emergencies.
Types of medicine: You can keep your categories simple by grouping your medicines based on the ailments – cough, fever, flu, etc. Do take note that prescription medications should not be shared!
---
Step 4: Choose An Organization System
Before you start organizing your medicines, ensure that you're storing it at the right place. Make sure to check the recommended storage conditions on the packaging. Some examples are 'Store at room temperature'; 'Do not store above 25ºC; Refrigerated at 2-8ºC'.
If you're planning to keep your medicines in your kitchen cabinets, ensure that the cabinet isn't located near the sink, stove or the side of the refrigerator. These areas emit heat and steam which would reduce the potency of the medicine.
Once you've chosen an area to keep your medicines, it's time for you to start organizing! We've compiled medication storage ideas for the different areas you can keep your medicine:
Organizing medicines in cabinets
1. Utilise storage bins for clear categorisation
Swipe <- or click on image to view gallery
Store your medicines in clear plastic bins to keep it visible and easily accessible. Simply slide it out of your cabinet and grab what you need.
You can also opt for clear bins with lids – it protects your medicines from dust and unfriendly elements in your home! These bins are also stackable, so it saves you cabinet space.
Shop our range of cabinet organizers and storage bins here!
Make sure to label your bins so that your family members know where the medicines are and they can easily put it back once they're done with it. It helps maintain the organization system in the long run.
Tip: Keep your commonly used medicine at the lower shelves and the front portion of each bin so that you can easily find it! However, if you have children at home, make sure that it's out of their reach.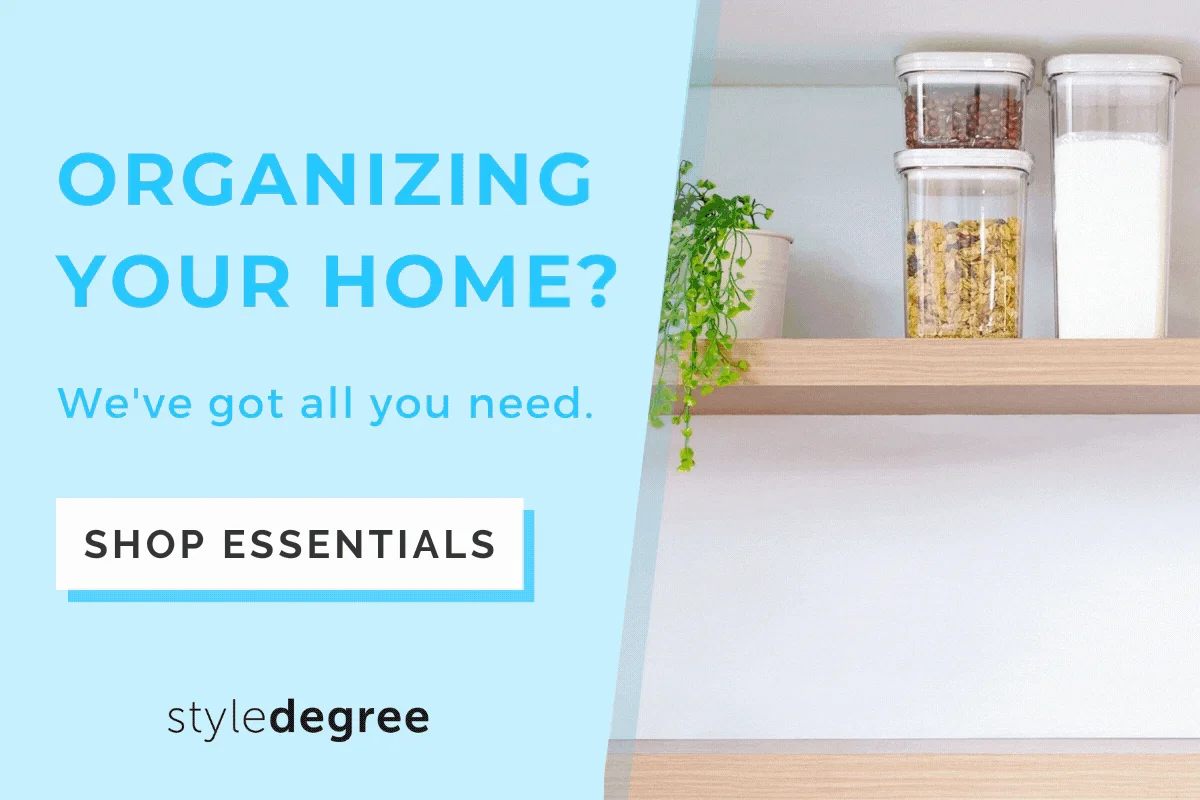 ---
2. Use desk organizers with drawers
If you have many various types of medicine (allergies, cold, flu, etc), the best way to organize would be to build a medicine drawer for yourself. Purchase small drawer organizers and place it in your cabinet. Sort all your medicines in the different drawers – it keeps them visible and organized, making it easier for your family to locate them.
As usual, remember to label the different drawers so you and your family won't forget what's in there!
---
3. Use a first aid box
If you're planning to store your first aid supplies together with your medicines, you can opt for a spacious first aid box. Keeping everything in 1 box helps you to keep track of the various medicines for your family.
You can store this box at the highest shelf in your kitchen to keep it out of reach from your children. Whenever you need it, simply bring the first aid box down and put it back after use.
Medicines you can consider keeping in your first aid box:
Fever medicines
Flu and cold medicines
Personal medicines that don't need to be refrigerated
Pain relievers
Activated charcoal for diarrhoea
Calamine lotion
Here are some tips on how you can maintain your first aid box:
Keep your first aid box filled: After every use, make sure that the box is fully stocked and ready in case of an emergency.
Check for expired products: Every 12 months or so, go through your first aid box and ensure that everything in there isn't expired and can still be used. If not, make sure to replace it immediately.
Note: Ensure that sterile items such as gauze and plasters are still sealed in their packaging.
Psst! Check out our First Aid & Medical Organizers to be prepared for any emergencies!
4. Lazy susan and spice racks for pill bottles
Are you working with deep cabinets? Using a lazy susan would help you easily access the medicines that are located at the deeper ends of your cabinets – simply turn and grab what you need.
If you have taller cabinets, you can use multi-tiered lazy susan to fully maximise the dead vertical space! This keeps everything within reach and visible.
Another plus point is that if any of the medicines were to leak, it would stay contained in the lazy susan instead of spreading in the cabinet.
Psst! Check out our range of Lazy Susan to find the one that suits your kitchen the best.
A great alternative if you aren't a fan of using lazy susan is tiered spice racks. It helps corral all your bottles together and the different tiers keep the items at the back of your cabinet visible.
5. Organizing medicines in refrigerators
Out of all your medicines, you should store your liquid medicines such as syrups, suspensions and liquid preparations without preservatives in the refrigerator. This is to inhibit the growth of microorganisms.
Tips when storing medication inside your refrigerator:
Store your medicines at the centre of the refrigerator: This is the ideal location for your medicines as there are the least temperature fluctuations.
Note: Do not store your medicines at refrigerator doors or the lower back shelves. Refrigerator doors go through the most temperature fluctuations while storing your medicine the lower back shelves could cause it to freeze.
Space out your medicines from other products: Consider storing your medicines in a clear storage bin to keep it separate from your food products in the fridge. It also keeps your medicine organized, visible and easily accessible.
Colour code your medicine bottle caps: Paste different coloured stickers on the bottle lid for easy identification when you open the storage bins – for instance, red stickers for mums and pink stickers for children. You can also note down the expiry date or the date when you first opened the medicine bottle.
---
Step 5: Maintaining Your Organization System
Now that you've painstakingly cleaned out your medicine cabinet, you can implement a system (other than colour-coding or labelling) so that you can maintain an organized cabinet.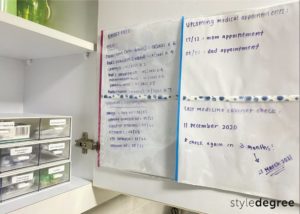 Fully utilise the space behind your cabinet doors by hanging up a whiteboard or corkboard. You can jot down important information for your family to take note of while keeping track of the contents in your medicine cabinet.
Some suggestions on what you can use it for:
Note down an inventory of your medicines and the expiry dates
Remind yourself or your family members of medical appointments
Make a list of supplements/vitamins you have and when it was last consumed (so you won't buy more vitamins!)
Record the date when you last cleaned out your medicine cabinet
Tip: Go through your medicine cabinet every 3 to 6 months and get rid of any expired medicines. This is to prevent it from piling up and having a messy cabinet again!
---
There you have it, a 5-step guide on how you can organize your medicine cabinet! It's time to get on your feet and organize your medicine collection! Let us know in the comments – which organization tip is your favourite?