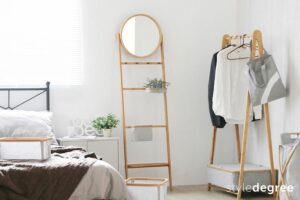 Besides being used to reach high shelves, ladders can make a beautiful piece of furniture at home. Outside of its unique look, they are also a good way to utilise vertical storage in the house.
Read on to see some ways you can style and use a ladder in your own home!
---
1. Hang Essentials To Grab On The Way Out
If you're one to forget your belongings on the way out, this is an excellent way to use a ladder at home. Hang and display your essentials such as hats, bags and keys so you can easily grab them when you're rushing out. This would make a chic entryway piece too.
Our Gaia Ladder Storage Rack With Mirror is a multi-functional piece and is perfect for the entryway. With the tiltable mirror,  you can check your outfit out before grabbing your things and heading out. It comes with hooks, baskets, and a wide bottom step, which is perfect for home slippers. Its practicality and space-saving qualities make this a huge bang for your buck!
2. Display Your Best Shoes
Have an old ladder lying in your storage room? Give it a fresh coat of paint and you now have a quirky way to show off your favourite kicks! This makeshift shoe rack also makes choosing a pair of shoes hassle-free as you can see all your shoes at a glance.
For ladders with flat steps, any type of shoe will sit perfectly on them. For ladders with rounded steps, high heels or boots will better suit them as they can be conveniently hung.
3. Photo Gallery
Instead of the usual photo frame, show off your favourite photos with a leaning ladder. One way to do so is using string and wooden pegs, just like in the photos above.
4. Hang Plants And Vines
For a fresh and cozy feel, use plants to decorate your ladder. Some s-hooks and hanging pots would suffice to hang your plants. This way, you wouldn't have to make space on the floor or tables for house plants.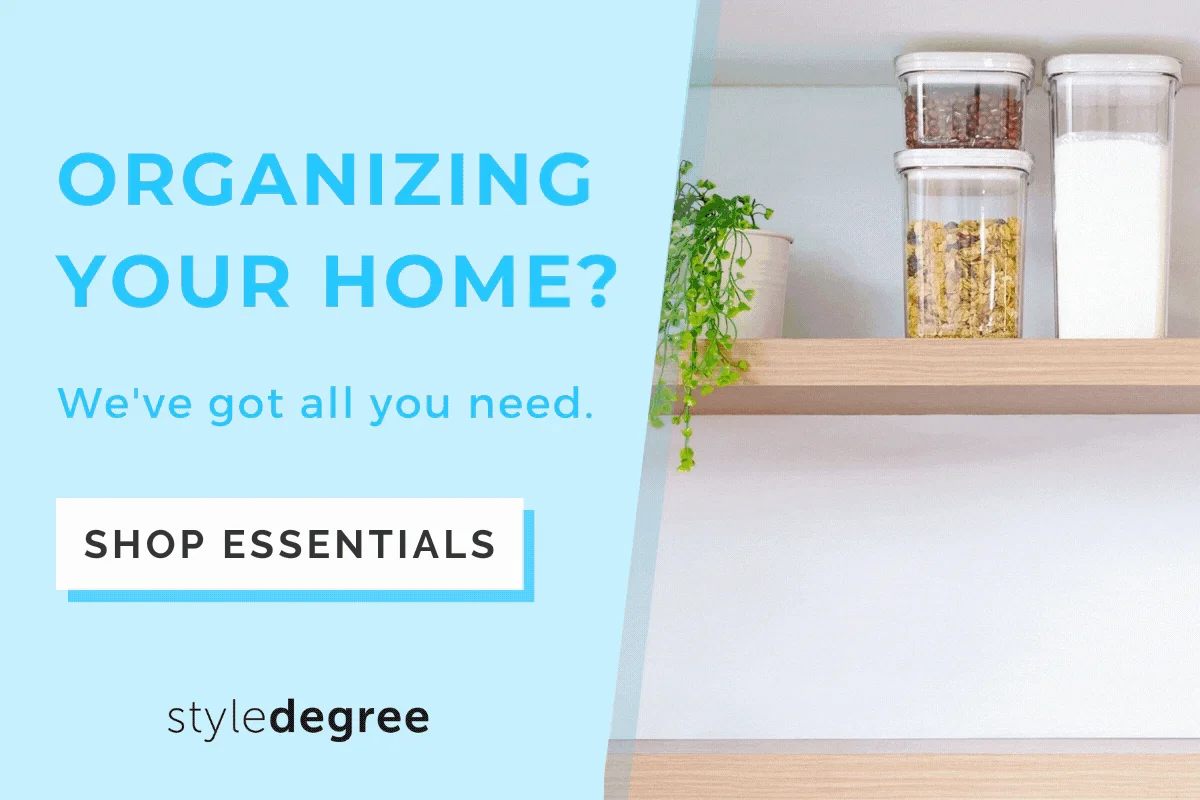 5. Magazine Display
A simple yet elegant way to display magazines. Place the ladder by the couch so that you can sit down and easily access your favourite magazines.
6. Kitchen Rack
This is a fun way to store your kitchen needs! Perfect for items such as mugs, pots and aprons, this makes them accessible as you can easily grab it off the rack when needed. Simply add pegs or hooks to your ladder to display your kitchen essentials.
7. Bathroom Stand
Storing your towels using your ladder will not only bring in a decorative element into the bathroom, but also saves space with its vertical storage system.
Tip: To maximise storage, hook baskets onto the ladder to safe keep more items in the bathroom. 
Some things you can store in baskets:
Make-up
Hair dryers, curling iron etc.
Skincare products
8. Living Room Display
Similar to the bathroom stand, you can use the ladder to hang and display some throw blankets as well! This is a quick and easy way to decorate the ladder.
Tip: Prayer mats are also another item you can store on the ladder!
9. On Its Own
If all else fails, having a ladder as a standalone piece of furniture will be as tasteful as any other style on this list! It is a versatile piece and can fit into any area of your home. As some may say, less is more.
---
A leaning ladder shelf can also be DIY-ed with some cutting and drilling needed. If you're up for a challenge, If Only April DIY made a tutorial on how to build one on your own!
We hope this guide gave you some fresh ideas on how to incorporate a decorative ladder into your living space! Which style in this list was your favourite? Let us know in the comments below!