Feel stressed every time you open your closet to hangers squeezed on one rod, or falling piles of clothes? Fret not, as we have ways for you to store clothes efficiently, inside and outside the closet.
---
Maximising Closet Space
1. Declutter Unused Clothes
Before anything else, sift through your closet and try on anything you haven't worn in a while. If it doesn't fit or you know you won't wear it again, purge it. Don't get too sentimental, think about how you'll have more space for new clothes!
Tip: Can't let go some clothes? Turn their hangers so that the hook is facing outwards and leave it in the closet.
If you wear it, hang it back normally. Check your closet after a few months and see if any hangers are still hung the opposite way. If they are, it's time to throw them out.
Need more handy tips to declutter your closet? We got you, check them out here.
2. Throw In Another Rod
Two is always better than one. If you have a space in the closet solely for hanging clothes, never settle for a single rod. Install one more below it and you have double the hanging space!
Tip: Hang jeans on S-hooks to maximise hanging space.
3. Use Stackable Hangers
Ft. Stack & Clip Clothes Hanger (5pc Set)
Make use of vertical space by getting stackable hangers. These hangers instantly give you extra space in the closet for more clothes, so start stacking!
Tip: Transform single hangers into stackable ones by reusing canned soda tabs!
4. Divide (And Conquer) Drawers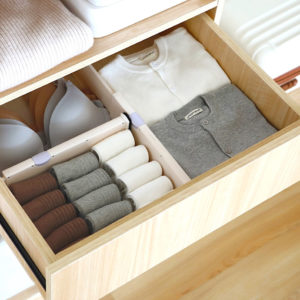 Ft. Adjustable Drawer Divider Organizer
Got overflowing drawers? Tackle it with drawer dividers and delegate a space for each clothing category.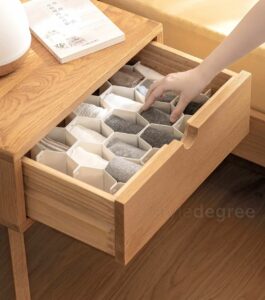 Ft. Honeycomb Customisable Drawer Organizer
Stop mixing small undergarments and socks in a single drawer! If you can't separate them into different drawers, compartmentalize them with dividers or organizers too.
5. Utilise Under Shelf Space
Ft. Pristine Under Shelf Undergarment Storage Box
You want to maximise every inch of your closet, so utilise the dead space under shelves with slidable storage boxes. Whenever you need something, just slide it out!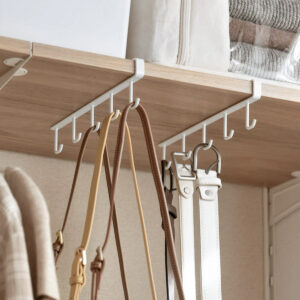 Ft. Easy Under Cabinet Hanging Hooks
This space is also perfect for purses and belts. Slide in some hooks, hang them up and they're up for grabs!
Thinking Outside The Closet
6. Invest In An Open Clothes Rack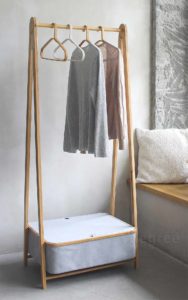 Ft. Gaia Foldable Clothes Rack With Storage Box
If your room space can afford, display your favourite pieces with an open clothes rack. This not only doubles as a decorative element in the bedroom, but also keeps your clothes easy to grab if you're rushing somewhere.
You can even switch it up with different clothes every week or month, that's up to you.
Alternatively, you can use a rack to store bulky seasonal clothes that take up too much space in the closet. Know more ways to store winter clothes in your HDB here.
Tip: Use matching hangers for a streamlined and consistent look.
7. Store Clothes On Shelves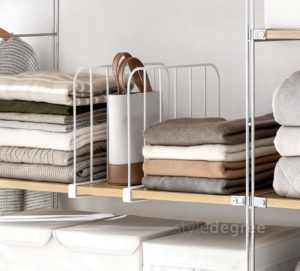 Similar to the open rack, you can store folded shirts, jackets and even handbags on shelves or bookcases.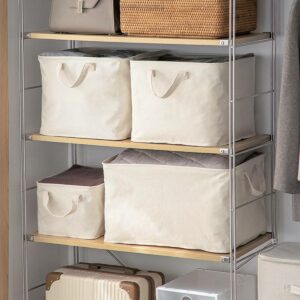 Ft. Canvas Storage Bin (With Handles)
If an open shelf of clothes looks too messy, hide them in storage bins or baskets! These come with handles so they're easy to reach for and pull out, especially on higher shelves.
8. Hang Jackets On Wall Hooks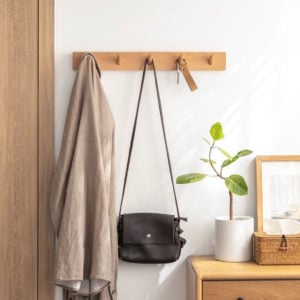 Ft. Woody Horizontal Wall Hanging Hook
Bring function to the empty walls in your room with hooks for jackets and even purses. Easy to grab on your way out!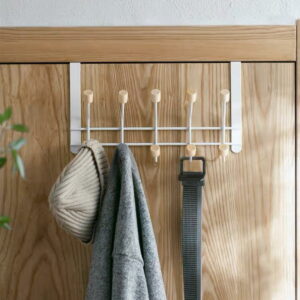 Ft. Scandinavian Rear Door Hanger
Don't want to ruin your pristine walls? You can hang them on your door too. These door hooks don't need drilling or adhesive, just hang them over your door.
9. Utilise Under Bed Space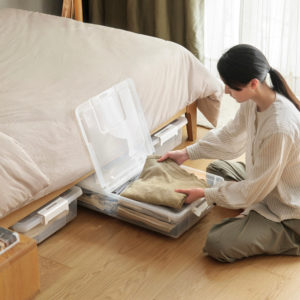 Ft. 2-Way Opening Underbed Storage Box (With Wheels)
If you have under bed space, maximise it and store bulkier clothes like winter jackets, sweaters and shoes too. Store them in clear storage bins so you can find what you're looking for in a flash.
---
Now, you magically have space for more clothes! Which ways will you be using? Tell us in the comments!