Missing your trip already and dreading clearing out your luggage? We've got you covered with some tips to get you into the groove of unpacking.
As a rule of thumb, remember to pack as light as you can to make unpacking easier on you!
---
Before Your Flight Back
1. Separate Clean And Dirty Clothes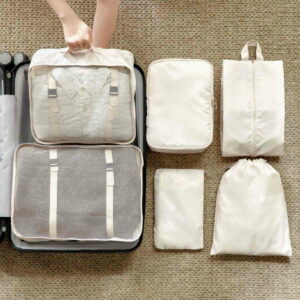 Ft. Travel & Staycation Luggage Organizer (6pc Set)
Utilise packing cubes or laundry bags (usually provided by hotels) to organize clean and dirty clothes into separate cubes. This will make laundry way simpler for when you get home.
2. Dedicate A Day For Unpacking
For example, fly back on a Saturday and dedicate Sunday for unpacking and laundry. This way, you can get a full night's rest before heading to work on Monday.
If you're unable to get to unpacking right away, give yourself a maximum of 1 week to clear out your luggage. Otherwise procrasination might kick in.
Time To Unpack
3. Start With Laundry
When it's time to unpack, clear your luggage out: clothes, souvenirs, everything. Toss the first load of dirty clothes straight into the washing machine, especially if you have damp bathing suits sitting in your luggage!
For winter clothes, sort them out according to machine washing, hand washing, and dry cleaning. This will depend on their material, and what the care instructions on the clothing tags say.
While you wait, start unpacking everything else.
4. Separate Gifts & Personal Souvenirs
Dump all your tchotchkes where you can see them, be it on the living room floor or on the dining table. This will motivate you to deal with them instead of hiding them away and never touching them again.
Categorise them according to:
Gifts: Place them into paper bags so they're ready when you meet your friends and family
Personal souvenirs: Put them on display around your home
To discard: Toss out museum guides, bar pamphlets, and other useless scraps of paper
Tip: Not in the mood to unpack? Set a timer for 5 minutes and challenge yourself to get as much as you can do!
This will help get you into the groove of unpacking and soon enough, you'll be done!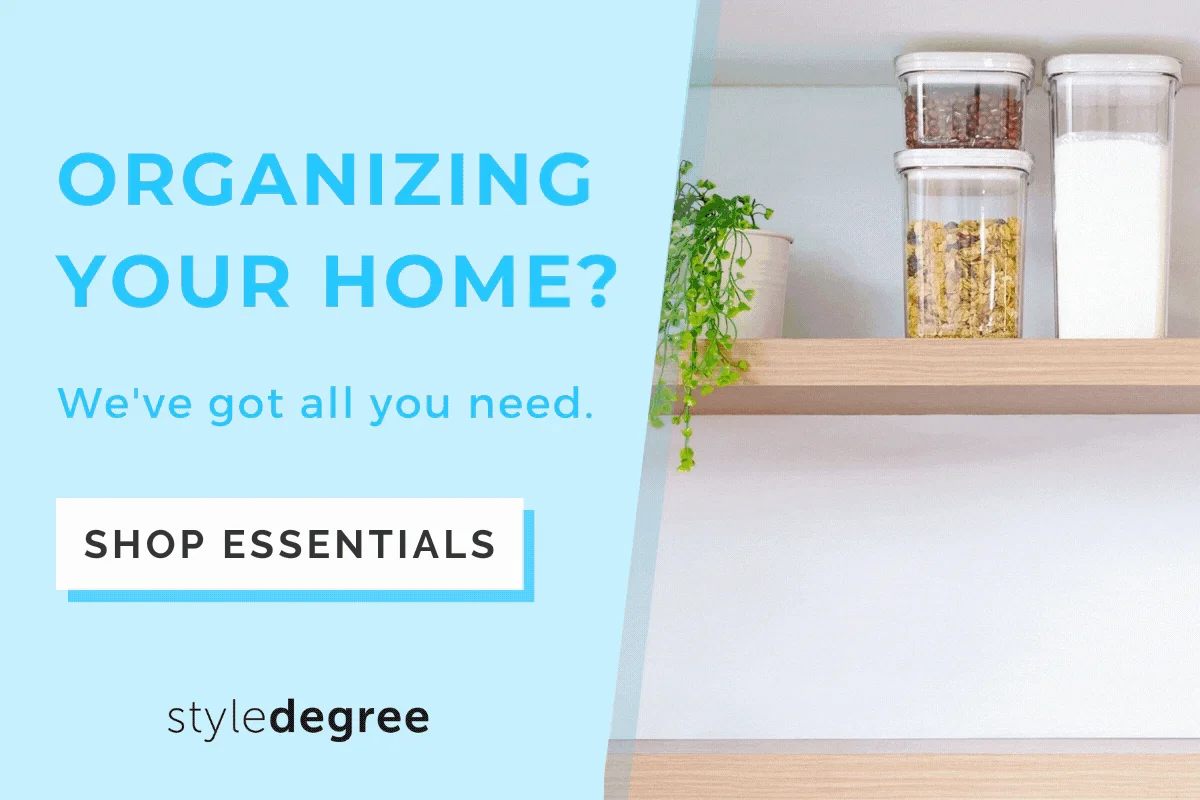 5. Clean & Disinfect Luggages & Bags
Luggages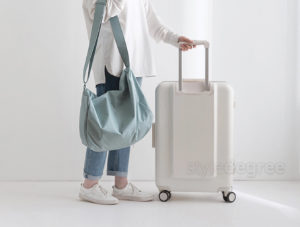 Ft. Staycation & Travel Duffle Bag
Make sure not to bring your luggage into the bedroom before disinfecting it!
Use a vacuum to remove crumbs, dust, and dirt in the books and crannies of the luggage.
If you spilled shampoo, lotion, or soap on the flight back, first blot it with water to loosen the residue. Then, try spot cleaning them with dish soap and water. You can do this with other unknown stains too.
Wipe down the interior with disinfectant wipes to sanitise it and remove germs and bacteria.
Don't skip the wheels! Using an old toothbrush to loosen dirt around the wheels will do the trick.
For cleaning the luggage exterior, it will differ with material:
Hard-shell luggage: Give it a spray with a hose or in the tub, and use regular, non-detergent soap to clean it.
Soft-shell luggage: You can use disinfectant wipes, or a damp microfiber cloth paired with dish soap to wipe and remove stains as well.
After washing or wiping down your luggages, leave it in the service yard where it can dry under the sun for a few hours. The heat will aid in killing residual bacteria and viruses, as well as bed bugs.
Using a hairdryer to speed up the process is not recommended as it can damage your luggage.
Backpacks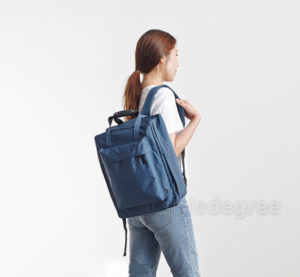 Ft. Staycation Travel Backpack
Start by removing lose dirt with a soft brush both on the inside and outside of the backpack. Then, submerge it in water in the sink or in a pail. Scrub stains and dirty spots with mild detergent and a soft brush.
After rinsing, leave it out to dry in the sun.
Packing Cubes
Ft. Travel & Staycation Luggage Organizer (6pc Set)
Your packing cubes need cleaning too! Wash them in the sink or in a pail with warm water and a non-detergent soap. After rinsing, hang them to dry under the sun.
6. Leave Travel Essentials In Luggage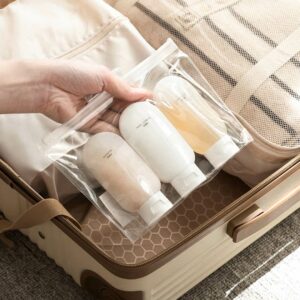 Ft. Easy Travel Tubes With Pouch (3pc Set)
Some things are meant to stay unpacked and in your luggage. These travel essentials include:
Travel adapters in a pouch
Travel-sized toiletries
Luggage scale
Travel organizers
Refill whatever you're short on and take down what you need to replace to prepare for your next trip.
7. Storing Things Away
Clothes
Ft. Canvas 2-Way Opening Foldable Storage Box
After washing your clothes, dry them in the dryer or hang them in the service yard to dry. Fold or hang them accordingly and put them away in your closet. You're almost done unpacking!
For putting away winter clothes, there are many ways you can store them depending on their material and how much space you have in the house. Check out our Guide To Folding & Storing Winter Clothes In Your HDB Home for more details!
Luggages
If your luggage still has a musty smell after cleaning and disinfecting, many recommend storing a bag of activated charcoal or sprinkling baking soda into the luggage and letting it sit for weeks.
For a simpler way, place a humidifier in your luggage when you store it away. This one contains a carbon mineral pouch to keep your luggage fresh and odour-free, ready for the next time you use it!
---
Take it step by step and soon you'll be unpacked and relaxed. Unpack breezily with our array of travel essentials!