If you find random objects like a forgotten top or bag at the back of your closet, it's time for a clean out! In addition to tossing or donating items you don't need, ensure you re-organize the space once in a while to keep your closet neat and accessible.
Keep scrolling for 10 ways and helpful organizers to keep your clothes in tip-top shape!
Clothes
1. Add Shelf Dividers For Folded Clothes
Keep your painstakingly folded clothes in neat piles with the help of a simple shelf divider! Slim, durable ones like our anti-rust Wardrobe & Shelf Divider eliminates messy, toppling stacks of clothes while taking up virtually no space.
Additionally, if you want to make retrieving your favourite tops even easier, use our Easy Reach Clothes Organizer (5pc Set) to keep other folded items neat, organized and straight.
2. Utilize Drawer Dividers
Similarly, section any drawers you use to store multiple items with drawer dividers. This will keep items like socks and undergarments neat and in place. Use adjustable types, such as our Adjustable Drawer Divider Organizer to ensure that it fits perfectly into any of your drawers.
Tip: If you workout often, store athleisure wear in separate sections to keep them protected and easy to find.
Alternatively, use an organizer that already has compartments to make things easier!
Browse our favourites below.
3. Use Different Types Of Hangers To Maximise Vertical Space
If you have a large collection of clothes, using regular hangers to store them can make you run out of closet space fast. Instead, try specialised hangers that maximise vertical room so you can hang multiple items on just one hanger. Check out our extensive and durable hanger collection to properly care for your clothes and utilise space fully at the same time!
Here are our picks to help you re-organize your closets:
Similar items: Store multiple similar looking items, such as plain T-shirts, jeans, sweaters with a multi-rung hanger. Use our Ladder Clothes Hanger to organize jeans and shawls, or our Multi Clothes Hanger that will keep ironed tops crisp and sweaters ready to wear. This will help you save closet space while storing the same number of items!
Prepared outfits: Prepare a set of clothes the night before, then throw on your outfit quickly during morning rush hour with our Outfitter Clothes Hanger! It'll keep your prepared outfits wrinkle-free, while the unique design helps you to picture what your outfit will actually look like ahead of time.
Kids' clothes: Constantly switching out clothes for your rapidly growing children can cost a fortune. Invest in our Kids Extend & Stack Clothes Hanger (10pc Set), that 'grows' together with your little ones! Use the hanger normally for infant clothes, then expand it up to a regular sized one as they grow.
4. Create More Closet Space Yourself
Add more space for clothes with a shelf divider! Some wardrobes have shelves placed far apart, causing you not to be able to fully utilize all the space between them. Split this space up by using adjustable dividers such as our Extendable Wardrobe & Cabinet Shelf Divider that fits perfectly no matter the width of your closet, to instantly free up more storage for more clothes or towels.
5. Organized Colour-coded Wardrobe
While this seems time-consuming and a little unnecessary at first, it'll actually save you time in the future. By sorting your clothes by colour, it's much easier to pick out matching sets and find a specific top or pair of pants in a snap, rather than rifling through your entire wardrobe.
You can also organize them according to colour palettes, like neutrals, pastels and neon to make outfit selections even faster.
Accessories & Seasonal Clothes
6. Vacuum Pack Seasonal Clothes

Keep your unused and bulky winter clothes compact and out of sight with vacuum bags and a separate storage box, as these take up more space in your closet. Vacuum-packed clothes will make it much easier to squeeze large winter clothes into small luggages too, to make space for other items like souvenirs!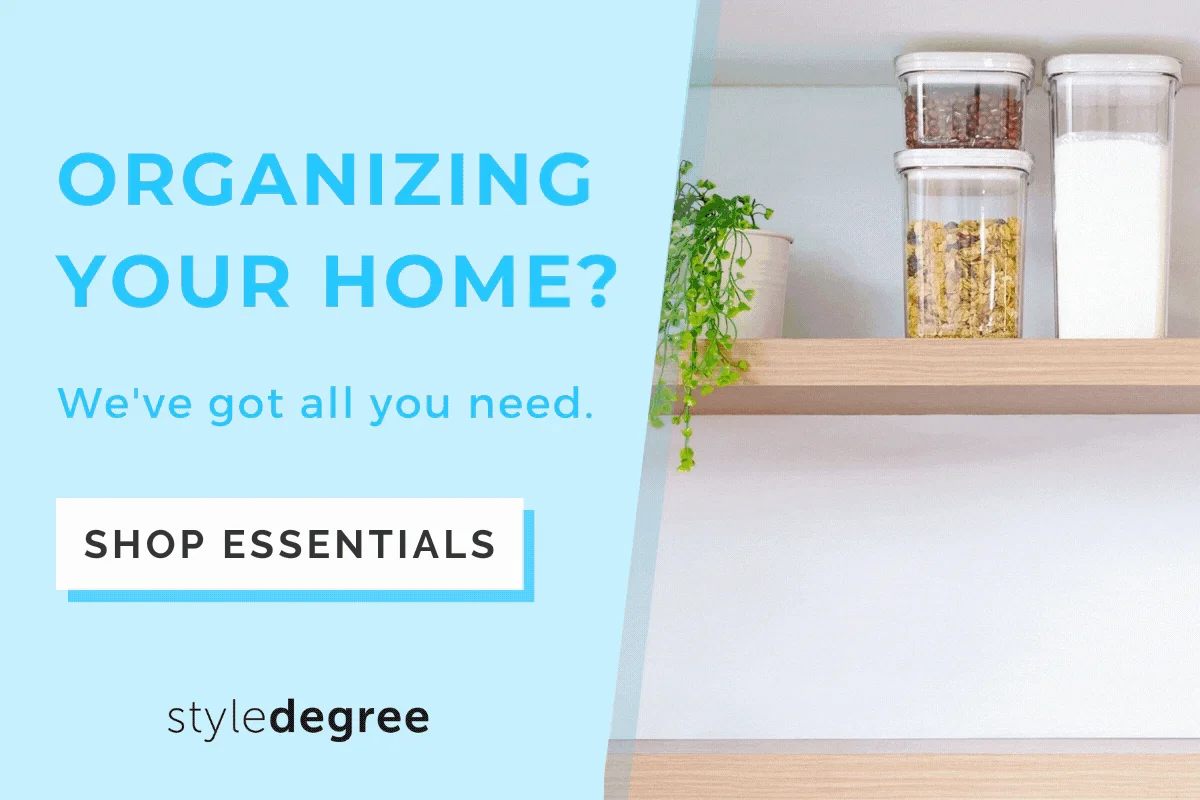 7. Label Or Use Clear Storage Boxes
Have other items that you don't wear or use regularly? Store them in storage boxes to keep your closet clutter-free. Remember to label opaque boxes so you can find items you need much faster.
Choose from our bestselling storage boxes below
Opaque: Want to hide clutter? Use our opaque and generously sized bins! Our bestselling 2-Way Opening Storage Box (With Wheels) opens from the top or front so you can choose the opening that's more convenient for you. Or, try out our new and handy Front Opening Stackable Storage Box, which has notches to keep the lid open so you have both hands free to put away your items. Plus, both are stackable, so they can securely hold as many unused clothes or toys as you need!
8. Use File Organizers To Sort Bags
If you have a spare file or magazine organizer lying around, utilize it to store bags separately. This ensures high-maintenance materials like leather have space to breathe by letting mould-causing moisture escape, as well as preventing colour transfer.
9. Specialized Organizers For Accessories
Need a place to store items like belts and other accessories? Organize them using specialized systems so they're easier to find and use in a hurry! Consider some of our ideas below:
Belts & ties: Belts and ties can get lost easily in the crevices of a wardrobe. Ensure they stay accessible with a specialised hanger, like our Multi Hook Closet Hanger that hangs multiple belts and ties at the same time. Or, try out a TikTok hack by storing your leather belts in a large clear jar to protect the leather from cracking.
Also check out: 20 Genius Cleaning & Organizing Hacks To Steal From TikTok
Sunglasses, camisoles and others: Stash away miscellaneous small items like sunglasses and rolled up camisoles or tank tops using a hanging organizer with pockets like our Pockets 2-Sided Wardrobe Hanging Organizer! This way, you'll have them neatly stored out of sight but easily findable if you need them.
Jewellery: If you store jewellery in your closet or have an open closet system and your gold and silver jewellery rust quickly, it could be because they're not stored in the right conditions. Protect them with specialised jewellery boxes like our The Elegance Customisable Jewellery Box or The Elegance Jewellery Standing Organizer to keep them tangle and rust-free!
Also check out: 8 Smart Jewellery Organizing & Storage Tips To Prevent Tangles & Tarnishes
10. Using Over-The-Door Hangers For Worn Clothes
Have a chair where all your 'clean but not clean enough for the closet' clothes reside? Hide away unsightly clutter by hanging them behind your door instead, using an over-the-door hanger with hooks like our Scandinavian Rear Door Hanger.
Alternatively, attach a row of hooks to the back of your door, such as our Woody Horizontal Wall Hanging Hook. This will help air out your worn clothes and keep them unwrinkled until the next wear.
You can also hang the bag you use daily here so you can grab it on the way out!
11. Additional Open Wardrobe For More Space
Still need extra space for your clothes? Consider a small and chic-looking clothes storage system to store your most-worn tops, bags, and outerwear, which makes them easier to find and grab on the way out!
Such designs include open corner wardrobes like our The Scandinavian Corner Open Wardrobe to make use of unused corner space. Or, choose clothes racks like our Grande Clothes Stand (With Hanging Hooks) that isn't just practical, it also instantly adds interest to a blank wall.
---
Like these organizing tips? Check out our article on kitchen organizing ideas, and let us know what other areas of your home you need help with!