While HDB BTOs are the obvious housing of choice for young couples in Singapore, the long waiting time and smaller flats associated with it can be off-putting to couples. Hence, a popular alternative is HDB Resale Flats.
We understand that it is challenging to understand the the procedure of buying a HDB resale, including those around the downpayment, the HDB resale grants, and more.
Join us as we break down the HDB resale flat into these 4 simple steps!
---
Click on the different sections to navigate directly to the specific information!
---
Step 1: Planning To Buy A HDB Resale Flat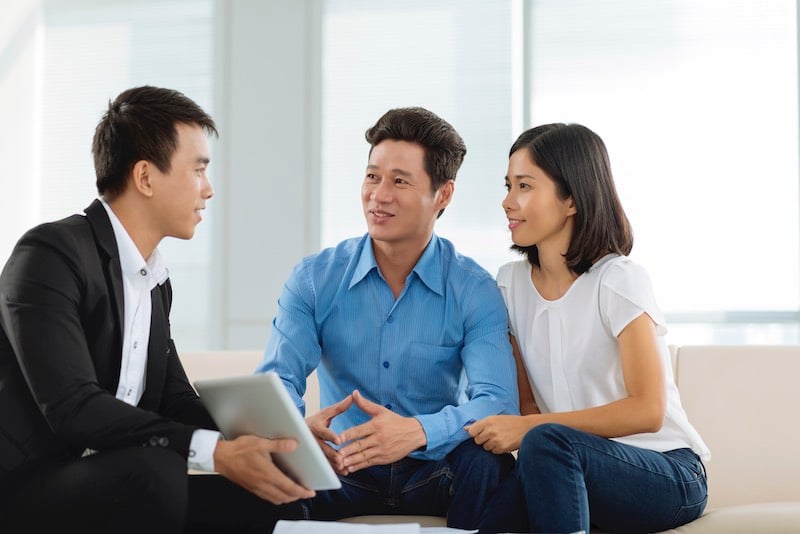 Can you even buy a resale flat?

What flats can you buy, and is there a location restriction?

Can you pay it off with CPF?

How do I view the flats?
These are all valid questions you can have resale flats; after all, buying a resale flat is different from a BTO, where everyone applies together. Buying a resale flat is a process that belongs to you and your other half, and hence you have to know all these points before starting the buying process.
1.1 Eligibility to buy a HDB resale flat
If you are engaged and worried about needing to be married before receiving your keys — You only need to produce a Marriage Certificate within 3 months of receiving the keys, so don't worry!
Besides this, the basic eligibility criteria for BTOs also apply here:
Both of you have to be either Singaporean Citizens or PRs
Both of you have to above 21 years old (if you're over 18 but under 21, you need the consent of parents to get married!)
The complicated part here is related to the Ethnic Integration Policy (EIP) and Singapore Permanent Resident (SPR) Quota. The former is similar to the BTO process; there are quotas for the ethnic mix in each block, hence you have to fit within that quota. What this means is that you need to check with potential sellers or their agents on whether they can sell to you under the EIP.
Usually, an easy way to check this is to tactfully ask the ethnicity of the sellers — if they're Malay, they can most probably only sell to Malay buyers. Of course, this depends on the current quota at that moment, as there might be multiple sellers at the same time within the same block.
If you're both Singaporean PRs (but not Malaysian), then you need to also take into consideration the SPR Quota, which deals with Non-Malaysian SPR households. There's a quota on the number of PRs per block to ensure that PRs can integrate within the community as well.
Choosing where to buy a resale flat
The great part about resale flats is that you can buy one from any location within Singapore. Cheaper BTOs tend to be located in newer neighbourhoods, while those in mature estates are expensive, so resale flats tend to be a good alternative to both those choices.
As long as the seller has put their house on the market (after living in it for the Minimum Occupancy Period of 5 years), and is eligible to sell the house to you (see above!), you can buy it.
1.2 Viewing the resale flat
You can go to property sites such as 99.co, SRX, or Property Guru to check out available properties. Filter by the housing type (HDB here) and living option (Buying here vs. Renting), and then start looking at the 3-room or 4-room resale flats of your dreams! Pay attention to the year the flat was built (you need to know this for lease purposes) and when it was last renovated.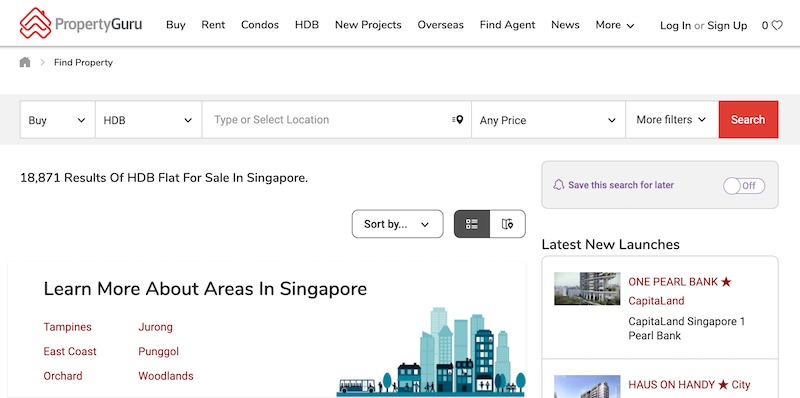 When you're viewing the flat in person, don't forget to do these tasks:
A quick defects check
Check amenities nearby
Take note of noise and traffic at different times of the day
Find out about the upgrading history and lease period
This is also the part where you can try to negotiate on the price of the flat — make friends with the seller's agent and see if you can find out how much the seller will be willing to sell for. You can also use recent transaction prices for similar flats in the neighbourhood as a gauge. You don't need a housing agent of your own, but it can make the situation easier to manage, especially when you need to submit the resale application later on.
1.3 HDB housing grants and financing for resale flats
Two common questions we get asked a lot is,
"Can I pay for a resale flat with my CPF?" and

"Do resale flats have housing grants?"
Be assured that the answer to both is Yes.
As long as the remaining lease is at least 20 years or more and can cover one of you until the age of 95 (i.e. if you're 30 years old, the remaining lease must be at least 65 years), you can use your CPF savings to pay for 90% of the flat. A HDB loan or a bank loan can be taken out for the 90% to cover upfront, while you then pay monthly using your CPF.
If the lease is shorter than the above, CPF can still be used, but only to cover a pro-rated portion of the flat. This is to ensure that you'll still have money left in your CPF account to buy a flat in retirement. You can only take out a bank loan to pay for the flat here.
Also, while there are no income ceilings to purchase a resale flat, there are income restrictions in order to qualify for housing grants. There are three grants available: the Family Grant, the brand new Enhanced CPF Housing Grant, and the Proximity Housing Grant (PHG).
Announced in September 2019, the Enhanced CPF Housing Grant combined the original Additional CPF Housing Grant (AHG) and the Special CPF Housing (SHG). The income ceiling has been raised to $9,000 (from an original $5,000) for the new EHG, and doubles the amount available to buyers to $80,000.
Now, if you are a first-time applicant with a combined income is $8,000, and you are getting a 5-room resale flat, you can get a grant of at least $50,000 and up to $130,000. If your new flat is within 4km of your parents' house, that's an additional $30,000!
If you are a second-timer applicant, there is another extra grant that is available for you — the Step-Up CPF Housing Grant. This is only available for 2-room or 3-room resale flats in non-mature estates, and there is an income ceiling of $7,000.
---
Step 2: Starting The Intent To Buy A HDB Resale Flat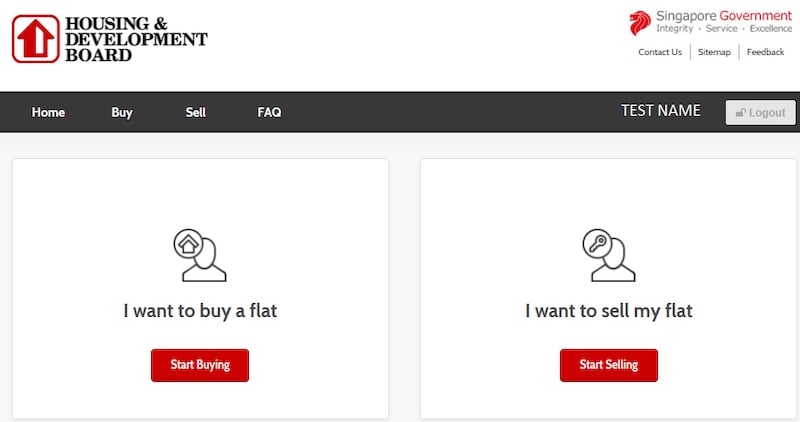 If you're sure that you want to buy a resale flat, there's one thing you need to do first — register your Intent to Buy on the HDB Resale Portal.
You just have to login using SingPass and fill in some information on the HDB Resale Portal to prove that you're serious about buying a resale flat. You don't have to have decided the flat yet. After the Intent to Buy, you can slowly continue to look at potential flats.
If you've already chosen a flat and registered the Intent To Buy, there are a few more processes to complete before you can submit the resale application.
2.1 Option to Purchase
After you've agreed on the price of the resale flat with the seller, you need to ask them for an Option to Purchase (OTP). That OTP functions as an agreement between you and the seller that you've made an offer. You then have 21 days after the OTP is granted to think it through, and then exercise the OTP within that time period to confirm the purchase.
This is the moment when you have to start paying some serious cash, as you need to pay cash of $1,000 for the OTP, and $4,000 when you exercise the option, as a deposit to the seller.
2.2 Choose Mode of Financing
If you're getting a HDB loan, ensure that you've already gotten a valid Housing Loan Eligibility (HLE) letter by this point, as this is when HDB will request your choice of financing for your new resale flat. You need to decide whether you're using CPF, savings, or getting a loan to finance your new apartment.
2.3 Request Value of Flat
While the mode of financing is ongoing, you need to use the HDB Resale Portal to request for a valuation of the new flat. HDB will then provide their own valuation of the flat you are about to purchase.
This is an important step that BTO applicants don't have to go through, because HDB sets the price for BTOs. Since you and the seller set the price here, HDB needs to go down and decide how much they think the flat is worth, because it affects how much of your CPF you can use to pay off the flat. This will also determine how much they will be willing to loan you to pay off the flat.
---
Step 3: Submitting The Resale Application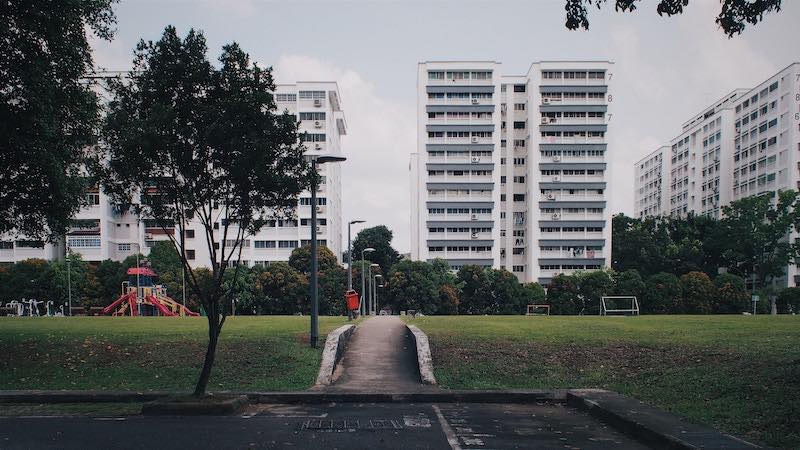 It's time to submit the actual resale application! At this point, you're only about 8 weeks away from getting your new flat, so it's essential to make sure that you prepare and submit all the right documents.
Here's a list of all the documents you need to prepare:
Buyers' and Occupiers' particulars (including NRIC)
Address of the flat you are buying
Option to Purchase details (E.g. OTP Serial No., Option Grant/ Exercise Date, Purchase price, Option Fee/ Option Exercise Fee)
Sellers' particulars
Manner of Holding of HDB flat (i.e. whether it is a joint tenancy or a tenancy-in-common)
Indicate whether you are applying for any CPF Housing Grants/ Proximity Housing Grant (if you are, you need to submit income statements)
Indicate whether you are taking any housing loan from HDB/ Financial Institution (FI)
Declarations regarding your purchase
If all of this is confusing, you can get your agent (if you have one) to assist you in the submission of the documents. After you've submitted the resale application, the seller will then need to submit their own documents within 7 days before the application will be accepted.
---
Step 4: Downpayment, Appointment Matters, And Getting Your Keys
We're finally at the last leg of the resale flat purchase! By this point, HDB would have accepted your resale application, so it's just downpayments and the signing of the documents left before you get to move into your new place!
4.1 Endorsements and Downpayment
The first step is to endorse all the documents online, so that you won't have to go down to HDB to do it. HDB will usually send you an SMS, and you'll then have to login to the HDB Resale Portal using SingPass to endorse the documents.
You then need to make the downpayment online, which will be at least 10% of the purchase price if you're taking a HDB housing loan. If you're taking a bank loan, it will be about 25% of the purchase price, depending on your loan ceiling. You can pay this through your CPF Ordinary Account. A cash payment only needs to be made if you don't have enough CPF monies, or if the valuation of the flat was lower than the resale price (i.e. you overpaid for the flat, and hence you need to pay the extra through cash).
If you're taking the HDB housing loan, you will also need to buy fire insurance from HDB's appointed insurer, FWD Singapore Pte Ltd, before going to your completion appointment.
4.2 What To Bring For Your Resale Completion Appointment
Lastly, it's time for the resale completion appointment. This is the moment when you sign the transfer and mortgage documents and then take the keys from the seller, so make sure that you go prepared with these items:
Your NRIC
Receipt from paying the downpayment
Fire Insurance Certificate (if you are taking the housing loan from HDB)
The seller would have moved out by then, so you can proceed to renovate and move into your new resale flat!
Also check out on StyleMag: The Ultimate Renovation Guide (With FREE Excel Budget & Expense Tracker)
In the end, looking for and buying a resale flat could take less than 6 months total, depending on how long it takes you to find the flat of your dreams. The process from starting the intent to buy to collecting your keys can be as quick as 3 months, so it's up to you and your other half to decide the details of your financing and grants before starting that process.
Also check out on StyleMag: BTO Vs Resale Vs Sales of Balance Flats (SBF) – Which is BEST for you?
Get useful tips on home decor, home organization by following us on Instagram (@style_degree), Facebook and join our Telegram channel (@HomeownersSG)!