Collecting your keys can be an exhilarating experience. You take a selfie outside your new home, roll the pineapple across the floor, walk into the empty space, and then…
The decorating ideas start flowing in.
"Maybe we could tear down this wall and make a bigger bedroom for ourselves!

Oh, or why don't we hang art on this wall and then do a built-in kitchen?

Hmm or we could do glass doors everywhere to let in more natural light!"
While all of these are fun ideas, they might not be feasible in reality. Many couples, especially first-time homeowners, can try too hard to emulate insta-worthy homes they see online, without considering the implications. A HDB BTO flat, for example, can only be modified in certain ways, making it impossible for couples to change every single thing in their new flat.
This can make renovation projects confusing, and cause mistakes that could be easily avoided otherwise. To ward off mistakes such as going over budget, contractor delays, or defects, let our renovation guide help you!
P.S Read on to redeem our little gift for you, a FREE renovation budget and expense tracker!
---
To jump to a particular section, click on the section title below!
---
1. Planning Your Renovation
When planning a renovation, many couples start with Pinterest. And that's a fantastic visual way to learn out what your design style is. You can use different mood boards to help curate your favourite visual styles for different areas of your house.
Also check out on StyleMag: 4 Steps To Creating An Interior Design Mood Board Template
The thing is, marble floors and open-concept kitchens might look beautiful on paper, but they can be immensely expensive to execute. Large sofas and chandeliers will also require extra manoeuvring to look good in a 4-room HDB flat. It's hence important to keep your floor plan (with all the dimensions!), budget, as well as the HDB restrictions in mind before starting renovations.
Also check out on StyleMag: 14 Kitchen Design Ideas For Singapore HDB & Condos You Can Easily Achieve
1.1 When to start planning your renovation
Your renovation plans can actually start before you step into your new house. After all, who doesn't dream about what they'll do with their future home?
You'll probably be reading home design guides and taking Pinterest inspiration as far ahead as a year before you get your keys. This is when you should start taking action: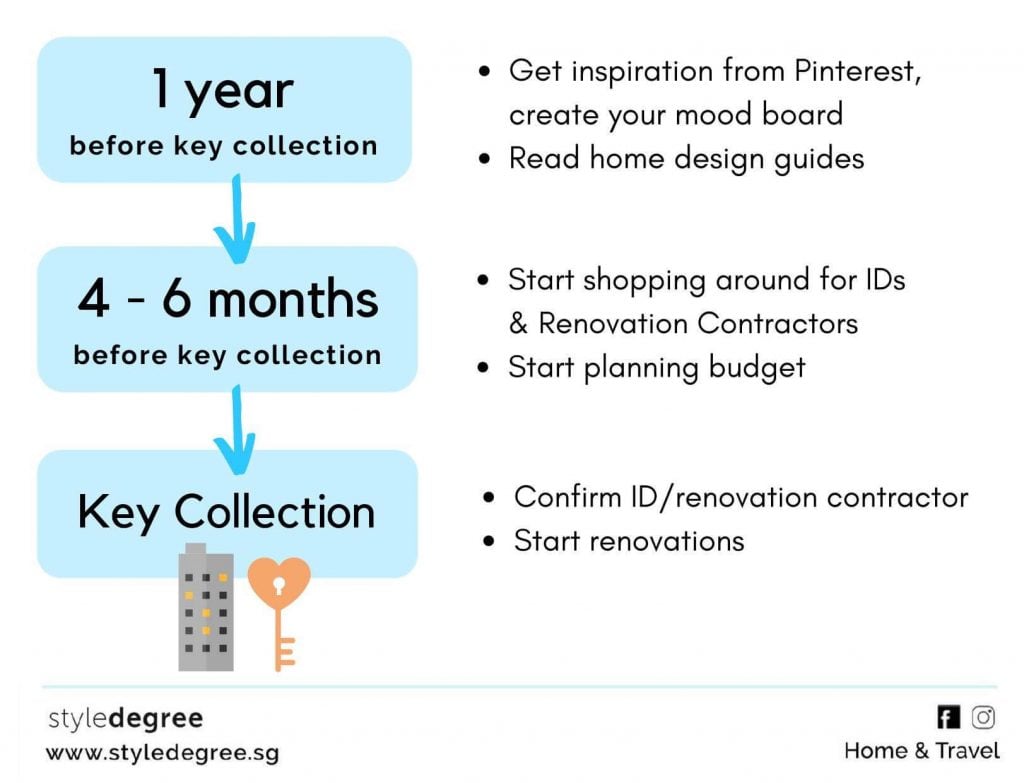 1.2 Choosing an ID and renovation contractor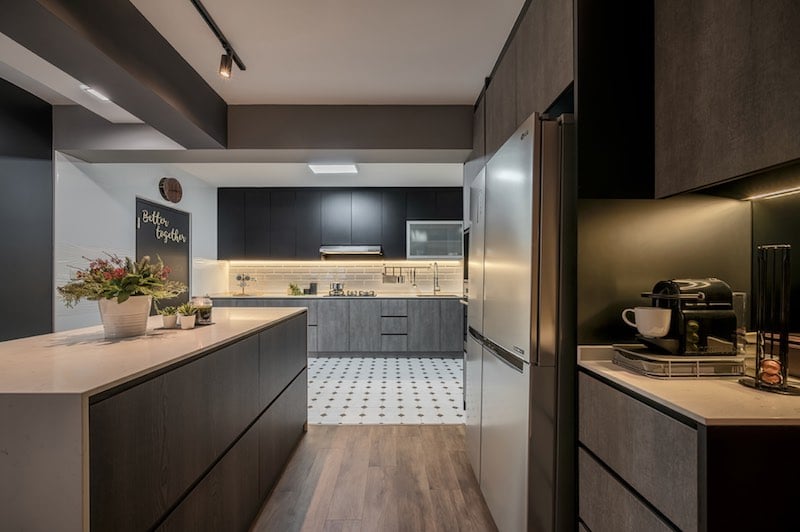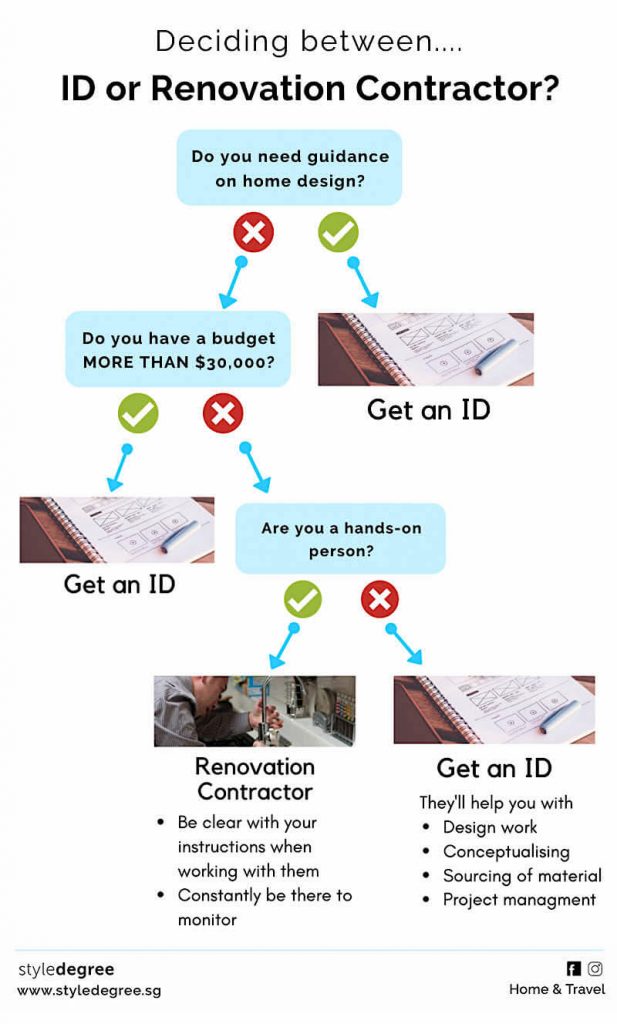 If you're looking for someone to provide guidance on those insta-worthy homes and design styles, you'll need an interior designer (ID). They can design the space to your needs, ensure that the entire project is executed smoothly, and you can generally leave the entire renovation to them to manage. Of course, because of this, IDs tend to be more expensive.
However, if you know exactly what you want, and just need someone to execute the renovation for you, engaging a renovation contractor will suit you perfectly. Read our StyleMag article on A Guide To Renovation: An Alternative to ID Firms. Bonus: Learn tips from a homeowner who renovated her home via a renovation contractor.
Regardless of whether you pick an ID or renovation contractor, the important thing is that you look at their portfolio. If you're renovating a HDB BTO, for example, you need to pick an ID or renovation contractor who is familiar with the long list of restrictions by HDB, seen below in the next section. They'll hence be able to guide you through the types of materials and processes you can choose for a HDB, and might even be able to help you apply for approvals as well! If you find one that's CASETRUST-RCMA Accredited, even better, as they'll have clear policies on refunds and will be known for their accountability.
Also, check out on StyleMag: 4 Fool-proof Tips When Choosing An Interior Design Firm
1.3 Renovating your HDB: Approvals
HDB is very particular about alterations to a flat they built. There are restrictions in terms of wall finishes, floor finishes, false ceiling erections, demolishing walls, balcony awning erections, and more. Here's a short list of alterations that require HDB's approval: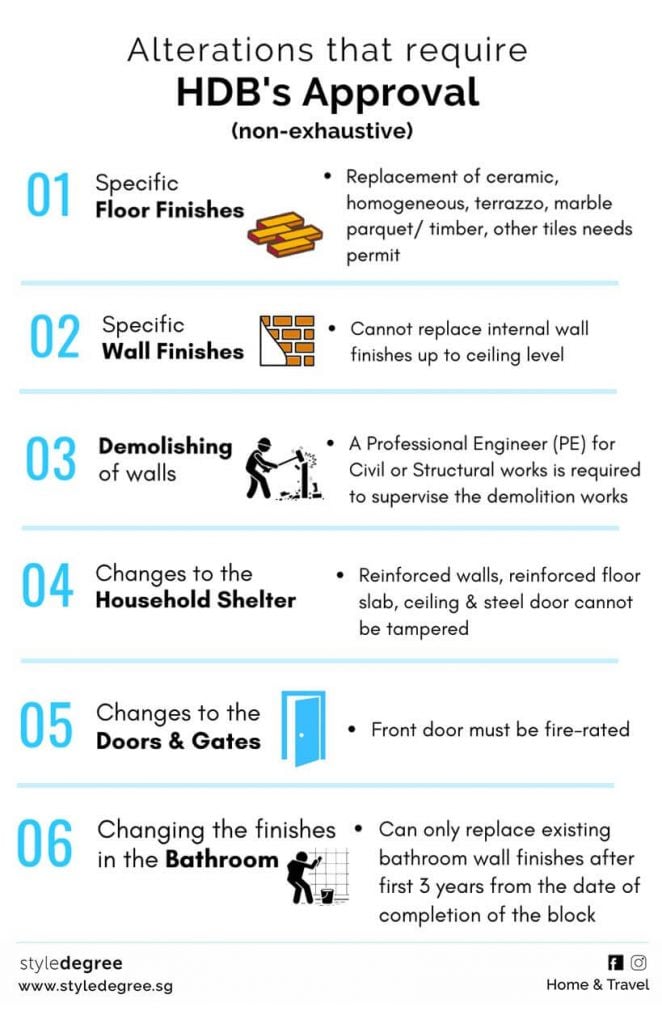 For example, you can't replace your floor tiles or demolish any wall in your new home without approval from HDB. The thickness of the materials and the processes used by your contractor have to be approved as well. While there are many choices when it comes to upgrades or changes to your flat, you need to take the time to get HDB's approval before you get started. Depending on the extent of your renovations, approval time can vary, so it's important to apply as soon as possible at the MyHDB portal.
All building works for HDB flats also have to be completed by an approved contractor. If you're thinking of installing a bathtub, for example, you'll also need to contract a Public Utilities Board (PUB) Licensed Plumber to do all water and plumbing works. Air-conditioners have to be installed by BCA trained air-conditioner installers.
1.4 Budgeting and expense tracking
The other main consideration you need to keep in mind is the budget. Renovations in Singapore can easily cost upwards of $45,000, even for minimalist designs. Generally, the most expensive types of renovation are those that require re-flooring, demolishing of walls, or a complete re-haul of a specific room. This is due to two factors: the raw material cost, and the man-hour cost.
Unsure of the renovation costs you have to spend? This renovation calculator from Qanvast can give you a quick estimate of costs.
Raw material costs
In terms of raw materials, many couples look to marble flooring to convey elegance and style. You might want to remodel your floors and replace it with marble flooring, but did you know that it will cost upwards of $3,000 just to do this one thing, depending on the size of your house?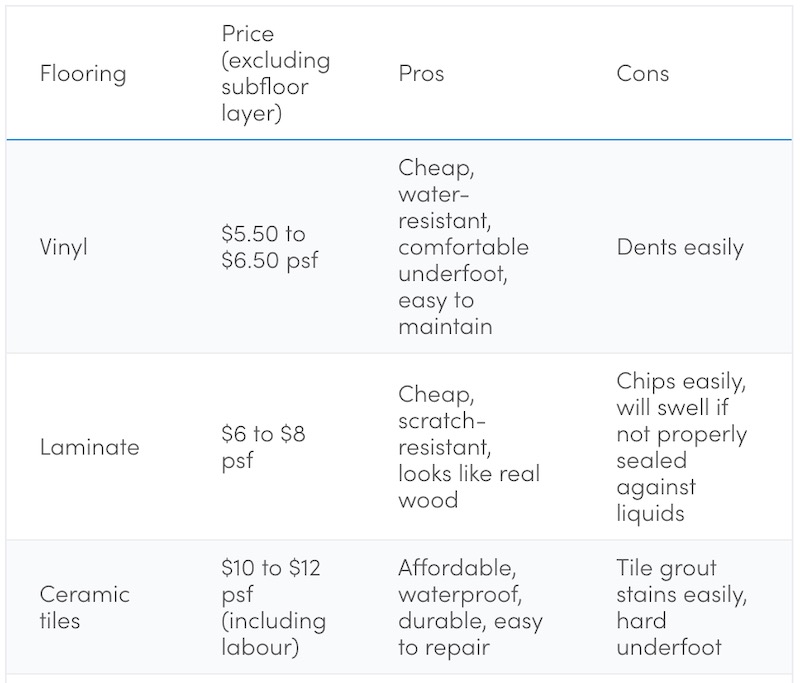 Moneysmart has a great comparison of different floors and their prices. Working with an ID or renovation contractor to find other flooring options that won't cost as much, or choosing to focus your budget on other items, could be a better use of your budget.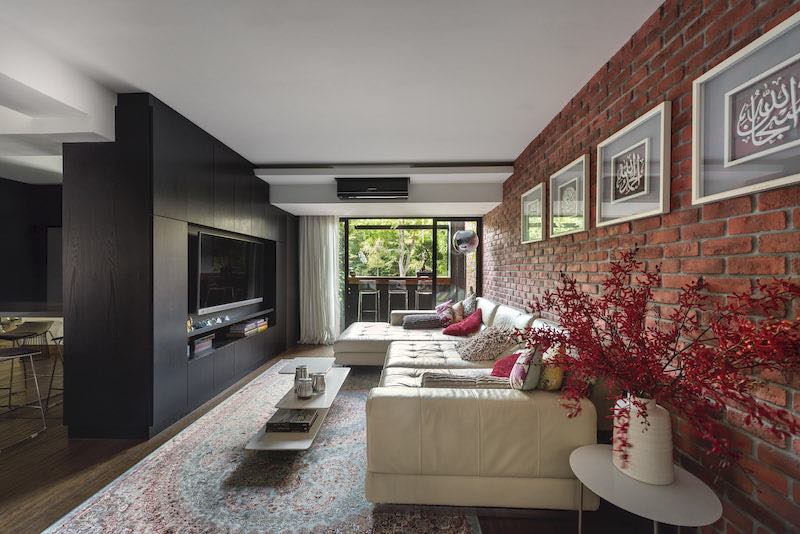 At the same time, although built-in designs are popular in Singapore's space-conscious homes, they limit the amount of personalisation you can do, and are also significantly more expensive than store-bought home essentials.
In fact, carpentry usually takes up the most time and budget during renovations due to the complexity of the job. Shoe racks can be purchased from many different stores instead of built-in, and store-bought items provide future flexibility in case you want to change up the structure of your home.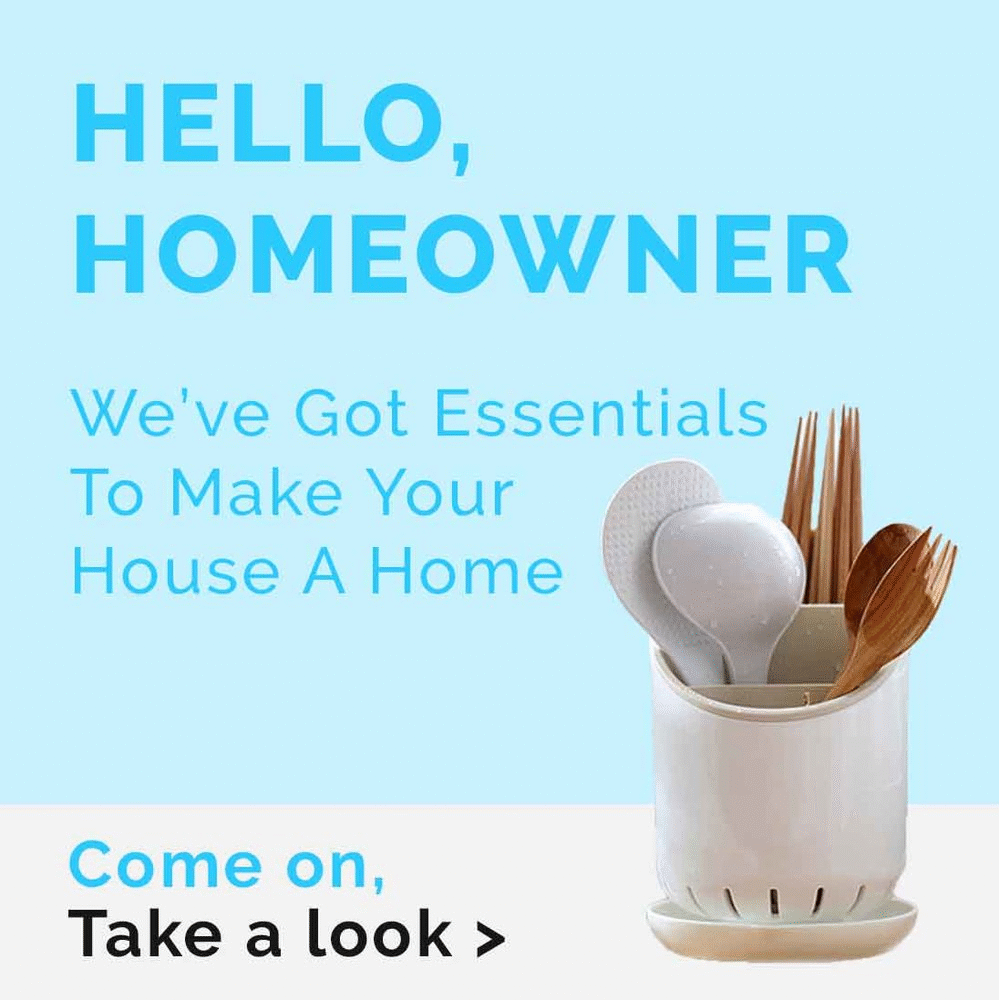 Man-hour cost
When planning for a renovation, you also have to consider man-hour costs. You might think that $150 to $250 per square foot for a natural marble kitchen countertop is worth it, but that amount doesn't include installation and other costs that are required. Even if the amounts seem small, you shouldn't ignore them; it'll add up! Processes that require a lot of man-hours can result in to a huge bill in the end.
It's essential to keep track of your budget and expenses; after all, you still need to include the costs of purchasing furniture and other items!
Renovation budget & expense tracker
Download our FREE Renovation Budget and Expense Tracker to keep on top of all your renovation needs here! We have included rows for you to input your furniture, decor and home accessories costs, so you can have a bird's eye view on your renovation budget and expenses.
1.5 Renovation loan
Talking about budget, one method to get some extra cash for your renovation is to take out a bank loan that is reserved for renovations.
Yes, there is a type of loan that is specifically meant for renovations! The difference between a renovation loan and a personal loan is in the interest amount; since renovation loans require you to prove that you own a flat, the interest rate tends to be lower.
Many banks offer these renovation loans, but there is a maximum to the amount you can borrow — it's usually up to $30,000, or 6 times your monthly salary, whichever is lower. And this money can only be used for renovation, not furniture, so be careful how you use this amount of money. A great resource to use to view the differences between different loans is MoneySmart's article on renovation loans.
---
2. Keeping On Track During Your Renovation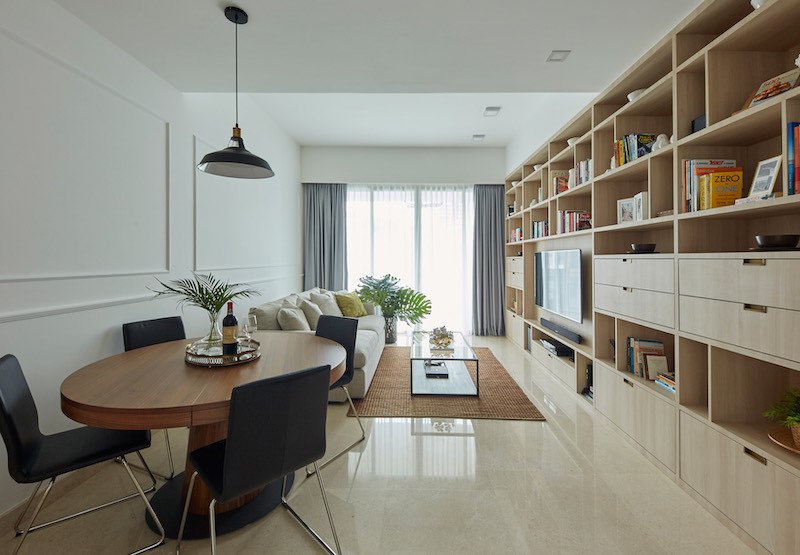 If you think that planning for the renovation is hard, you might want to take a seat for this: You'll be equally, if not more, busy, during the renovation itself. While IDs can help to manage the project for you, the onus will still stay on you to manage other items, such as living arrangements, progress reports, and the purchase of home essentials.
2.1 Where to stay during your renovation
Many couples think that they can live with the noise and mess caused by renovation, and thus choose to stay in their new HDB while it's being renovated. This is 100% a bad idea.
Besides the excessive amounts of dust and disruption caused by contractors and workers coming in and out of your flat, there's also the fact that you will have no space to put anything you own. Even your bed will need to be moved if you're renovating your bedroom, so you'll effectively only be able to sleep on a mattress that gets moved and stepped on every day.
One idea is to stay with your in-laws, or, if you have more than 6 months to spare, why not check out our guide to renting a flat?
Also check out on StyleMag: Renting While Waiting For Your BTO: HDB & Private Options.
2.2 Progress reports and timelines
Before the renovation starts, your renovation contractor or ID would have provided a timeline for the project to the completed. Usually, a renovation will take about 6 – 8 weeks to complete. During the renovation process, it is up to you to ensure that everyone keeps to the timeline. Since IDs and renovation contractors handle multiple clients at the same time, they can miss or forget deadlines. You have to check in regularly, and drop by the flat often to check on the progress of the flat.
These regular progress reports on both your end and the ID's end will also allow you to avoid any unexpected delays; you can then schedule your furniture delivery properly, for example, or change your plumber's appointment in advance if you see delays happening early on.
2.3 Personalisation of home essentials
Some couples expect their ID to handle the purchase of every single item in the house. From storage baskets to hanging racks and home essentials, they're willing to pay for the ID to source for the items.
One little trick we can give you — buy these items yourself. This gives you the freedom to personalise your home based on your style or living habits.
---
3. Post-Renovation Checks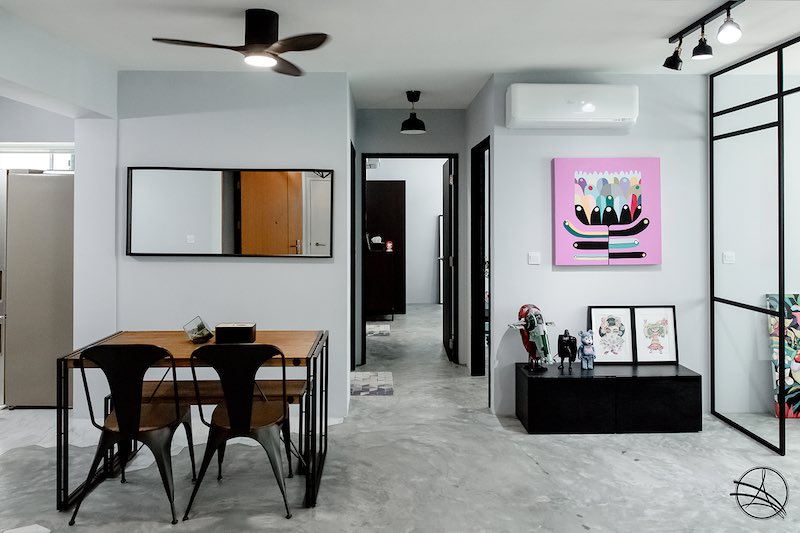 Just because your ID says that the renovations have been completed, doesn't mean that they're actually done. There's still a lot of clean-up and checks that you need to do before closing the project and starting on the housewarming!
3.1 Renovation defects check
Just like the HDB BTO defects check, you need to do a thorough defects check after your renovations have been completed. Some items that need to be checked:
Carpentry and Flooring: Ensure that surfaces are smooth with no cracks, and that all fixtures work as intended (i.e. open all the doors and cabinets!)
Paint Work: Ensure that paint work is even across all surfaces
Electricity and Water: Turn on your electricity and water before going down, and make sure you test out the power sockets and the waterproofing in the toilets
Also check out on StyleMag: 2019 Ultimate BTO Guide: Part 5 – Defects Inspection
3.2 Cleaning
After the defects check is done and you've signed off on the renovation contractors, it's time to start with a deep clean of your new home, before moving in your furniture.
Bring in the vacuum cleaner, mops and rags and go through this step-by-step process:
Clear all loose items from countertops, etc.
Vacuum and sweep the entire house, including the corners
Mop the entire house, and wipe down all surfaces and items with a damp cloth
Keep surfaces clean, and wipe down surfaces often to maintain cleanliness
Also check out: Ultimate Guide To Post-Renovation Cleaning
3.3 Housewarming
The last step, after you've moved all your furniture in and unpacked, is to do a housewarming party! The reason it's been included in this renovation checklist is because the housewarming itself can help contribute to items you might still need in the household.
For example, there are usually some home essentials, accessories and home décor that you haven't been able to purchase, or that you don't have the extra cash to buy at that moment. When your guests ask what they should give you for your housewarming, you actually can ask them to help buy these items! Just set up a 'Housewarming Gift Wish List' with links to items you would like, and ask your guests to pick one on the list to buy for you!
---
To end off, here are some quick tips and tricks for you:
Choose a CASETRUST-RCMA Accredited ID that you trust (don't just pick the first one you see!)
Do your research early when it comes to materials and essentials, so you can converse easily with IDs and contractors
Plan for delays. If you are renting a house, for example, extend the lease for at least 3 months after you collect your keys, in case there are further renovations or items you want to complete before moving in. This gives you a good lead time, instead of rushing through everything just to have a place to stay.
If you're looking for an easy way to track your budget or expenses for this project, remember to download our FREE Renovation Budget & Expense Excel Budget sheet!