When it comes to lighting your new home, it's essential to prepare adequately before choosing your lights. It's not just a matter of pure colour and lamp shape preferences anymore. There are so many different types of lights, shades, functions, and installation methods available, not to forget to keep in mind the need for energy-saving bulbs and more. Each lamp can provide a completely unique ambience to the room.
So, join us as we discuss all the lighting considerations and processes you need to know! Click on the different sections to navigate directly to the specific information!
---
Home Lighting Design
Firstly, who chooses the lights in your home? While you might be excited to recreate your #lightinginspiration images in your home, it might not be the best idea aesthetically. It's hence best to consult the experts first before choosing your lights.
1.1 If you have an interior designer
If you're employing an interior designer, they will handle the lighting in addition to your interior design. There's usually a lighting designer within the team that will focus solely on ensuring that the lighting in your home is optimised. They will be able to take your preferences and marry that with their experience in choosing and layering types of lights to produce the best option available.
1.2 If you have a renovation contractor
A renovation contractor works slightly differently. They just take your detailed instructions and execute them, so you have to do a little bit more prep work before telling them what lights to install.
Also check out on StyleMag: A Guide To Renovation Contractors An Alternative To ID Firms
You can hire a lighting designer separately to consult, but in our opinion, unless you have a large number of art pieces to highlight or a space that has complex lighting issues (such as odd angles or low light at all times), it isn't necessary.
2. Lighting Shops in Singapore
It is imperative that you go down to choose your lights yourself. If you have an interior designer, insist that you join them to pick the lights in person. You can see how the lights are installed and hung and tell the difference between the different types of lights more clearly in real life.
There is no shortage of lighting shops in Singapore – here's a short list of some great light shops and their locations:
Considerations for installation and replacements
One thing you need to consider when buying lights – the complexity of installation and replacements. The more hacking and building your lights require, the more expensive and complex it will be. We do not recommend installing lights yourself, especially if you want to install a false ceiling as well.
You also need to consider how hard it is to replace these lights. If you prefer to change bulbs by yourself, it might be better to choose pendant lights, chandeliers, or LED lamps that can be easily replaced.
Light switches
Light switches don't only come with a 'on/off' option. You can choose from many different types of light switches, but they all depend on a few questions:
Do you need to turn a light off from a single location, or multiple locations (i.e. two sides of a hallway)?
Do you need a dimmer function or a selector function to choose different types of lights?
Do you prefer push buttons, toggle switches, or pole switches?
The answers to these questions, combined with the bulbs you choose, will help your electrician determine how to wire the lighting for your entire home.
Light switches can be confusing, especially in a HDB BTO flat, which commonly contains 2,3,4-gang light switches. Instead of having to memorise which switch controls each light, which is bound to cause frustration, our Switch Sticker Labels specially designed for Singapore homes are here to ease the confusion!
P.S Our Switch Sticker Labels comes in 3 colours (black, white, grey) to suit your light switches.
---
3. Types of Home Lighting
Now we get to the different types of lighting you can choose for your home. Here we differentiate between the three main types of home lighting, and common choices when it comes to lighting a HDB flat.
3.1 Ambient Lighting
Ambient lighting is the type of lighting you think about when it comes to general lighting – the aim is to light up the entire room uniformly. This is when your wall colour comes into play, as ambient lighting works by bouncing off the walls to evenly light up the room.
Common Ambient Lights
Ambient lighting tends to include the fixtures that are mounted on the ceiling:
Fluorescent Lights/ LED Lights: These are the classic ceiling lights that are attached directly to the ceiling. LED lights, while more expensive to purchase, tend to last longer than fluorescent lights, and are also more energy-efficient.
Chandeliers: The epitome of class, chandeliers hang from the ceiling and tend to be used only when you have high ceilings. Depending on the type of bulb chosen (see below), chandeliers can also be used as accent lights for specific areas instead of as the main ceiling light in your living room.
Cove Lighting: Cove lighting involves lights fitted into a ledge along the ceiling. The lights hence bounce indirectly off the walls instead of shining directly down, making it a popular choice for larger BTO flats.
Portable Floor lamps: Depending on the brightness of the lamp, a floor lamp can be used as task lighting as well. However, most floor lamps tend to be used to shine a diffused light across the room. Their portability makes it a popular choice for couples who want the flexibility of moving lights around.
Swipe <- or click on image to view gallery
3.2 Task Lighting
As the name suggests, task lighting works to help you with specific tasks. Task lighting thus focuses all of its light on a specific point and tends to be much brighter than ambient lighting, which is diffused lighting. Due to this, task lighting is also generally installed separately from ambient lighting and requires a different set of switches.
Common Task Lights
Common task lighting includes the types that stand out in a room:
Pendant lights: Pendant lights are similar to chandeliers in that they hang from the ceiling, but they tend to be smaller in size and are commonly used to provide direct, focused light onto areas such as kitchen islands.
Under-cabinet lights / Slim line bar lights: Oftentimes, your shadow will block your cabinets or drawers from receiving enough light. Under-cabinet lights or slim line bar lights can be installed under the cabinet or closet to provide some extra light on the items in your cabinet.
Looking for an affordable option to install under-cabinet lights? Our Brightly Multi-tone Motion Sensor Light requires no hardwiring, simply peel and stick the magnet adhesive provided!
Stick it in your wardrobe, kitchen shelves or sides of your bed frame to illuminate dark areas. Best of all it charges via USB-C and lasts 2-3 months on a single full charge.
Desk lamps: These are your quintessential study lamps or reading lamps that continue to be popular for bedrooms and study rooms.
Swipe <- or click on image to view gallery
3.3 Accent Lighting
Accent lighting consists of that little bit of extra lighting that makes your home stand out. What this means is that accent lighting isn't as focused as task lighting, but is less diffused than ambient lighting. The aim of accent lighting is to highlight specific parts of your room (your gallery wall or your bookshelf), or to add dimension to make the room appear larger.
Common Accent Lights
Accent lights can be used for many purposes, but common types include:
Track lights: Track lights are lights that are connected to a continuous track along the ceiling, and are commonly used to illuminate gallery walls, a cabinet of prized possessions, or a showcase of some kind.
Wall sconces: Wall sconces are lights that are mounted on the wall and have some sort of decorative element to them. These are the lights that you see in hotel bedrooms as bedside lamps, or to illuminate hallways.
Tape lights: Tape lights are similar to track lights, except that they are made upon a flexible LED strip, and can be moulded to fit any shape you prefer.
Swipe <- or click on image to view gallery
3.4 Choosing the right bulbs
Not all light bulbs are the same. When it comes to choosing your light bulbs, you need to consider these two factors: Lumens and Colour temperature.
Lumens
If you're looking at the brightness, you should pay attention to the number of lumens instead. The higher the number, the brighter the bulb.
For example, if you're looking for task lighting, then, you would choose a bulb with higher lumens. For ambient lighting and accent lighting, it would depend on your own preferences, the room type, as well as the amount of natural light that's already available in your home.
Colour Temperature
Colour temperature is the type of colour the bulb will give off. This translates into three types of colour – Warm White, Cool White, and Daylight, and is measured in Kelvins (K). The lower the number of Kelvins, the warmer (i.e. orange/yellow) the light will look. For bathrooms, then, you might look for a Daylight (blue-white tone in a wall sconce that will mimic the natural light you need to apply makeup.
---
4. The Lighting Required In Your Home (By Room)
4.1 Tips Before Choosing Your Lights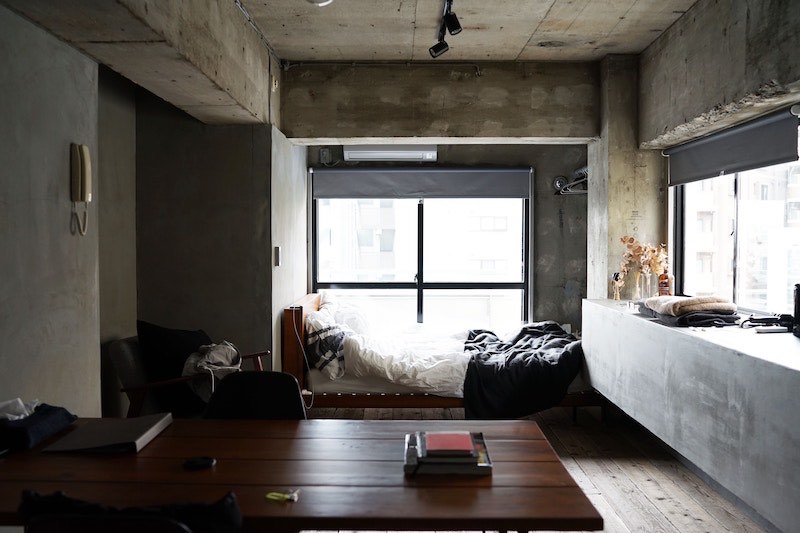 When you first chose your BTO flat, you might have considered which direction the flat faces. If your home faces east, for example, you would know that you're going to get morning sun. And while this is important for many other reasons (such as feng shui, noise pollution, etc.), it will also affect how much natural light your house will already receive.
Also check out on StyleMag: 4 Easy Feng Shui Tips: A Guide For New Homeowners & Beginners
A great tip before choosing your lights is to spend some time in the morning, afternoon, and evening in the different rooms of your new home, to see how sunlight / moonlight moves across your flat. If you receive plenty of natural light in the bedroom in the morning, you might not need to purchase extra light strips for your bedroom. If your reading nook happens to be illuminated by street lamps at night, then, you might want to choose lights of a different intensity or colour in order to counteract it.
Let's use a 4-room BTO flat as an example. A 4-room BTO flat usually includes 3 bedrooms, 2 bathrooms, a living room/dining room, a kitchen, a service yard, and a household shelter. Here's a short checklist of the rooms you'll need to consider when it comes to lighting requirements.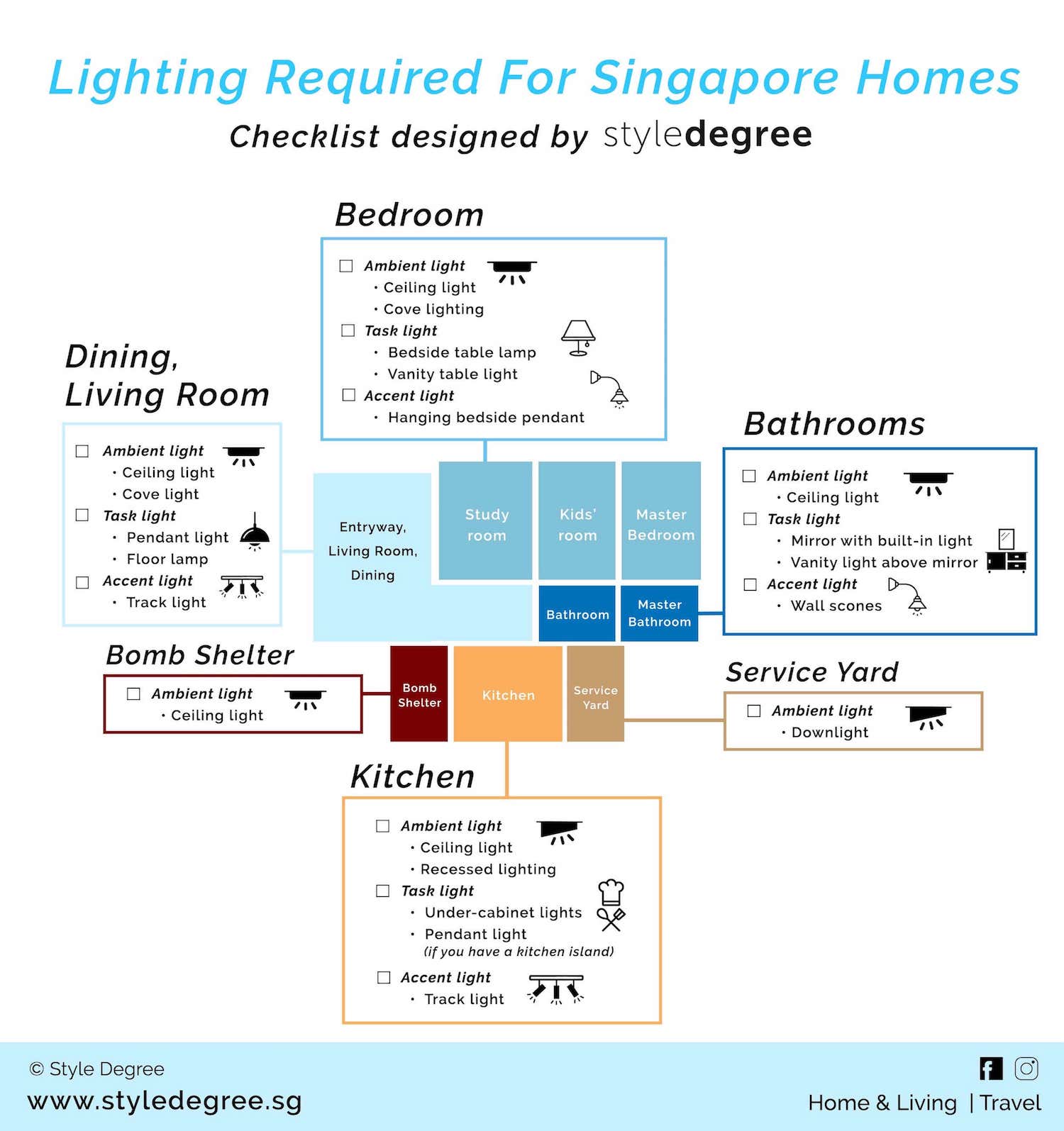 Each one of these rooms requires lighting, but for different purposes, hence requiring different types of lights.
4.2 Living Room lighting
Compared to other rooms in the house, the living/dining room will be the most multi-functional. This room is the largest of all the rooms in your house and hence will tend to encompass a reading area, TV viewing area, dining area, and an area for entertaining guests. The types of lighting that will be needed will hence be the most diverse here.
Sofa location
For example, the largest piece of furniture in your living room will tend to be the sofa, facing a gallery wall or TV. To light up the entire area, that's where the beautiful chandeliers or surface-mounted ceiling light fixtures come in. At the same time, you have to consider whether you want a ceiling fan installed there. Many ceiling fans come with optional LED lights, but that limits the type of lights you can buy.
Number of lights needed
Since dining rooms and living rooms tend to be connected in BTO flats, you will also need to decide how many sets of ceiling lights you would require in the living/dining room. Depending on your layout or choice of lights, one set might be plenty, but if the dining area is fixed behind a corner, another set might be necessary.
In addition to the ceiling lights, you would need lights for specific areas of the room, such as the reading nook or gallery wall. This is when task lights or accent lights would be useful.
4.3 Bedroom lighting
Your bedroom, on the other hand, has the opposite function of the living room. In the bedroom, you need soft, warm lighting that helps lull you to sleep while also providing enough light for you to make the bed in the morning easily. At the same time, you might need a specific reading light for night time.
Since the bedroom will be anchored by the large bed in the middle, most of the lighting will be focused there. Depending on your design sensibility, it is also important to gauge whether additional lights are needed to light up certain areas, such as the step to an elevated bed or a bookshelf in the corner.
Lastly, dimmers are key in a bedroom, as it makes it possible for you to use your lights at full brightness (during spring cleaning season, for example) as well as minimal brightness (right before going to sleep).
4.4 Bathroom lighting
Besides the inherent use of a bathroom as, well, a toilet and a place to bathe, many Singaporean couples use their bathrooms as skincare offices, shaving spaces, and makeup stations. Lighting here hence extends beyond just the harsh fluorescent overhead lights that many public restrooms have.
You need to have enough light at the mirror near your face to be able to tell if you've applied your sunblock or foundation incorrectly, but also sufficient light so you won't trip over a lone shampoo bottle in the shower.
4.5 Kitchen lighting
Lastly, the kitchen is a key part of your home, and also one of the most dangerous. After all, you'll be handling knives, hot ovens, and stoves there. You need sufficient lighting in order to see exactly what you're reaching for.
The first thing you'll want to keep illuminated is your worktop. This is most applicable if you have a kitchen island or kitchen peninsula. Since you'll be doing prep work here, you need task lighting, such as pendant lamps. Regardless of the type of light you choose, remember that it needs to be hung high enough for you not to bump your head into it when you lean over. That's a common mistake that's tough to fix after installation.
Another area that needs lighting is somewhere that's easily forgotten: under your kitchen cabinets. It can be easy to only focus on overhead lighting and then forget about adding slim bar lights under your cabinets, or even in your kitchen drawers.
Check out our Motion Sensor Light which comes in 3 light tones (warm, cool and daylight) and requires no hardwiring at all!
Summary
We hope that you have learnt a lot about home lighting, light types, and the process of installing lights!
Regardless of what lights you choose, don't forget to plan around your own lifestyle and preferences. If you have a habit of reading in bed, for example, then remember to spend some extra time to pick a bedside lamp you'll love. If you have trouble seeing in low light, then choose bulbs with higher lumens. All of this ensures that you'll be able to carry out tasks in your home without worrying about not having adequate lighting.