Everyone not only loves a tidy space in their home, but also one that looks brand new.
Do your detergents and harsh agents have a negative effect on your home?
Are there any unsightly buildups you just can't get rid of no matter how hard you scrub?
If you answered 'Yes' to any of the two, it's time to change up what you use to clean your home. Here are 10 cleaning hacks, featuring natural agents and a few nifty cleaning tools that you as a homeowner should know!
---
Natural Cleaning Agents
1. Baking Soda: The Natural Stain & Odour Remover
You've probably heard of the magical household uses of baking soda from your friends and family.
Without a doubt, baking soda is an excellent natural cleaning agent! It is a mild alkali and can cause dirt and grease to dissolve easily in water, making removal fast and effective. What's more, it not only wipes every last stain from kitchen sinks, but also acts as a deodoriser by neutralising bad smells.
Directions: 4 spoonfuls of baking soda and 7 drops of essential oils will do just the trick, and leave carpet and sheets smelling fresh in no time.

For stainless steel sinks, simply sprinkle baking soda and scrub the surface using a soft damp sponge. Rinse it after and be amazed by how shiny your sink can be now!
---
2. Lemons & Grapefruit For A Shine
For Kitchen
The lemon is used so often that it even makes an appearance in our cleaning toolbox.
They are high in citric acid (perfect for cleaning away stains and grease), have low pH and have antibacterial properties. Thus, this makes lemons a powerful cleaning agent for multiple types of home products, such as cleaning grease off kitchen countertops, removing stains on plastic containers and making copper, brass pots and pans shine.
Directions: For removing stained container, simply squeeze lemon juice on it and rub the surface with the open lemon. Let the container sit until the lemon juice dries up. Rinse it after!
Also check out on StyleMag: 4 Magical Uses of Lemon For Your Home
For Bathroom
Not only does grapefruit make for a tasty fruit tea, it can also work wonders in the bathroom. With a medium to large sized grapefruit, cut it in half and sprinkle kosher salt. Scrub it on any dirty surface, like the shower stall's walls. It removes dirt and grime, leaving behind a shiny clean surface with a fresh scent to boot.
---
3. Tea For Removing Grease & Dust
It's hard to imagine that tea would fall under this list, let alone that freshly brewed tea could be used to clean any part of your home. It is tea's astringency that can deal with grease and dust effectively.
Black tea leaves work well for cleaning hard wood floors and wooden furnitures, while green tea works on glass surfaces like mirrors.
Directions: Simply boil 2 tea bags in 1/4L of water and let it cool. After that, dip a soft cloth in the brew, squeeze out excess, and use it to wipe away the dirt.
---
4. Vinegar For Unclogging Drains & Removing Rust
Unclogging Drains
Vinegar works well with baking soda. Empty 1 1/2 cup of baking soda down the drain, followed by 11/2 cup of white vinegar. Cover the drain and let the mixture stand for a few minutes, then pour a pot of boiling water down the drain. Voila, the buildup in the drain will be washed away!
Rust Removal
Instead of using harsh chemicals to take out the ever-annoying rust, use vinegar to do that instead. Together with salt, the acid in everyday distilled white vinegar eats through the rust and corrosion on the metal, making it possible for you to scrub it off later with an abrasive pad.
---
5. Corn Starch To Deodorise Your Carpet
It may look like just a bag or lump of powder, but corn starch is the 'jack of all trades' in the cleaning department. For example, it can get rid of unwanted carpet stains and even shoe odours.
Directions: Simply sprinkle it on your carpet and let it sit for 10 to 20 minutes before vacuuming. This can be for all-over treatment or for treating specific spots on your carpet.
---
6. Potatoes & Salt To Give Your Pans A Brand New Look
When we see these 2 words, we think of french fries, and not something that could clean. Fact is, this can clean kitchenware, especially pans. Cut a potato in half, rub coarse salt evenly over it, and rub vigorously. Soon enough, your stained cooking pans will have that brand new shine to it!

---
Nifty Tools
7. Fan Scrub For Cleaning Up Small Spaces
Fan & Gap Cleaner Scrub
As we clean, we sometimes may forget the little corners of our home. That leads to unwanted dust particles accumulating in unreachable areas. With our Fan Cleaner Scrub, you'll be able to clean the crevices between any surface and kiss dusty smaller, harder-to-reach corners goodbye.
---
8. Tongs For The Windowpanes
For the vertically challenged, cleaning the windows can be troublesome. Which is why an extension will work wonders, especially if you want to get to the higher points of the window sills.
For a little DIY tip: grab a pair of tongs, wrap 2 microfiber cloths around it with rubber bands. With that, you can clean with convenience, and without the hassle of dirtying your own hands.
To tackle the ever-so-annoying dust accumulating ledges, our Window Sill & Corner Cleaner will be your life saviour too. Best part, it comes with a mini dustpan!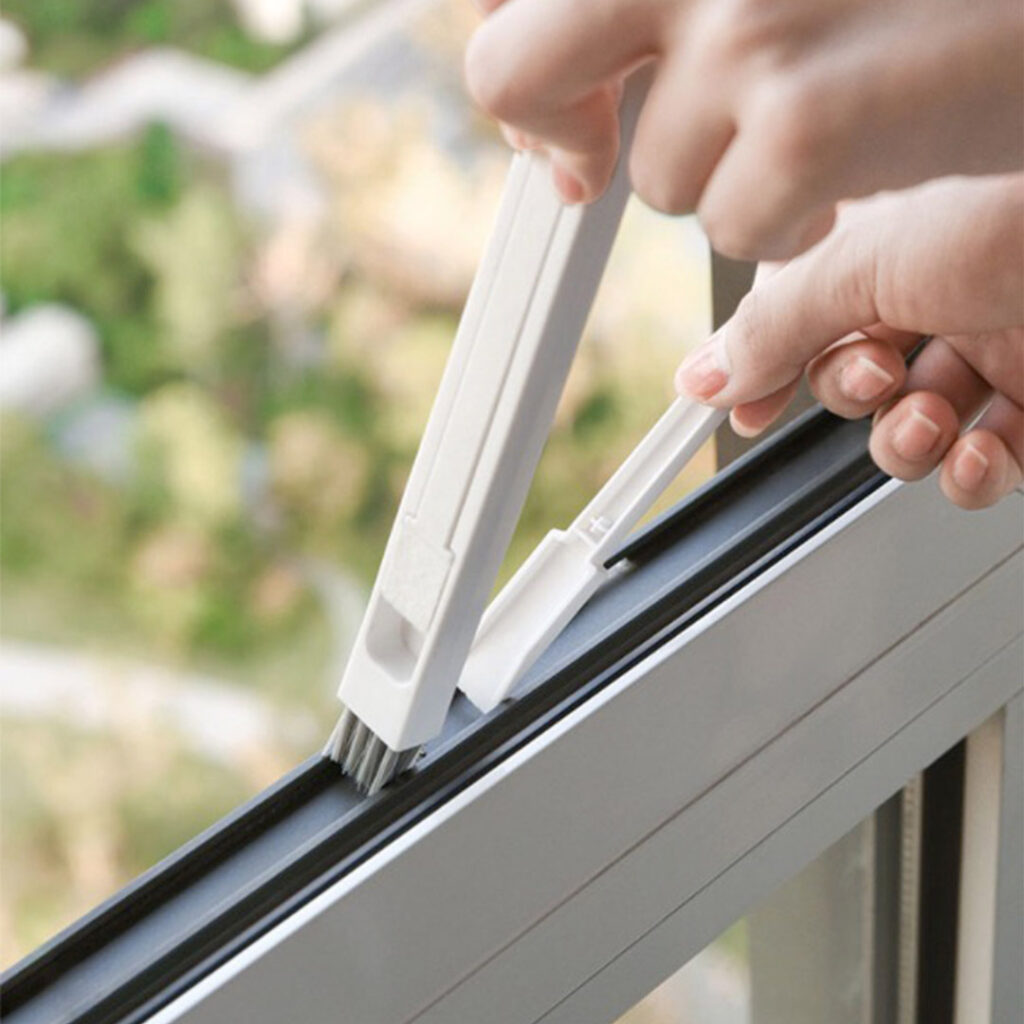 Window Sill & Corners Cleaner
---
9. Lint Roller To Clean Up Fuzz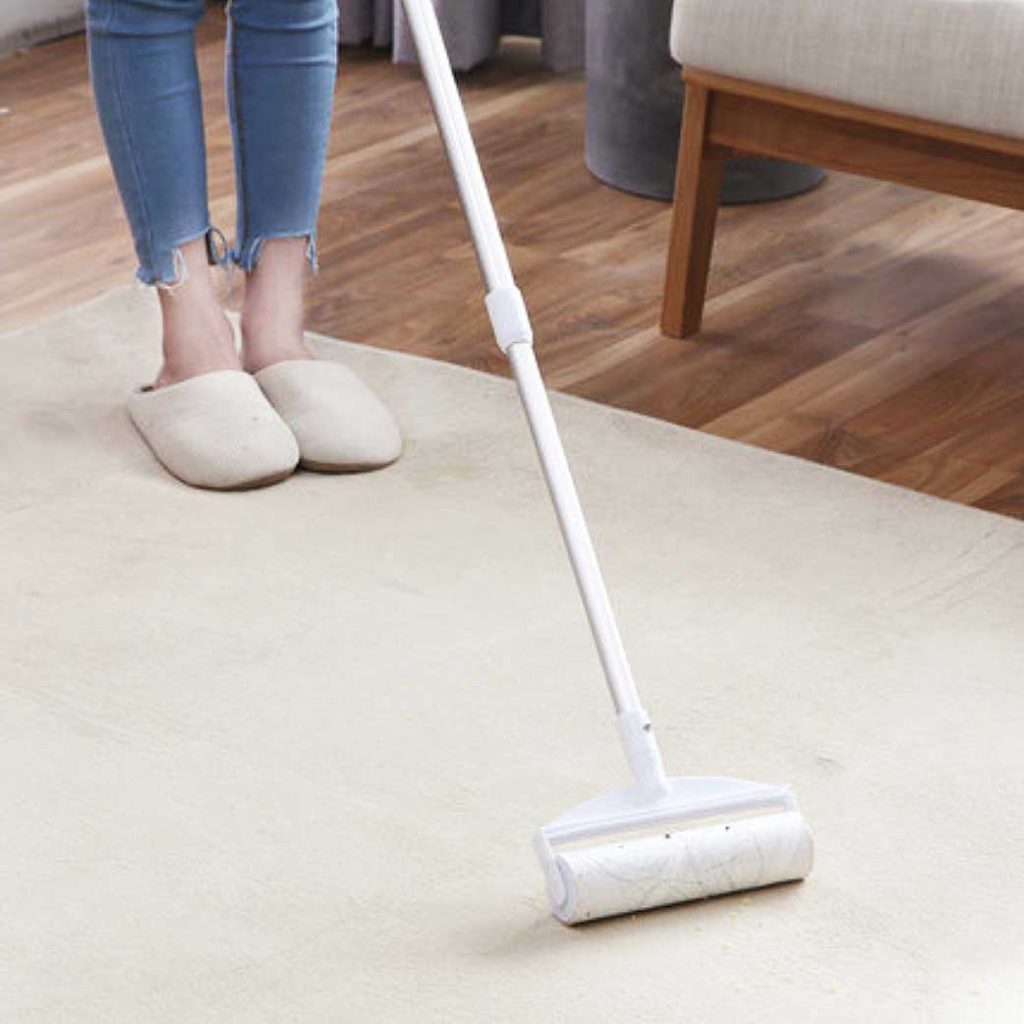 Extendable Sticky Mop & Lint Roller
Another great weapon against tight spaces and thick carpets are lint rollers. They can go where the regular brooms and mops can't. It easily picks up stray dust, lint, hair, and other unwanted fuzz. For extra convenience, use the Extendable Sticky Mop & Lint Roller! It comes with refills, if you've used it to its fullest.
---
10. Coffee Filter Paper For Wiping
Coffee filters make for excellent cleaning rags! They are constantly free of dust and lint, which makes them so versatile for different types of surfaces like TV screens, tables, and monitors. If you need to clean wider spaces, a sticky mop will do wonders.
---
If you're bummed out that your regular cleaning methods don't work, we hope that these 10 hacks will help you take your cleaning routine to a much better and productive level, and have your home be as good as new once again!
Don't forget to explore our range of Cleaning & Hygiene Essentials for that extra boost today!