Want to spice up your home interior? Then try creating a personalised decorative tray to upgrade your interior. If you're not sure where to start, don't worry! — here are 5 styling ideas for you to look through.
---
Before You Begin
Before styling your own decorative tray, you should first gather the personal belongings you want to use. Check if you have the following in your household:
Plants (leafy, flowers or succulents)
Pottery & Vases (a range of colour, patterns, sizes)
Candles (votvies, taper or pillar candles)
Sculpture Figures — small figurines or a statement piece
Perfume Bottles & Aroma Sticks
Decorative Soaps
Decorative Cutlery
Set these items in front of you and look at them thoroughly. Consider if you have items of the same color or similar interior style/aesthetic.
Your items will help you decide what type of decorative tray you're going for, and where you want to place it.
For what interior style to choose, also check out on StyleMag: HDB Interior Design Styles Young Homeowners Love (Other Than Scandi).
Choosing A Tray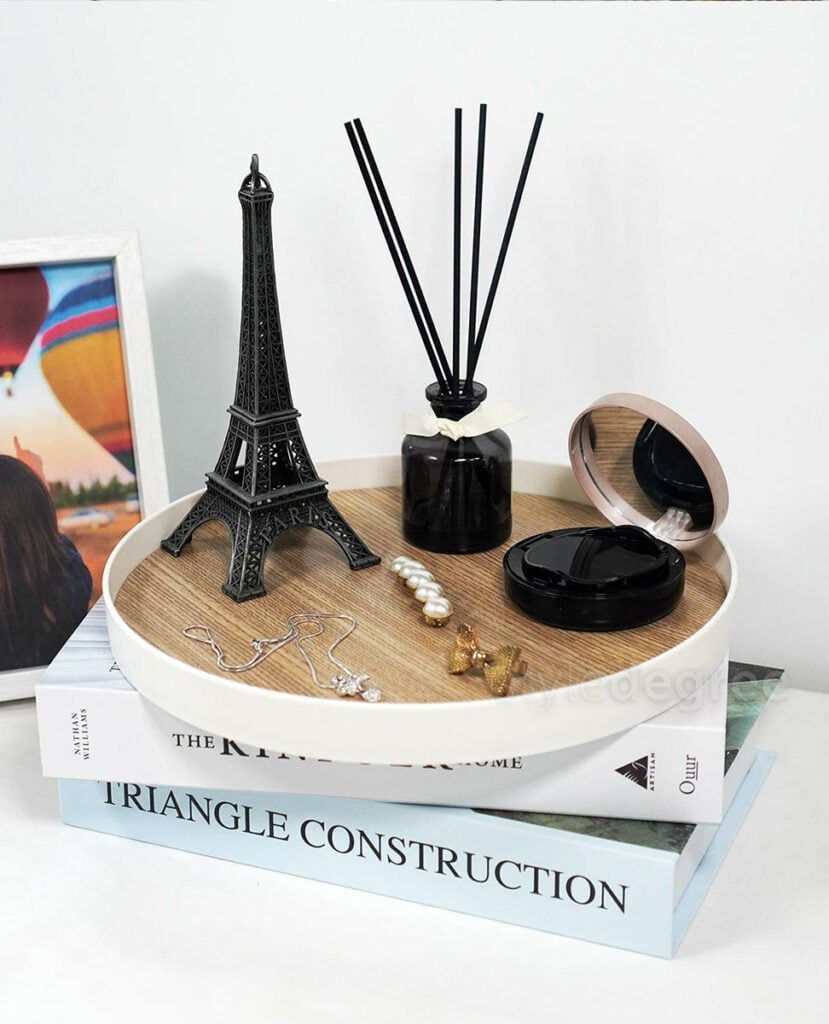 The type of tray you choose can either make or break your decorative tray.
Consider the following when choosing a tray:
Size — How much space do you actually have? Are you placing your decorative tray on an open dining table as a center piece, or on a small side table next to your sofa?
Shape — Do you want a classic rectangular-shaped tray? How about a homely round tray?
Tip: Rectangle trays help accentuate items with round or soft features. Rounder trays accentuate vertical, straight objects.
Color — When styling, trays with neutral colors are the most versatile.
Depth — Consider if the decor items be seen if the tray is too deep.
Interior Styling Rules
Before styling your decorative tray, you should learn about basic styling rules.
At its core, a decorative tray has the following:
A Tray — the base for your decorative items.
A Personal Belonging to give your tray personality. This can range from trinkets to a photo of a loved one.
A Living Item — plants, or something related to nature
An Object With Height — typically be a vases, candlesticks and statuettes.
Consider following these simple interior styling rules to make your tray more visually pleasing:
Rule Of Three
Collate objects into groups of 3 (or odd numbers). They can be separated by size, shape or texture.
Tip: Less can be more, so it's recommended to use larger objects.
Visual Triangles
Arrange decor items so that it forms a triangle. Experiment with the heights of your objects to avoid creating 'blocky' formations. Put your tallest object in the middle and taper off with your decor.
Add an anchor piece
An anchor piece is the main attraction to your tray and is your most eye-catching piece.
---
1. Kitchen Tray
Swipe <- or click on image to view gallery
If you favour both functionality and aesthetics, create a kitchen pantry tray that can showcase both snacks and kitchen cutlery.
Recommended Decor Items For A Kitchen Tray:
Play with vertical height by choosing jars of different heights.
Snack Bowl — Unify the 'food theme' for your pantry. You can choose between a neutral color or transparent jars.
Condiments
Decorative Kitchen Towels
Herb Plants — Consider favourites like basil, rosemary and thyme. Herbs give life to your kitchen pantry.
2. Bathroom Tray
Swipe <- or click on image to view gallery
Give your bathroom a spa-like theme with a minimalist decorative tray.
Recommended Decor Items For A Bathroom Tray:
Scented candles — Citrus, lavender and ocean are great bathroom scents as they are light and won't overwhelm the room.
Tip: The classic method to arrange is the '3-pillar candle' center piece, which is to group 3 candles together in a circle formation, with the tallest at the back.
Decorative hand soaps (consider opting for a dark colour gives a good contrast with an off-white bathroom)
Aesthetic jars that stores toiletries such as cotton pads
Skincare Products And Perfumes
Easy to maintain small plants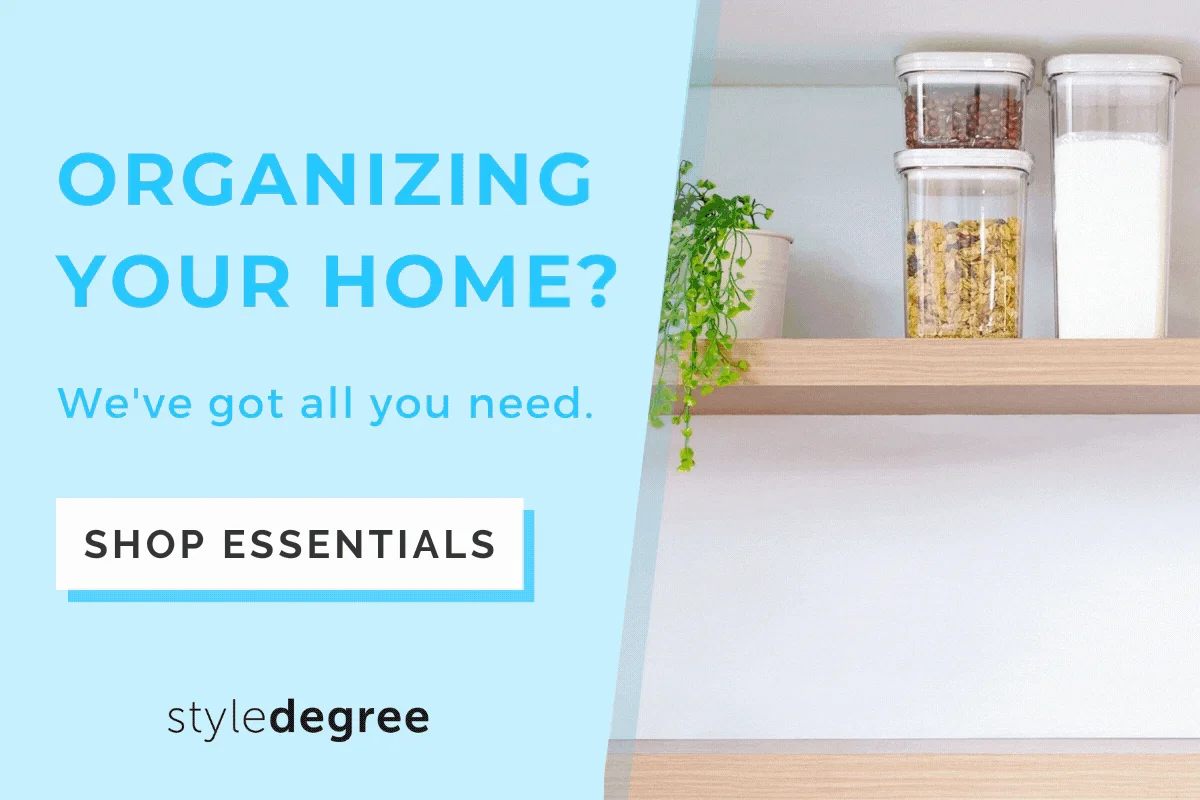 3. Living Room Tray
Swipe <- or click on image to view gallery
The living room is a household's main gathering area for both your family and potential guests. That's why it's important to style it up to the best of your abilities!
Recommended Decor Items For A Living Room Tray:
Stacking up books and/or magazines
Small ornaments & trinkets
Add a range of textures to your tray through various materials. A living room decorative tray looks best when it sits in the middle of a coffee table, a shelf or a cabinet.
4. Bedroom Tray
Swipe <- or click on image to view gallery
Create a decorative tray for your bedroom so that you will be rejuvenated when you look at it. Consider items that evoke a sense of comfort when styling your tray.
Recommended Decor Items For A Bedroom Tray:
Basket made from natural materials (e.g rattan) gives a homely feel
Personal Wares such as mugs, reading glasses
Aroma diffuser
Candle
Books
Photo frames
5. Vanity Tray
Swipe <- or click on image to view gallery
A vanity decorative tray is a perfect way to style and organize your dresser.
Recommended Decor Items For A Vanity Tray:
Accessories and jewelry
Skincare bottles
Makeup palette
Have your most used rings or necklaces on display as an aesthetic piece and so that you can grab them with ease.
Perfume bottles
Trinket tray
Reed diffuser
Tip: If you have a lot of gold and silver accented accessories, use a black or mirror-wrapped tray to get a classy retro look.
---
A decorative tray can do wonders for any room in your household. It can be the grand centerpiece to your table or a quaint vignette in the corner of your room. What matters most is that it should be personalised and represents you.
Share with us which styling ideas you tried out down below!