Not liking how HDB bathroom pipes stick out weirdly on your walls?
Fret not, read on for more clever ideas on how you can hide your HDB bathroom, aircon and kitchen pipes!
---
HDB Regulations On Hiding Piping
Before going into any renovation works, familiarise yourself with HDB's regulations. Get advice from your contractors or interior designers on the various options available.
Some basic rules concerning waste/water pipes:
When encasing piping, you must have at least a minimum of 600 x 600 mm for inspection and maintenance
If you conceal piping in walls or floor finishes, the floor slab and wall can't be tampered with
Any installing, alteration, fixing, replacing piping must be carried out by a PUB Licensed Plumber
On concealed aircon discharge pipe in floor finishes:
Floor slab must not be tampered with
Piping must be concealed within floor finishes only
For more details, check out HDB's webpage on Water and Sanitary Plumbing Works And Gas Works.
---
1. Box Up With Cabinets
Swipe <- or click on image to view gallery
For large pipings in your kitchen, the best way to conceal them is through cabinets. Boxing them up with cabinetry of a similar style and colour with the rest of your kitchen cabinets hides them seamlessly.
For bathroom under sink piping, a popular option is to build a storage cabinet to box it up too. This functional storage is perfect for storing bathroom supplies (e.g toilet rolls, towels), cleaning liquids and tools.
Having plenty of storage is great, but remember to keep them organized on the inside. A simple way to start off is to use storage bins to categorise items easily.
2. Building A False Ceiling
Swipe <- or click on image to view gallery
According to HDB regulations, you can't hack bathroom walls to hide piping. Instead, you can install a false wall to conceal it.
Installing a false wall includes a lengthy but worthwhile procedure of exposing all pipes first. They are then concealed with a calcium silicate board and overlaid with tiles.
Note: Opt for calcium silicate boards as they are waterproof. Gypsum boards are not, and won't be able to retain their quality.
For the shower stall, any visible pipes are sealed before a rain shower is installed onto the ceiling or on the wall.
Also check out on StyleMag: Small Toilet? Get 15 HDB Bathroom Makeover Design Ideas
2.1 Hiding Aircon Trunking with False Ceiling
Thick aircon trunking is often concealed through a false ceiling or light box (some call it the L-box) for a seamless look.
However, do note that HDB flats have a minimum clearance height of 2.4 metres measured from finished floor level for all areas except the bathrooms.
3. Paint Sewage Piping
Swipe <- or click on image to view gallery
Going for the eclectic look? Paint sewage pipes in a bold colour to match the interior style. For example — if you want an industrial look, go for bold colours like black or metallic bronze.
If you are unsure of what colour to opt for, refer to a colour wheel. A design tip is to use complementary colours (colours that sit opposite each other) so you can choose a colour that will make your piping stand out more.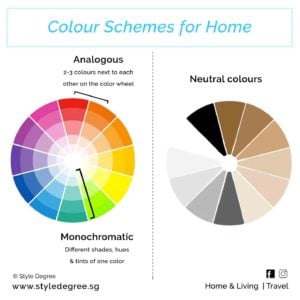 Tip: You can also camouflage pipes by having them of the same colour as your walls.
4. Camouflage Piping With Plants
Swipe <- or click on image to view gallery
Tired of painting things over? Covering your piping with plants might just be the cooler, more aesthetic solution.
Tip: If placing in a bathroom, consider getting fake plants instead.
Below are some suggested plants for your pipes:
Hanging plants — Hanging ferns look fancy when placed at high points.
Climbers — For thinner, single pipes, place climbers around them.
Potted plants — For pipes underneath your sink, add a potted plant or two to sneakily hide them.
5. Conceal With A Sink Skirt
For a more elegant, oldy-but-goodie look, drape a sink skirt to hide the piping underneath your bathroom sink. Try to find sink skirts that don't drag across the flooring, lest you want to get them wet.
Tip: Get sink skirts that are made of waterproof material.
If your bathroom walls are a plain white or a solid colour, you can use a sink skirt to brighten your bathroom up with colour. Here are a few designs that you should consider:
Floral — If you have large piping with plants, it will give it a thematic match.
Solid Colours — A bold, solid colour is a classic choice for those looking for a simple look.
In the end, how you choose a sink skirt entirely depends if you want it to stand out or blend in with the overall room.
---
Hiding ugly piping in your home isn't easy, but these tips might just make the effort worth it. If you try any of these methods, let us know down below!