Ever thought about what's the difference between laundry detergents like liquids, pods, and powders? How do you know which ones are the most effective for your laundry? Do they have any effect on whites and coloured clothing?
Read on as we run down the different types of laundry detergents there are and eco-friendly ways to wash your laundry.
---
Types Of Laundry Detergents
Laundry detergents have evolved to come in 3 main variations — liquid, powder and pods. All three can be placed in any wash water temperature. Major brands have made most of their product HE (high efficiency) friendly for both front and top load washers.
Tip: HE detergents are very potent, so you don't need to use them a lot. Too much detergent can cause build-up in your washer, affecting its performance.
It's important to note higher price doesn't signify better cleaning, what matters instead is the number of active ingredients there are inside. Such ingredients include enzymes that remove stains. Lipases and proteases, for example, help to break down protein, starches, and fats in clothing. This makes them great stain removers for anything like pasta sauce, grease soil stains, and more.
Liquid Detergents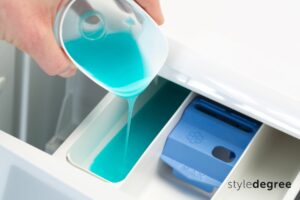 Liquid detergents are great for pre-treating stains. They dissolve quickly when in water, making it easier to save water as compared to powder.
Liquid detergents are also known to be better for delicate fabrics, such as wool and silk. However, liquid detergent bottles are the least recyclable due to its material.
Read here to find out more about plastic identification codes.
Pod Detergents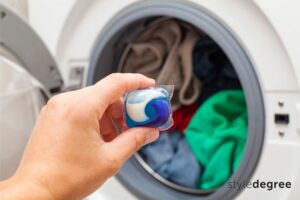 Pod detergents, popularised by Tide Pods, are considered the most convenient out of the three. They're premeasured, and can simply be placed in along with your laundry load.
However, they are also the most expensive of the three detergents. You may also need to add two pods instead of one if you have a large load of clothing. You also can't use them to pretreat stains, unlike liquid detergents.
Pods also have a history of being hazardous to children and pets if ingested.
Note: Place laundry pods at the bottom/back of the washer's drum, not the dispenser drawer.
Powder Detergents
Powdered detergents are the cheapest of the three, and are great for stain removal. They can brighten and whiten clothing, and their packaging is also recyclable.
Unlike liquid detergent, powder detergent contains oxygen bleach, which is a strong colour-safe stain remover.
Powdered detergents do require you to measure out your own amount. They must also be stored in a dry area or the powder will start to cake.
Note: In cold water, powder detergents can leave residue on your clothes.
How Much Liquid Detergent or Laundry Powder To Use?
The amount of detergent you used mainly depends on:
How dirty your clothes are — The more dirty, the more detergent you'll need in a load.
Size of your laundry load
Water hardness — Singapore's water is considered soft, so you can use less detergent.
Washing machine type — Powder detergents are recommended for use in fully-automatic top loaders and front loaders, as well as semi-automatic washers.
Washing machine drawer — Fill the liquid detergent box up to the maximum line for the appropriate amount for washing.
Drum size — Drum sizes that fit larger loads of clothing (between 5 to 7 kg) require larger amounts of detergent.
Caution: When measuring out liquid detergent, take note of the maximum line for washing machines that come with a drawer compartment.
Note: Fully-automatic washers are your standard front and top-loading washers.
For laundry powder: the above infographic shows you how much laundry powder detergent you should use in cups for the different types of washing machine.
For liquid detergent: a front loader fully-automatic washer needs 45 ml. A top loader fully-automatic washer needs 60 ml of liquid.
For pod detergents: for regular loads, one pod is often enough. For larger loads (around 9 kg of clothing), use two pods.
Tip: It's recommended to place pods along with your laundry instead of the dispenser drawer.
High-Efficiency Washers Vs. Standard Washers
High efficiency washers use less water as compared to standard washers. Thus, it's recommended to use less detergent for regular loads (5 to 6 kg). Standard top load washers use more water than high efficiency washers.
Eco-Friendly Laundry Tips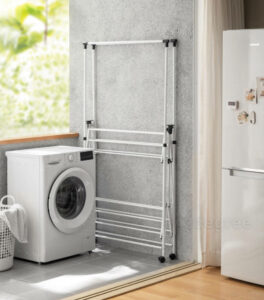 Ft. Spacious Collapsible Clothes Drying Rack
Here are some laundry tips to help you save money and be more eco-friendly:
Measure out the correct amount of laundry detergent
Wash less frequently, but with full loads
Select a shorter wash cycle instead if you're underfilling your washer
Use a lower temperature/cold water instead of hot water if you're not washing heavily stained clothing
Choose a shorter cycle when washing small loads
Check care tips for clothing and laundry detergent. Also check out our guide to laundry care symbols for more info.
Leave enough space in your washer for your clothes to move
Line dry your clothing
Tip: Unlike the myth suggests, house brand detergents are also just as efficient.
---
Depending on your laundry load, it's important to best decide which detergent fits best. Tell us which detergent you prefer to use? Do you plan on switching to other types in the future?