Have you been putting off cleaning out your fridge? Think it's too tedious of a chore? No worries, we've collected some simple (and quick!) ways to clean out your refrigerator to celebrate this year's National Clean Out Your Fridge Day that falls on 18 November.
---
1. Throw Out Old Food
Ft. Multi Compartments Trash & Recycling Bin (With Wheels)
Prep a counter or table space to place fridge items on so that you can sort through foods easily.
Survey your fridge by going from shelf to shelf. Throw out any food that has expired or shown signs that they've gone bad. Do remember to include condiments and leftover food in containers.
Cleaning Tip: Wipe the outer surface and openings of condiment bottles with a damp paper twoel.
Also check out on StyleMag: 7 Eco-Friendly Ways To Reduce Your Food Wastage.
Should the fridge be turned off when cleaning?
You should unplug the fridge if it requires a deep clean or if the shelves are non-removable. This also saves energy as you clean. You can leave it plugged in if you are careful to close the fridge door between cleaning and the shelves are removable.
2. Cleaning Fridge Shelves And Trays
Clean your fridge by spraying the inside with a solution of vinegar and water. Let the solution soak into stained areas.
Here are some other homemade fridge cleaning solutions you can try out:
Warm water and dish soap
Baking soda and vinegar liquid solution
Warm water and baking soda paste
If the shelves and trays can be removed, wait until your fridge reaches room temperature. Placing shelves into warm water immediately can cause them to crack. Wash the shelves in warm soapy water. Leave them to dry before installing them back.
3. Organizing Using Clear Fridge Containers
When putting back your fridge items, organize and group like items into separate storage boxes for future easy retrieval. Using clear storage organizers will help you visually see your foods much easier, and you can track their quality better.
Also, opt for stackable containers so` that you can maximise space in your fridge shelves. When cleaning routinely, simply remove and wipe the boxes.
Lastly, label storage boxes to create an efficient fridge organizing system for your groceries.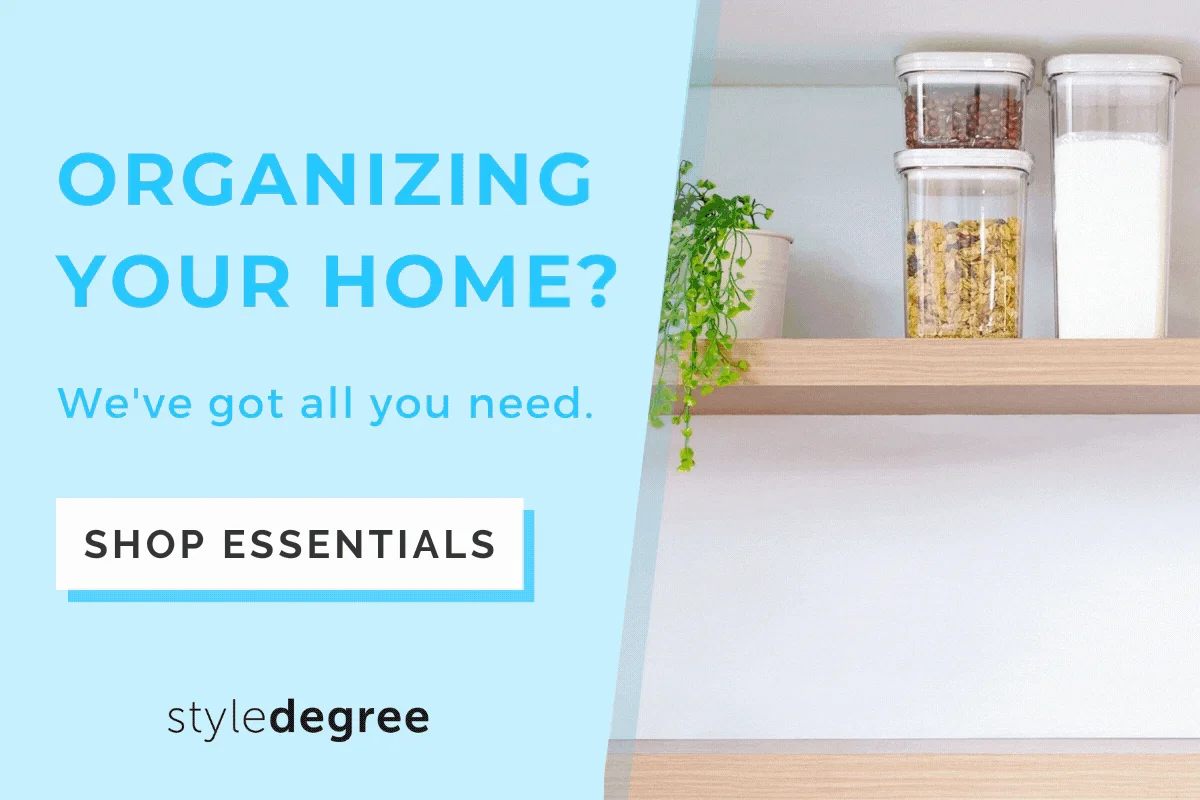 4. Line Your Fridge Crisper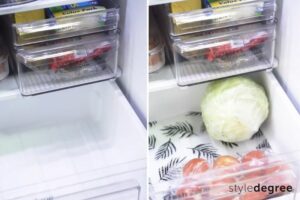 Use newspaper or paper towels to line your crisper so it can absorb any unwanted juices. When there's less moisture, your produce will last and stay fresh longer. It also makes it easier the next time you clean out your fridge.
Note: Alternatively, you can use a washable plastic fridge liner. They can be reused for future use, unlike paper liners.
5. Prevent Fridge Odours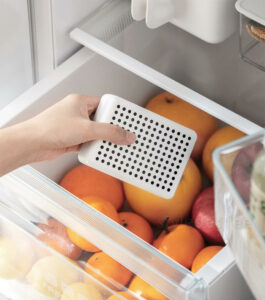 Ft. Freshly Dehumidifier & Odour Remover
Anything from old produce juice, leftover food, flattened vegetables or rotten food can end up stinking up your refrigerator.
To solve this, place and open a box of baking soda onto one of your fridge shelves. You can also cut a few lemons on a plate and leave them in the fridge. Both will help to absorb any unwanted and peculiar smells. Adding lemon will leave an extra pleasant smell.
Note: Replace the baking soda every 90 days. Cleaning out the fridge often is necessary to prevent odours.
6. Wipe Down Fridge Exterior
Although you cleaned out your fridge, it doesn't mean you should neglect the outside either. Get rid of stains, smudges and fingerprints by wiping down the exterior of your fridge with a microfibre cloth and a cleaning solution of warm water and dish soap.
Here are parts of a fridge that you should wipe down with mild dish soap and water:
Door surfaces
Rubber seal that lines the fridge
Fridge handles
Before wiping down your fridge, here are some precautions to note:
Spray the solution onto the cloth instead of the fridge — spraying it onto fridge can cause an electrical shock.
Do not use benzene, thinner or Clorox — these solutions are flammable.
Polish every once or twice a year to maintain your fridge's look. This is especially so for stainless steel fridge exterior.
---
We hope these simple steps are useful to guide you in cleaning out your fridge!
Now it's your turn to get started. Spending just 15 minutes to wipe down the exterior of your fridge can make a vast difference!