One of the best ways to organize your home is to use home storage organizers. From storing bulky clothing to miscellaneous cooking utensils, they're a homeowner's best friend for storing and decluttering.
But how do you know which organizer to use? And which part of the house do they work best?
Read on as we teach you the basics of storage organizers, and when to effectively use them in your household.
---
Intro To Storage Organizers
Home storage organizers can come in many sizes and materials. Below are common ones that you may already find in your house.
Plastic — The most versatile. Has the largest variety and can come in individual bins, stackable bins or pantry drawers.
Baskets — Can come in plain white or traditional wicker patterns.
Fabric/Canvas — Can be a patterned or plain colour. Some designs have a clear window at the front for better clarity.
Acid-Free — Often used to store delicate papers (eg. documents, photos)
Wired Metals
. Here are some other features to think about:
Securable Lids
Collapsible — Do you want yours to be folded and kept away from sight?
Stackable — Do you prefer organizers that can be placed onto one another? Or do you prefer to have them side by side?
Portability — Do you want wheels, and can be moved around the house easily?
Shape & Size — Consider how much storage space you have, and the size of your items.
Now, let's get into where you can best use different home storage organizers.
---
1. Sorting Kitchen Items
Food
Before organizing food items, it's important to group like items. Whether it be for a cabinet or fridge, corralling foods will make it easier for you to grab them later.
You can group your foods in the below categories:
Spices
Snacks
Dried Goods
Canned Foods
Packaged Foods
Condiments
Fresh Produce (Meats, Vegetables and Fruits)
Cabinets/Shelves
Swipe <- or click on image to view gallery
Use transparent plastic or glass containers as it allows you to clearly see the quality of your food. Invest in airtight food containers as they keep your food fresh longer and prevent bacteria from coming in. We recommend using our Staples & Snacks Airtight Container and Twist & Turn Airtight Container to keep your dried goods in.
Clear storage bins are easier to clean, as you can see when too much debris has accumulated at the bottom. They can be used to store back stock items and bulkier packaged foods (eg. cereal). You can also label them for easy identification.
If you have packaged goods, utilise the space under your kitchen cabinets and install an adhesive hanging holder. You can hang anything from leftover snacks to food packets for storage.
To find out how you can better organize your kitchen pantry, also check out on StyleMag 6 Organizing Rules To A Beautiful & Tidy Kitchen Pantry.
Fridge

Swipe <- or click on image to view gallery
To maximize fridge space, invest in stackable fridge storage drawers. You can place fresh produce like vegetables and fruits to track their quality with more ease. Containers with front handles allow you to take them in and out of shelves instantly. Try our Kyoto Stackable Fridge Food Containers, which come in 4 different sizes for your food.

Organize condiments and bottled goods by using a lazy susan turntable. You'll spend less time rummaging through the side shelves of your fridge.
Kitchen Utensils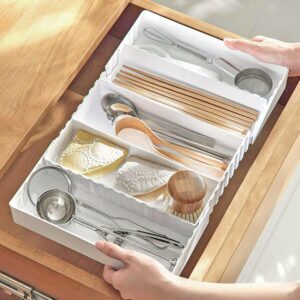 Ft. Easy Extendable Drawer Organizer
Got bulky wooden spoons? Not sure where to put extra cutlery? Contain kitchen utensils by using a drawer organizer. Visually separate your items and place them according to how often you use them.
Tip: You can also make a DIY diagonal drawer organizer for more flexibility and customisation of your drawer space.
---
2. Organizing Office Supplies
Swipe <- or click on image to view gallery
Use acrylic bin organizers like our Clarity Customisable Drawer Organizer, Clear Tray & Drawer Organizer in your office drawers to store small office supplies like pens, pencils, notepads and your personal calculator. It will maximise your drawer space instead of leaving it cluttered.
Sentimental Items & Papers
Sentimental items and papers are more delicate to store. Use acid-free and durable archival boxes to hold your papers, photos, and important documents. They help to keep factors like sunlight, humidity, and dust from affecting paper quality.
Acid-free boxes are made from material with a pH level of 7 or higher and can be buffered with calcium carbonate to neutralize acids produced from items due to aging. Some archival boxes are made from acid and lignin-free boxboard and acid-free paper.
Note: Plastic like propylene are considered acid-free.
---
3. Storing Clothing
Swipe <- or click on image to view gallery
Keeping clothes in storage containers is usually best recommended for seasonal clothing. This pertains to bulky jackets that may only be used during the fall and winter seasons.
Plastic bins are a good option, as they allow you to visually see the items and containers that can be stacked on one another. However, if exposed to prolonged sunlight, your clothing may start to fade. Opaque plastic material can trap moisture and emit fumes leading to discolouring.
Fabric and canvas storage bins like our Canvas Collapsible Storage Box and Canvas 2-Way Opening Foldable Storage Box are better alternatives as the material is breathable. Some fabric boxes even come with a clear mini window at the front. See our 2-Way Opening Storage Box (With Wheels) as an alternative.
Tip: Other than seasons, you can label deep storage clothing boxes according to purpose (eg. maternity clothes).
---
4. Kids' Room
Swipe <- or click on image to view gallery
Toys
It's important to find containers to fit both small and large children's toys. For this, you should invest in toy baskets and bins that you can personalise to your child's favourites.
Tip: If you purchase a large toy box, have an internal organization system by using trays.
You can also stack toy storage boxes in the closet to maximise your child's space. You can also get our Kids 2-Tier Storage Box which comes with an extra internal tray.
Books
Swipe <- or click on image to view gallery
Use vertical organization to display children's books. Use our Pastelly Kids Books & Reading Shelf to designate each shelf for learning, chapter and activity books for a built-in library in your home.
If you prefer something portable, our Kids Angled Storage Bin Trolley it an alternative too.
---
5. Store Room/Bomb Shelter
Swipe <- or click on image to view gallery
Store bulky and unused household items in large deep storage boxes. Aim for clear plastic storage containers to see items better. Label each box with a specific category so you won't have to rummage to find your desired belongings (eg. household appliances, winter clothing, holiday decorations).
Utilise multi-tiered shelves to stack your storage boxes. See our Luxe Rollable & Foldable Storage Rack and The Scandinavian Foldable Storage Rack for portable and space-saving storage shelves to use vertical space.
Tip: Store the heaviest items at the bottom and lighter items higher at the top.
Also check out How To Declutter & Organize A Messy HDB Storeroom to learn how to clean out your storeroom today!
---
We hope you found a new way to declutter your home through storage organizers. Tell us below which item you found the most useful!