Whether you are talking about the common toilet or the master bathroom, HDB bathrooms (and even newer condo apartments) are getting smaller in size and tighter.
It is possible to overcome any small bathroom space constraint with clever bathroom interior design tips & tricks. Get started with these 15 bathroom design ideas for a complete makeover of your toilet!
---
Click on the different sections to navigate directly to each area of the bathroom!
---
Bathroom Flooring & Walls
Flooring and walls form the perimeter of the bathroom, making them one of the most important consideration for a small toilet.
1. Use same tone, colour & texture (preferably light-coloured)
Given the space constrain, you will want most of your walls, tiles, flooring and ceiling to have a similar colour and texture. This helps the bathroom to have a consistent flow, which helps make it look larger than it appears.
Be sure to select light-coloured, glossy and reflective materials. These surfaces reflect more light and creates a brighter ambience which will help the toilet look airier and bigger.
Design tip: Just like the image above, marble pattern, plain while walls and light tiles works perfectly!
2. Add 1 or 2 eye-catching pieces
Eye-catching pieces like a matching pair of wood mirror and vanity cabinet (see above) helps add a touch of thoughtfulness & uniqueness to the space. They stand out against light walls and flooring, adding additional depth to the space, which in turn makes the space look more spacious!
The key here is not to go overboard – 1 or 2 pieces are great. Any more will make the bathroom look cluttered. We don't want it to happen, don't we?
Design tip: The eye-catching piece could be the mirror, vanity cabinet, wall shelf or even a wall surface like the one shown in 1.1!
3. Lay bathroom tiles from floor to ceiling
Laying tiles to the ceiling creates continuous surface, making the bathroom ceiling look taller! If you are unable to lay tiles to ceiling for all 4 walls, at least do so for the shower area.
Another functional benefit is that tiles are durable, easy-to-clean and are not prone to mould. As such, although they may be pricier, it should be a worthwhile investment in the long run!
Design tip: When renovating, instead of laying tiles to the halfway mark, request the contractor or ID firm to lay them to the ceiling.
4. Let in as much natural light as possible
Natural light makes any space breezy and thus look larger. The problem is, HDB toilets have notoriously small windows that resembles more like a ventilation shaft.
To combat this, make sure that you do not block off the light coming from the bathroom window with plants or laundry. Glossy and light coloured surfaces help reflect light entering from the window to create a brighter space. Mirrors also make a good reflective surface – more on that later!
---
Mirror, Wash Basin & Vanity Cabinets
Mirror and wash basin are the most used fixtures in the bathroom and you would want them to be optimised for space!
5. Get a larger-than-usual toilet mirror
Ever wanted why restaurants and F&B outlets often have large mirrors in their shops? Aside from allowing customers to check themselves out easily, the other reason is that mirrors create an illusion of a larger space.
Similarly, it's a good idea to utilise a large mirror in your bathroom. In the image above, the mirror is tall and extends over to the toilet bowl. Aside from making your space look bigger, a larger mirror is definitely a helpful asset when getting ready! Ladies can take one end of the mirror while the men can take the other end, no more fights.
Design tip: For added functionality, you may want to consider having a full-height mirror – perfect for kids to check themselves out before leaving for school.
6. Choose a bathroom mirror with built-in storage
Mirrors with built-in storage are useful for maximising space while hiding unsightly items such as bottle refills, toilet paper and toothpaste. With a small bathroom, it is even more important to create storage spaces wherever possible.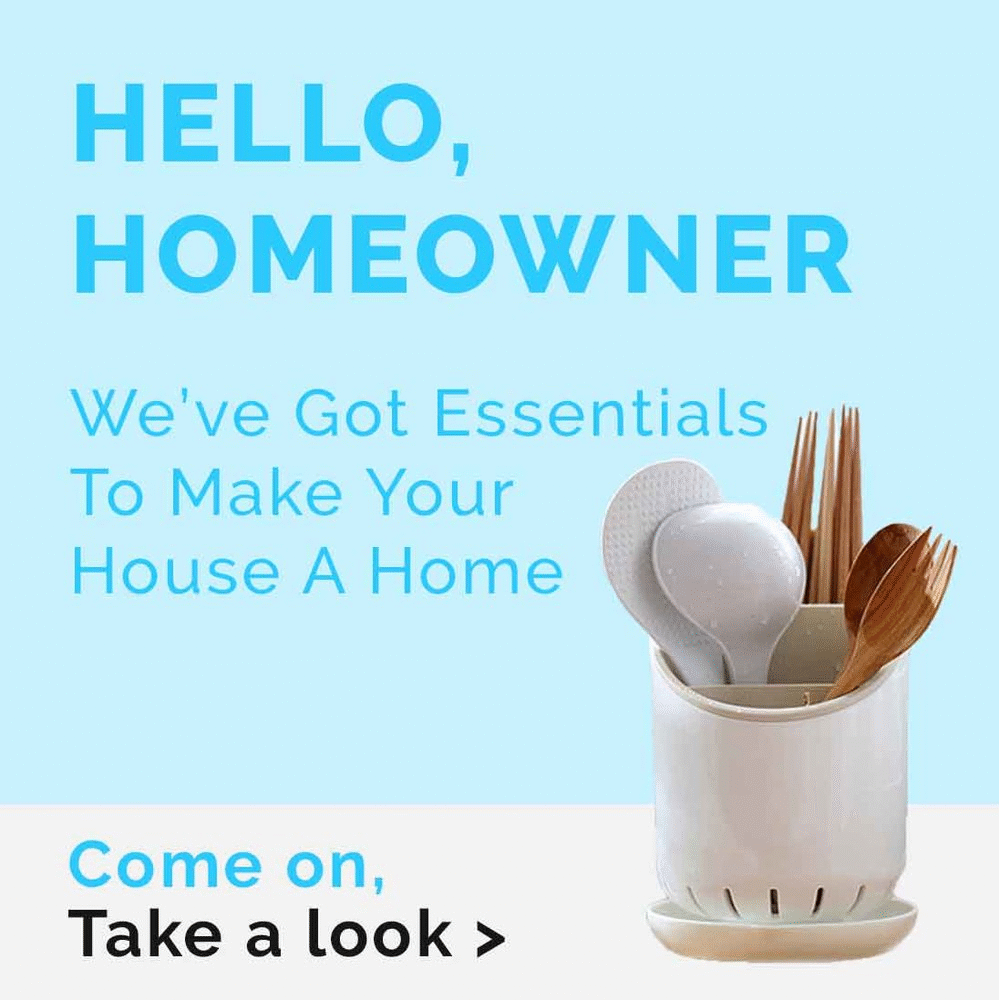 7. Install mirror lights
As mentioned previously, HDB bathrooms have small windows which let in little natural light. Besides, most toilets only have 1 ceiling light, causing it to look small and dark especially at night.
One solution is to install additional lighting close to the mirror or what may call "Hollywood lighting". Alternatively, select a mirror that has built-in lighting in it. This instantly brightens up your bathroom and creates a focal point. A functional use, of course, is to check yourself out in the mirror clearly.
Design tip: In the image above, there are 2 lights close to the mirror – 1 behind and 1 on the ceiling. This ensures sufficient lighting at the wash basin area.
8. Choose a floating bathroom vanity cabinet, or one with legs
The trick here is to expose the wall behind the wash basin as much as possible, thus creating an illusion of a larger space. The way to do it is to mount your vanity cabinet on the wall or to use one with legs. This helps to make the cabinet look less bulky which results in a neater & cleaner space!
Design tip: This also works for most furnitures and fixtures. For example, sofas with legs and wall-mounted TV cabinets look less bulky, thus making the space look larger.
If you're looking to keep your vanity tops clutter-free, consider hanging toothbrush & paste holders, featuring a convenient toothpaste dispenser that helps to make your brushing routine a complete breeze. No more having a hard time squeezing any toothpaste out till the last bit!
---
Shower Area
9. Use clear shower screen or curtain
Transparent shower screen create an illusion of an open concept in the bathroom, thus making the toilet look more spacious. This applies to both glass screens or plastic curtains!
10. Optimise shower screen position and design
Referencing the image above, there are easy ways to optimise your showering area design! Firstly, locate it in a corner. This ensures that you make full use of the space available while the 2 corner walls acts as shower screens to reduce water spillage outside.
Next, make an angle at the outer corner and situate the door there. This allows for more space outside the shower while making the showering area more accessible.
11. Use wall holders and standing racks in the showering area
Wall holders and standing racks are perfect organization tools to help make your body soap, shampoo and facial wash easily accessible. Besides, our bathroom wall holders comes with sturdy adhesive for an easy installation with no drilling required!
---
Toilet Bowl
12. Use a rack or wall holder to increase storage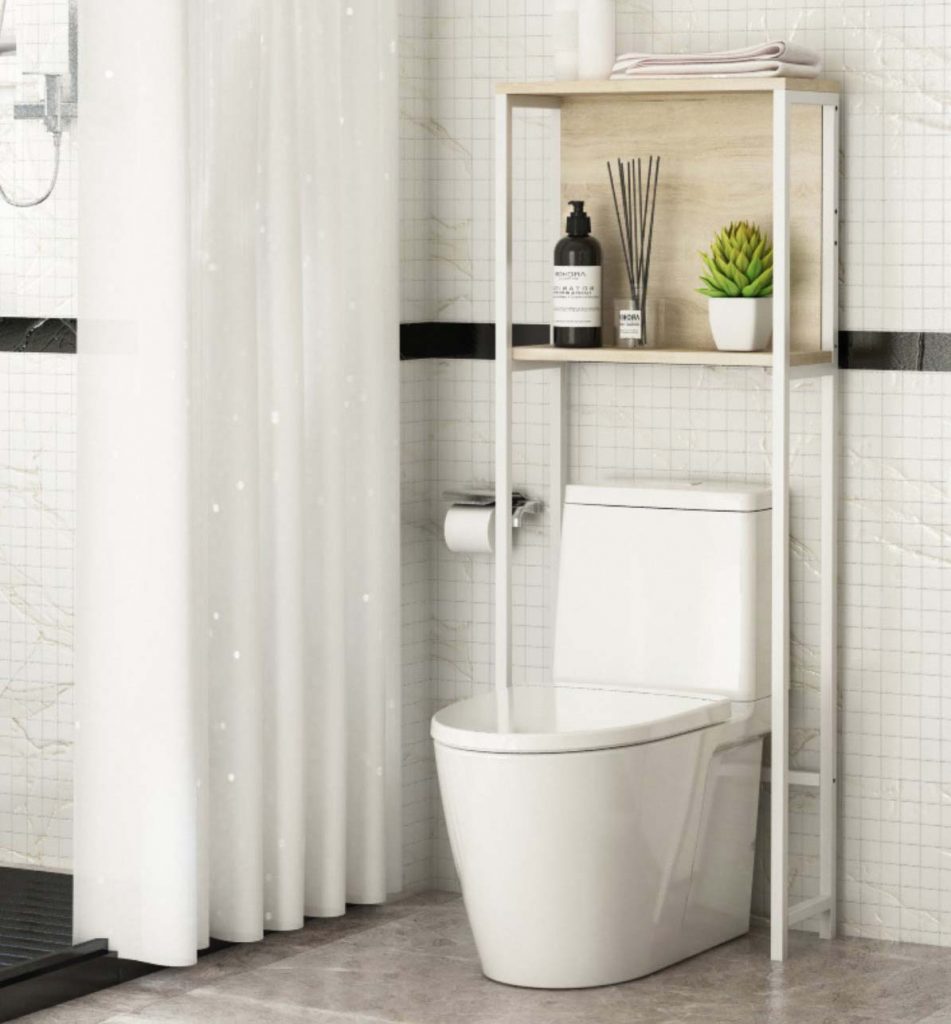 The space above the toilet bowl often goes unnoticed and under-utilised. However, there are so much you can do with it! Throw in a standing rack or install a simple bathroom wall holder and viola – you've got more space!
Use this new-found space to add in a scent diffuser, a plant or some candles to add some character to your bathroom. For ladies, this can be used to store your hair accessories that often goes missing. Hang your hair ties on the hanging hooks provided and keep it within reach.
Hygiene tip: Always flush with your toilet seat cover down, you'll never know what micro particles might come diffusing into the air if you don't.
13. Consider a wall-mounted toilet bowl
Wall-mounted toilet bowls are usually smaller in size, making them perfect for compact HDB toilets. Besides, by lifting them off the floor, you create an illusion of a larger space. More importantly, don't they look gorgeous?
Note: On the other hand, there are some cons associate with wall hung toilets. Firstly, they tend to cost more. Secondly, it is harder to repair and maintain.
---
Doors
14. Utilise space behind the bathroom door
With the help of a rear door hanger or hanging laundry baskets, the space behind your door can easily be utilised as an extra storage space to hang clothes and organize your laundry.
15. Select a sliding or folding bathroom door
Doors that open into the bathroom occupies space and makes it harder to walk into the toilet. As such, why not consider a sliding or bi-fold door instead? They optimise space while adding a touch of sophistication to the bathroom too!
---
In Summary…
While we've got 15 tips laid out for you, you need not follow them all! In fact, it's a job well done if you are able to utilise 3 – 5 tips here for your HDB bathroom. Now, we hope small and dingy toilets are the thing of the past for you!

Completed your bathroom makeover? Add handy Bathroom Essentials to your home.
Get latest useful tips on home organization, improvement & decor ideas by joining us on Instagram (@style_degree), Facebook & Telegram (@HomeownersSG).
If you found this guide helpful, be sure to share it with your fellow homeowner friends & family to spread the love! ❤️