Are your activewear pieces all over the place? Does it take you a long time to find what you want to wear to the gym? Read on for tips on how to keep all your gym clothes like sports bras, leggings and tank tops organized. Also, stay till the end to know how to deal with sweaty and dirty activewear after your workout!
---
1. Create A Dedicated Activewear Zone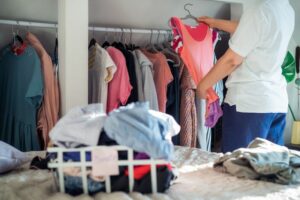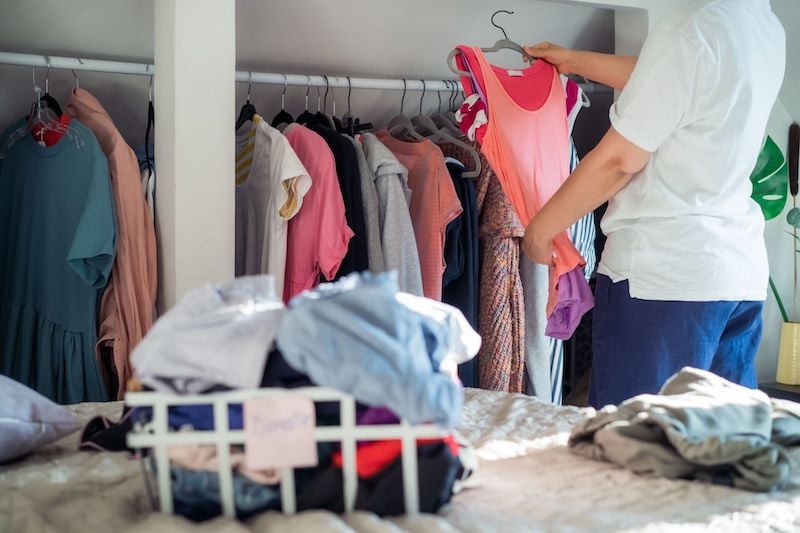 Look through your closet and separate your activewear from your other clothes. After removing those you don't wear anymore, plan how much space you need in your closet for your remaining activewear. Consider both activewear that you hang and fold and delegate space accordingly.
Having a zone solely for activewear will save you time from choosing what to wear for your workout!
2. Should You Hang Or Fold Activewear?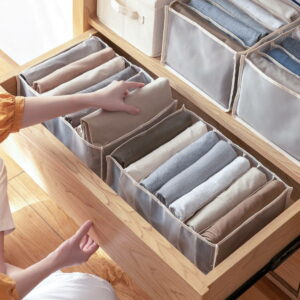 Ft. Multi-Slot Clothes Organizer
Folding Activewear
Activewear made of dri-fit material like nylon and polyester should be folded as they can get stretched out when hung. If you're storing them in a drawer, file them upright to see them at a glance when you open it. This method also prevents toppling of other clothes when you pull a garment out.
Smaller activewear garments like sports bras, socks and headbands should also be folded. They can easily get tangled with each other when thrown altogether in a drawer or the closet. Use undergarment organizers to keep them in place!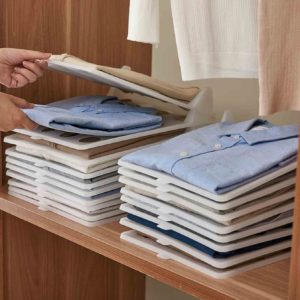 Ft. Easy Reach Clothes Organizer
If you don't plan to store your activewear in a drawer, that won't be a problem either! Here are some ways you can store them in your closet and retrieve them hassle-free:
Use a makeshift drawer in your closet and keep all your rolled activewear in one organizer!
Store folded activewear easily with a sliding rack. Simply slide out and retrieve what you need!
Stack your clothes with a layered clothes organizer, which also prevents crumpled clothing!
Check out our other closet organizers for a mess-free closet!
Tip: Shorts toppling over when stacking them horizontally? Alternate the position of waistbands to prevent this!
Check out our video here to learn how you can fold different types of activewear compactly!
Hanging Activewear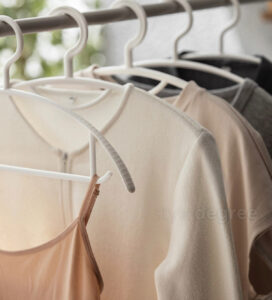 Ft. Basic Non-Damaging Clothes Hanger (10pc set)
Though most activewear can be folded, you can also choose to hang activewear tops like tees and jackets. Hanging activewear can prevent wrinkles from forming. To hang activewear bottoms like leggings, you can use a ladder hanger, which caters to long bottoms and also saves closet space!
After delegating a space in your closet solely for hanging activewear, organize them according to type of clothing, and by length. This will help you see how many of each type of clothing you have, saving you money from buying more. Lastly, organize by color to mix and match easily.
Tip: Use the same hangers for all your clothes for a minimalist and neater look in your closet.
Dealing With Dirty Gym Clothes
Your activewear can retain a permanent odor when not washed correctly. Take note of these tips when washing them:
Turn activewear inside out when washing to remove sweat and deadskin buildup. This also keeps bright-colored and printed clothes vibrant in colour.
Throw them into the washing machine straight or hang them to airdry first if you can't wash them immediately. Also use a mesh laundry basket for good ventilation.
Use less detergent and skip softener as it will trap grime and sweat into your activewear.
Heat can make clothes made of elastic materials, like activewear, shrink and also smell worse. Wash them in cold water instead!
Workout often? Consider investing in sports detergent to deal with sweaty odor in activewear.
After washing, airdry activewear or use the dryer with a low or no heat setting. Excessive heat can ruin elastic material's shape and stretchiness overtime, thus airdrying is recommended. Ditching the dryer also helps you cut down on electrical bills and is a more eco-friendly option!
Tip: Have somewhere to go after your gym session? Rinse and wring activewear in the gym toilet sink and store them in a mesh bag before you run your errands.
Avoid spending too much time in your sweaty activewear after your workout as it can lead to health hazards like sores, cysts and yeast infection.
---
Keeping all your activewear in one place not only makes your closet organized, but also saves you time from choosing what to wear for your workout!
Let us know in the comments if you've used any of these tips!