Raise your hands if your HDB storerooms (or bomb shelters) are a dumping ground for all the items that you want out of sight. If you're getting a headache every time you're trying to get something you need, it's time for you to declutter and organize.
Read on to find out 8 tips on how you can achieve an organized storeroom and maintain it.
---
How To Declutter Your Storeroom
1. Don't Declutter Alone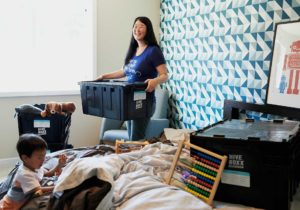 When you're tackling your storeroom, you definitely can't do it alone. You'd need help emptying your storeroom, especially with those heavier boxes and items.
Not only that, your storeroom most likely holds items that belong to the other members of your family. As tempting as it might be to dispose of items that you know they don't use, don't declutter items that don't belong to you.
Your family member might end up getting irritated or even start holding tighter onto their belongings, making decluttering even tougher in the future. Don't force them to throw away their unused belongings if they are against it. Instead, explain to them gently the benefits of decluttering.
2. Be Ruthless When Decluttering
Some of you might find it difficult to be ruthless in decluttering from the get-go. Build momentum and confidence in decluttering by starting small – remove items you know for sure you'll be throwing away such as garbage and broken items. Once you're used to it, it'll be a lot easier for you to be ruthless when decluttering.
Create 4 piles while decluttering – keep, donate, sell and trash. You'd usually have a 'maybe' box for the items that you're unsure of whether to toss or keep but this time, it's better to omit this pile. Let's be real, your storeroom holds all your 'maybe' items. It's now time for you to decide whether you'll be keeping it or throwing it out.
Tip: The Minimalists, an American duo who promotes the minimalist lifestyle, suggested the 20/20 rule if you're struggling with decluttering. If you can replace those 'maybe' items for less than $20 within 20 minutes, then you can toss it out.
You should also minimise your 'Sell' pile – selling and listing your items online takes a lot of time and effort. If you don't get around to doing it, it would just create another clutter in your home.
Instead, you can donate or share it on freecycle websites for people to adopt them.
To find out where you can donate your items, check out our StyleMag article on Ultimate List Of Places To Donate Your Clothes & Items.
---
How To Organize Your Storeroom
3. Utilise Vertical Space
If you're stacking up your storage containers in the storeroom, you're doing it wrong. Stacking up your containers would make it difficult for you to access your items, especially if they're located at the bottom of the stack.
To save you from future backaches, install shelves or racks in your storeroom. It fully utilises the height space in your storeroom, making more room for your belongings. You can even attach hooks to the shelf frames for additional storage space.
The back of your door can also be used as storage space – hang a pegboard or over-the-door baskets to hold your smaller items that would get lost in your huge containers (e.g. tools or craft supplies). You can also add wall holders to hold your mops and brooms!
Shop our range of Racks & Shelves that are absolutely easy to fix up and helps in maximising height space in your storeroom.
4. Create Zones In Your Storeroom
One of the most important rule in organizing your storeroom is creating zones or categories for your different items. Without zones, your items are scattered throughout your storeroom, making it difficult for you to locate them whenever needed.
Refer to the image below for some zone ideas that you can consider for your storeroom.
Tip: Save your storeroom layout plan on your phone – having a visual reference will help you locate your items faster.
After you have all your zones sorted out, think about how much space you have and plan accordingly. These zones will serve as a guide on how many items you can have per zone. Once your items start to flow out of their designated space, it's time for you to get rid of some items.
How do I store the different zones on the shelf?
Place your frequently reached items at the front and center of your shelf. It saves you the trouble of having to shift around your other containers to get to the item you need and messing up your organization system.
Store your heavier items or boxes at the bottom shelves – it's to prevent any injuries or breakage that could occur when you're carrying that heavy box down from a higher shelf.
Also check out on StyleMag: 8 Best Organizing Tips From The Home Edit Netflix Series. Number 4 Is Our Favourite!
5. Don't Pre-Purchase Containers
Don't make the mistake of pre-purchasing your storage containers – you'll end up with too many containers or containers that don't fit your storeroom. Declutter your storeroom and temporarily store all your items in a cardboard box first.
From there, measure out the space you're working with and determine how many zones you have. Only then should you start purchasing storage containers. This is to make sure that you're buying containers that fit in your storeroom. It also allows you to buy matching containers – having matching containers reduce visual clutter!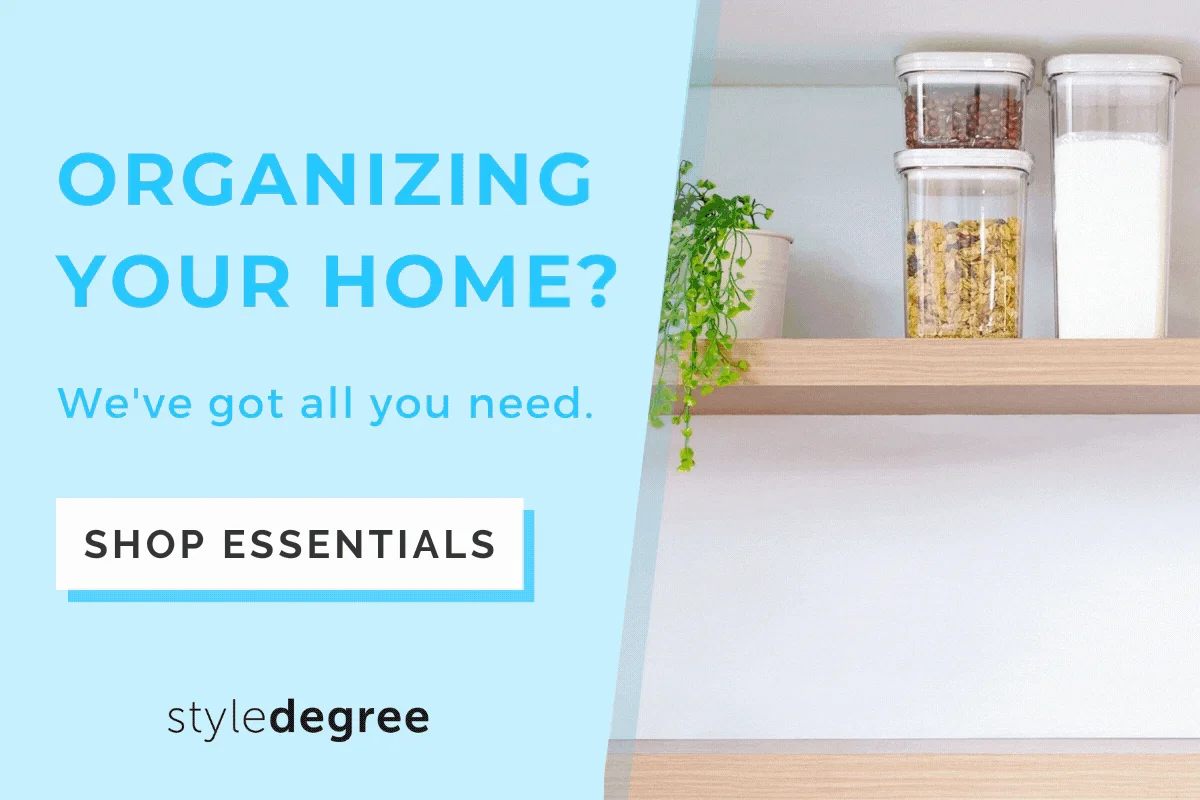 6. Use Clear Containers
Store all your like items into a clear storage box – it's easier for you to keep track and locate your items. However, if you prefer having a streamlined and clean look, you can opt for baskets or opaque bins. Remember to label them so you won't forget what's in there!
Tip: Consider storage containers with wheels if you're storing away heavier items. It makes it easier for you to pull it out when you need it.
---
How To Maintain Your Storeroom
7. Ensure Your Storeroom Has Room To Grow
After decluttering, make sure that your storage containers aren't closely packed and that they have space to breathe. Your storeroom should have space for your future purchases so that they won't be a cluttered mess on the floor.
For instance, you can leave 1 to 2 empty storage containers in your storeroom so you can easily organize your new items.
8. Revisit Your Storeroom Periodically
Decluttering and reorganizing your storeroom is a painful process. To maintain a beautiful and neat storeroom, declutter your storeroom every 6 months to prevent your belongings from piling up.
Toss away or donate items that you haven't touched in more than a year. As you continue this habit, you'll realise that decluttering gets easier and there are lesser items for you to dispose of!
---
Now that you've learned all 8 tips, it's time for you to get your family to declutter your storeroom with you. Getting rid of your hidden clutter will weigh a lot off your shoulders!
Also check out on StyleMag: 8 Brilliant HDB Bomb Shelter Ideas To Hide & Utilise It Fully
Let us know in the comments which tip is your favourite, or if you have any tips to share!