Since 1996, all Housing & Development Board (HDB) flats in Singapore have come equipped with a household shelter, more commonly known as the 'bomb shelter'.
Unfortunately, that huge white door and odd circular vent can look very out of place at home. However, with clever interior designing, it is possible to hide the bomb shelter door!
From concealing the door with moving panels, to turning it into a dream walk-in wardrobe, read on to find out 8 brilliant HDB bomb shelter ideas for your new home.
---
What Can & Cannot Be Done With Your Bomb Shelter
Before we get started with the bomb shelter ideas, here's an overview of what it's composed of to give you an idea on what you're working with.
A bomb shelter has a/an:
Maximum size of 4.8m2 & a minimum clear height of 2.5m
Air-tight door
Door handle (swung downwards to open during peacetime, lifted & swung upwards to ensure the shelter is air-tight during emergencies)
Ventilation sleeve (plate should be left open during peacetime in case someone gets accidentally trapped within)
Range of utilities (lighting, power point, telephone point, TV/radio outlet points)
If you're tempted to renovate your bomb shelter, be sure to keep these HDB regulations in mind as you carry out works!
No hacking or drilling of the walls, floor, ceiling, or door
No modifying, changing, removing or tampering with the door or ventilation openings
But, there are some works that you can carry out. These include using power-driven nails on the external face of the walls or fixing removable screws for mounting cabinets, shelves, fans, and the light. The best part? They all don't need any permits to be carried out.
Though some works are allowed, there are guidelines to follow. Do read the SCDF's Guidelines on Household Shelters for all the important do's and don'ts.
---
1. Have A Bomb Shelter Feature Wall
1.1 Install shelves for storage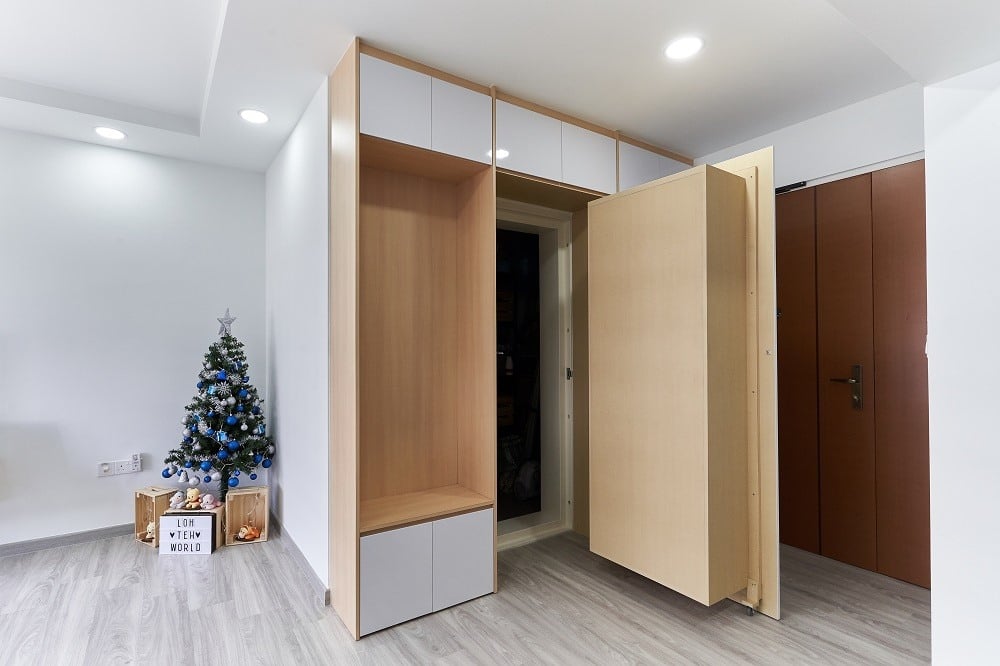 Image source: The Cott Interior
An interior design idea that is gaining popularity amongst homeowners, Installing a feature wall that comes with hidden storage cabinets to hide the sight of the bomb shelter industrial door is definitely a practical solution.
Who doesn't love more storage isn't it?
Storage tip: If you're using it to store shoes, utilise the height of the cabinets fully with the help of nifty shoe organizers here!
Here are some feature wall bomb shelter door types you can opt for:
Pivoting door: Rotates on a point to swing inwards/outwards and typically features storage cabinets
Sliding door: Moved along a groove or track
Tic-tac door: Features a mechanism that allows the door to spring open when pressed
1.2 House your TV on the door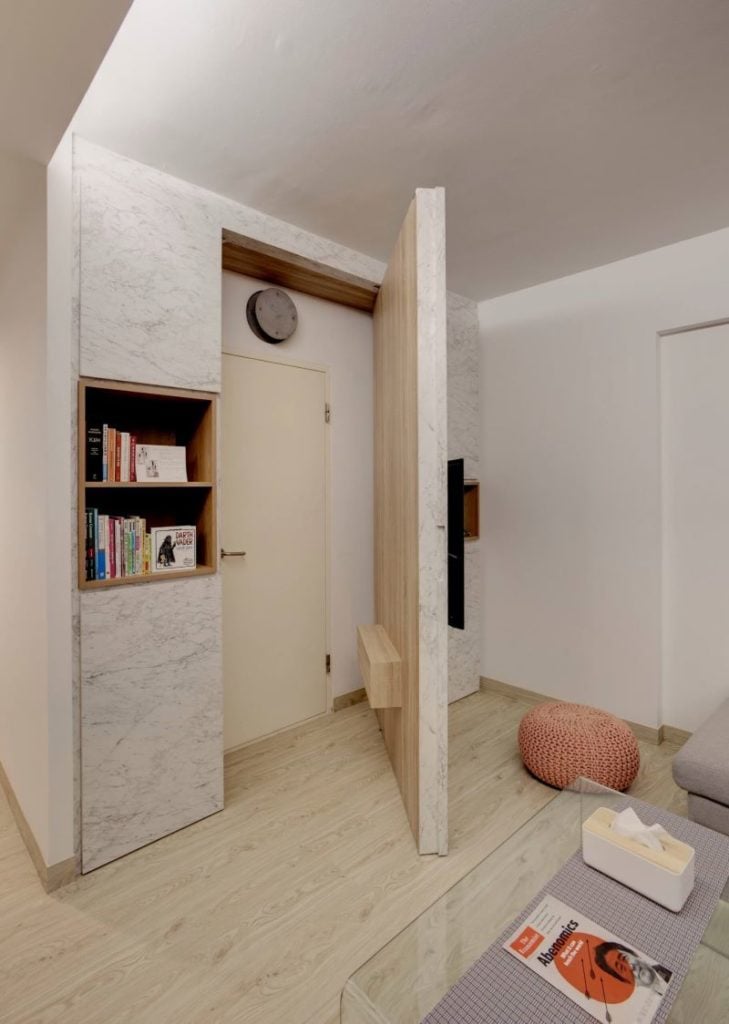 If you've somehow ended up with your bomb shelter located awkwardly in your living room, don't fret! Construct an additional wall in front of the bomb shelter door to keep it hidden.
Then, mount your TV and set-up box on that wall for the perfect finishing touch.
1.3 Create a mirror feature wall
Image source: NYCOE Design & Interiors
This is an especially useful tip for small homes. If you install a long mirror, it is a sure-fire way to widen and enlarge your living space.
For believers of Feng Shui, a strategically placed mirror at the entryway is a gracious way to welcome good energy for wealth. A large mirror near the main door is also great for some last-minute grooming as you rush out of the house to work in the morning!
---
2. Spice Up Your Door With Decor
2.1 Stick bomb shelter wallpapers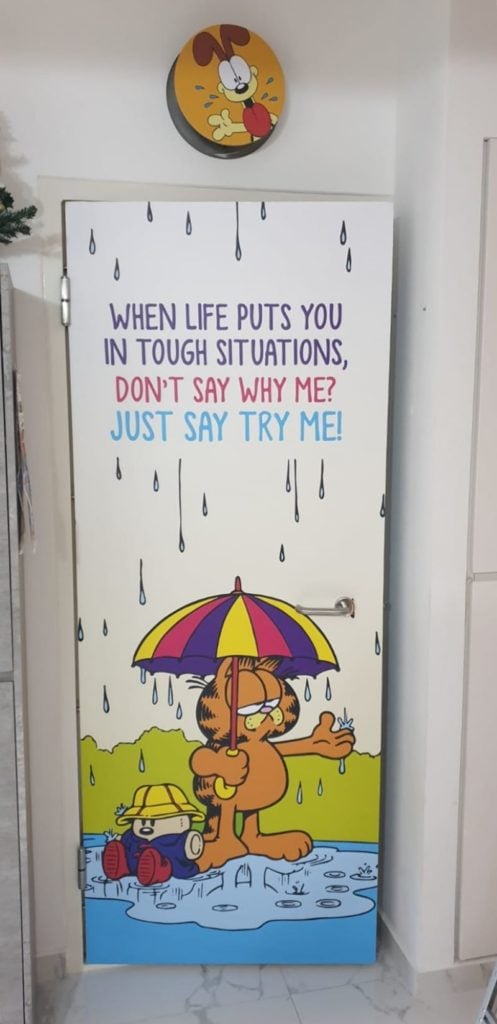 If you're hesitant about dealing with the mess that comes with constructing carpentry, a simple bomb shelter wallpaper of your favourite cartoon, quote or even sports team might just do the trick.
Go with a wallpaper that keeps to the theme of your flat. For instance, if you have a warm and cosy ambience at home, choosing grainy textures for wallpapering can conceal undesirable parts of your blast door, and match up nicely with the theme.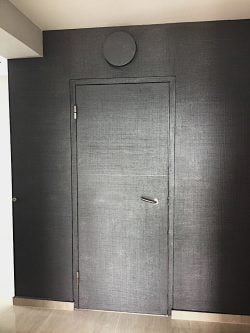 Image source: Performance Coatings International
Note: The dimension of bomb shelter doors are standardised to 70cm in width and 190cm in height. Keep this in mind when selecting your decal sticker.
2.2 Grow a green feature wall
A feature wall filled with plants can be a great way to turn your bomb shelter door into an attractive statement piece.
For those who find live houseplants tough to maintain, artificial green walls can be an easier and more economical solution for you.
2.3 Attach magnets
Give all those magnets you've collected on your travels abroad a home on your bomb shelter door! Bomb shelter doors are made of SCDF-approved light protective steel, which is a magnetic material. 
Beyond just decorative magnets, you can also attach some useful items such as a magnetic whiteboard. Or stick a magnetic rack on the bomb shelter door for storage of essentials. 
---
3. Use It As A Storeroom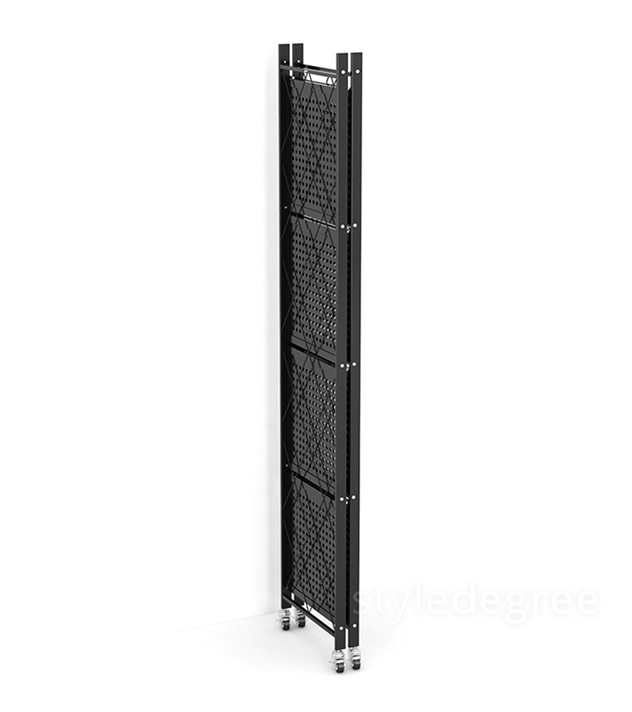 Ft. Luxe Rollable & Foldable Storage Rack
Perhaps the most common and practical idea for your bomb shelter, turning the space into a storeroom is a well-loved idea by many Singaporeans.
Move some standing racks into the bomb shelter to maximise vertical space. Store cleaning supplies like mop, brooms and buckets in an upright position with wall holders, and keep odds and ends organized with storage boxes.
To help you select the best storage box for your needs, we've come up with a comprehensive guide on How To Choose The Right Storage Container Box For Singapore Homes, so be sure to check that out too.
Tip: Consider getting wheeled shelves or boxes so that you can easily move them out of the bomb shelter in the event you ever need the space for an emergency.
---
4. Create A Walk-In Shoe Closet Or Wardrobe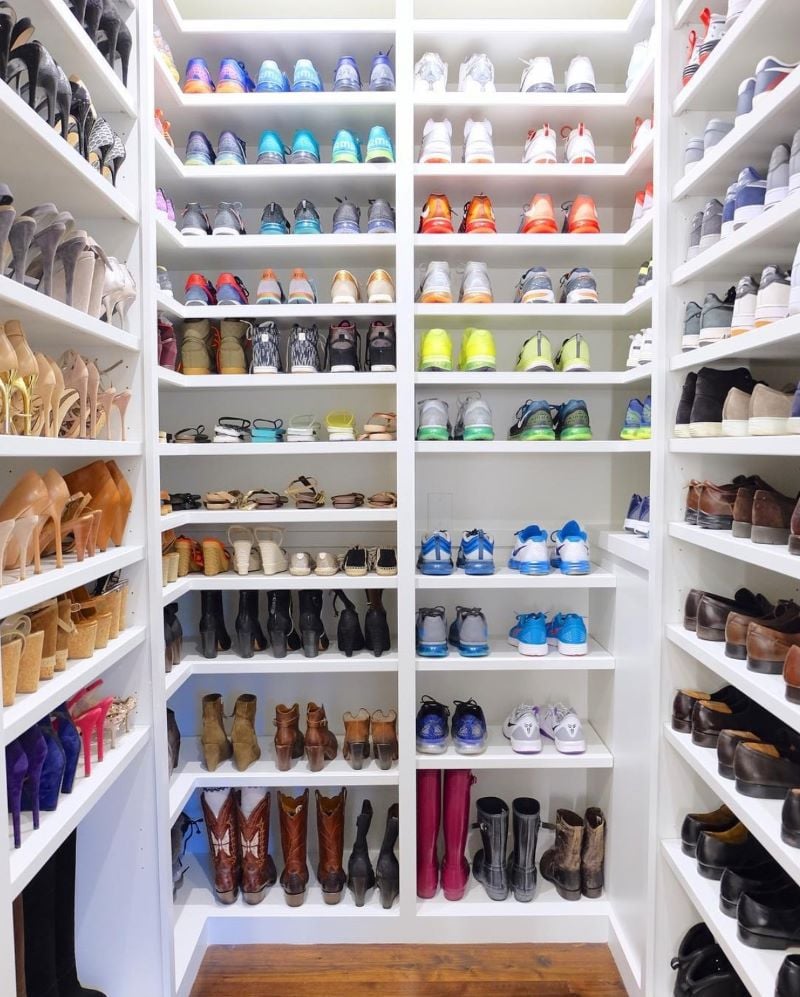 Living in a cramped 2-room or 3-room flat? If you're feeling the squeeze, converting your bomb shelter into a walk-in wardrobe or shoe closet could alleviate some of the space constraints in your bedroom.
For the walk-in wardrobe, opt for a pole system walk-in wardrobe for hanging your garments to maximise every inch of space. Not comfortable with installing too many racks in your bomb shelter? Opt for movable wardrobes instead!
---
5. Enjoy Extra Pantry Space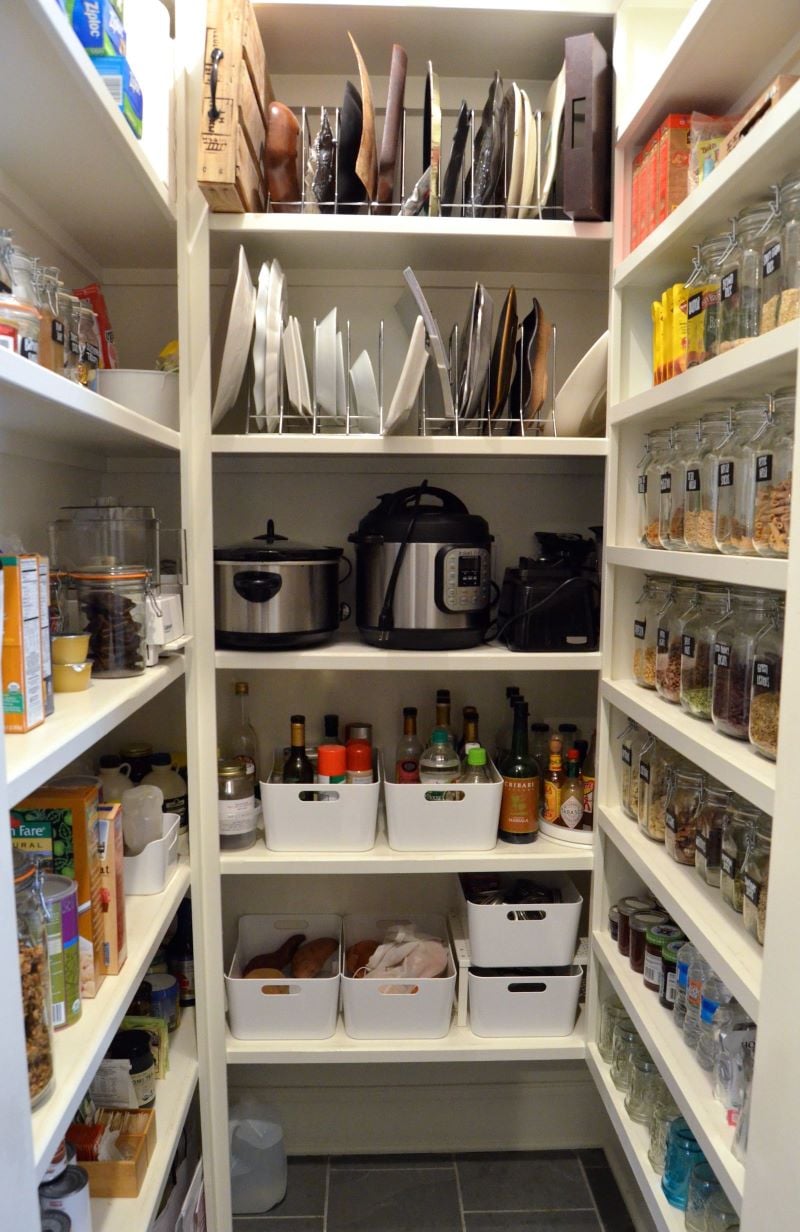 Image source: 100 Days of Real Food
Do you live to eat? Or eat to live? In either case, having some extra pantry space won't do you any harm! Fill it up with goodies like snacks, or items that will be stored for a long time like canned foods and dried goods.
As a rule of thumb to keeping your pantry organized, make sure to categorise your items (e.g. spices, staples) first and plan where each group goes in your new pantry room. For more great tips on pantry organization, check out these 4 Organizing Rules To A Beautiful & Tidy Kitchen Pantry.
---
6. Set Up A Book Nook For Kids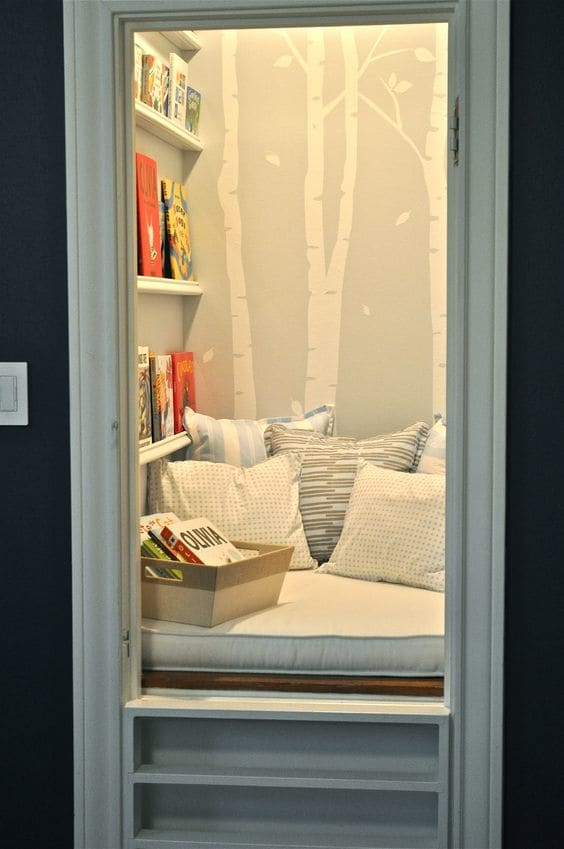 Image source: BookBub
Something unusual to explore if you have kids. A cool book nook out of your bomb shelter.
Install floating shelves on the walls for book storage, and set up a comfy mini sofa with plush cushions to get your child settled in for long reading sessions. Be sure to install some good lighting as well to prevent any eye strain.
7. A Personal Gym For Fitness Buffs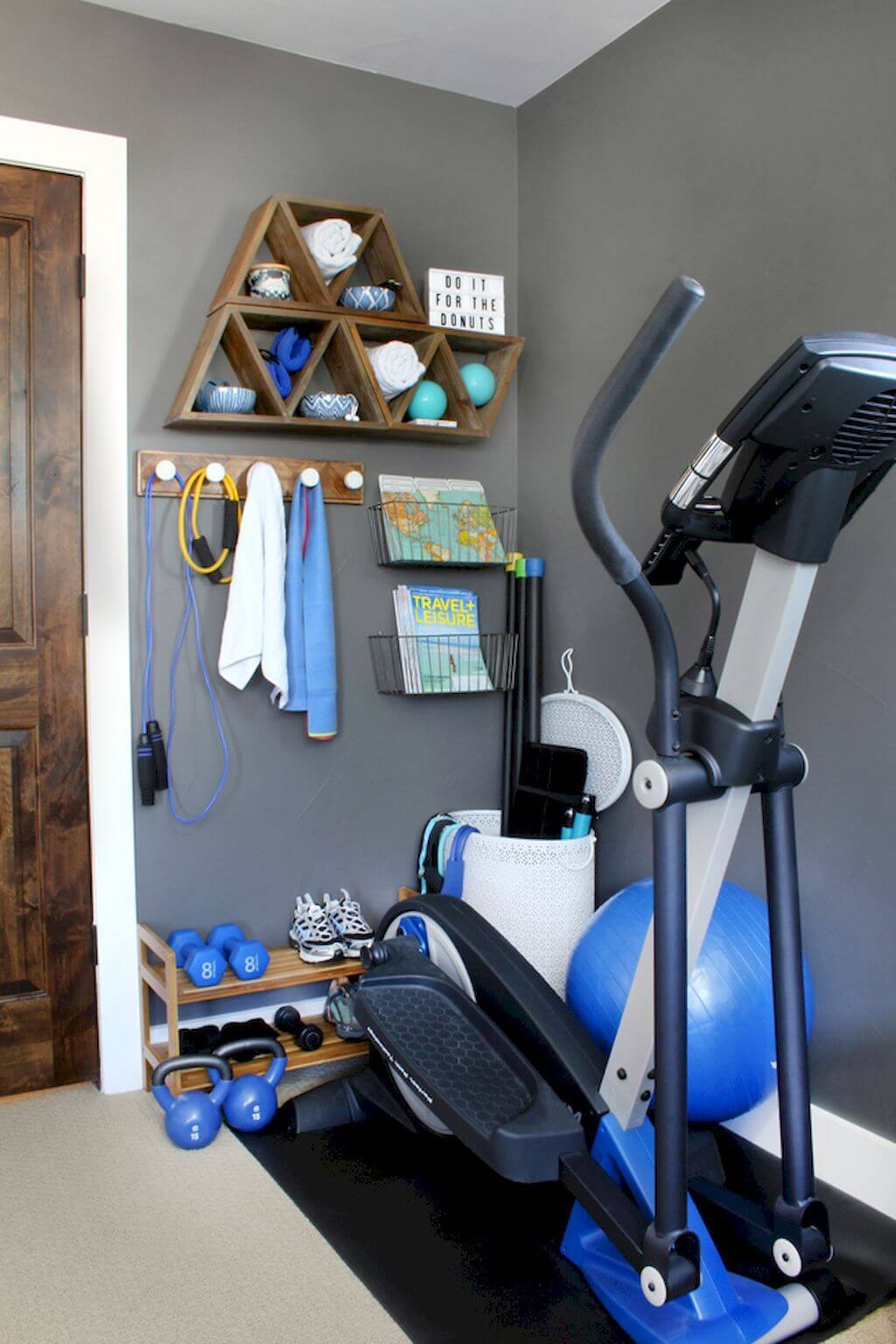 Image source: Home Decor
Fitness buffs, instead of just leaving your equipment and gear lying around at home as a potential tripping hazard, give them a place to call home in your bomb shelter. Try installing hooks for hanging your workout towels and place your dumbbells and fitness equipment on a stable standing shelf. 
8. A Haven For Your Pets
Image source: the dodo
If you own a dog or cat and your fur baby is your pride and joy, you might want to consider giving them their very own room to call home!
Be sure to provide them with a comfortable bed to rest on, or enrichment toys like a cat tower for cats to climb. Keep the door open too to ensure there's sufficient ventilation and that your pet is able to move in and out of the room freely.
Bomb Shelter As The Maid's Room
A common query some homeowners have is "Can I have my domestic helper/maid sleep in the bomb shelter?"
In short, yes, your maid can sleep in the bomb shelter but ensure that she is provided livable conditions stated by the Ministry of Manpower (MOM). According to MOM, a foreign domestic worker's accommodation must meet the following requirements:
Adequate shelter
Basic amenities
Sufficient ventilation
Safety
Modesty
Space and privacy
Read MOM's elaboration on the above points here.
---
From hiding the bomb shelter entrance with clever carpentry to transforming it into a useful storage space, we hope these bomb shelter ideas have you inspired!
Do let us know in the comments down below what method you'll be touching up your bomb shelter with, and share this article with any soon-to-be homeowners.
To check out other home interior design ideas, click on the links below!
Enjoyed this post? Join us on Instagram @style_degree, Facebook and Telegram @HomeownersSG, where we share the best home organization tips and cleaning hacks to help you embark on an organized and happier homeowner life! P.S You'll be the first to learn about our latest product launches there as well.