Behind your kitchen cabinets, there's a good chance that your plates and bowls are stacked together clumsily. This leads to excess clutter you'll eventually have to deal with later.
If you having difficulty finding and retrieving a specific plate, here are some organizational tips to declutter and re-organize them.
---
1. Categorise Your Dinnerware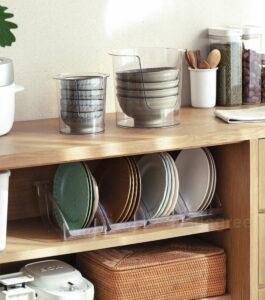 Ft. Clarity Dinnerware Organizer
The first easy step is to divide your dinnerware into categories. Chances are that you have a variety of plates that you use (eg. plates for common use versus plates for parties/gatherings).
Here are some ways you can divide your dinnerware:
Size
Color/Pattern
Occasion — Eg. casual, fine dining
Plate type — Eg. salad, dinner and dessert.
Bowl type — Eg. soup, salad, dip.
Type of cup/mug — Eg. tea cup
Tip: Nest heavier dinnerware like casserole dishes in lower cabinets for safety and to visually see each individual dish.
While categorising dinnerware, simultaneously declutter and sort through old pieces. It's good to empty out your cabinets first and wiping them down with a multipurpose cleaner.
If you have old dishes that are still intact and in good condition, you can donate to local charities like:
Also check out on StyleMag: Ultimate List of Places To Donate Your Old Items & Items in Singapore
2. Increase Accessibility With Organizers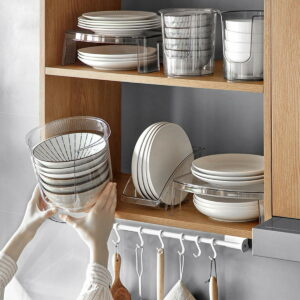 Ft. Clarity Dinnerware Organizer
To declutter your cabinet shelves, use organizers to stack bowls securely and file plates upright. Creating a well-planned organizing system helps maximise your storage space, and makes finding less of a hassle.
Using Stackable/Tiered Racks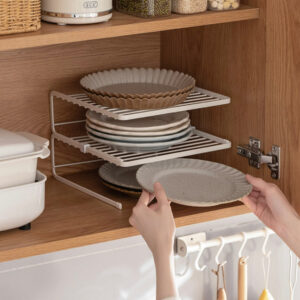 Ft. Grande Plate & Bowl Stackable Organizer Rack
Alternatively, you can use stackable shelves inside your kitchen cabinets to vertically stack up your plates and bowls on your countertops.
3. Use Kitchen Utensil Caddies For Portability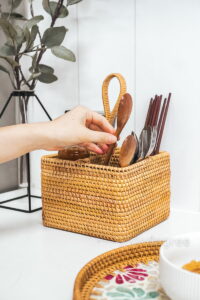 Ft. Rattanly Utensils Caddy Basket
Instead of hiding them in drawers, store daily use cutlery upright in a multicompartment utensil caddy. It'll make it easier to grab them for when you need them, and can be a portable holder for fancy silverware.
4. Organize Utensils With Drawer Dividers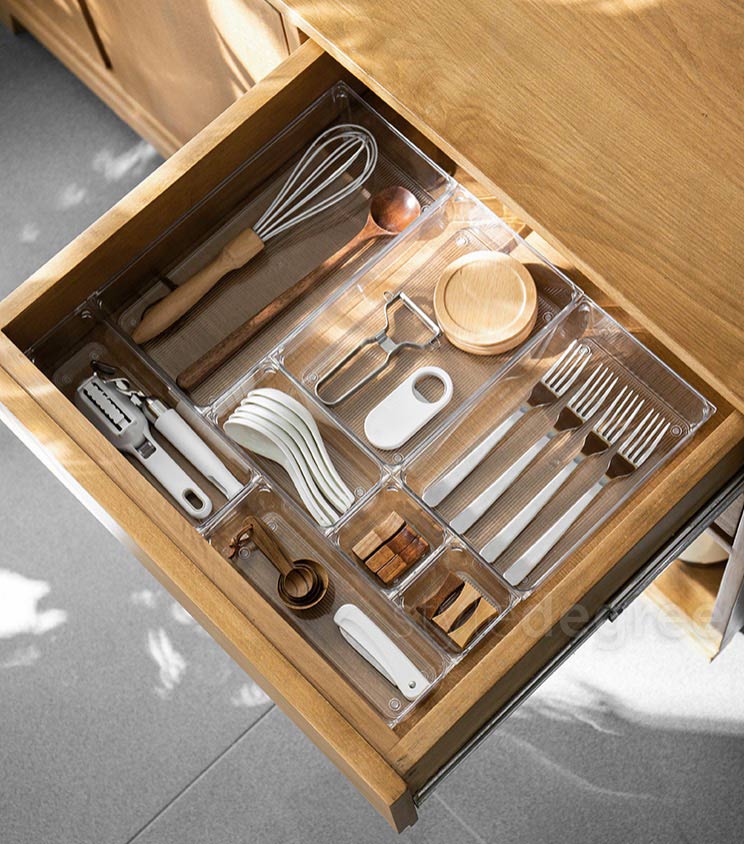 Ft. Clarity Customisable Drawer Organizer
Use a drawer organizer to create a system for your kitchen, baking tools. A drawer organizer can help outfit your kitchen drawer for an accessible pull-out drawer to all your cutlery and tools.
Customize how each utensil is stored, be it vertically or horizontally, instead of mixed in and piled with other items.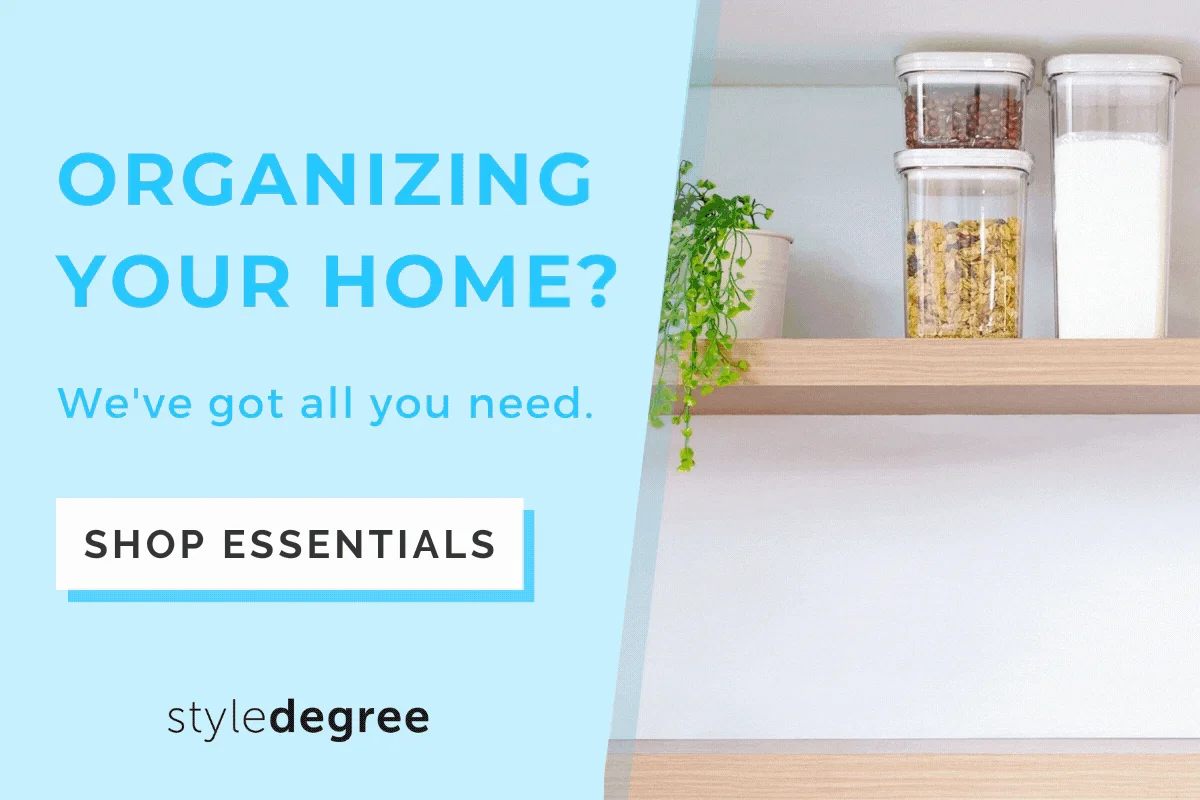 5. Display Decorative Dishes
Display your favourite decorative dishes on an open wall shelf in your kitchen instead of keeping them inside a drawer. Use this method as a way to turn your dining plates into decorative pieces to liven up your walls.
Tip: Choose single-colour plates or decorate with different patterns/designs for more visual appeal.
6. Use Under Shelf Storage
Ft. Grande Under Shelf Basket Organizer
Not enough space in your upper cabinets? Then it's time to use under-shelf storage. Utilise underused space in your lower cabinet shelves to store smaller items like mugs, kitchen lining and table mats.
Under shelf hanging baskets that require no drilling are a great example of this, as they help fully maximise the space in your cupboards.
7. Install Hooks
Add S-hooks in your kitchen cabinets to create a mini-hanging space for unused mugs and cups. You can also place them just below cabinets to hang from an easy-to-grab area (eg. breakfast station).
Consider installing a tension rod to place in lower cabinets to place hooks on.
Tip: If you have large mugs, purchase hooks that are wider and have a higher weight capacity.
8. Use A Cup Stand Holder For Daily Mugs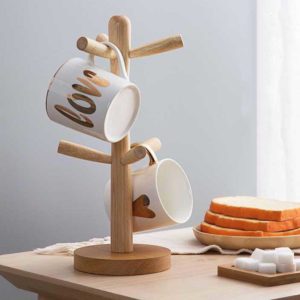 Style up your kitchen counters and breakfast stations with a simple and durable cup stand holder.
In addition, cup stand holders can help in displaying tall glass cups and decorative mugs on your dinner table and pair well next to dinnerware organizers for larger items like plates.
---
Start off the new year by tackling the spaces under your kitchen. While it may seem a little daunting but you'll thank yourself later for decluttering and rearranging your dinnerware. Tell us down below if you tried out any of these nifty organizing tricks. Do your shelves look a little neater?