When you hear the two words 'kids' room', do you see your little one's room as a war zone littered with toys, crumpled paper, and Lego stepping hazards?
If that's what you imagined, cast away these messy thoughts with these 15 kids room organization ideas. Read on to get inspired to transform your child's room into a clutter-free one!
---
Click on the links below to help you navigate to the various kids' room organization ideas!
---
Maximise Storage In Children's Room
1. Rethink Your Furniture
Image source: Nicola Rendell
In a small Singapore apartment, it is vital that your items are multipurpose! For example, not only can a dresser be used to store your baby's clothes, but its top can also conveniently serve as a changing table.
Tip: Consider labelling the dressers based on the contents (e.g. pyjamas, tops, bottoms). When your child grows older, the labels will help your kids get ready a lot quicker.
Toddler's clothes can be tiny, keep them organized using storage bins or drawer dividers within your drawers.
Another piece of furniture that you can repurpose would be a bookshelf! Flip the bookcases on their sides and place some cushions at the top to create seating. Add storage boxes in the open shelves to store your kid's belongings.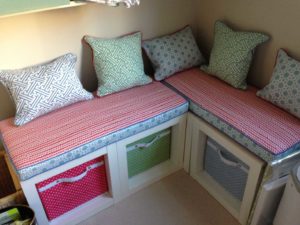 Image source: Ferg & Floribunda
You can also invest in dual-functioning furniture, namely furniture with additional storage space – beds, ottomans or even bay window seats. Having this built-in storage instantly creates space in your kid's room!
2. Make Use Of Under-Bed Space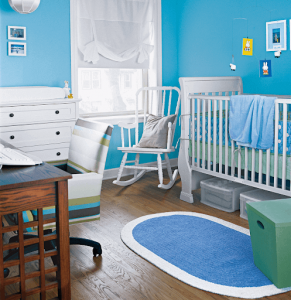 Image source: Real Simple
Make use of dead spaces that often get overlooked, such as the area under your child's cot or bed. Use storage boxes or even spare luggage to store extra clothes or essentials such as diapers, wet wipes, fitted sheets. Whenever you need to top them up in your dressing drawers, you'll know where to retrieve them easily.
Design Tip: If you're picky about storage boxes being unsightly from afar, stick on a crib curtain to ensure nothing peeks out!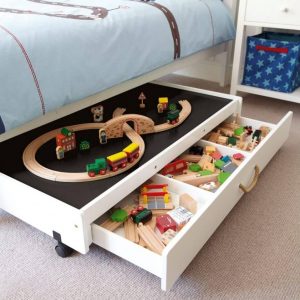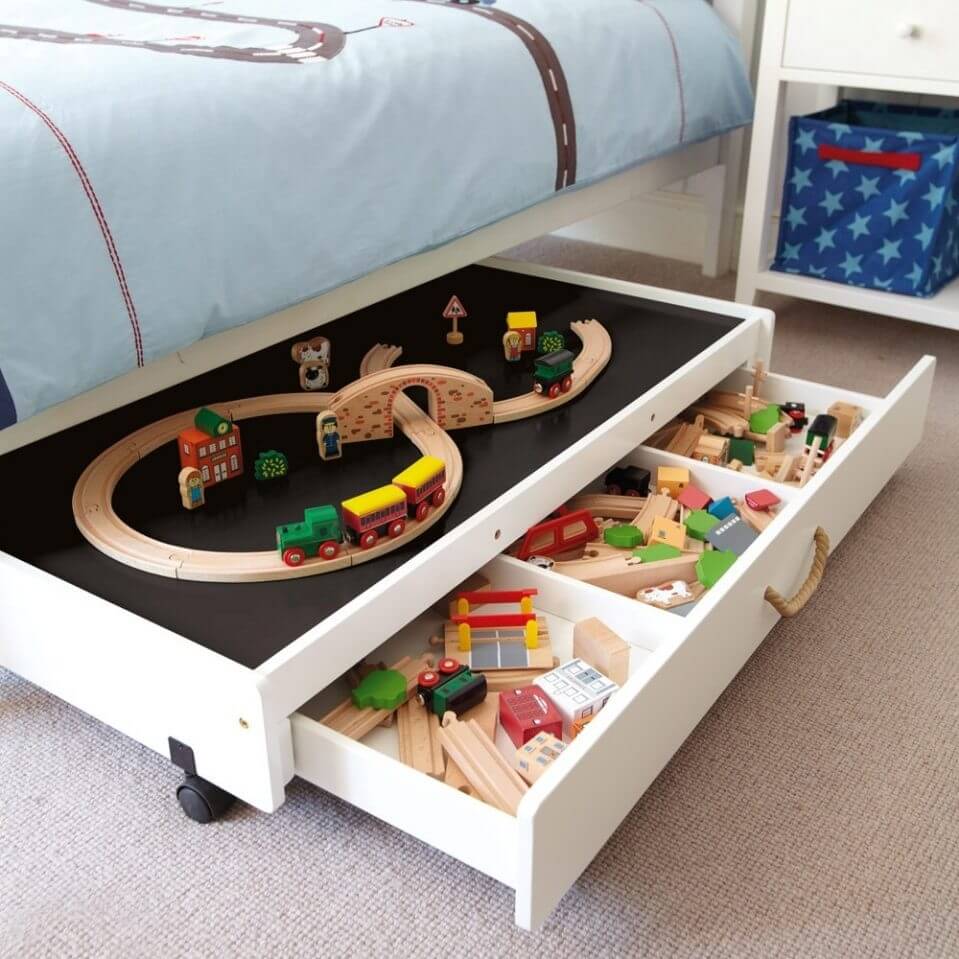 Image source: Great Little Trading
You can also use the space underneath beds to store toys. As your little one gets older, they'll need a space to play in, but it's limited in Singapore homes. Counter spatial blues by fixing your child's playing area under the bed as a roll-out set. Store their toys in cubbies and boxes lining the sofa or their bed.
---
Children's Clothes Organization Ideas
3. Have An Efficient Wardrobe That Can Grow With Your Child
Image source: Kidsomania
Getting a wardrobe for your child means asking these questions like…
"How am I going to sort his or her outfits out and keep them organized?'
"Will this be big enough once he/she grows up?"
"How to make it versatile so that it can grow with him/her?"
The following few practical ideas may help you get through your worries!
Have individual sections to sort all your child's clothes (shirts, bottoms, socks) and prevent mixups. Hang the clothes needed for the week in the middle.
Have adjustable rods for clothes hanging, and line hooks and small plastic crates along the cupboard doors, so your child can gain easy access to their clothes. This can provide essential training for your child to support his or her own.
Opt for extendable hangers that can grow with your child. This saves money and effort having to replace them.
3 Tips From Marie Kondo On Organizing With Kids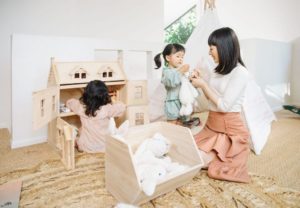 Image source: Heymama
Parents should lead by example
Kondo says that she folds her clothes in front of her daughters, to show them how much she enjoys the tidying up process and that it can be comforting to her kids too!
Allow your kids to begin at a young age
Kondo advises letting your kids start learning how to tidy up when they turn 3. By letting them learn how to fold their own clothes, they'll adopt the habit of folding and putting things back in their original place daily.
Involve your child in decluttering
According to Kondo, if your child melts down over tossing his toy truck, it means it probably still 'sparks joy' in him. Kondo suggests explaining to your kids the process of decluttering, but not using the 'Joy' test on them. Instead, she recommends getting your kids to order their toys by what they like best and then eliminating their least favourites.
Also check out on StyleMag: 8 Tips For Creating A Minimalist Home Even With Kids
4. Reuse Baby Wipe Containers To Store Collectibles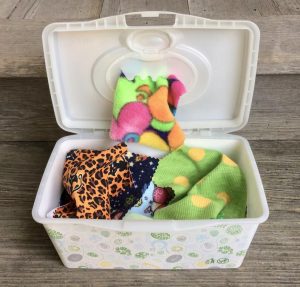 Image source: Etsy
Once your baby wipes run out, don't throw the boxes away! Instead, turn them into storage containers for their socks, handkerchiefs or small collectable items. If your kids like card games like Uno, these baby wipe boxes will make excellent places to keep their games so that any important part doesn't go missing.
5. Versatile Wall Hooks
Your kids may have lots of things that need hanging, like extra shirts, jackets, or bags. Using wall hooks is a good way to keep their possessions from becoming whirlpool as they stock up. It also frees up space in the dresser for other belongings.
Tip: When mounting them, keep them at your child's eye level, so they can take what's needed and put them back later on.
Explore our range of Wall Hooks to see which one suits your children's room the best!
---
Toys Organization Ideas
6. Magnetic Strips For Displaying A Collection
Image source: Shelterness
Is your little one a collector and filling the home with knick-knacks? Magnetic strips to the rescue! Prop up the toy cars on each row, and you'll have a showcase-ready display.
Image source: Mum's Grapevine
Alternatively, you can use a photo ledge or narrow wall shelves to display toy cars or even small toy collectables! Keep in mind that these shelves should be placed close to your kid's height so they can easily retrieve and return the toy cars.
7. Have A Portable Toy Storage Bin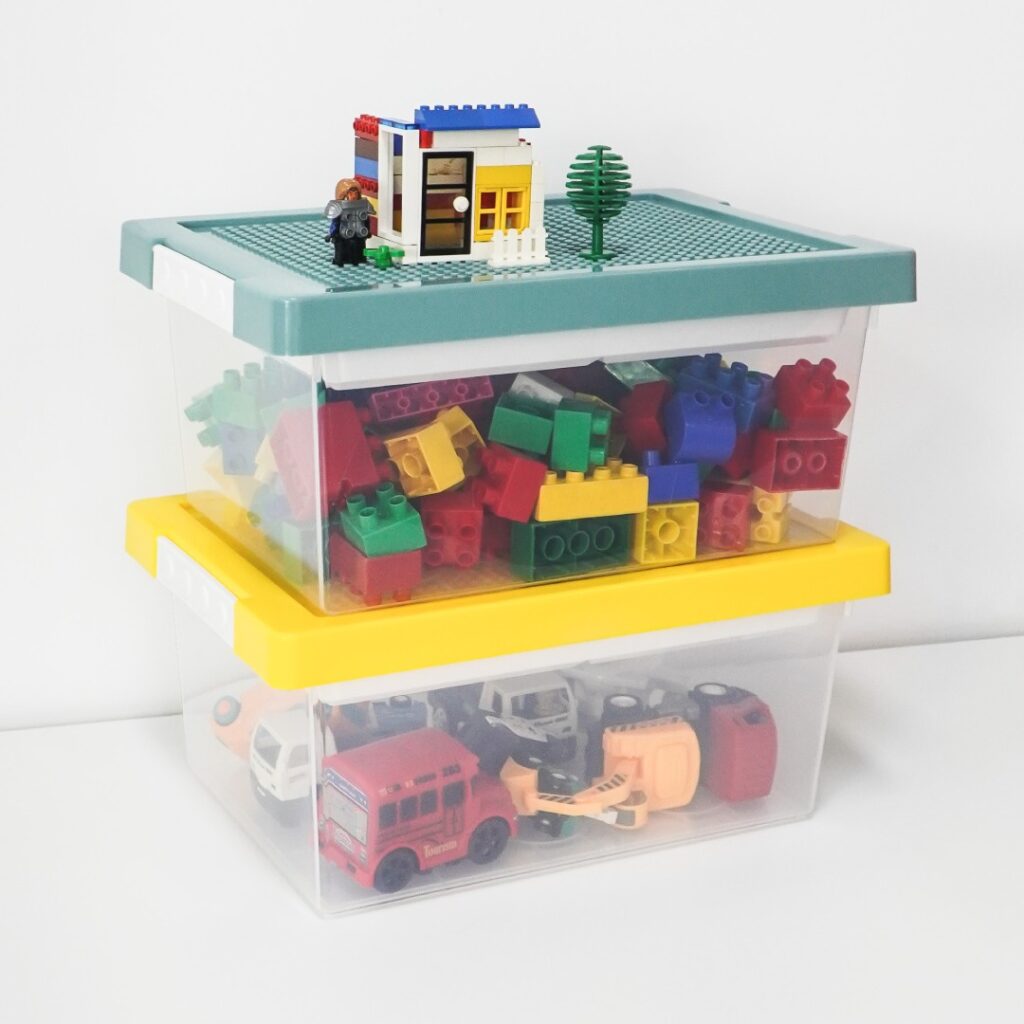 Ft. Kids 2-Tier Toy Storage Box
Get your kids to clean up after themselves by having a portable toy storage system! You can use bright-coloured storage boxes with wheels or a toy storage trolley. This allows your kids to wheel the storage box around the house to collect their toys before returning them to their playrooms.
Fun fact: Research says that bright colours help young kids differentiate between objects as their eyes aren't fully developed. Adding stark and vibrant colours to your kid's room will help them make sense of their environment!
8. Create A Toy Hammock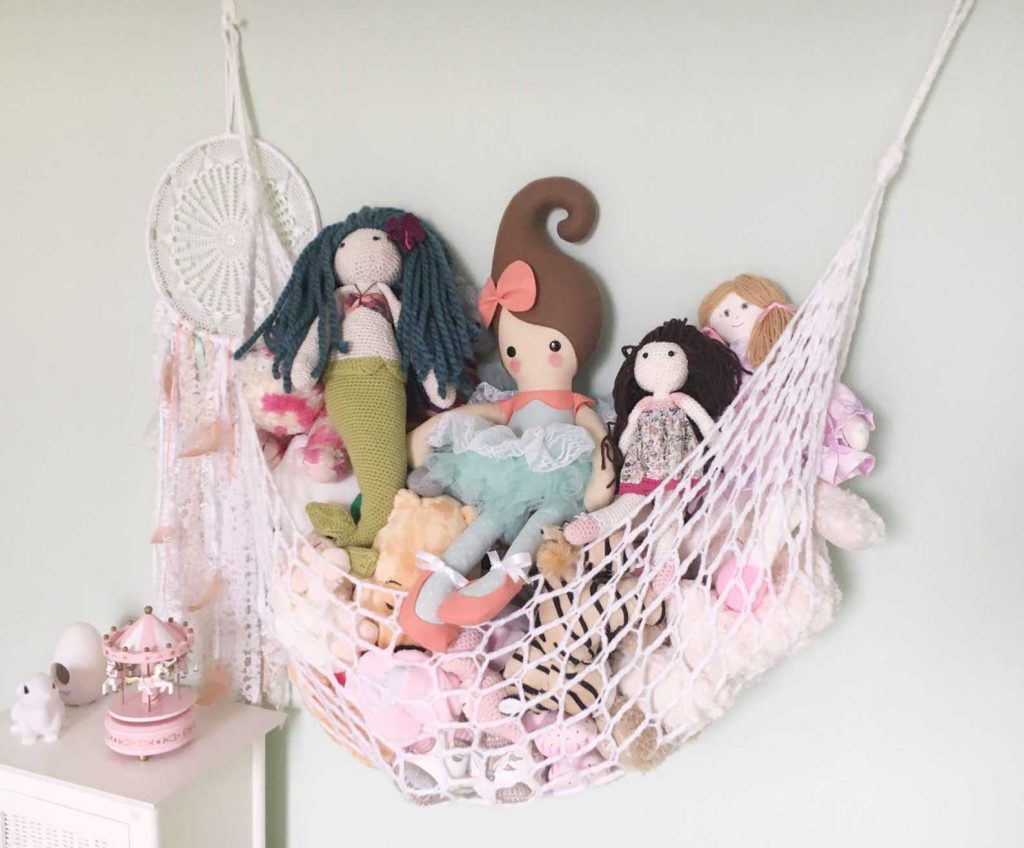 Image source: Etsy
Does your child have too many stuffed animals? It's hard to wrangle these toys and keep them organized. Try hanging nets to store them, such as this DIY version above! Line them along the corners to maximise playing space.
You can also use unused scarves and choose ones that match your children's room decor.
9. Disguise Stuffed Toys As A Beanbag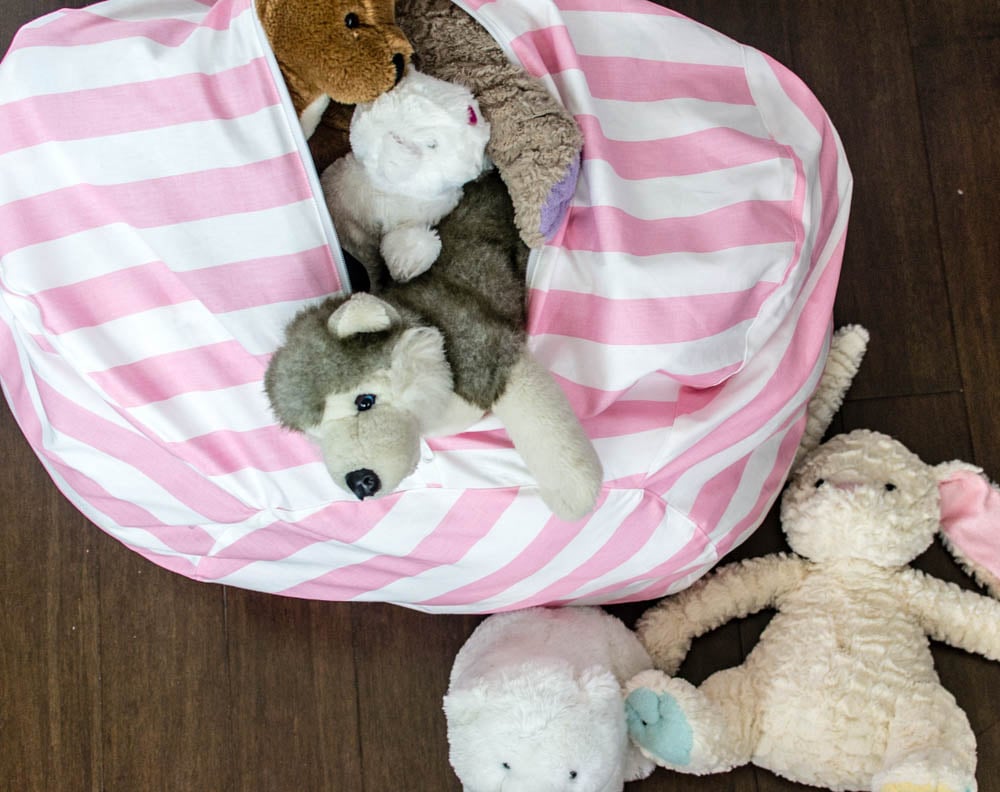 Image source: Sew Can She
Corral your child's oversized stuffed animal collection into a bean bag cover! Not only does it keep all of the unruly toys out of sight, but it also doubles as a chair that your child can use to relax. If your child wants to play with a particular soft toy, they can just remove it from the bean bag and return it once they're done.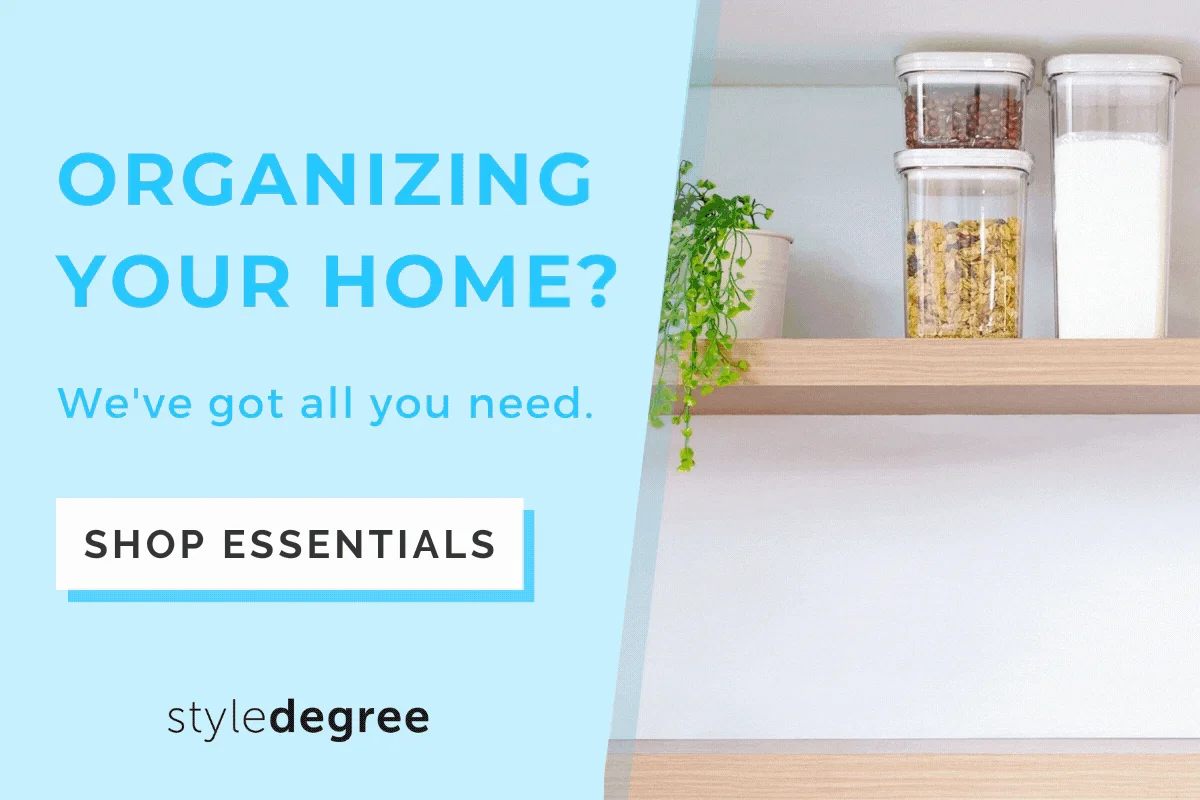 10. Store Board Games In Zipper Bags
Do you and your children enjoy playing board games? If you do, you know how bulky the outer boxes are. Save precious shelf space by transferring the board game contents into zipper bags!
Plus, if your kids were to carry these games zipped in a bag, the contents are less likely to fall out as compared to carrying a box.
Tip: Remember to measure the size of the game board so you can purchase a zipper bag that fits all the contents.
---
Books & Stationery Organization Ideas
11. Unique Shelving Systems
Brighten up your child's room with creative shelving systems! With an open bookshelf or a book organizer, showcase your child's favourite reads so they can easily pick out what they want to read instead of messing up the entire shelf. It would also encourage them to pick up a book whenever.
For a space-efficient method, wall racks can be used to hold their books Always remember, shelving them vertically is a great way to save space.
Check out our multi-functional Grande Kids Bookshelf that has extra space for toys!
12. Create Open Work Spaces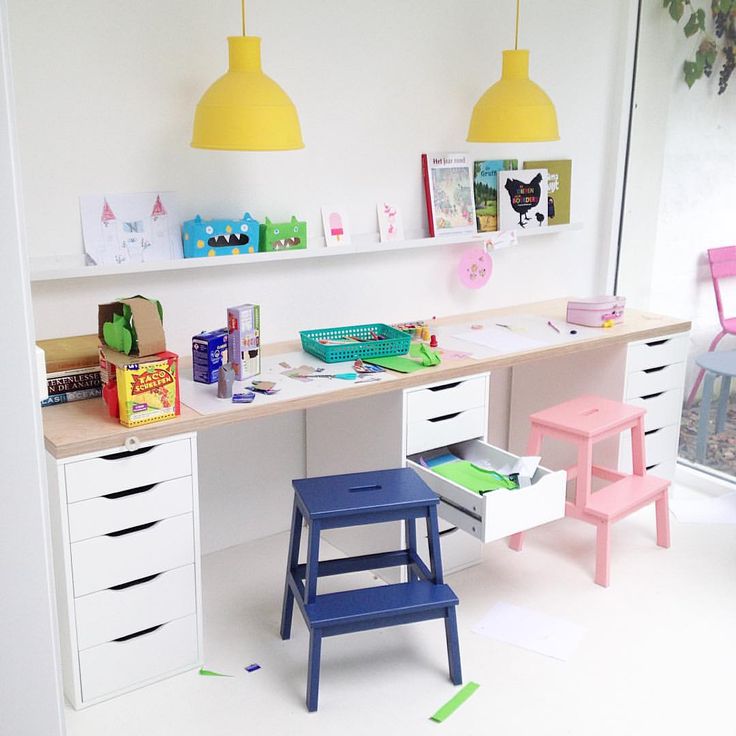 Image source: Circu
As your child becomes older and approaches schooling age, you can start getting them ready by creating a conducive studying environment for him or her. Helping them adjust in the home from a young age will help them study better and smarter, as well as get a taste of life in the classroom.
Use a desk organizer to hold your child's activity papers and stationery supply sets. For their school files and textbook, neatly arrange them in a book divider organizer. Get them responsible for tidying and cleaning up their study table. It's a great habit to foster from a young age!
Also check out on StyleMag: Boost Productivity With These Desk Organization Ideas
13. Toilet Rolls For Keeping Stationery & Creative Work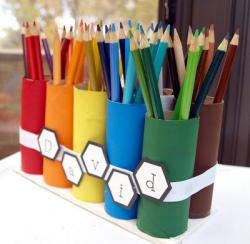 Image source: Coloring Book Addict
Toilet rolls aren't just for toilet paper, because they can store stationery as well! If you find your child's workspace in a mess, a bunch of toilet rolls will solve the problem. Colour-code and label them for future hassle-free tidy-ups!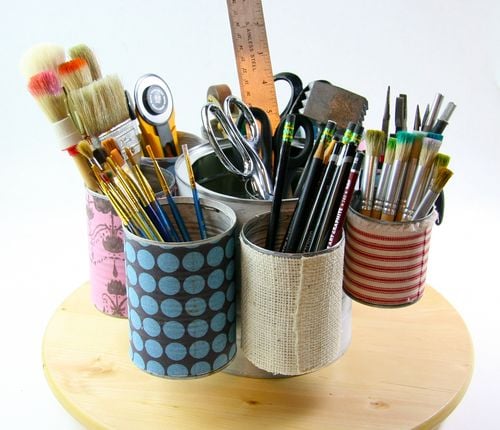 Image source: Cynthia Shaffer
Alternatively, you can upcycle empty tin cans to keep your child's workspace organized. Creatively repurpose these items by making craft animals, for example. Find time to make these adorable creatures with your child. It'll serve as a great opportunity to spend quality bonding time with them, too!
Also check out on StyleMag: 15 Simple Home Organization Hacks You Can Try
14. Corkboard For Displaying Art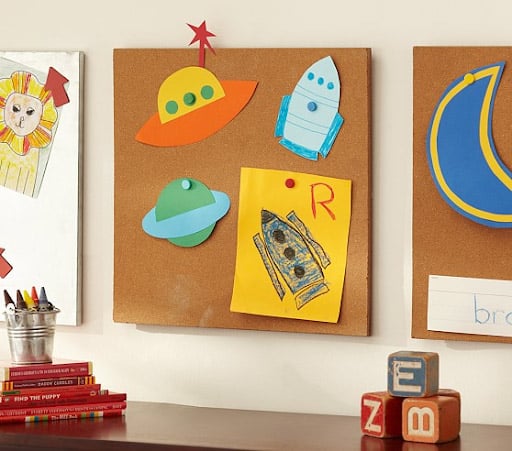 Got a budding artist in the making? Encourage their creativity, and show off the skills they have by pinning their art to a corkboard or two. Organized wall space comes as a bonus!
15. Pegboards For Children's Essentials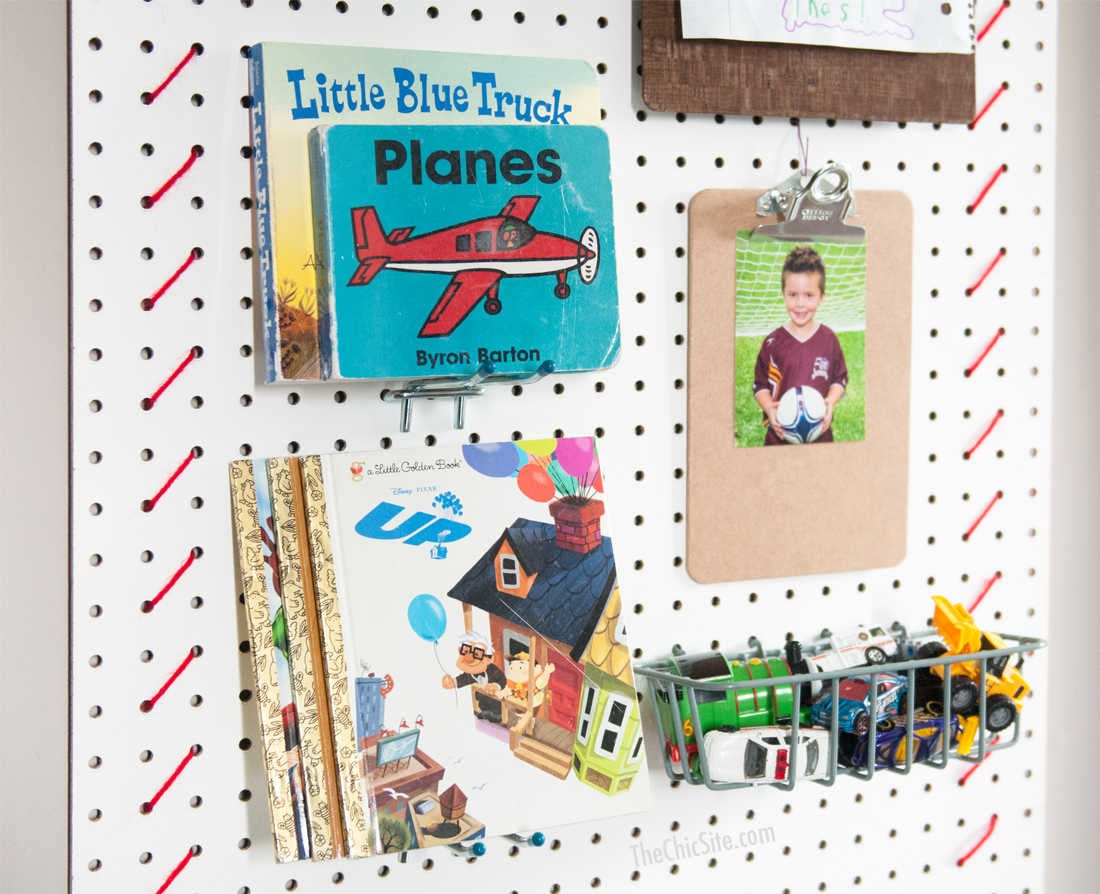 Image source: Ms Rachel Hollis
Having a pegboard in your child's room comes in super handy. You can hang in at your child's desk area to store their stationery supplies or even hang up their artwork. Pegboards are a great customisation piece, so feel free to hang up hooks and baskets to suit your child's needs!
You can also hang it above your child's changing table and store all your necessary baby essentials on it so that everything is ready at hand.
As we know, organizing is, no doubt, a tough process. Working together with your children to keep their room well-maintained will not only create bonding opportunities but also instil good habits for life! Have you tried any of these ideas? Comment and tell us!
Check out our new range of Kids' Collection today!
---
Enjoyed this post? Join us on Instagram @style_degree, Facebook and Telegram @HomeownersSG, where we share the best home organization tips and cleaning hacks