Maintaining your house's cleanliness all on your own can be difficult. However, splitting the chores with your partner can help relieve the burden, and also streamline doing the chores.
We've gathered some methods to help you fairly split chores and make home life smoother.
---
1. Make A Chore Chart
A chore chart helps to track chores that are being done weekly and monthly. Having a chore chart also helps to maintain the cleanliness and consistent organization of your home.
Arrange a sit-down meeting with your partner, and write down all possible household chores onto a list. How you divide chores can depend on who has a less demanding job, who has more time or who actively wants to do it.
Tip: Choose at least one chore that you personally feel you can derive enjoyment.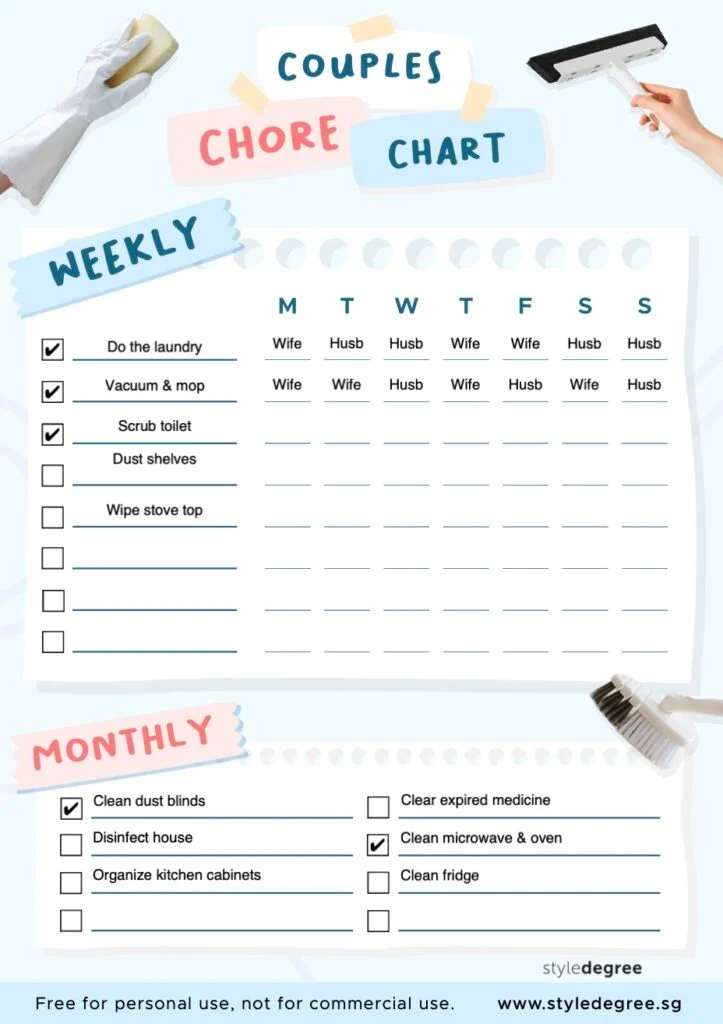 Click here to download our Free Couple Chore Chart PDF printable that's editable to suit your needs!
Stick your chore charts in a place where both of you can see and track your duties. Go a step further by laminating your chore chart to make it ersable.
2. Communicate Clearly
Even with a chore chart, it's important to actively talk with your partner to split chores fairly. Discuss what the standard should be, and set realistic expectations for each other.
While doing so, understand the household background of your partner. They may do things a certain way because they were raised to or they're just used to it. Never assign blame or bring up the past, instead be objective so that you can solve the problem.
Above all, a chore chart only works if both parties communicate clearly to each other, as a lack of clarity almost always leads to undesired tension.
3. Rotate 'Big' Chores
It's never easy to complete big chores in the house. This can mean anything from grocery shopping, doing the laundry, and cleaning the bathroom. That's why it's much more efficient to alternate with your partner.
Alternate big chores weekly to ensure both partners spread the responsibility of cleaning. If there is constant rotation, then there will be no notion that chores should be done individually, but rather as a group.
4. Take Schedules Into Consideration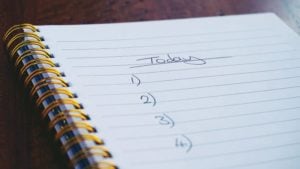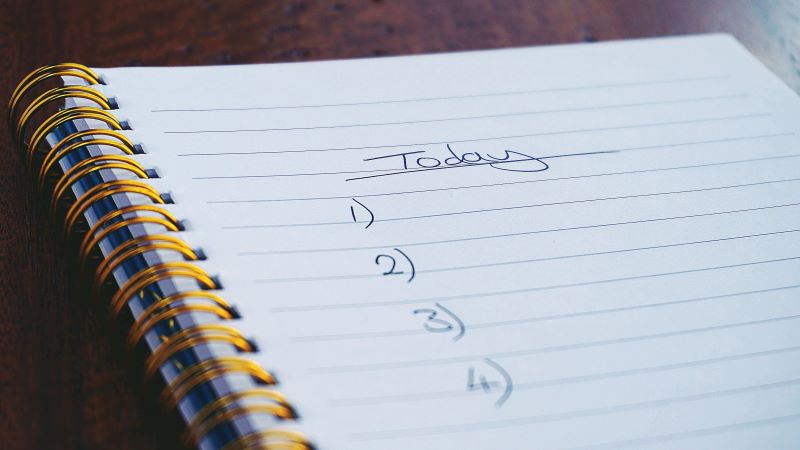 While alternating chores shares the responsibility, you must also take your partner's schedule into consideration. Does your partner work a longer shift than you? Do they work a night shift?
You should also be open to making compromises if one of you fails to complete a chore due to work duties or any other sudden changes.
Chores should be able to work well with your jobs so as to not disrupt each other.
5. Let Go Of The Little Things
There may be some days where your partner's work may seem 'sloppy' or 'unfinished' in your eyes when they're done with a chore. It may also be because they organize or clean things differently from you.
While it's tempting, micro-managing them can actually hurt your relationship. Unless their job is objectively badly done, you must learn to let go of the small things.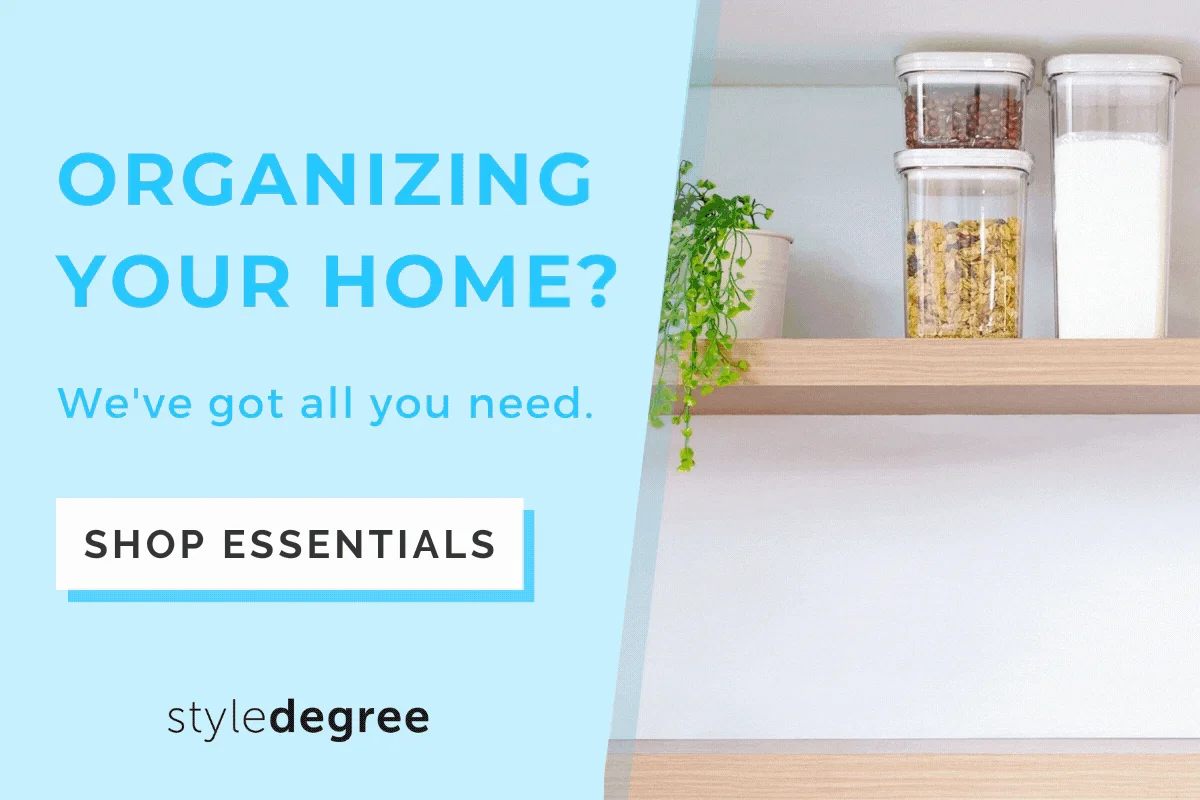 6. Plan Ahead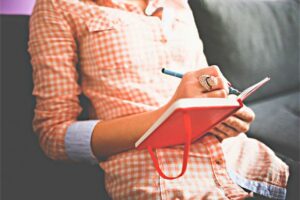 Sometimes, external engagements like work can affect your chore schedule. To avoid piling chores, it's efficient to plan ahead for the week ahead and know what to do should any emergencies arise.
Meet with your partner weekly at a specified time when you're both free to discuss what needs to be done for next week. With a chore chart, you can pinpoint and designate priorities for each person.
7. Appreciate Each Other's Work
The best way to make your partner feel encouraged to do one's chores consistently well is to show appreciation. This goes for chores done even if it isn't their responsibility, or if it's them completing an assigned chore.
A simple thank you or comment of positive acknowledgment can go a long way for many people.
8. Have Breaks
Having a routine is good, but being overwhelmed by the insistence of getting chores done can badly affect your physical and mental wellbeing. Designate breaks monthly for the both of you to collect your bearings and relax. Unless something needs immediate attention, you can afford a break.
9. Hire Help If Necessary
If the chores in your home start to take a toll even with both of you pitching in, consider hiring some extra help. Review your budget before outsourcing help so you don't find yourself on a financial stump.
Tip: Create a task list for outsourced help to follow so they understand what is expected of them.
Check out this list of local maid agencies if you're interested in hiring external help:
Full-time
Part-time
Helpling — Weekly/fortnightly home cleaning charges $25 per hour. One-off home cleaning charges $35 per hour.
Urban Company — Regular home cleaning starts at $81 for 3 hours, recommended for 2 to 3 room HDB flat. Deep cleaning starts at $308 for a studio apartment.
---
Splitting chores is a good way to share the responsibility of maintaining the house with your partner. Through completing chores, you can better understand how your partner works, and collaborate as a team and as individual team players.