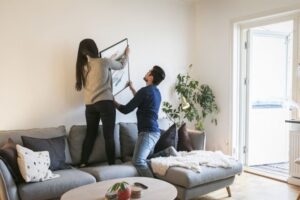 Bored of the look of your surroundings after spending lots of time at home? There are plenty of temporary ways to restyle and refresh your interior, such as using washi tape to create a unique feature wall and using paint or contact paper to update dull and old furniture.
Here are 12 ways to spruce up your home with no renovation, little cost and commitment!
---
Click on these links to explore the ideas for each area
---
Walls
1. Gallery Style Feature Wall
Swipe <- or click on image to view gallery
Want to jazz up the room with a personal touch? A gallery wall is your best bet. Add your favourite memories, posters and more to photo frames and attach them to the wall with Command strips so you can remove them without damaging the paint underneath.
For a neater and more minimal look, try a monochromatic colour scheme, and identical photo frames, like the ones above.
If you prefer a more eclectic room, opt for different photo frame sizes and colours, and even throw in decorative plates and hanging decorations into the mix.
Eclectic Examples
Swipe <- or click on image to view gallery
DIY-style
Swipe <- or click on image to view gallery
Have beautiful scarves that you don't use? Frame them using photo frames in a complementary colour for a unique "art" piece that you're unlikely to find hanging in any other home!
Alternatively, frame leftover scraps of fabric instead of letting them go to waste. If you're hanging multiple together, try to stick with the same colour scheme for a cohesive look.
Alternatively, use free image sources like Unsplash and Pixabay to find images you like and frame them when you've printed them out, instead of spending extra cash on expensive wall art!
2. Washi Tape Hack For Decor
Swipe <- or click on image to view gallery
Try out this budget-friendly TikTok viral hack using washi or electric tape to temporarily decorate your walls without damaging the paint underneath! Create any pattern you like, such as geometric shapes and bold stripes.
Experiment with colours to make your very own unique feature wall. Watch a tutorial below!
3. Painting The Walls
Swipe <- or click on image to view gallery
Did you know painting is one of the cheapest ways to give your home a makeover? Use a bold and unusual or dark colour, rather than cool-toned whites, which can make your home look sterile fast.
If you have a taste for trends, choose a shade that's timeless so it doesn't look outdated too quickly. Popular colours this year include earthy tones inspired by nature such as rich browns and sage green, as well as jewel tones.
Pair these with muted neutrals like creams, black and greys so the colours don't overpower the room.
Tip: Make sure your choice of paint complements the furniture you have in mind too!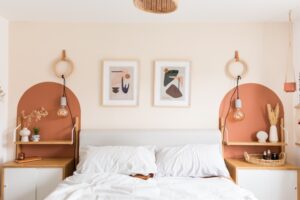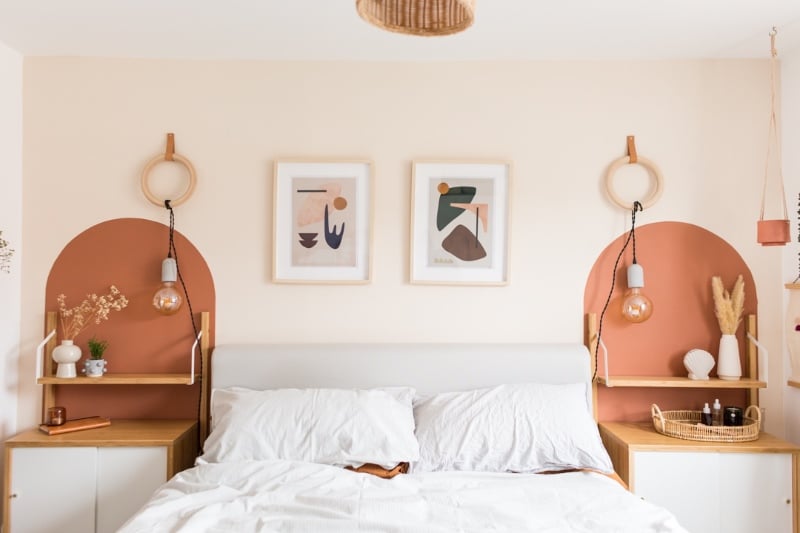 Alternatively, use a stencil and paint to create a more unique look. Try unusual shapes such as the trendy arch in a vibrant shade for a pop of colour in a room.
Learn how to paint an arch yourself in the tutorial below!
4. Add Wallpaper
Instantly change up the look of your home by using peel and stick wallpaper! Although they're pricier than paint (especially the more convenient peel-and-stick variety), wallpaper has a much faster application process and guarantees a near perfect look.
Furniture
5. Rearranging Your Furniture
A quick and costless way to spruce up the look of your home is to rearrange what you already have! Try different layouts using our tips below to find one that works for you and your family.
Remove Anything Blocking Light
If you have bulky items in front of the window such as a large TV, consider shifting them to another location so that it doesn't block the flow of natural light.
Incorporate Feng Shui Concepts
Why not give Feng Shui a try? It's been known to improve one's luck and fortune simply by moving furniture around.
Also check out: 7 Easy Feng Shui Tips: A Guide For New Homeowners & Beginners
Centrepiece To Create a Focal Point
Swipe <- or click on image to view gallery
Centrepieces are a great way to showcase your personality without having to make permanent changes to the space. Choose to add one or the multiple of the following, depending on the size of your surface:
Your favourite flowers in a clear or statement vase. Satin or silk flowers tend to last longer and look more realistic although they cost a bit more. Keep them out of direct sunlight so they last longer.
A stack of coffee table books to highlight your interests (architecture, travel, fashion)
A statue bust
Shelves As Room Dividers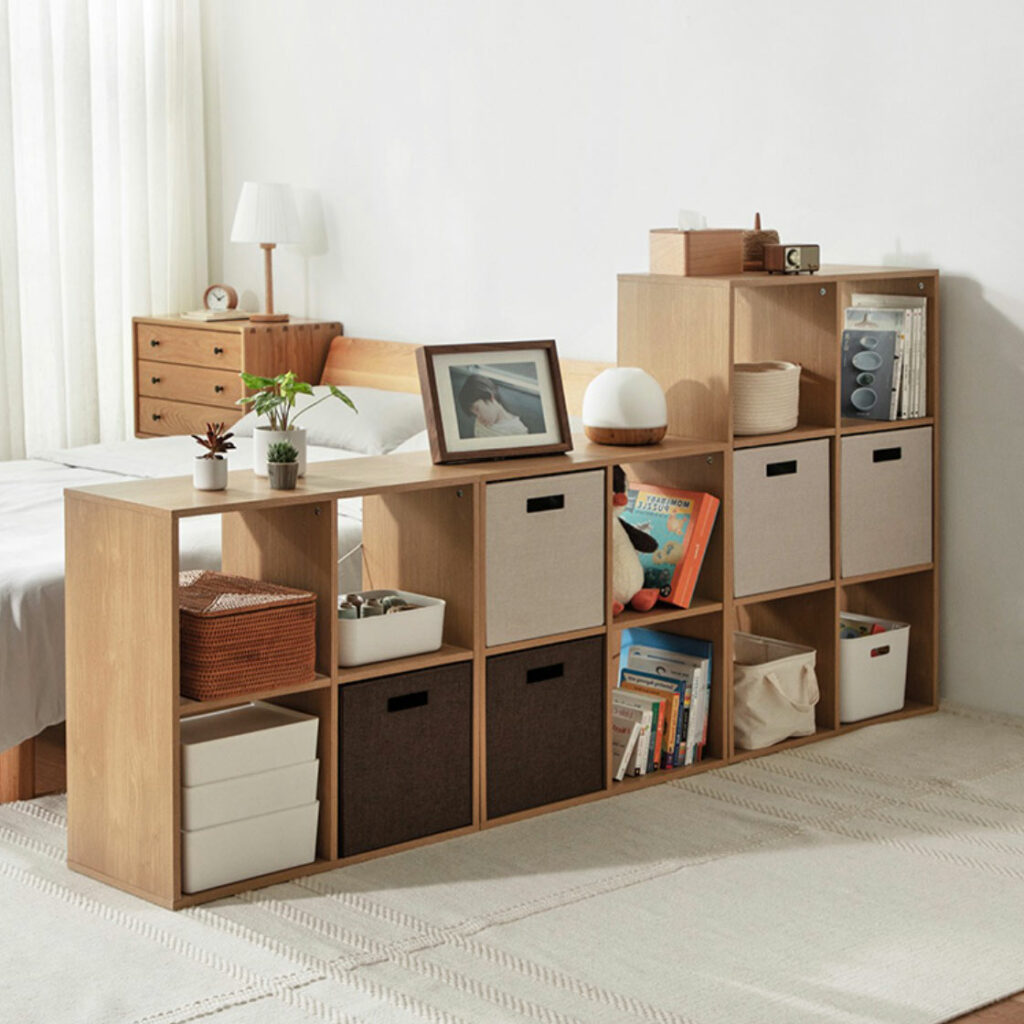 Shelves are another way to define the areas in a large room. Add removable storage drawers to hide stray objects like books and children's toys and furnish the rest of the shelves with potted plants and photo frames.
Also check out: 5 Easy Steps To Achieve A #Shelfie-Ready Shelf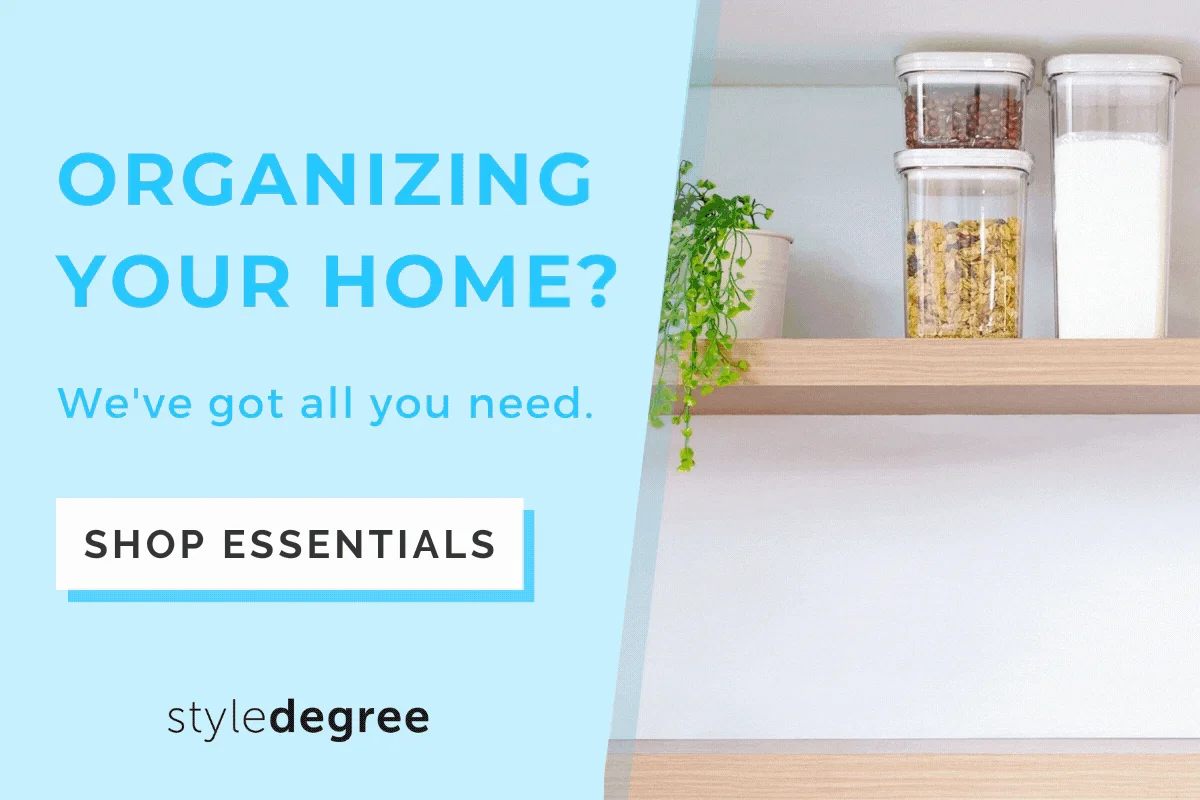 6. Update Old Furniture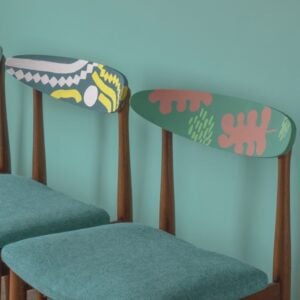 Upgrade a plain-looking chair with just a fresh coat of paint. Or, give the chairs artistic flair by painting shapes on them with differently coloured paint like the ones above. Remember to seal them in with a finishing medium so they last!
You can also choose to upholster them if you have time on your hands, with fabric, a staple gun and fabric glue for extra security. Check out the video below to see how to do it yourself!
Similarly, if other furniture such as your console tables or cabinets need a makeover, give them a fresh coat of paint rather than buying a new one to save costs. Switch up the colour for an entirely new look, like this transition of a kitchen cabinet from natural wood to white!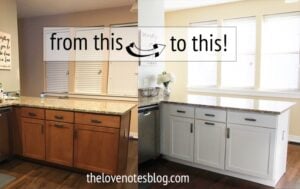 7. Contact Paper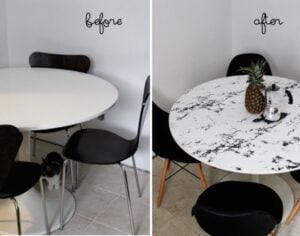 Don't like the colour of your table? Switch up a boring white countertop with contact paper in any shade you like! Try one with a repeated pattern like marble so that if a spot needs patching, it'd be virtually undetectable.
Tip: Use a hairdryer to smooth out wrinkled spots as the heat will cause the plastic in the contact paper to shrink and adhere more smoothly.
8. Use Stick-on Backsplash Tiles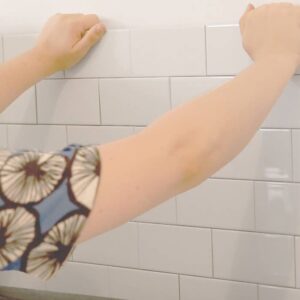 The kitchen is an often neglected area of the home when it comes to decorating. Use removable stick-on backsplash tiles or wallpaper to instantly change up the look and make your sink area more stylish.
9. Change Out Your Doorknobs & Drawer Handles
Small details make all the difference! Replace old and rusty doorknobs and drawer handles with new ones, which you can easily find online on a budget. You can opt for a sleek and stylish minimal one, or a vintage style knob with bright colours.
Decor
10. Change The Position Of Your Curtains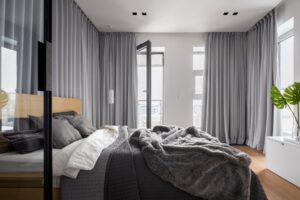 For a more airy and spacious look, shift the position of your curtain rods upward. This will give the illusion of a higher ceiling and more space.
11. Rugs To Divide Large Spaces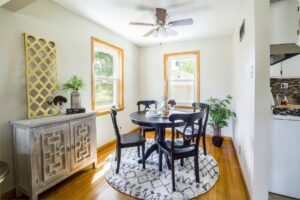 Rugs are another way to add a pop of colour and coziness to your home. Other than that, it also visually divides a large room like your living rooms into smaller sections for dining and sitting more clearly.
Make sure to measure your furniture beforehand so you can estimate the size of the rug you need! The look of your room will look more balanced when the rug and sofa or dining set are proportionate to each other.
12. Large Mirrors To Reflect More Light
Swipe <- or click on image to view gallery
Other than allowing you to check on your appearance before you leave the house, large mirrors reflect more light back into the room, making it look more spacious.
13. Add Plants To Liven Up Your Space
Whether you have green fingers or not, plants add a ton of life into an otherwise drab-looking room.
The key is to experiment with heights and plant types, like hanging ferns, taller potted plants and smaller succulents on surfaces like tabletops and atop shelves.
---
What are some other struggles you face when designing your home that you need help with? Let us know below!