The Rattanly series is an exclusive set of 10 unique pieces handwoven from rattan, ranging from coaster sets, coffee tables and wall shelves. Each piece has been sustainably sourced and made in Vietnam, and is available in Singapore at Style Degree.
Join us as we give you a behind-the-scenes look at Rattanly — who are the handcrafters and how each item is made.
---
Who Are The Handcrafters?
Rattanly is handcrafted by a local family business in Vietnam first established during the 1700s in a village now known as Phu Vinh.
Phu Vinh was originally known as Phu Hoa Trang, which means "endowed with manual dexterity" in Vietnamese.
The handcrafters hail from a craft village north of Hanoi. For generations, the villagers, regardless of gender or age, weave materials like rattan and bamboo.
How Is Rattan Harvested?
Rattan grows from the forest floor, using larger trees as support to grow upward. This is because it is a type of pal-like climbing vine that depends on other plants.
When the rattan is mature enough, farmers climb the trees to cut the rattan down. They are then dried and gathered into tight bundles and taken over to the crafting mill.
Rattan farming is considered a sustainable method to make a living for many Vietnamese. As it grows abundantly in the country, it's important to preserve the plant and the forests that it grows in.
How Are Rattan Pieces Assembled?
Weaving & Technique
The harvested rattan makes its way to the crafting mill to be weaved by the many skilled handcrafters. They are then treated by dying them with a specific wash/colour to get the desired colour.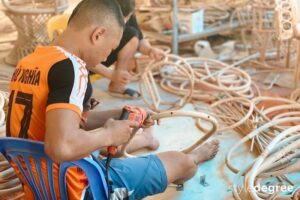 Newcomer handcrafters pick up handweaving techniques very quickly. Individuals who hail from craft villages are familiar with everyday business and are able to make one well-made product within a week.
Some techniques taught include basic plain weave, lock crimp and inter crimp. After mastering the basics, they continue to develop their skill with more intermediate weaving, like twill, satin and basket weaves.
For long-time handcrafters, it takes about 30 minutes to make small items like the Rattanly Ceramic Coaster Set.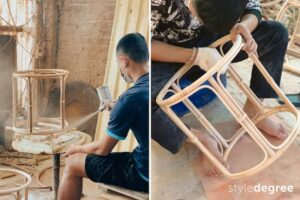 For more complicated items like the Rattanly Coffee Table, it can take two hours. Rattan furniture like the coffee table is considered the most challenging due to its difficult shapes.
On an average day, 30 small rattan items can be made. Five to six complicated pieces can also be completed within that same timeframe.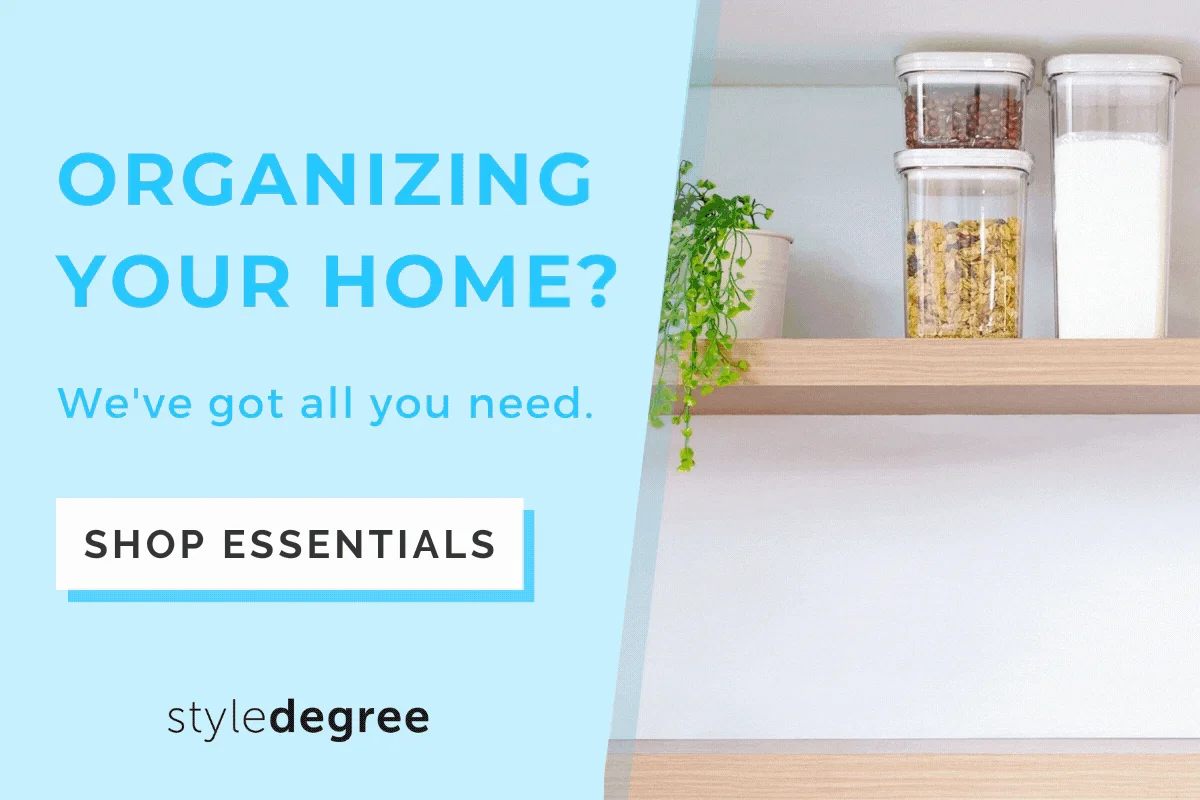 Painting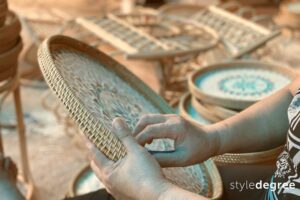 Some rattan items such as our Rattanly Ceramic Coaster Set come with a ceramic center that has handpainted designs. Before being woven in, they are baked and treated in an oven.
There are also a unique few ones where mosaic fills the center with an additional coat of paint.
Explore Our Rattanly Series
If you're interested in owning your own rattan piece, look no further than Style Degree's very own line: Rattanly. Click here to add these unique pieces to your home. From geometric-patterned mosaic trays, spacious wall shelves, and handwoven utensils caddies, each piece looks aesthetically pleasing without sacrificing utility.
Also check out on StyleMag: Introducing Our Rattanly Series + How To Style Rattan In Your Home
---
Behind each Rattanly item lies a long history of a handcrafter's skill and care poured into creating it. From a humble tree climbing plant to a poignant furniture piece, our rattan items are the perfect home series that's versatile with multiple home interior styles.
Did you learn something new about rattan production? Tell us down below!