Have a cluttered kitchen countertop with barely any space to prep your dishes? We've got you covered with 8 solutions to make the most out of countertop space and storage!
---
1. Utilise Sink Space
Ft. Extendable Over-the-sink Drying Rack
Expand your countertop space all the way to your sink! Dry dishes with a rack over the sink, instead of on your countertop, after washing.
For smaller sinks, lay a chopping board on top of it for extra food prepping space! This also lets you rinse the board anytime, especially if you need to chop multiple ingredients for your meal.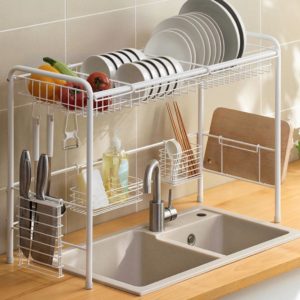 Ft. Grande Over-The-Sink Dinnerware & Utensils Drainer Rack
Tip: A drying rack that goes over the sink will save you so much space too!
2. Go Vertical
It may be impossible to fit your rice cooker, air fryer, toaster and kettle all on one countertop. Tackle this by using a multi-tier shelf and stacking them! This way, you'll be using vertical space instead of laying them out and squeezing them uncomfortably onto one counter.
Want your own coffee & tea corner? Have another shelf for your coffee packets, tea bags, milk frother, and sugar sachets for your daily coffee fix!
3. Make The Most Out Of Corners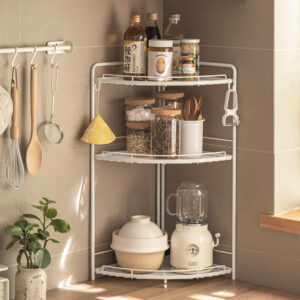 Ft. Grande Corner Shelving Rack
With limited countertop space, make every crevice and corner count! Use corner racks or shelves to fill up these awkward spots, and store electrical appliances or condiments!
4. Gather Items In A Tray
Swipe <- or click on image to view gallery
Having a tidy countertop makes the kitchen look cleaner overall, which will give you a clear mind when you walk into your kitchen.
A simple and underrated way to tidy up your kitchen countertop: using a tray! Whether it be for a coffee corner, your everyday mugs or a fruit display, a tray will definitely make a stylish home for smaller kitchenware. Jazz it up by styling it, like with a vase of flowers or a small plant.
This way you'll have more countertop space for your bigger electrical appliances!
Also check out on StyleMag: 8 Clean-As-You-Go Habits To Adopt At Home
5. Hang Items On Backsplash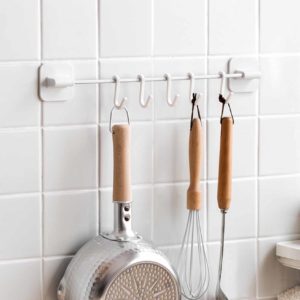 Free up counter space by using hooks to fill up empty walls. For easy grab-and-go, store items with hanging loops, like:
6. Use Under Cabinet Space
Don't let the space under your shelves go to waste! Hang items that you would use daily for easy access, such as kitchen cloths, paper towel, cling wrap, and utensils. Use under-cabinet hooks or baskets and store them for convenience.
7. Store Over Cabinets Too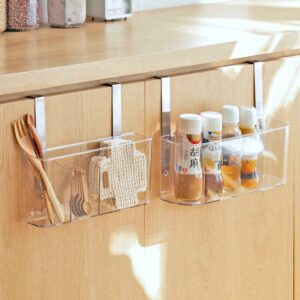 Ft. Clarity Cabinet Door Hanging Storage
Another overlooked way of storing items, make use of your cabinet doors to store baskets of items! Hang them on the inside of cabinet doors to keep them hidden too.
Ft. Collapsible Hanging Kitchen Dustbin
Tip: When chopping or peeling ingredients, conveniently sweep food waste into an easy-to-reach hanging dustbin! Get a collapsible one that saves space when not in use.
8. Invest In Movable Kitchen Island/Cart
If you have too many things in your kitchen, consider buying a kitchen island for extra counter space and storage. Get one with wheels to move it anywhere in the house, especially useful when you have a small kitchen!
A more affordable option for extra storage are movable storage carts. Get foldable ones that you can stow away in your kitchen when you don't need them to save space!
Also check out on StyleMag: 11 Kitchen Island Design Ideas For Singapore Homes
---
9. Using Multi-functional Essentials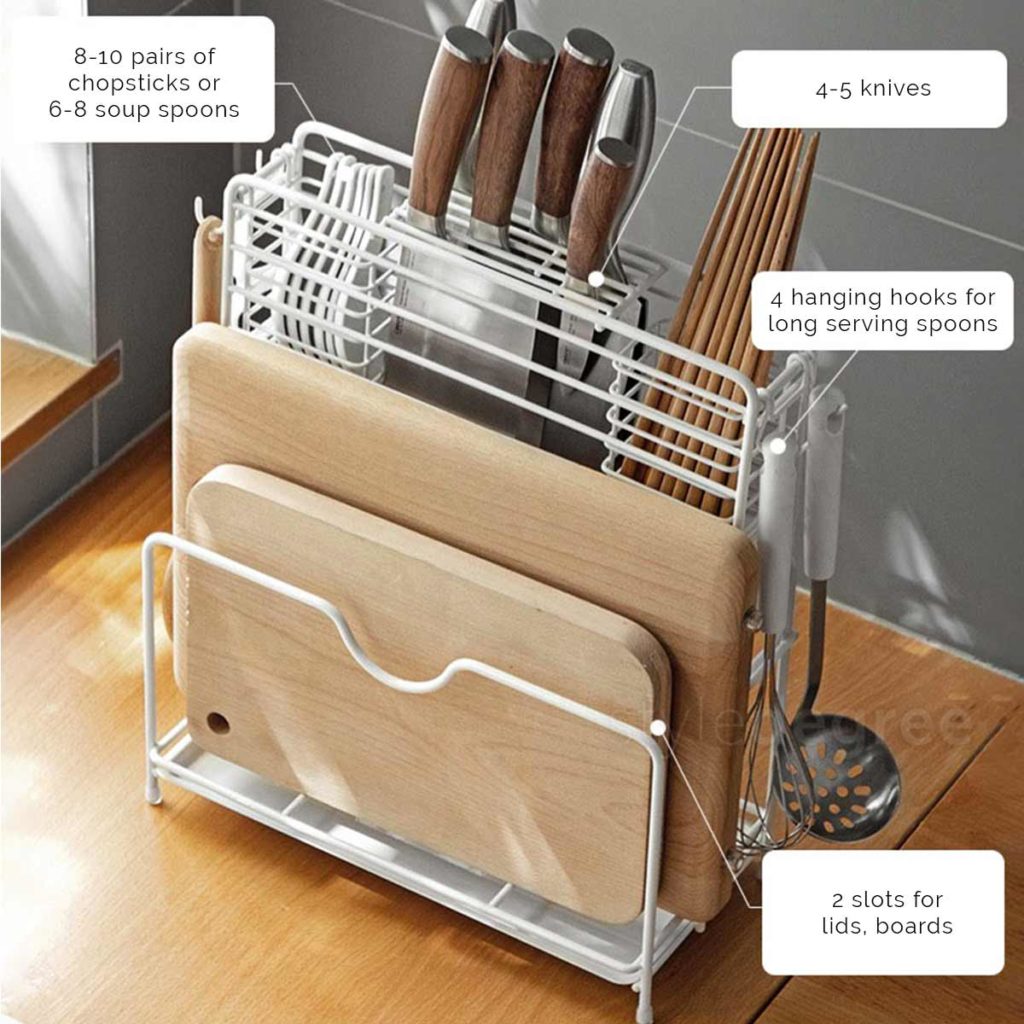 Rather than having separate kitchen holders for knives, utensils and cutting board, opt for a creative multi-functional holder that holds everything in one!
---
On top of just maximising space, keeping a clean countertop is important in keeping your kitchen in order. Make sure to give appliances, condiments, and other kitchenware a fixed home and put them back into their homes whilst cleaning up after cooking.
Which of these will you be using for your countertop? Let us know in the comments!