Putting up Christmas decorations can be a fun activity for you and your family. However, at the end of December comes the dreadful process of packing it all up; from Christmas trees and ornaments to your gift wrapping supplies.
We've compiled 10 creative ways you can store and organize your Christmas decorations once the holidays are over!
---
Click on the different sections to navigate directly to the storage ideas for specific Christmas decorations!
---
Prefer watching? Click below to watch how to pack up your Christmas decorations!
---
Storing Artificial Greens
1. Shrink-wrap your Christmas trees
If you own a Christmas tree, you know the struggle of packing it away, especially when you're tight on space. To save space in your storeroom, wrap your Christmas trees in plastic cling wrap – it keeps your trees compact, clean and dust-free!
Wrap your trees together with the ornaments and garlands so you don't need to waste time next Christmas season putting all the decorations back up.
Tip: You can consider investing in a Christmas tree bag to store your Christmas trees to make post-Christmas cleanup efficient and protective.
2. Hang up Christmas wreaths
Hang up your Christmas wreaths on hangers or hooks to prevent it from being crushed in a box. You can hang it up in your storeroom if you have multiple wreaths to store away.
Also check out on StyleMag; 8 Brilliant HDB Bomb Shelter Ideas To Hide & Utilise It Fully
For extra protection, slip your wreaths into a clothes bag – it keeps them dust-free and looking brand new until next Christmas. It's also great at keeping any glitter or sparkles from dropping onto the floor when jostled around too much.
---
Storing Christmas Ornaments
3. Using disposable cups to store ornaments
Do you have leftover paper and plastic cups lying around at home? You can repurpose them into ornament holders – the circular shape is ideal to protect your ornaments from breaking.
Steps:
Cut the cardboard according to the size of your plastic container
Glue the paper/plastic cups down to the cardboard until it's filled
Wrap fragile ornaments in tissue paper, bubble wrap, coffee filter or old linens before placing it in the cup for extra protection
Stack up the cardboard-and-cup in your plastic container
Tip: If you have expensive, collectable ornaments, it's advisable to keep them in the box that it comes with for better protection.
4. Upcycle your cartons & cup sleeves
Swipe <- or click on image to view gallery
Before you dispose of your recyclables, check if you have any egg, fruits or beverage cartons. These packages come with dividers that are great to separate and protect your delicate ornaments from knocking against each other, reducing the risk of breakage.
It's also great for when you're putting ornaments up on your tree – grab one carton and head over to your tree to hang in up instead of walking to and fro to the bin.
You could also make use of the cup sleeves that you get from cafes. Slip your ornaments inside the cup sleeve and store it inside your storage box to prevent it from nicking.
---
Storing Christmas Lights
5. Coil up your Christmas lights
Wrap your Christmas lights around a piece of cardboard to prevent broken light bulbs and tangled wires. You can even cut notches at the side of the cardboard and slot the lights to keep it secure.
After that, simply slot it inside your decoration box. You can also make use of toilet or old foil roll as well – just wind up the lights around the roll to avoid tangling.
Tip: If you're using battery-operated lights, remember to remove the batteries to prevent leakage when in storage.
---
Storing Gift Supplies
6. Slip your wrapping paper in a garment bag
Slip your wrapping papers inside a garment bag and hang it up in your closet. You can use any extra garment bags you have at home or if you prefer to keep your wrapping papers visible, you can purchase clear garment bags.
Tip: Wrap some plastic cling wrap around the circumference of your wrapping paper to prevent the edges from fraying or crumpling up. It also keeps it from unravelling in the garment bag.
7. Dispensable ribbon storage
Ribbons can be easily tangled if you just toss in in a drawer. This simple DIY keeps your ribbons organized and easily dispensable whenever you need to use it! Do take note that you should use storage bins with holes for the ribbons to thread through for easy dispensing.
Steps:
Slip the ribbon spool through a wooden skewer
Stick each end of the wooden skewer into the holes at the end of the bins
For each ribbon, pull the end through the hole – it creates a makeshift dispenser and keeps the spools from rolling around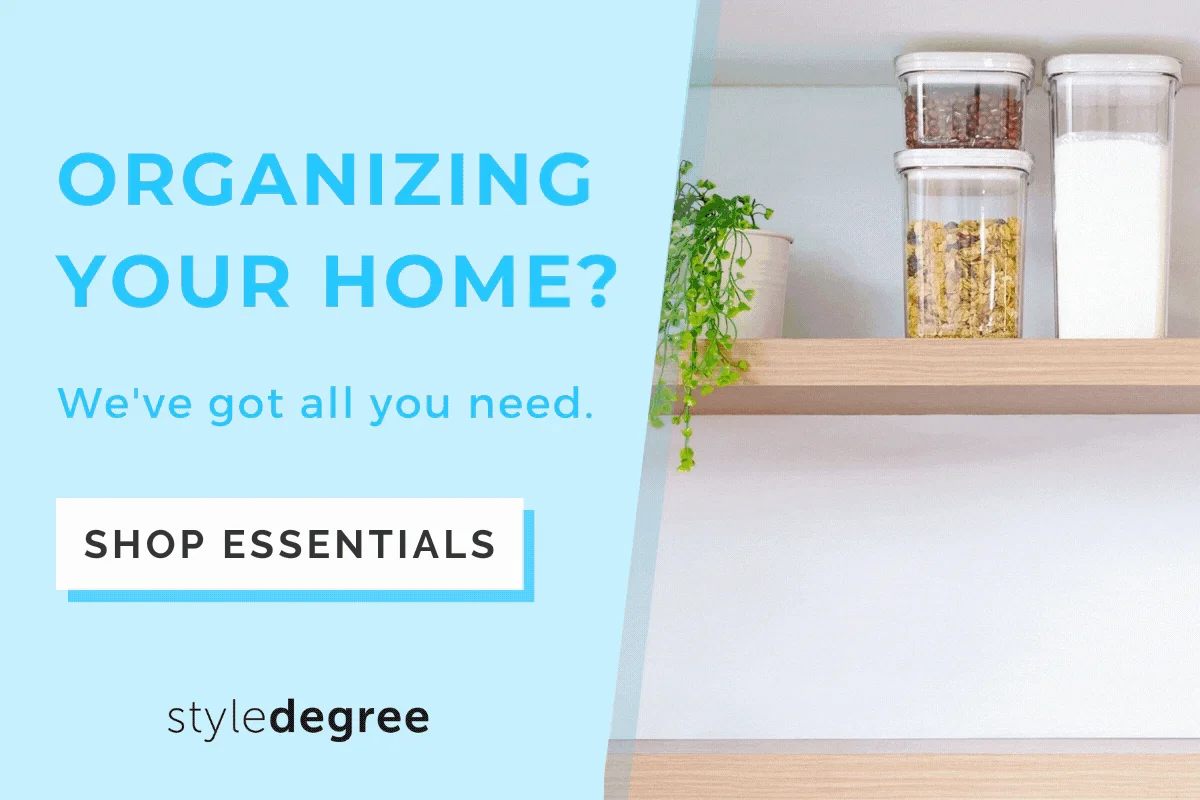 8. File your Christmas cards in a binder
Christmas cards are memorable and you probably want to keep them all. However, keeping too much would just create clutter over time. Save the ones that are the most meaningful to you, sort it according to the year you received it and file it inside a binder.
You can also punch a hole at the side of the cards and loop it through a ring. This keeps your Christmas cards organized and you can easily flip through them to revisit the memories of your loved ones!
Tip: Make sure that the ring you bought can accommodate all the cards you'd like to keep together.
Also check out on StyleMag: How To Get Rid Of Paper Clutter For Good (Bills, Letters & Receipts)
---
Organizing Your Christmas Decorations
When storing away your Christmas decorations, it's best to use stackable clear plastic containers as it saves space while keeping your decorations visible. They also hold up better than cardboard boxes and tape as it's sturdier – no worries about the box breaking. Cardboard boxes also absorb moisture over time, encouraging mildew, mould and insects.
Psst! Check out our clear collapsible storage box collection that's great for saving storeroom space! Collapse it when your Christmas decorations are up and unfold it when you're storing your decoration away.
However, if you prefer keeping your items out of sight, you can opt for opaque containers. Just remember to label them so that you'll remember what's inside!
Tip: Fill up the empty spaces with shredded paper or packing peanuts so that everything is secure and won't break if the box is jostled around.
10. Make an inventory list as you pack
As you pack, take note of the items you no longer use. You can throw away or donate those ornaments that are still in good condition to create more space for your future Christmas decorations.
It would also be wise to take down an inventory list of all the Christmas decorations you have at home so that you won't purchase duplicates when you're shopping next year. You can tape it to the inner lid of one of your storage boxes so you can easily find it.
---
Now that you've read these ideas, get up on your feet and enlist your family's help to pack up those Christmas decorations with you! Which of these ideas are you going to try out? Let us know in the comments below!