With homes in Singapore getting smaller, every square metre in your home matters. However, overcoming space constraints is possible with careful planning of innovative furniture and clever interior design ideas.
Read on to find out 15 best space-saving home interior ideas to help you maximise space in your home!
---
Click on the different sections to navigate directly to the different space-saving ideas!
---
Space-saving Interior Design
1. Work your walls
If you don't have enough floor space, make use of your wall space. Introduce full-length cabinets into your homes to create more storage space for your home essentials. You can store away items that you want out of sight, keeping your home looking neat and clutter-free.
Tip: Add some open shelving to break up the monotony of having rows of cupboard doors. You can display souvenirs or family pictures to create a decorative vignette in your home.
2. Hang From The Ceiling
Swipe <- or click on image to view gallery
Walls aren't the only vertical space you can make use of – there's still your ceiling space! Other than hanging chandeliers, you can build suspended hanging shelves from the ceiling.
Ceiling shelves are great in the kitchen to save cabinet and countertop space. Display your expensive dishwares, wine collection, and crockery on these shelves while keeping it accessible.
3. Kitchen island with recessed shelf for storage
Having a kitchen island in your home creates plenty of space for your home – you can use it as a dining table or work surface. You can further utilise it by incorporating open shelves at the side of the island for more storage space to store your dishware, mugs and even spices!
Alternatively, you can also use that space to tuck away any chairs that are not in use, giving your home a clutter-free look.
4. Utilise wall shelves as storage
When you don't have floor space, the only way to create more space is to go vertical. Make use of your wall space by installing wall shelves – yes you can even build a shelf above your doors!
Wall shelves can also be used as a bedside table if you want to create more floor space and give your bedroom a clean and neat look.
Swipe <- or click on image to view gallery
You can also use wall shelves to store and display your shoes, especially if you own leather shoes. Keeping your leather shoes in an airy condition helps moisture to evaporate, preventing it from creating mildew and rotting.
5. Build a platform
Building a raised platform easily doubles up the storage space in your home. When you're working with small spaces, it's important to stay organized as having clutter on open surfaces could make your home feel cramped.
Having discreet storage spaces underneath platforms are perfect for storing away items that you don't want your guests to see – from your out-of-season clothing, holiday decorations to extra home supplies. Store them in quilt or storage bags to keep them clean.!
6. Pull-out dining table
If your home doesn't have space for a dining table, you could opt for a pull-out dining table – you can use them for extra cooking workspace, dining or as a work-from-home table. After you're done, simply tuck it away! There's no need to waste precious square footage on another dining table.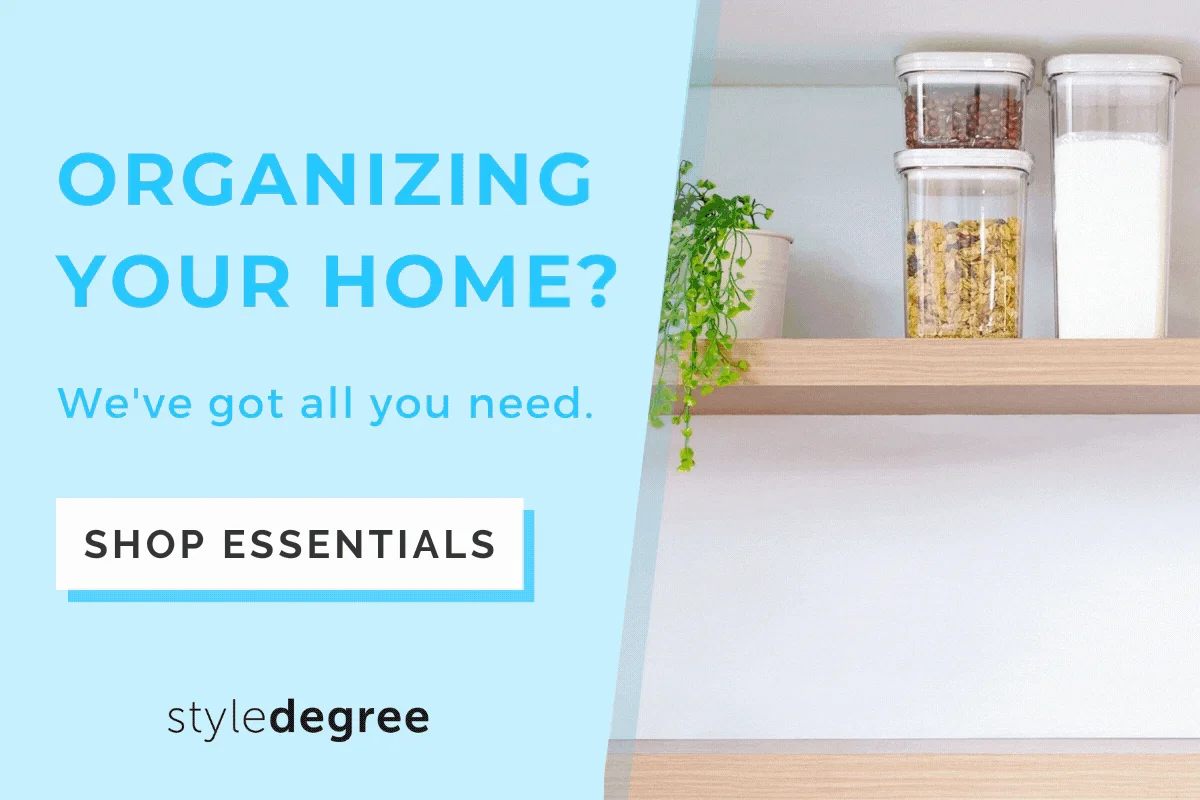 7. Storage on doors
Create more storage space for your home by using every sliver of space. Your cabinet doors, both front and back, are precious real estates that are often forgotten.
You can purchase over-the-door hangers or hooks to utilise the space, just be sure to measure the doors properly so that it can be closed.
You can also upcycle your magazine holders or office organizers. Simply nail or drill it to your doors to create instant storage space for your items.
Also check out on StyleMag: Best No-drill Hanging Hooks & Organizers To Create Extra Storage
---
Space-saving Furniture
8. Murphy bed
Having multi-functional furniture is a great way to save space in your home. Murphy beds are also known as wall beds – they're designed to fold up into a wall to save you space when you're not using it.
Simply pull down the bed when needed and stow it away when unused. They're great if you enjoy having guests over at your home but you don't have space for a guest room.
9. Murphy table
Having large dining tables at home is great when you have guests over. However, it wastes space and makes your home look cluttered when they're not in use. Similar to the pull-out dining table, you can install a murphy table in your home instead.
You can pull it down when you have family and friends over and simply fold it back up once you're done, keeping your home classy and neat.
10. Kids loft and bunk bed
Swipe <- or click on image to view gallery
Using loft beds in your children's bedroom has been a popular trend among parents nowadays. By elevating their beds, you can easily double up the space available in the room.
Plus, you can configure the space below based on your children's needs. You can place a study table, create a playing area or even turn it into a walk-in closet.
Tip: If your children are sharing a room, you can consider using bunk beds to save floor space for other pieces of furniture!
Psst! Keep your desks organized with our Desk Essentials!
11. Under-bed storage
Instead of stuffing all your clothes inside your closet or purchasing another drawer, you can fully utilise your floor space by having under-bed storage.
This is a great alternative if you're not a fan of building platforms in your home. You can choose to either purchase a new bed frame with built-in storage or insert under-bed storage bins.
Use this space to store away your out-of-season clothing or extra bedsheets. Plus, it keeps dust from collecting so your clothes will remain clean!
---
Space-Saving Home Essentials
12. Collapsible or foldable home essentials
Collapsible home essentials are great for saving space in your home. When not in use, you can collapse bulky home essentials such as pails and store it away, taking up a lot less room as compared to those that aren't collapsible.
Check out our range of collapsible home essentials for various areas of your home – from the kitchen to bedrooms!
13. Stackable food storage
Using stackable food containers enables you to fully utilise the vertical space in your cabinet while keeping it neat and tidy. It's also easy to store and access them whenever needed. Also, isn't it satisfying to see your food containers fit together perfectly?
It's even better if they're clear containers – you can easily see what ingredients you have and stock up whenever needed.
Also check out on StyleMag: How To Organize Food Storage Containers In Just 4 Steps
14. Pegboards
Pegboards are a great way to keep items off your floor and organized. You can hang it anywhere around your home: living room, bedrooms or even your kitchen! Feel free to reconfigure your pegboards according to your needs, adding trays and hooks where you see fit.
In the kitchen, pegboards can be used to store your kitchen utensils or crockery. Having them displayed saves you cabinet space and time from digging through your cabinets to find 1 pot.
If you're a crafty person, you can use pegboards to hang up your craft supplies – it adds colour to your home while keeping your supplies easily accessible.
15. Wall holders
You can still make use of your wall space for storage if you're not looking to install wall shelves or build full-length cabinets. You can opt for a simple alternative – peel-and-stick wall holders.
It's important to keep things off your floors and countertops to prevent your home from looking cramped and cluttered.
---
It's now time for you to turn these space-saving home interior ideas into reality! Let us know in the comments which idea is your favourite or share with us if you have any other useful tips!