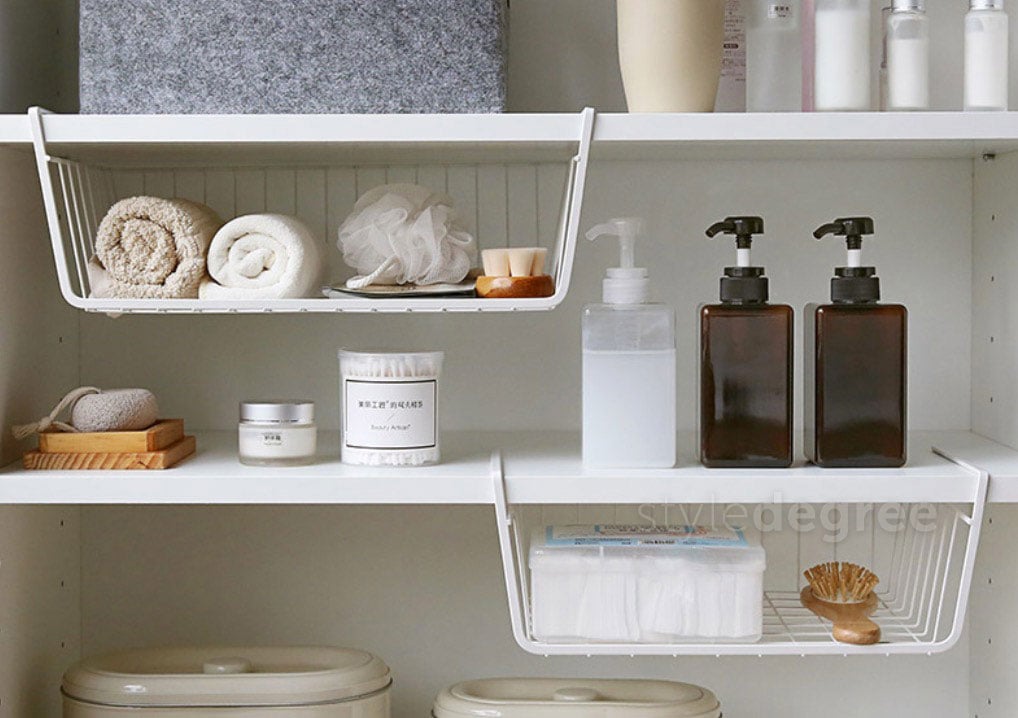 Hooks and hanging holders are small but unbelievably useful organizational tools that instantly create storage space in your home.
If you are wondering how to best maximise those tall cabinet shelves you have, get inspired with our top 6 hanging hooks and holders below!
---
Over-the-cabinet Hanging Hooks
(Click on the product header above to view the it)
Utilise even your cabinet door space by hanging frequently-used kitchen tools on it, such as your oven mitts, spatula, soup ladle, and more!
Our Horizontal Cabinet Hanging Hooks comes with 5 built-in anti-rust coated iron hooks, hang it inside or outside of your door effortlessly. Fret not, your door will still close perfectly without any gaps!
If you prefer a simple over-the-door cabinet hanging hook for cleaning cloths and/or tea towel, our Cabinet Hanging Hooks (2pc set) will suit you.
Easily movable to suit your needs, hang it on the outside or inside cabinet doors for a convenient extra storage space for your everyday essentials.
Its curved hook grips onto any pole well, while its strong stainless steel clip end allows you to hold heavy items such as sponges, dishwashing gloves without fearing that it would get blown away.
Waterproof and anti-rust, hang it on your bathroom wall holder or window grilles to air-dry any cleaning essentials!
---
Under Shelf Storage Basket & Organizer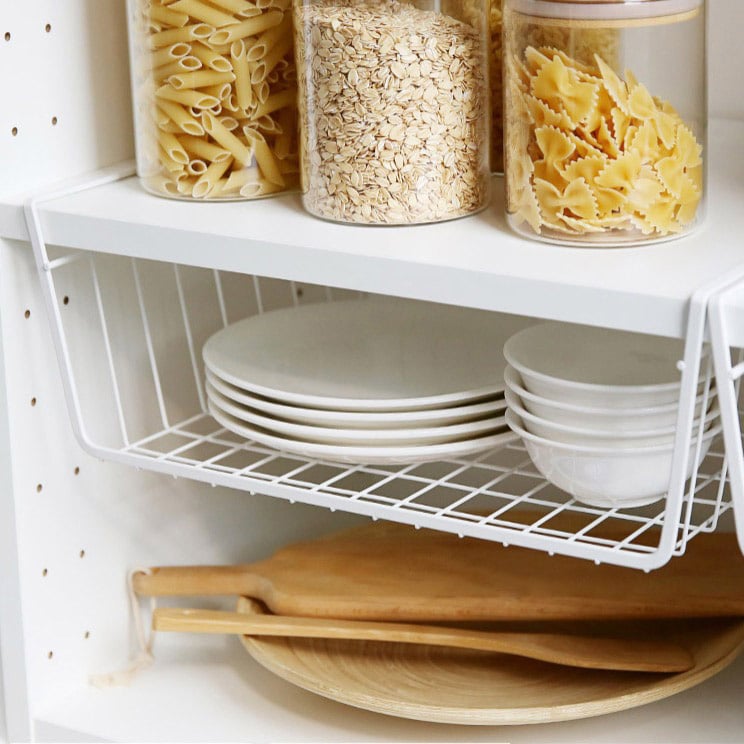 Utilise dead space in tall and wide shelves with our Grande Under Shelf Basket Organizer. Minimalistic and sturdy, slide and hang it under your kitchen cabinets or wardrobe shelves. Get creative as to where you'll be using it to double up storage space!
Browse our range of Under Shelf Organizers here.
Keep your kitchen paper towel, mugs, and other accessories within reach with our Scandinavian Under Cabinet Towel & Mugs Holder. Best part, it doesn't take up any precious kitchen counter space!
Easy-to-use and beautifully designed, this holder comes with 5 'S' hooks for easy organization too.
---
Over-the-door Hanger
Create storage right behind your door with our Rustic Rear Door Hanger! Featuring a two-layer design, this unique holder allows you to hold up to 10 items easily, perfect for hanging towels, clothing accessories, and even umbrellas. Furthermore, there is no need for drilling – simply hang and you're all set!
---
See these hanging hooks and organizers in action on our IGTV below:
Enjoyed this post? Join us on Instagram @style_degree, Facebook and Telegram @HomeownersSG, where we share the best home organization tips and cleaning hacks to help you embark on an organized and happier homeowner life!
P.S You'll be the first to learn about our latest product launches there as well.