With travel restrictions easing, you might already be shopping excitedly for winter wear and accessories to pack in your luggage. However, the thought of unpacking and storing winter clothes after your trip can be daunting.
In hot and humid Singapore, storing seasonal clothes can be a hassle and space-consuming if not done right. Today, we've got you covered with a one-stop guide to storing your winter clothes compactly in your Singaporean home!
---
Click on the tips you need below!
---
1. Prepare Clothes Before Storing
Wash And Dry Clothes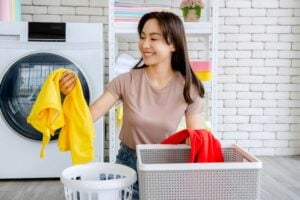 After unpacking, sort your winter clothes by machine wash or dry-cleaning. Washing them is important as your clothes might have residual oils that can stain. Make sure to dry them properly as well to prevent mould.
Did you know? The tags on your clothes have small symbols that tell you how you should clean them. Learn more about them here!
Fold Or Hang?
If you're unsure whether your winter clothes should be hung or folded, use this as a general rule. Fold lightweight items that could stretch or lose shape when hung and hang heavier items that would wrinkle when folded.
Note: If you're planning to use a dryer for your winter clothes, do not put knitted sweaters in it. The heat can cause the fibres to shrink or stretch, and your sweater will lose its shape.
Also check out on StyleMag: A Guide To Laundry Care Symbols (+ A Cheatsheet For Homeowners)
Where To Store Winter Clothes
Store your winter clothes in a cool, clean, dark and dry (CCDD for short) location. Sunlight can fade colours on winter clothes, so it is important that your clothes are kept in a dark location.
2. Folding Winter Clothes
If you need help with folding:
Long coats
Thermal wear
Hoodies
Turtle Necks
Watch our video below! We teach you 7 hacks to fold winter clothes in a neat and compact manner.
Use Vacuum Sealed Bags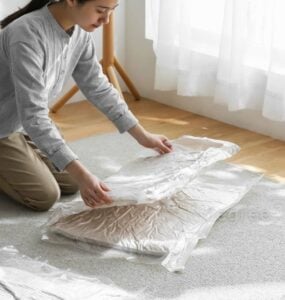 For clothes that aren't susceptible to changing shape, store them in vacuum sealed bags. Unlike regular plastic bags, vacuum-sealed bags will prevent moisture from entering the clothes. These bags are also useful against mildew, odour and insects. Especially with bulky coats and jackets, these are great for saving space in your wardrobe.
Note: Hang feather- and down-filled winter wear as they could get damaged in vacuum-sealed bags. Alternatively, pack them loosely into storage boxes or containers.
Store In Storage Boxes Or Containers
Ft. Canvas 2-Way Opening Foldable Storage Box
Though using cardboard boxes is cheaper and more convenient, they are not waterproof and attract pests with their glue and crevices. This is not ideal for winter clothes that you want to reuse for your next trip.
To keep folded clothes or vacuum-sealed bags neatly arranged, store them in reusable storage boxes or containers. Opt for clear storage boxes to see all your winter clothes at a glance. Categorise and label your boxes so you can find your clothes easily!
Tip: If you rarely use your luggages, store your seasonal clothes in them! A space-saving way to safekeep travel essentials.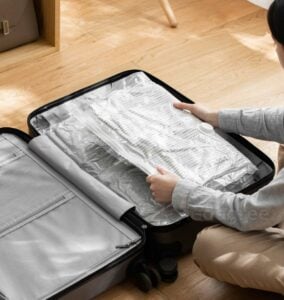 Utilise Space Under The Bed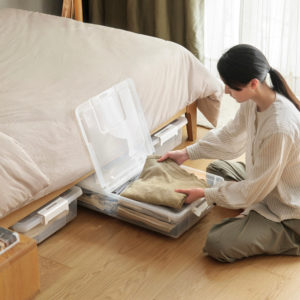 Ft. 2-Way Opening Underbed Storage Box (With Wheels)
If your wardrobe is too small, it's time to make use of the space under your bed. Store folded winter clothes in storage boxes or bins, preferably those with wheels so that it's easier to move. Don't forget to label them for easy finding!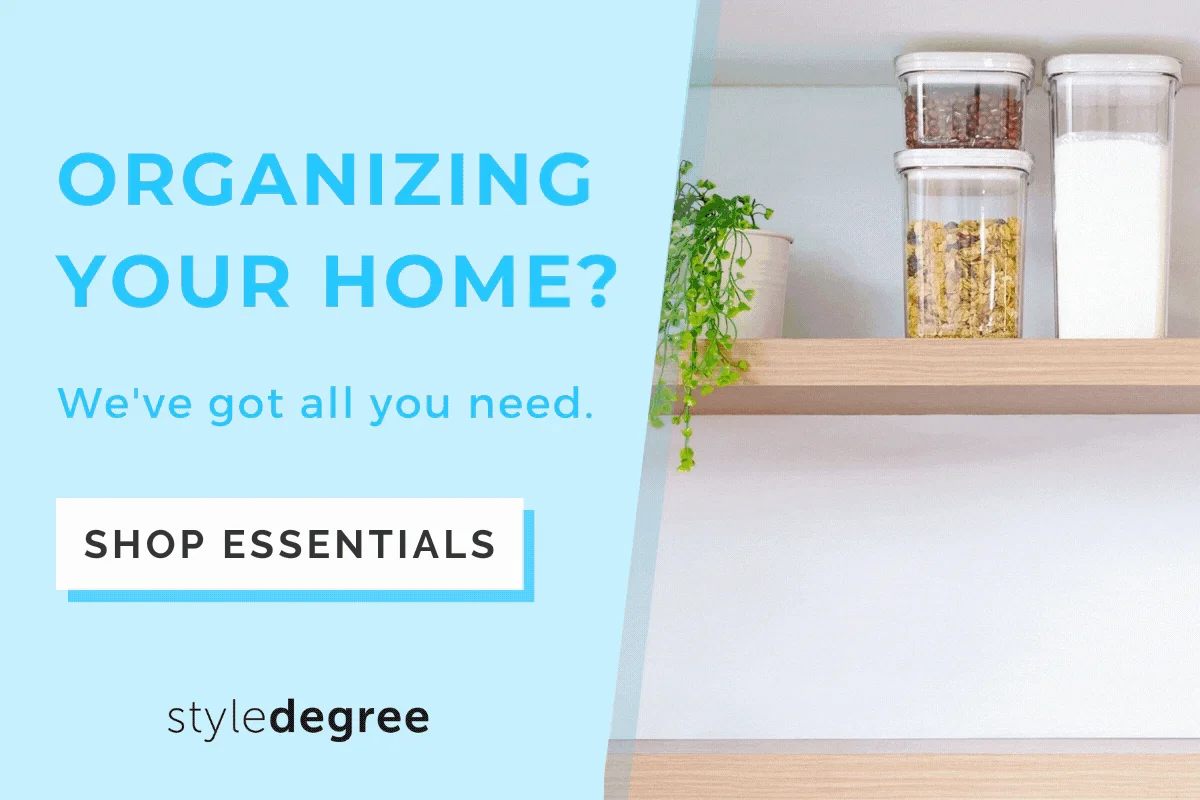 3. Hanging Winter Clothes
Use Hanging Garment Covers
Ft. Anti-dust Hanging Clothes Cover
When hanging winter clothes, zip or button them up fully before doing so. Cover them with garment covers to protect them from collecting dust and moisture, especially for clothes with fur. Real fur can dry out if kept in plastic, while faux fur will 'sweat' and clump.
Keep your winter clothes dry and fragrant with our Moth Ball & Dehumidifier Hanging Holder. Simply hang it in your wardrobe to use.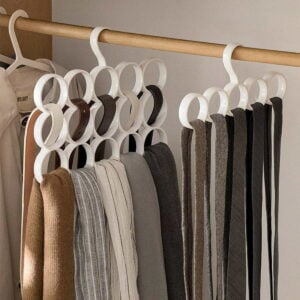 Tip: Store your scarves by knotting them onto hangers. If you have wall space, hang them on wall holders or nails as simple room decor!
Have An Open Rack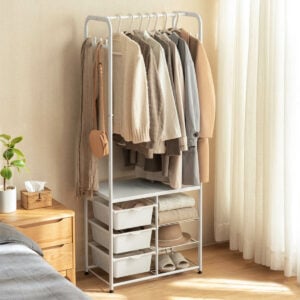 Travel to cold countries often? Consider a grab-and-go rack for your winter clothes. A great way to save space in your closet and fill up empty wall space in your room. Simply hang your winter clothes onto a rack and cover them with hanging garment covers.
4. Storing Winter Boots And Shoes
Cleaning Shoes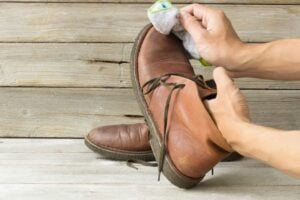 Before storing, you want your shoes to be clean of stains. Cleaning will vary for different shoe materials. Check out our tips below on removing stains for common types of winter shoes!
Leather: Use either a magic eraser or leather conditioner to remove stains. Don't scrub too hard as it will damage the shoe.
Suede: Use a cloth dipped in white vinegar to remove hard stains and scrub in alternating directions
Wipe And Scrub Soles
For the shoe sole, soak it in 3-5cm of water in a wide basin to loosen dirt particles. After a few minutes, scrub off dirt and let it drip dry.
Keep Them In Shape With Crumpled Newspaper
Winter boots can alter their shape if not stored properly. An inexpensive way to keep them in shape is using newspaper or tissue. Just crumble them into balls and insert them into your shoes.
Store Them In Containers
Place every pair of your shoes in individual dust bags, plastic bags or shoe boxes to prevent them from collecting dust. Afterwards, place them in a big storage box or container, and store them easily under your bed, in your closet or anywhere else.
However, you shouldn't stuff all your shoes in one box such that they pile on top of each other. Doing this will result in shoes weighing on and squishing each other. Keep to one layer of shoes in each container, like in the image above.
Also make sure the container is not airtight so that the shoes can breathe. To prevent odour and mould, place a dehumidifier in the container with the shoes.
---
Refer to this ultimate guide and you're all set to tackle your bulky winter clothes. Comment down below which tip helped you the most!
Need help packing for your trip? Check out The Ultimate VTL Packing Checklist & Travel Tips on StyleMag for both summer and winter packing checklists!