Let's be honest; how many of you thought of cleaning your kitchen hood and cooker hobs? Even if you only cook a few times a week, these appliances will harbour remnants of every meal you prepared – from food spills to grease.
Not only does cleaning the kitchen hood and hob help to create a cleaner kitchen, but it also ensures that your cooking appliances last longer and works efficiently. Read on to learn how to effectively clean your kitchen hood and cooker hobs!
---
Click on the links below to navigate directly to the cleaning methods for the kitchen exhaust hood and cooker hobs!
---
Kitchen Exhaust Hood
Why Must You Clean Your Kitchen Exhaust Hood?
People often forget to clean the kitchen exhaust hood filter because it's hidden out of sight. However, it's important to clean it every so often – when left uncleaned, the kitchen exhaust hood might lose its effectiveness as the accumulated grease would block the filters. Additionally, grease is flammable and could cause a kitchen fire when it's not removed.
How To Clean Kitchen Exhaust Hood Filters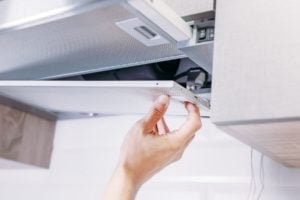 Step 1: Start by filling up a sink or bucket with boiling water. The hotter the water is, the better as it will help to remove some of the greases.
Step 2: Add ¼ cup of baking soda and a squirt of degreasing dish soap into the water. Using a cleaner brush, stir the mixture until it's well combined. Please be careful when executing this step to avoid burning your hands.
Step 3: Remove the filters from the kitchen hood and submerge them completely into the water for about 10 minutes.
Tip: Before removing the kitchen exhaust hood filters, place a towel on the kitchen stove so that dirt and debris won't fall inside.
Step 4: Using a soft-bristled brush and sponge, scrub away all the grease build-up from the filter. If necessary, dip the brush in more dish soap as you clean.
Step 5: After scrubbing, rinse the filters thoroughly in hot water before patting them dry with a clean, absorbent towel.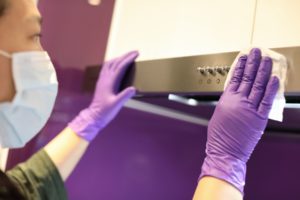 Don't forget to clean the exterior of the kitchen exhaust hood too! Mix degreasing dish soap, baking soda and water together in a spray bottle and spritz it on the exterior surface. After 15 minutes, wipe the surface and buttons with a warm, damp cloth until it's grease and dirt-free.
How often should I clean the kitchen hood filter?
The purpose of a kitchen exhaust hood is to absorb all the airborne grease from your cooking. Thus, how frequently you clean the hood depends on how often you cook at home.
Also check out on StyleMag: How To Keep A HDB Open Concept Kitchen Clean & Organized
If you're someone who cooks daily, you would have to clean it more often as compared to someone who cooks once in a while. A good maintenance strategy would be cleaning it once a month so that the grease buildup won't block the airflow.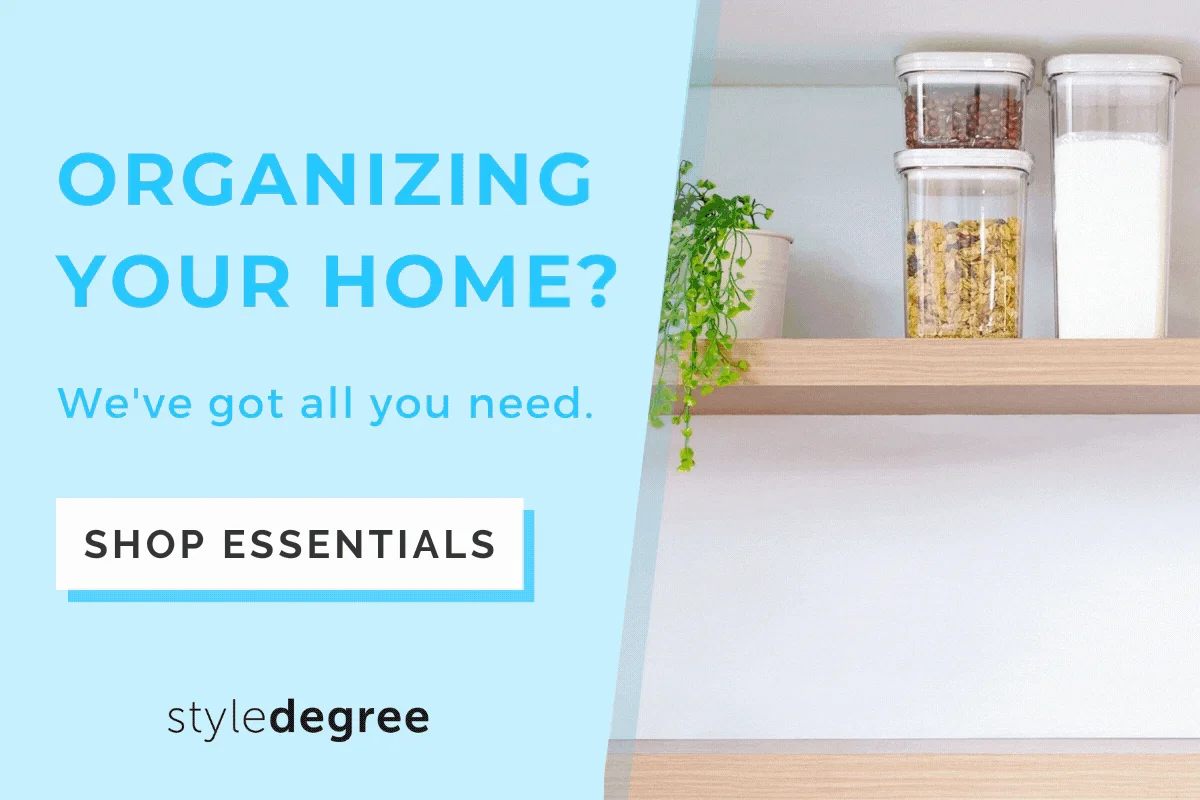 ---
Cooker Hobs
There are 3 types of hobs: gas, electric and induction. For electric hobs, there are 2 types – ceramic-top or electric coil hobs. However, it's uncommon to see electric coil hobs in Singapore.
Before you start cleaning, do check the type of hob you have as well as cleaning instructions from the manufacturer.
How To Clean Gas Hobs
Gas hob continues to be the popular choice among homeowners, especially those who cook often. This is because they're compatible with most cookware and it's easy to adjust the temperature based on what you're cooking.
For gas hobs, there are 6 components to clean:
Grate
Burner Cap
Burner Head
Stove Knobs
Cooker Top Surface
Silicone Sealant
Step 1: Fill up a sink or a large bucket with warm water and dishwashing liquid. Toss the grate, burner caps, burner heads and stove knobs into the mixture and let it sit for 20 to 30 minutes to loosen any debris.
Step 2: With a soft-bristled brush, scrub away any grease and dirt. For stubborn stains, dip the brush in baking soda paste (equal parts baking soda and water) and scrub the stains. Rinse and repeat until the stains are removed.
Step 3: Under running water, rinse the grate, burner caps, burner heads and stove knobs thoroughly. Let the items air-dry thoroughly before reassembling. For a clearer demonstration, watch the video below!
Step 4: For the cooker top surface, spray some degreaser or concentrated dish soap and scrub away food or grease buildup with a scouring pad. For the baked-on food spills, use a soft-bristled brush or an old toothbrush to remove it. Repeat this step until the cooker top surface is grease-free.
Step 5: Don't forget to wipe down the edges of the stove where the silicone sealant is and any crevices – it's important to thoroughly remove any dirt and grime from your stove!
Step 6: Dry the cooker top surface with a clean cloth and reassemble the grate, burner caps and burner heads.
It's a good practice to give the kitchen hob a wipe-down after every use to remove any food stains or spills. All you need is a clean cloth dampened with soapy water. This minor task will save you a lot of time and energy from having to remove tough food stains!
How To Clean Induction Hobs
Electric and induction hob often have ceramic or glass surface tops, making them relatively easy to clean. It's also a popular choice among homeowners who have kids or pets at home as there's no flame. As compared to using a gas stop, an electric and induction hob allows you to have a cooler kitchen as it generates little to no ambient heat.
Before you start cleaning, make sure the hob is completely cool to touch. Here's how to clean a ceramic or glass-topped hob.
Step 1: In a bucket, mix 2 cups of water and ½ teaspoon of degreasing dishwashing soap to create a cleaning solution.
Step 2: Dampen the sponge with the cleaning solution and start scrubbing the hob, working in a circular motion.
Tip: Leave the cleaning solution on caked-on food for a few minutes to loosen the debris!
Step 3: For really stubborn food stains, sprinkle some baking soda on the surface. Cover the hob with kitchen towels that have been dampened with hot water and dish soap and let it sit for 15 minutes.
Step 4: Remove the towels and wipe the surface dry with a clean, damp sponge to remove any residue. Wipe it dry with a clean cloth and you're done!
Watch the video below to get a clearer idea of how to clean your induction hobs:
However, if there's still baked-on food, feel free to use a razor blade or glass scraper to scrape it away. Tilt it at a 20º or 30º angle to remove the baked-on food – a higher angle would risk scratching the glass surface.
---
Now, it's time for you to look at your kitchen exhaust hood and cooker hobs – are they dirty? If they are, bring out your cleaning supplies and start cleaning! Having a clean cooking area might inspire you to whip up a feast.
How do you clean your kitchen exhaust hood and cooker hobs? Let us know in the comments below!