Everyone loves the spaciousness an open-concept kitchen brings to the home. However, are you afraid that cooking smells might waft? From investing in an efficient cooking hood to opting for closed storage solutions, here are 6 ways you can maintain a clean and organized kitchen!
---
1. Invest In An Efficient Cooking Hood
The best way to avoid cooking smells in an open-concept kitchen is by having an efficient cooking hood. It would be wise to invest in a good quality cooking hood that sucks up all the fumes and airborne grease so it doesn't spread to the living area.
Additionally, cooking hoods should be installed against the wall instead of above the kitchen island. It creates a backsplash and prevents the oil from splattering everywhere.
Tip: Stick a clear backsplash protector to your tiles – not only does it protect them from oil splatters and burn marks, but it also makes it easier for you to wipe and clean any messes!
Alternatively, you could fry your food in an air fryer instead – enjoy fried food without risking the smell of cooking oil stinking up your home!
---
2. Opt For Stone/Rough Flooring For Easy Cleaning
One of the biggest problems with cooking grease is that it sticks everywhere, including the tiles. If you opt for white and shiny tiles, you'd need to mop and clean the floor frequently to maintain the sleek look.
Instead, go for rough or stone-like tiles – they're easy to clean and maintain. The friction on the tiles makes the floor feel less oily too, allowing you to get away with mopping only once or twice a week.
---
3. Have A Semi-Open Kitchen Using Glass Panels
Swipe <- or click on image to view gallery
If you often cook at home and the cooking fumes bother you, try installing glass doors or partitions in the kitchen. It's great to prevent cooking grease from spreading throughout the house when you're cooking without compromising the sense of spaciousness.
There are many designs for you to choose from – for instance, bi-fold glass dividers are great for those who like having the option of opening or closing their open kitchen. Another option would be sliding glass doors.
Alternatively, you can install glass partitions around the cooker hood. It keeps the cooking fumes in while giving you a sense of openness. However, keep in mind that the heat and moisture from the cooker hood might affect any silicone used in the joints.
---
4. Open Kitchen Windows To Allow Ventilation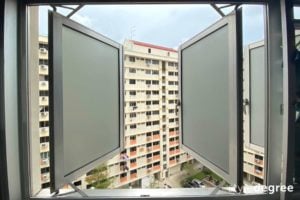 To prevent cooking fumes from lingering in your home, open up the kitchen windows every time you cook to encourage cross-ventilation. Not only does this allow fresher and cooler air to enter, but it also helps in eliminating the odour of deep-fried food!
Tip: If your home doesn't get too much fresh air, consider adding an electric fan to your space – it helps to facilitate the air circulation at home.
Another way to get rid of the greasy cooking smell is by boiling 1 cup of water and half a cup of vinegar in a saucepan. If you dislike the smell of vinegar, consider adding pleasant smelling ingredients such as cinnamon sticks, lemon peels or rosemary.
The steam produced by this mixture will absorb any pungent odours. For better results, run the cooking hood as well.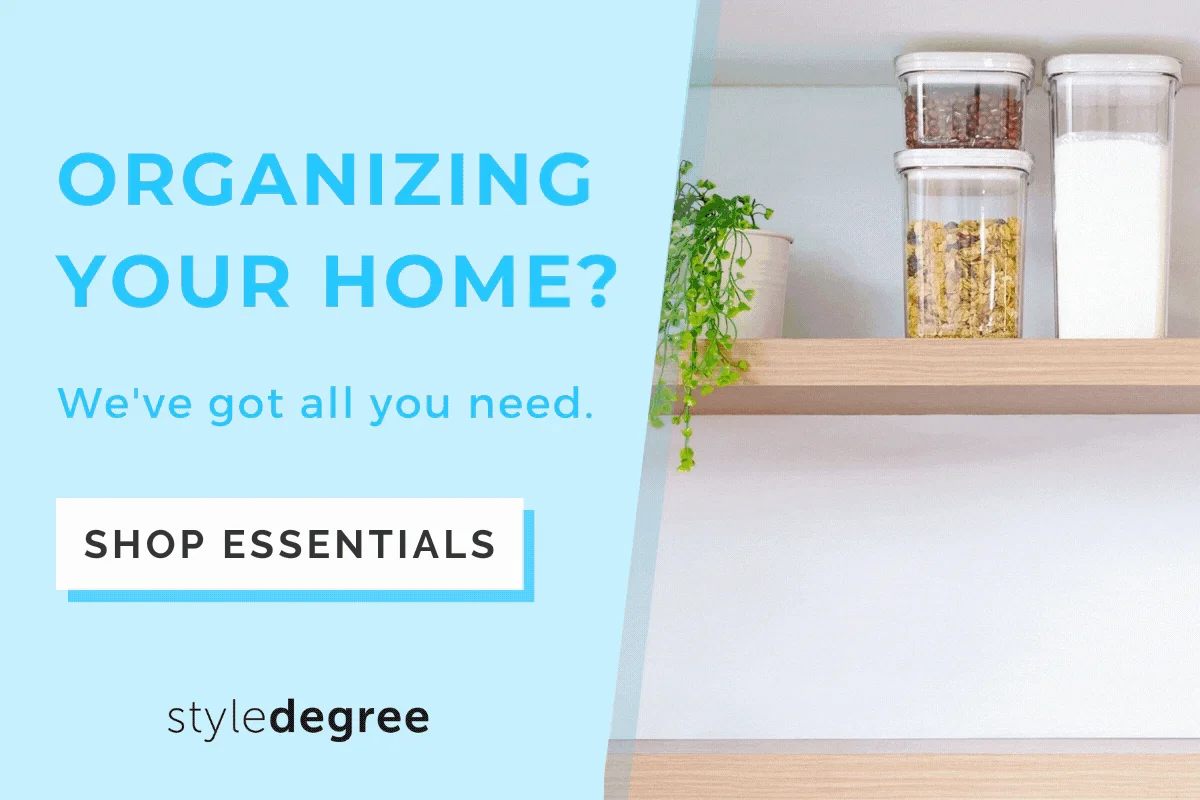 ---
5. Conceal Mess With Closed Storage System
With an open-concept kitchen, everything in the kitchen can be seen from the rest of your home so it's important that the mess stays hidden and out of sight. Instead of open shelving, opt for closed storage systems instead.
You can consider implementing a floor-to-ceiling cabinet in your kitchen. Not only does it fully utilise the height space in your kitchen, but it also draws your eyes upwards, making your kitchen look more spacious.
To further maximise space in the cabinets, you can add shelf risers or an under-shelf basket – it keeps your items organized and accessible.
Also check out on StyleMag: 11 Clever Ways On How To Organize Kitchen Cabinets
---
6. Adopt Healthy Clean Up Habits
Degrease Your Kitchen After Cooking
As you're whipping up a hearty meal, the airborne grease from your cooking will rise and land on various surfaces such as glass panels, cabinets, backsplash and even the oven glass doors. It leaves your kitchen looking dirty and wiping the grease away with a plain paper towel would only create a more obvious smudge.
To tackle grease stains in the kitchen, start by mixing 2 cups of warm water and a few drops of dish soap in a bowl. If you're cleaning the glass panel, opt for a degreasing dish soap instead.
Dip a paper towel or sponge into the mixture and gently wipe the surface in a circular motion. Repeat this step until the surfaces are grease-free. Once done, wipe the surfaces dry with a soft cleaning cloth.
Tip: Cleaning greasy surfaces after cooking also helps in eliminating food odour from your kitchen!
Psst! Check out our Cleaning Accessories & Supplies for a fuss-free cleaning experience!
Keep The Countertops Clear
After you're done using the kitchen essentials, make it a habit to immediately store them away at their designated spots. For dirty dishes, immediately wash them instead of leaving them on the countertop or sink as the bacteria on the dinnerware will invite pests into the kitchen.
Remember to wipe down the surfaces as well – it's advisable to wipe it after every use instead of waiting until the end of the day and having to deal with dried up stains.
These simple tasks don't take too much time and effort to accomplish, but it makes a world of a difference to how your open-concept kitchen looks at the end of the day. A neat and tidy kitchen is also a safe and hygienic kitchen for your family.
Also check out on StyleMag: Healthy Habits For A Clean, Organized Home
---
Now that you know how to tackle cooking grease and mess in an open-concept kitchen, it's time for you to consider if this kitchen concept is really for you. Keep in mind that an open-concept kitchen isn't just visually appealing, but it also has to be functional.
Check out our StyleMag article on How To Create An Efficient Kitchen Layout With The Kitchen Work Triangle to ensure that your kitchen workflow is smooth.
How do you tackle cooking grease in an open-concept kitchen? Let us know your tips and tricks in the comments below!